Advanced Search
Notices are posted by 10 am Monday through Saturday
Including obituary notices published after 1999, and
In memoriam notices published after 2007
❮ Go Back to Listings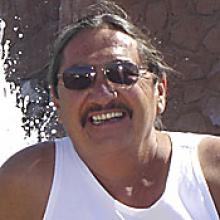 CHARLES HENRY MONKMAN
Born: Aug 15, 1951
Date of Passing: Nov 01, 2010
Send Flowers to the Family
Offer Condolences or Memory
CHARLES HENRY MONKMAN August 15, 1951 - November 1, 2010 With heavy hearts and strong spirits we announce the passing of Charles Henry Monkman. Charlie leaves to mourn his passing his life partner and wife Connie; his children Lee, Kyle and Deanna; grandchildren Zach, Rayne, Charly, Kaylie, and Ethan; his step-children Darren, Jeanette, Jody and Gaille; step-grandchildren Jessica, Ross, Gage, Keith, Connie, Shae, and Genna; foster children Andre, Colby and Brieanna; sisters Bernice and Marlene; brother Larry; mother-in-law Margaret; many special nieces, nephews, cousins and friends. He also leaves to mourn numerous kids and their families across Canada and the United States who were greatly impacted by their experience and time spent with Charlie. He was predeceased by his parents, Horton and Olga; sisters Isobel and Doreen; brother Orton; niece Myra and nephews Derek, Kelly and Cody. Charlie was happy that he recently reached 25 years of sobriety. He was a proud member of Alcoholics Anonymous and often stated that he was holistically addicted. In addition to Alcoholics Anonymous, Charlie learned and applied his Cultural teachings to assist in his own recovery. However, Charlie was an extreme man and he went on to seek as much information as he could about his Culture and Traditions. He used and shared this knowledge of the Great Mystery through various ceremonies, prayers and teachings to support and to ensure a better and healthier way of life for others. Without question, Charles Monkman was one of the most Spiritual men we have been blessed to know. Charlie worked for over 20 years in the addictions field. He was instrumental in creating and managing the clinical direction of four treatment facilities across Canada: Training and Learning Centre in Fort Francis, Ontario; Whiskyjack Treatment Centre in Northern Manitoba; the White Swan Treatment Centres in North Central Alberta and the Night Wind Treatment Centres in North Central Alberta of which he was an owner/operator. Charlie most recently worked as the Clinical/Cultural Director of Night Wind. His profile included Cultural awareness, Traditional teachings, addictions education, trauma healing and GAS (grief, anger and shame) reduction. He was a respected trainer, facilitator, speaker and Elder throughout the addictions field and had a special gift for working with youth. Charlie was one of the most non-judgemental people you'd ever want to know. He used humour and genuineness when interacting with people which most often left them feeling positive and inspired. From a street person to an executive, Charlie touched the hearts of people across the globe in a good way. Charlie often stated, Mankind is my business! A ceremony will be held at the St. Albert United Church Hall, 20 Green Grove Dr., on Wednesday, November 3, at 1:00 p.m. Memorial service to be held in Winnipeg on Saturday, November 13, at 2:00 p.m. at the West Kildonan Legion at 1748 Main St. In lieu of flowers a donation to Night Wind Treatment Centre would be greatly appreciated (Site 6, Box 4, RR #1, Legal, AB, T0G 1L0). Pallbearers are sons Kyle and Lee; grandsons Zach, Rayne, Ross and Gage; nephews Devon and Conrad. Honorary pallbearers are Morley Hanford, Dennis Delorme (Frenchie), Fox Morin, George Simard, Peter Ferris, Bill Palmer, Albert Tait, Herb Nabigon, Delmar Boni, Allen Benson, Len Benson, Charlie Ruggles, Wayne Whalon, his Spiritual son Tim Harrison, Spiritual sisters Ruth Morin and Lynn Wall. Thank you to the ICU staff at Royal Alexander Hospital for the compassionate care Charlie received and especially to his own doctor and friend, Dr. Debra Andrew.
As published in the Winnipeg Free Press on Nov 06, 2010
Condolences & Memories
(7 entries)
It will be six years in November 2016 that my good friend went to be with his creator. Still today, I think about him and dearly miss him a lot. In the past three years now, I have been trying to find Connie. I know she went to Arizona after Charlie passed away, so if you are reading this Connie, please let me know where you are and that you are well, I'm on Facebook. Anyway like I said before, Charlie played a big part of my life when I knew him. He always trusted me to do what he asked of me and knew I would do a good job doing so. The last time I did a sweat with Charlie, he gave me a sweat pipe to carry in his honor but I am unable to celebrate it because I want to keep it safe and unused. I was waiting for Charlie to call me back for work and that I was going to use it in one of our many sweats but the creator had better plans for him. Anyway, I still miss you my friend and I will always will. Those of you that knew Charlie, please keep posting your feelings here, maybe Connie is reading these and it might help her to get back on her feet as there are a lot of children out there that need her help. I am now a social worker, working for the same cause Charlie, Connie, and Lynn stood for but in a bigger way. I take pride with my job which I owe it all to Charlie's teachings and mentorships, without his leadership and guidance, I would probably not be working as a social worker and believe me I have tried many other jobs and careers but I always end up where I am helping other people with their addictions and social issues. Thanks you all for caring for a wonderful man and God Bless all of you!! - Posted by: William Ettawacappo (Friend, Elder and Cultural teacher and co-group worker) on: Apr 22, 2016

I first met Charlie in Thompson in 1998 where he helped open Whiskyjack Treatment Centre. I was studying to become a teacher but at the same time, I was struggling financially. My wife informed me that a treatment centre was recently opened and it was affiliated with my first Nation Band, so I went to Whiskyjack Treatment Centre and applied for work there. Upon my wait at the centre for someone to come see me with my application on hand, I noticed this (I thought was crazy) guy (Charlie) interacting with the youth in the centre and how the kids played and showed this guy (Charlie) respect. I thought, man that is so awesome, then he came to me and said "hi there my Brother". I thought my brother, I don't even know you. Then he said to me "so you're looking for work"? I said "yes I am". Then I handed him my application and Charlie looked at it and told me to come tomorrow as I was hired as a relief worker. For the next month or two, I kept getting called in for work and each time I had to participate in group as part of my job, what I didn't know then that I was getting the healing as well from Charlie as he often held powerful group therapy and so that's how I actually started my own healing journey with the help from Charlie working and helping him with his cultural work with the staff and kids. Today is June 9, 2015 and to this day I still very much miss and love Charlie for he was the only one that truly showed me I really mattered and that he cared and loved me back and to this day, I still mourn and often cry for my brother to come back and tell me a new word not found in a dictionary as Charlie often defined something with a very unusual word; those of you that knew Charlie, you know what I'm talking about; with that Charlie I bid you farewell my brother until we meet again across the river. With love William - Posted by: William Ettawacappo (My Mentor, life and cultural teacher, and my friend) on: Jun 09, 2015

I miss him so much, I never read these posts and they make me smile with pride so did he all the time. Still moving on dad miss ya so! Could use a talk and will pray on this. Love ya Pops - Posted by: kyle (son, student, admirer) on: Apr 01, 2015

ahnii / Hello I was just going through my deceased Grandmother's (Catherine Boucher Monkman) address book and found the name and phone # of Charles Monkman (418-1117) and beside his name Grandma wrote (Horton and Olga son) with a happy face next to it. So....i just thought to google "Charles Monkman" (as I know no one who is related to this side of the family) and wondered if we are family? I see that Charles was a great man, loved by many and also a great role model for others. Kookum kitty always had great friends. My Condolence to you on his passing. miigwetch - Posted by: tannis monkman nielsen (unsure) on: Feb 09, 2015

I just found out Charlie has passed on. Connie please accept my deepest sympathy. I have been looking for you two for years. Charlie was always a wonderful person and I enjoyed our talks in Lynn Lake. Thoughts and prayers Connie & family. - Posted by: Jennifer Ulvick (friend) on: Jul 31, 2013

There was a long time in Winnipeg being a Monkman , Gladu or Ruggles was not easy for Our Men ....almost all paid a price in some way...some even lost their lives over it and others like Charlie survived and rose above and helped make this Winnipeg a better place..... He was always had everyones back... they say in our culture he was here before us to get things ready and he had to go ahead to get things ready and knowing some of his family he needed a head start;) tawapamittin Charlie .... re: see you again Charlie ... Cyd Gladue cynthiagladue@gmail.com - Posted by: Cyd Gladue USA (Cousin Tommy Gladu Best Friend , My friend Myra Monkmans Uncle, A respected elder, and just a all ar) on: Dec 23, 2012

My name is Mildred Gladue I was once a client at the night wind treatment centre...there are so many good things to say about Charlie :) I don't know where to start, but I'll share this, Charlie was a very good man & a good listener. He was always there for me & the others. He made us feel safe. I think me and Charlie had a father- daughter relationship :) he taught me a lot when I had stayed there, I do have a good memory of him, I remember this one time, he had drive me home for a visit, & when we got to my reserve he was talking to the ppl of Goodfish Lake like he knew everybody really, & they just looked at him funny :) that made us laugh. But to this day I think of Charlie Monkman & I miss him dearly :( he will always be in my heart. N Connie luv u and I miss you <3 - Posted by: Mildred Gladue () on: Nov 14, 2012
Email Alerts
Sign up for free email alerts of new obituaries for specific people, towns & more.
❮ Go Back to Listings