Advanced Search
Notices are posted by 10 am Monday through Saturday
Including obituary notices published after 1999, and
In memoriam notices published after 2007
❮ Go Back to Listings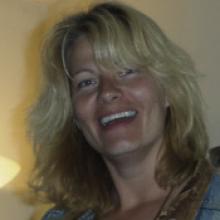 MARILYN LOLITA WALKER
Born: Apr 19, 1966
Date of Passing: Oct 10, 2012
Send Flowers to the Family
Offer Condolences or Memory
MARILYN LOLITA WALKER Passed away peacefully early on October 10, 2012, shortly after midnight. She had just been placed in the wonderful care of the nurses in Palliative Care at St. Boniface Hospital after a courageous battle with cancer at home with her family and friends by her side. Marilyn was born on April 19, 1966. Marilyn is survived by her husband Allan, sons Rory and Terry, mother-in-law Violet Kowalker, sisters-in-law, Bev Passey (Russ) and Paula Husmann (Alan) and nieces and nephews Alex, Kara, Hayley, Garrett and David. She was predeceased by her mother Alice Preston and father-in-law Len Kowalker. Marilyn's love and devotion towards her family and especially her two sons was very deep. There was no task she wouldn't take on in order to make someone's life a little easier. Marilyn loved the cottage at Big Whiteshell Lake, boating, fishing, picking blueberries, back country travel, bonfires, politics, the environment, music, art, festive occasions, cooking and entertaining, even carpentry and drywalling. She was a trainer for the Grizzlies football team and second baseman for the Another Round baseball team. Marilyn achieved the Four Year Degree of Bachelor of Science in 2009 and the Brian Evans Memorial Scholarship in Geography in 2007. The highlight of her education was her trip to Churchill for research. She worked extremely hard as a student, mother and wife all at the same time and we are so proud of her for the accomplishment. Earning a degree was a lifelong dream for Marilyn. Her friend Miranda said a lot of her fellow classmates looked to Marilyn as a big sister if they needed help with the some of the trying things in life. She went on to work at the University of Winnipeg Student Services and then on to the University of Manitoba Faculty of Medicine at Health Sciences Centre as an office manager. Marilyn, I Love Your Spirit When You Speak Your Smooth Tone Calms and Soothes It's Understood You Offer Yourself Providing For Needing Companionship Nurture and Feeding Knowing What's Missing And Accepting It's Gone Pulling Out The Best And Forgiving The Rest Your Beauty And Presence I'll Always Feel As I Look For A Way To Say What I Wanted To Say We would like to thank everyone who helped during this difficult time. The support was unbelievable. There will be a Celebration of Marilyn's Life at United Way, 580 Main Street, on Sunday October 21, 2012, from 1:00 p.m. to 5:00 p.m. In lieu of flowers, please donate to The Humane Society or a charity of your choice.
As published in the Winnipeg Free Press on Oct 13, 2012
Condolences & Memories
(22 entries)
Marilyn worked with me on my brother's carnival. We had many good times out on the road in Northern Ontario. She was always there when I needed to talk. I just found out about her passing & am still in shock. I will miss her dearly. Thoughts & prayers go to her family. - Posted by: Kim Kennedy (friend & co-worker) on: May 08, 2014

I'll never forget our Grandfather nicknamed her Gigi since birth. She was his favorite. We would be at Grandma's helping make her famous perogies,they were legendary..Jacky and Marliyn would come to Grand Beach, summer and winter having the best time of our lives..I also remember going to Disneyland with her uncle Bob and aunt Alice with front row seats to see Barbra Eaden (Jeanie) Tons of fun..Later in life we shared an apartment where she worked at an auto parts store for the short time she was there you could ask her any questions about auto parts and she would tell you the right answer...Truly gifted in anything she did...She moved out, I moved to Texas.....Gigi say Hi to Gramma Grampa and mom for me ...RH - Posted by: Randy Horobetz (1st Cousin) on: Dec 06, 2012

Marilyn was quite a gem...always spoke her mind and rarely held back. For this, I respected her enormously. My condolences to Allan, Rory, Terry, and the rest of her family. Best wishes Marilyn! - Posted by: Eric (co-worker and friend) on: Nov 01, 2012

Al, Rory and Terry, our sincere condolences. We are so sorry to hear about Marilyn's passing. Hugs to you all! - Posted by: Kim & Chuck (Friends) on: Oct 22, 2012

Marilyn was a strong person with a wry sense of humor. If there was a pink elephant in the room, she was always the one to acknowledge it first in a frank and hilarious way. I've never know anyone else like her. When we worked together, most days it would take forever for me to get home because we would spend so much time talking. Even after I moved across the ocean, we still shared epic, all day skype sessions on weekends. We never managed to keep it shorter than a few hours. I feel so lucky to have known her. Love you Marilyn. - Posted by: Kathleen Poley (friend) on: Oct 20, 2012

Marilyn was a genuine, hard-working, respected, and intelligent person who will be deeply missed. She always spoke admirably about all of her family and 2 sons. - Posted by: Bob Casson (co-worker ) on: Oct 18, 2012

My condolences to the family and all of those individuals that Marilyn holds a special place in your heart. Marilyn your love for life and family inspired me and so many. I could always rely on you for advice and a great way to look at things in a different frame of mind, the fact that you never held back and threw in many "F Sharps" really made you rethink it. The "F Sharps" is kind of an inside joke to those who are reading, but if you knew Marilyn you knew her vocabulary too :o) People come into your life for a reason, a season or a lifetime. When you know which one it is, you will know what to do for that person. Marilyn, you came into my life for a reason and we shared many laughs, a few tears and you were a great support... Sadly you were needed else where so your time with me on Earth was for a season. Until we meet again my friend ... To those that Marilyn has left behind, my heart goes out to you. Take the time you need to grieve but remember Marilyn would be much happier spending more time celebrating her life, laughing and sharing all the great memories you shared with her - Posted by: Jeff (Co-worker at U of W and FRIEND) on: Oct 18, 2012

I was saddened to hear of Marilyn's passing. Marilyn was thoughtful of the needs of others, always willing to help & generous in the giving of her time. She would often save assorted stamps for my stamp collection. My sincere condolences to her family on their loss. - Posted by: Kathy Frankow ((co-worker at University of Winnipeg)) on: Oct 17, 2012

I am so sorry to hear about Marilyn's passing. My heart goes out to all of you and you are in my thoughts. Robyn - Posted by: Robyn Henke (Friend) on: Oct 16, 2012

I have been missing Marilyn at the University. She was always so helpful and friendly whenever I asked for her assistance in Student Records. My sincere condolences to her family. - Posted by: Carolynn Smallwood (co-worker at University of Winnipeg) on: Oct 16, 2012

I worked with Marilyn at The University of Winnipeg. She had a great attitude and a very infectious sense of humour. I've been missing her at work and was so sorry to hear of her passing. My sincerest condolences go out to her family. - Posted by: Cathleen Hjalmarson (Co-worker) on: Oct 15, 2012

There's no words that can express how sorry we are to hear of Marilyn's passing. During this difficult time, our thoughts and prayers are with you and your family. May you cherish the wonderful memories and fun times you were able to share with her. Take care and let us know if we can help with anything. - Posted by: John Nunes (Co-worker) on: Oct 15, 2012

our sincere condolences to Al Terry and Rory your mom wife /mother and our friend will be deeply missed I played ball with Marilyn for many years and I know the effort and determination she put into playing she put into everything in her life no words can describe the loss she was very proud of her family and accomplishments of them she will be forever in our thoughts we will miss her smile and laugh everyday until we cross paths again :( - Posted by: Bob Kozubski (Friend) on: Oct 15, 2012

Marilyn's spirit will never die... She will live on in our hearts forever. Marilyn was an amazing human being.. . her zest for life, her unconquerable willpower, her belief in everything that was right and her positive attitude was simply admirable. She was our Office Manager in the Dept. of Biochemistry and Medical Genetics since January 2012. She won my admiration and respect right from start. For me... she came.. she saw and she conquered! Thanks Rory for making the afternoon of September 27th special for me and your mom. Allan, Rory and Terri..deeply sorry for your loss. Our thoughts and prayers are with you and your family members during this difficult time. Tuntun Sarkar - Posted by: Tuntun Sarkar (Colleague) on: Oct 15, 2012

Thank you for always being there.. I will miss you today, tomorrow, and forever.. You will never be forgotten. Love Kris. - Posted by: Kristine Ramnarine (Friend) on: Oct 15, 2012

Deeply saddened to hear of Marilyn's passing. My condolences to her family and friends. - Posted by: Julie Beaver (co-worker and friend) on: Oct 15, 2012

Al, our hearts go out to you and your family at this time. Always remember the memories and all the laughs you had and love you shared. Hugs, Elaine and Ivan - Posted by: Elaine Hope (Co-worker to Al Walker) on: Oct 14, 2012

Allan, Rory, and Terry So sorry to hear of the loss of your wife and Mom. We are thinking of you, and our prayers go out to you...take care Stephen and Marjorie - Posted by: Stephen and Marjorie (Neighbours) on: Oct 14, 2012

RIP Marilyn To Allan and family I am so sorry for your loss. HUGS - Posted by: Erin Connelly (friend) on: Oct 14, 2012

Marilyn will be missed by those who worked with her at the U of W. She loved to help students and we enjoyed her friendship and laughter. My condolences to her family. God give her rest where suffering is no more. - Posted by: Tanis Kolisnyk (Co-worker at University of Winnipeg) on: Oct 13, 2012

I met Marilyn at U of W where she was a Geography student and eventually became a student employee. We played softball together and would meet up at the dog park with our dogs. I will miss her laugh and her sense of humor. She was a great person, an awesome softball player, and had an outgoing and friendly personality. She cared about others and her family (and pets) and she will be missed. Marilyn you were taken too early and had so much to offer. I will never forget the great times we shared. My condolences to your husband and children. - Posted by: Amber (Friend) on: Oct 13, 2012

Marilyn was a bright light – witty, warm, perceptive, and such a pleasure to work with. My heart goes out to her husband, her sons and her extended family and friends. - Posted by: Barb Read (co-worker and friend) on: Oct 13, 2012
Email Alerts
Sign up for free email alerts of new obituaries for specific people, towns & more.
❮ Go Back to Listings