Advanced Search
Notices are posted by 10 am Monday through Saturday
Including obituary notices published after 1999, and
In memoriam notices published after 2007
❮ Go Back to Listings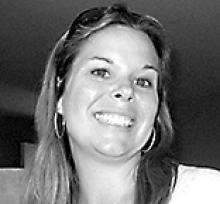 JACQUELYN IRENE KROSTEWITZ
Born: Jan 20, 1969
Date of Passing: Jun 12, 2017
Send Flowers to the Family
Offer Condolences or Memory
JACQUELYN IRENE KROSTEWITZ (THORNHILL) January 20, 1969 - June 12, 2017 This past week, Jacki left this life for another. She was a lover and a fighter. Her contagious spirit filled so many people with the incredible joy she felt for life. Long live her wonderful beauty that shines on in all of us. A celebration of life is scheduled for July. Details to follow through social media. Celebrate we will. Because life is short but sweet for certain. www.chapellawn.ca 204-885-9715.
As published in the Winnipeg Free Press on Jun 17, 2017
Condolences & Memories
(19 entries)
Todd, Hannah and Jared, words cannot express how saddened we were to hear of Jackie's passing. She was the first nursery school Mom friend I made; we shared lots of laughs during the Voyageur years. Our hearts are with you all. Cathy, Katey and Eliza Montgomery - Posted by: Cathy Montgomery (Friend) on: Jun 29, 2017

My deepest condolences to Todd and his family. I was deeply saddened to hear of Jackie's passing. I was very fortunate to be part of Jackie's life. She was a fighter with endless spirit and a true competitor on and off the field. We spent countless hours together in high school. I will always remember her as a strong independent women. I will continue to treasure all the wonderful memories I was able to share with her. - Posted by: Treva Tilston-Jones (Friend) on: Jun 29, 2017

Todd, so sorry to hear this news my thoughts and prayers are with you at this sad time. Tom - Posted by: Tom Smith (colleague of Todd) on: Jun 26, 2017

I was very saddened to hear of Jacki's passing. They say when we lose a loved one we gain an angel in heaven that watches over us. I hope you will find comfort in knowing that Jacki will be watching over you all. Let all of the great memories of Jacki live on in your hearts and minds forever. My sincere condolences to Kelly and the Thornhill and Krostewitz families. - Posted by: Scott Green (School Friend ) on: Jun 23, 2017

I am so saddened to learn about Jacki's passing and wanted to offer my condolence to the Thornhill Family as well as Jacki's Husband and Children. I have such great childhood memories of Jacki and I in elementary school. Her contagious laugh and smiley face always lit up a room. A memory that always comes to mind among many, was when we had a disagreement in grade 5 or 6 and she told me my cookies were like hockey pucks. She would chuckle to find out I still bake the same way and nothing has changed. - Posted by: Carol Corda (School Friend) on: Jun 22, 2017

Dear Todd... sending my sincerest condolences to you and your family for your terrible loss. Although it's been a while since we've worked together, I remember Jacki as a beautiful, smiling, happy person and the two of you had such fun together. You will have many great memories to help you through this tough time, and I'm sure many will bring a smile to your face as you remember Jacki in all her "Jacki-ness". Big hugs to you. Sharon Jones - Posted by: Sharon Jones (Worked with Todd) on: Jun 21, 2017

Sending out Much Healing Love to your family at this Time. Love The Thompson's ❤️❤️❤️❤️🙏 - Posted by: Heather Thompson () on: Jun 20, 2017

Jacki was the first person you saw as you entered the school office, and she made you feel welcome, safe, you were in the right place and she was happy to see you. 3 of our 6 children knew and loved Jacki, while they attended Sansome, and they each have wonderful memories of how she helped them daily. from fevers to bumps and scrapes, she was a good friend to them and they always knew they could count on Jacki to make everything all right. as a parent, she was someone I also counted on until I could there if my child was sick. and she took care of all of us with so much love and attention. she will be missed greatly for a very long time. until we meet again my friend!!! - Posted by: Pam & Edward Krawec & Family (friends through Sansome School) on: Jun 19, 2017

Jacki had the best smile I have ever known...you just had to smile too. And her laugh made you laugh. We met when she came to work at Sturgeon Creek Collegiate in the office and her and Margaret V. and I just all hit it off from the first minute. I loved to gently tug her ponytail as I would walk by and she always laughed. Her genuine sweetness radiated off of her in waves and she had a great sense of humor to go with it. All of the times I spent with her were full of fun and laughter. Staying in touch with her through her battle I know that she fought hard to stay with her family ... I know how proud she was of them. I am glad she is no longer in pain ... but so very sad that she had to leave everyone to become one of the angels. She will continue to be in my thoughts and prayers for the rest of my time here. My sincere condolences go out to her husband and children and words cannot express how sad I am for you and for all of us. Just know that she will always be looking out for you and will be with you in your hearts forever. My heart is crying ... love you Jack...always. - Posted by: Kathy Hawrysh (Friend) on: Jun 19, 2017

Jacki was a glowing heart in her community. She will be deeply missed by all who knew her. Thinking of you Todd, Hannah and Jared. ~ Lori, Rick, Kurt, Evan and Tegan Barnstorf - Posted by: Lori Barnstorf () on: Jun 18, 2017

Dear Todd, Hannah, Jared and all who loved Jackie. I can't imagine your loss, your sorrow, pain and loneliness. I know her memory, her love of life, her crazy sense of humour and infectious laugh will be carried in each of your hearts, it will be in mine. I know words don't help, but I hope in some small way knowing how many people are thinking of you and holding you in their hearts and prayers in some small way helps you through the days, weeks, months and yes years ahead. Shelley and Shenade - Posted by: Shelley Keast (Friend) on: Jun 18, 2017

What a lady. I first met Jacki in middle school when we competed against each other in track and our paths crossed many times over many years. We connected again when she was the greatest secretary at Sansome School and she cared about the kids like they were her own. She has so many friends and people that care about her and that will miss her terribly. My thoughts go out to her family and know you are surrounded by love. I will miss this amazing woman. - Posted by: Stephanie Oland Duncan (Friend) on: Jun 18, 2017

A sweet genuine soul with a strong desire and ability to connect with each and every soul that crossed her path. A dream chaser and embracer of life and happiness. She encouraged people and knew how to gently challenge them. She brought us laughter, comfort and knowledge that life around us was so much more then we knew. Sharing her personal stories of how, I love you two cents', We slowly understood exactly what she meant. 💘We will miss you, sweet friend💘 We will always admire your strength, commitment and Mrs. K flare' for life. Our hearts and deepest condolences go out to The K family and all their friends and loved ones. - Posted by: Anonymous (Friend ) on: Jun 18, 2017

Beautiful,bubbly JAck so loved and missed. Kind and caring,always sharing Bright smile and infectious laugh. I'll never forget your secret for dealing with your sh*t days. Someone so special can never be forgotten. Words fall short of expressing my sorrow. My condolences to Todd,Hannah,Jared, all family and friends. - Posted by: Heather Williams (FRIEND) on: Jun 18, 2017

Your feet have wings my friend❤️💔 - Posted by: Cindy (Friend) on: Jun 17, 2017

I am shocked and saddened to hear of Jacki's passing. I have many fond memories of growing up with Jacki from elementary and up thru high school. My thoughts and deepest condolences go out to her family. So sorry for your loss. The world will miss her smile...Robyn. - Posted by: Robyn Spitzke (Friend) on: Jun 17, 2017

My condolences to you all at the loss of this beautiful lady. Her glorious smile and infectious laugh will be sorely missed. May you find peace and comfort in the days and weeks ahead. - Posted by: Gayle Hallock (Friend) on: Jun 17, 2017

My deepest sympathies and condolences to you for your loss. While words cannot fully convey the sorrow felt, I trust you find some peace and comfort in the shared memories of your time together. - Posted by: Gerry Bettig (Friend) on: Jun 17, 2017

Dear Jacki, I will always cherish our childhood years together – Your joie de vivre, kind heart, and that OH-so-infectious and distinctive chuckle/laugh of yours! Anyone who knows me, knows that I have a memory like a sieve. I couldn't tell you the year I graduated or got married, or what the weather was like last year... But, I will remember you. Our young mothers were always together and thus, so were we! Thick as thieves, as kids. I remember playing Batman and Robin in the rec. room with your sister & my brothers; Weekends we spent at the cottage, splashing in the lake and making 'fish-fly farms' in the sand; Days spent at your family's home & swimming in the new pool - oh what a treat!; and being bored out of our faces on New Years Eves at my grandparents apartment. I remember moving and changing high schools in twelfth grade and you being so very sweet in trying to include me and take me under your wing – but alas you were a 'jock' and I was a 'head-banger' too cool for school - but don't think I've forgotten. My deepest condolences go out to your beautiful family, and Kelly's, to Uncle Al, and all your friends, for their profound loss. There really are no adequate words. Though I am glad your pain has ended, I'm truly sorry for theirs. My love to you Jack-o. You will be missed my friend. I will remember you.....always, Andrea - Posted by: Andrea Cox (cousin) on: Jun 17, 2017
Email Alerts
Sign up for free email alerts of new obituaries for specific people, towns & more.
❮ Go Back to Listings