Award Winning Services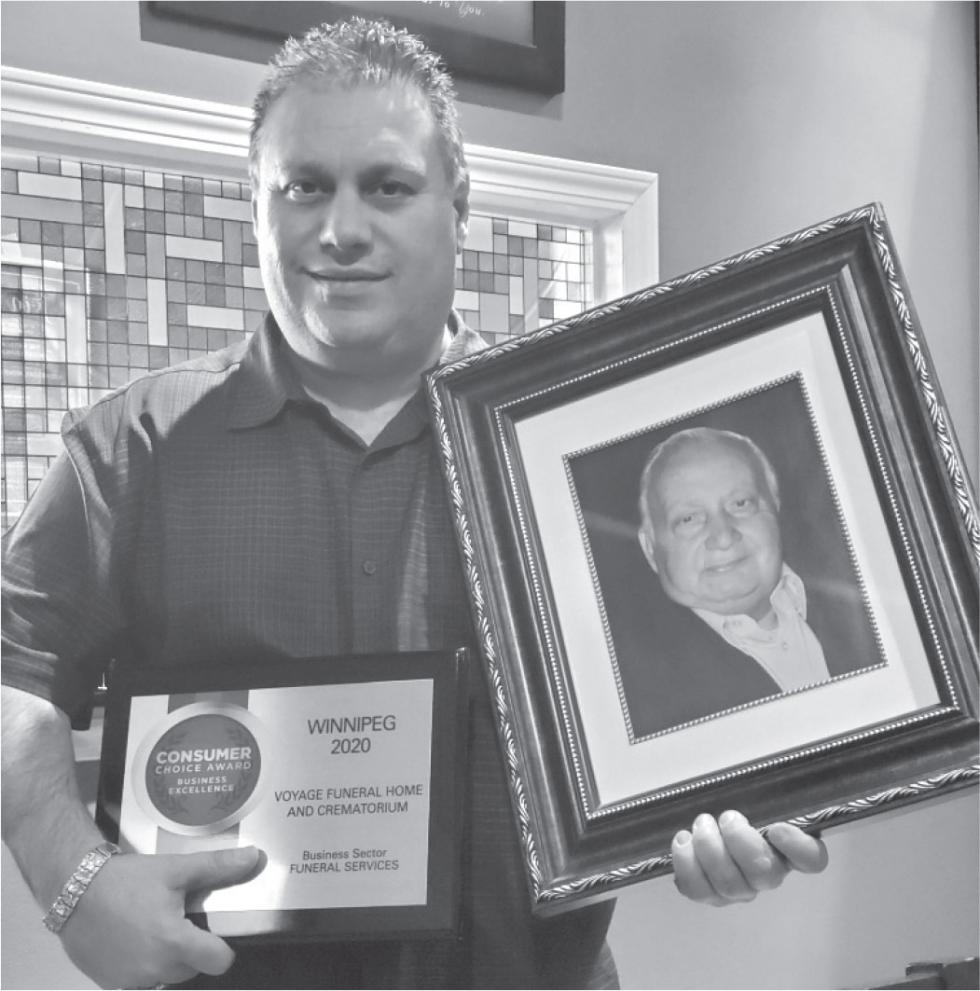 My father Christos, who passed away on January 19, 2012 would have been proud. In the category of Funeral Service, Voyage Funeral Home and Crematorium has been selected as the 2020 Consumer Choice Award winner. On Wednesday, November 27, 2019, I was honoured to have my wife Sharon, son Joshua, my mother Helen and my remarkable funeral home family staff by my side as Voyage received this award.
"Consumer Choice Awards dynamic selection process produces the most sophisticated consumer driven results available today. A method that ensures that only the most outstanding companies across Canada are the winners of this prestigious award."
Consumer Choice Awards @ www.ccaward.com/the-method
Voyage has also been selected as one of the Three Best Rated® Canada funeral homes in Winnipeg. Voyage was selected after a 50-point inspection which includes ratings, reputation, reviews, satisfaction, complaints, trust and cost to the general excellence. Growing up, my parents were entrepreneurs in the restaurant business for many years. They always taught us boys to do the right thing, and never take advantage of anyone. My parents would always say that the secret to a successful business is your staff and without them you have nothing. As a general manager, my main priorities are to go the extra mile to satisfy a customer, provide impeccable service, and to treat people and my staff as I would want them to treat me. Businesses cannot buy a reputable name. You must earn it through dedication, hard work, morals and ethics. You must have a passion and believe in your work, product and services.
At Voyage Funeral Home, we believe in good ol' fashioned business ethics. Where a handshake is worth more than any contract. Our customers trust us and we trust our customers in return. Voyage is run with dignity, compassion and respect. Established in 1998, Voyage is a family run funeral home. Each family that we serve becomes the focus of commitment to excellence in funeral service. Our vision incorporates tradition, compassion, cultural sensitivity, and cost options to meet the need of every family. We truly believe in treating your loved one as we would our own.
People work hard for their money and want to see value in their purchase. Most funeral homes and/or cemeteries are run by giant corporations and/or large chains where the bottom line is profit. In my opinion I believe funeral service should be about one family supporting another family. If a local family business is not supported, the business closes and corporations take over a community. Local family businesses keep costs affordable and offer honest service. Family is the most important part of life.
When losing a loved one, the sting of death hurts. This is when you are most vulnerable, and at your weakest point. If you chose the wrong funeral home, it is more then likely that a highly trained sales person will play on your emotions and take advantage of your grief. This can cost you hundreds to thousands of extra dollars you did not require nor need to spend. Here is a perfect example: At Voyage a Simple Cremation is $1,600.00. No hidden costs, no surprises. Families who choose Simple Cremation want things just as mentioned; simple but yet affordable. With Voyage, we own and operate a state of the art cremation facility. Your loved one is in our care 100% of the time, guaranteeing you continuity of care. We also allow immediate family to come directly to our crematorium to view and say their final good-byes to their loved one. A viewing at our crematorium is provided at no additional charge to the family.
Simple Cremation with some other funeral homes/providers/ alternatives is not so simple. Their costs and services can range anywhere from $2,500.00 to $5,000.00 depending on whom you choose. Some employ aggressive, commissioned, well trained sales people. Some may charge you for services that are not mandatory by law such as: identification viewings, embalming, environmental fee (cleansing of your loved one prior to cremation), the purchase of a casket for the viewing/ cremation, and the purchase of an urn. Finally, after trying to charge a family for all these unnecessary services they will then have another sales person try to have you preplan and prepay your own service(s). Other funeral homes/providers/alternatives may not own or operate a crematorium, but they will have you believing they do so. This is misleading and a deceptive business practice. Their business signs may read "Sample cremations", "Sample Funeral Home and Crematorium", or "Sample Cremation and Cemetery Services". Some may say they are a substitute or alternative to funeral homes. This makes a consumer believe they are less expensive than a full service funeral provider. To view a list of licenced crematoriums in Manitoba please visit: https://www. gov.mb.ca/funeraldirectorsboard/crematoriums.html Competition is normal in business. It can be healthy for a business if competition is competing on a level playing field. Businesses in Funeral Service, in my opinion, should all have to do so accordingly. They should own and operate crematoriums, embalming facilities, chapels, transportation vehicles and reception areas. These full service providers have made the proper investments required to provide your family peace of mind and the professional service your family deserves.
When preplanning, I also always recommend that families do research before selecting a funeral home. Ask as many questions as you need so that you feel comfortable. Having open conversations and allowing your loved ones to know and understand your final arrangements, is truly a gift of love. It will help avoid the unneeded grief your surviving family may face following your death. Many times families are taken advantage of because their final wishes were unknown. As hard as it may be to talk about death, it is one thing that is guaranteed in life; we are all born to die.
Most people I deal with tell me they wish to make final arrangements to avoid putting stress on their children. Lisa is our preplan specialist here at Voyage and I give you my word, she is 100% professional, honest and sincere. Lisa is compassionate and caring. She will help guide you and document your final arrangements with no pressure. Lisa is not paid by commission and truly loves helping families. When preplanning, Voyage also offers payments on funeral services to suit your financial needs. For more information or to make an appointment with Lisa please call 204-668-3151.
We all have a purpose in life. I have been fortunate to have found my purpose as a Licenced Funeral Director and Embalmer. I help guide families through their darkest hour by being honest and respectful. I show compassion and empathy to others when it is needed most. I promise with Voyage, your loved one is in good caring hands and they will be treated with dignity and respect. We will honor your wishes and be there for your surviving family helping to guide them through their darkest hour. I promise we will never take advantage of your family. When an infant or child passes away, we reach out and help the family and community we are a part of at no charge to the family. We have established our day to day business with our hearts not our pocket books. It is truly all about family. When you put your trust in Voyage rest assure we will not let you down nor disappoint.