Search:

Winnipeg Free Press Passages
All Titles
Notices are posted by 10 am Monday through Saturday
❮ Go Back to Listings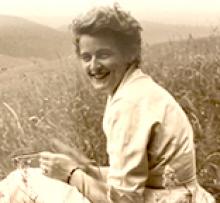 GERDA TARPEY (HANNELORE) (BEIN)
Born: Apr 04, 1928
Date of Passing: Jan 12, 2020
Send Flowers to the Family
Offer Condolences or Memory
GERDA TARPEY
1928 - 2020

Gerda Hannelore Tarpey (née Bein) passed away January 12, 2020, at the Grace Hospital in Winnipeg, MB, at the age of 91.
Although she might not agree, Gerda had an interesting life; she had a ringside seat to some of the most tumultuous historical events of the 20th century. She would, however, definitely agree that she had a lucky and fortunate life, much of which she would ascribe to divine intervention.
She was born April 4, 1928 in the small German town of Mohrin about 70 kilometers east of Berlin - in what is now Poland - to Otto and Charlotte Bein. Mohrin was an idyllic place to grow up in. It was an old walled medieval town, located on a lake in a bucolic setting. She had only one other sibling, her older brother, Heinz, by five years, and a large number of cousins. There was a lot for children to do in Mohrin, from swimming to fishing to rowing to just straight-forward play amongst the medieval walls and turrets that surrounded the town. She did from time-to-time recollect a number of experiences that spoke to the historical context that she grew up in.
One of her earliest memories was when she was three or four years of age. Germany was in the last years of the Weimar Republic, there was a global economic depression, the government was being assailed from the right by Hitler and the fascists and from the left by the communists. She was with the family nanny on the way to the town centre to visit her father, a banker, when they came across a group of communists marching. A brownshirt jumped out from the side of the street and stabbed the communist leading the march. Gerda screamed, panicked, pulled her hand out of her nanny's, ran home and hid under the kitchen table for hours before her parents were able to coax her out. She had reoccurring nightmares of that event that were filled, as she described it, "with blood everywhere." Those nightmares waned as she got older and disappeared, only to reappear in the last decade of her life.
She also recalled becoming quite ill with scarlet fever when she was eight and was given a red liquid as a medicinal cure; it was the first sulfonamide drug and marketed as Prontosil Solubile. While she was not the first to receive this drug, she was amongst some of the first, and it was Prontosil that signaled the transition of medicine from an art to a science.
She mentioned her discomfort and feeling quite awkward when her mother insisted that she take bouquets of flowers and gifts of food to the Jewish family in town. Of course, with Hitler coming to power in 1933, the program to ostracize Jews in all parts of Germany was rampant. Her mother's insistence stemmed from her mother and the mother of the Jewish family being good school chums. A comment that Gerda made often in the last three years was that the resurgence of populism and nationalism has many parallels to the politics in the Germany of the 1930s and she genuinely feared for western democratic values; her European-born friends of 90 plus years in age would very much agree with her on this point.
She also spoke of her family being near the top of the list to receive one of the first Volkswagens, but not being able to take receipt of it with the outbreak of the Second World War and the German Army had commandeered all the Volkswagens coming off the assembly line. But it was that VW car, never received, that forged a brand loyalty between Gerda and VW. A loyalty that was broken only once over her 91 years, and that was when she bought a BMW; however, she quickly became disenchanted with the BMW and a year later traded it in for another Volkswagen.
Then there was the Red Army advance of 1944 across Poland into Germany and the drive to capture Berlin by the Russians in early 1945. It was late January 1945, the Russians were a day, maybe two at most, away from Mohrin. Gerda, now 16, her mother and a group of other mothers, their children, and other young women, packed only the bare essentials into suitcases, said goodbye to their elderly grandparents, and then set off on foot under the cover of darkness to reach the other side of the Oder River about 20 kilometers away, where the German Army was building defensive positions. The night was cold, the ground was wet and muddy. Early on in the traverse, a number of the mothers and children turned back saying they had enough of the inclement weather. Gerda too wanted to go back to Mohrin, but her mother wouldn't allow it and insisted they keep walking. Her mother said she promised to rendezvous with Gerda's father on the other side of the Oder River, and she intended to keep that promise.
With little more than seven kilometers to the Oder River, the group of Mohrin refugees was approached by a figure on horseback. They were deathly afraid that it was a Russian soldier. To their relief it turned out to be a German farm boy with a rifle. The boy pointed in one direction to where the Oder River was and in another direction to where he said the Russians were. He then rode off in the direction of the Russian advance.
Gerda and her mother made it across the Oder, met up with her father, stayed a few weeks in Berlin, and then pressed on towards northwestern Germany in part to escape the allied bombing of Berlin. Attending an air show in the early 1980s which had a vintage Lancaster Bomber, she was overheard to say to the tour guide - "I saw quite a few of these bombers from the bottom, but never from the top nor from the inside. I thought I would take this tour and correct that perspective." The other reason, of course, was to get to the relative safety of the Allied lines. This decision undoubtedly saved Gerda from the atrocities and liberties taken by the Red Army soldiers on the civilian population when they did capture Berlin that May.
Of the Mohrin group that turned back that fateful night, none of them were ever heard from again; nor were any of the grandparents who had been left behind. When Mohrin was turned over to the Poles at the end of the war, the cemetery had been emptied of any German graves. And the River Oder became the new boundary between Germany and Poland.
What Gerda remembered of the four years immediately after the war was the hunger, the poverty, the lack of work to be had. It was this lack of work opportunities that prompted her to answer an advertisement in the local newspaper for young women to train for and work as nurses in England. She had never really thought of becoming a nurse before this; she had considered during the war of becoming a chemist or a biochemist, but not a nurse. When asked in the interview to write an essay on why she applied, she lied and wrote that she had always wanted to be a nurse, ever since she had contracted scarlet fever as a child. Her guilt about lying disappeared when she realized that the point of the essay was not so much to test her motivation, but rather to test her proficiency in English. In 1949, she left for England to train as a nurse.
She graduated as a nurse in 1953 and continued working in England for the next five years. During that time she met an Irish doctor, Patrick James Tarpey. They married in 1958 after she converted to Catholicism; she had been a Lutheran up to that point in her life. Shortly after getting married, she quit nursing to raise a family and her husband, Patrick, signed on to a series of medical contracts with the British government that took their family to East Pakistan (now Bangladesh), to East Africa and then to the British colony of Aden.
Aden, on the tip of the Saudi Arabian Peninsula, it could be argued was the last of the British colonies. When her family left Aden in 1967 and the British pulled down the Union Jack over Aden for the last time, the sun had officially set on the British Empire. She remarked on more than one occasion that there was a certain symmetry of this English withdrawal - not ironic, not fitting, but a symmetry nonetheless - with her husband's life. He was born on the eve of the 1916 Easter Uprising and a witness to the establishment of the Irish Republic, two events in what was at the time Britain's oldest colony and which in hindsight heralded the end of an Empire, and then to have him witness the actual lowering of the Union Jack over Aden and the British Empire 50 years later was symmetry.
Gerda herself was an anglophile and an ardent supporter of the British monarchy. Gerda had graduated as an English nurse in the same year as Queen Elizabeth's coronation, a woman only two years older than her. She, however, could only roll her eyes when her husband insisted on teaching her children that in Ireland and many parts of the world the Union Jack was commonly referred to as the "Butcher's Apron".
In 1968, at the behest of an Irish expatriot who her husband had met and worked with in East Africa, Gerda and Patrick moved their family to Canada, where her husband set up medical practice in Swan River, MB and again in Kipling, SK two years later. In 1975 her husband took a position as an Emergency Physician at Winnipeg's Health Sciences Centre and made one last journey in their global odyssey. This time to Winnipeg; a city that Gerda has considered her home since. Her husband, in 1978, did try and convince her to make one more move and that was to work for the Kaiser Health Foundation in Kabul, Afghanistan. She said absolutely not. A year later, when the Russians invaded Afghanistan, her husband said, "It was a good thing she drew the line on moving to Afghanistan. That would have been one sticky situation to have extracted ourselves from."
When Gerda became an empty-nester in the early 1980s, she returned to work as a nurse on the maternity ward at the Misericordia Hospital. She very much liked the work and her work colleagues. She retired in 1992, but soon claimed she was busier during retirement than when she was working.
In retirement, she remained mobile and fiercely independent, she kept a sharp mind and made all her own decisions even to the day of her death. She credited her avid bridge playing and penchant for crossword puzzles for keeping her mentally agile, and her insistence on taking the stairs, rather than the elevator, for keeping her in good physical shape. But the lion's share of the credit she reserved for her close group of friends - Sim, Marg, Elizabeth, Lorna, Judy and John, Mary, Mona, Merete, Shirley, and her "Canadian brother" Ken.
In her last week, Gerda had been taken to hospital by ambulance after collapsing and was given last rites, but was seemingly on the mend by the week's end - getting better and better with each day. On the Sunday of her passing, she was in excellent spirits and talked of returning home to her apartment at Brightwater. She then asked for help to sit up in the chair next to her hospital bed. Hospital staff helped her into the chair, upon sitting up she unexpectedly died. There is some speculation on the part of friends and family, that sitting up may have been quite a bit more difficult and strenuous than Gerda had anticipated, and she at that moment thought she would rather move on than face a prospect of being wheelchair bound and dragging an oxygen bottle around with her. It is believed that at that moment she asked the Lord to take her into His embrace.
She is survived by her son Thomas and his daughter Ariel; her daughter Gerda and her children, Kristine, Kevin, Allen and Patrick; five great-grandchildren, Mikayla, Patrick, Riley, Trinity and Ella; her sister-in-law Hilda; and her nephew and niece, Michael and Christine. She was predeceased by her parents, Otto and Charlotte; her husband Dr. Patrick Tarpey; her brother Heinz; her daughter-in-law Wendy; and recently by her niece Hannelore.
The Funeral Mass for Gerda will be celebrated at Our Lady of Perpetual Help, 4588 Roblin Blvd., Winnipeg on January 25, 2020 at 11:00 a.m. with a viewing from 10:00 a.m. to 11:00 a.m., Msgr. Maurice Comeault presiding pastor. A reception will be held after the Funeral Mass. The interment of her ashes will take place this spring.
LECLAIRE BROTHERS
475 Provencher Blvd.,
in care of arrangements, 204-775-2220
As published in Winnipeg Free Press on Jan 22, 2020
Condolences & Memories
(4 entries)
To my beloved grandmother, I was heartbroken when I heard you passed on. 😞 There were so many times I wanted to call you and tell you how much I love you, and I'm sorry for all the wrong I have done, but now it's to late for that. It kills me everyday but at least your are with grandfather now living a worry fee happy life! I believe we will meet again and when that's day comes I'm going to give you and grandad the biggest hug ever! Like I said I know we had are ups and downs and our fights but you will always be my grandmother ! Bit out of all the years I needed you would be right now but I'm a Tarpey and we are strong rock and so like every bump in the road in they we as tarpey family we get threw anything and be 10 ten times stronger ! But I came a cross this and decided to write you this so you know. I never wanted to fight with you but we always bump heads'! Ps lol grandma but I found out we had something in common we both hate Donald trump. I see that and laugh because we could have talk about him and make fun of him 😞🤣😂 love you and granddad forever and you both are in my heart ❤️ ❤️❤️ - Posted by: Kristen Tarpey (Her first granddaughter ) on: Sep 23, 2020

What a befitting tribute to a beautifully strong woman. So well written. Gerda has been in my life from when I was a teenager. She was always there for a coffee and a chat and has been alongside life's bumpy roads with words of wisdom. The bumps weren't just the trip her and I took to Kipling in her VW either. I would meet her in London (UK) when she came over and have fond memories of our lunches and matinees together. Gerda, you may be gone from this world, but you have left an strong and postive mark on our lives, may you rest in peace .... you will always Mrs Tarpey to me xx Deepest sympathies to Tom, Gerda Jr. and families. - Posted by: Kim Spooner (nee Bednarz) (friends) on: Jan 25, 2020

It is with great sadness that I heard of the passing of my godmother Gerda Tarpey. Gerda was my neighbor growing up, and a warm, caring, worldly intellectual, who I will always look up to. She was a woman who had lived through it all, and was always willing to share her experience so that I could grow from it. When my parents arrived in Winnipeg in 1977 the Tarpey's treated them as family. Gerda and my mother Renee were great friends and frequent bridge partners. I have fond memories of together volunteering at St. John Brebeuf Parish, playing cards, and zipping around town in her many different Volkswagens. Gerda even helped my preparation for University Professional school interviews by engaging me with thought provoking questions. After my family re-location to Ontario, whenever I would need to return to Winnipeg Gerda would open her eclectic house to me. Alongside my father Brian, we will cherish Gerda's memory. She will be fondly missed, and forever held in the highest esteem. Our deepest sympathies to Thomas, Gerda, and the rest of their family. Monty and Brian McKillop - Posted by: William McKillop (Godson) on: Jan 22, 2020

I belong to the St. Ignatius Marathon Bridge Club. I remember Gerda well - with her sharp bridge playing skills, welcoming demeanour, and her wonderful furnishings from all over the world. She shared the history of the pieces we admired from Morocco, etc. She was a lovely woman, and she will certainly be missed. Rest In Peace Gerda! - Posted by: Catriona Younger (Bridge player) on: Jan 22, 2020
Email Alerts
Sign up for free email alerts of new obituaries for specific people, towns & more.
❮ Go Back to Listings