Search:

Winnipeg Free Press Passages
All Titles
Notices are posted by 10 am Monday through Saturday
❮ Go Back to Listings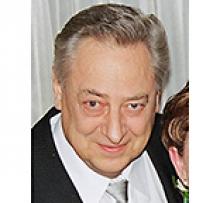 BERNARD ALEXANDRE SABOURIN
Born: Aug 10, 1941
Date of Passing: Mar 29, 2020
Send Flowers to the Family
Offer Condolences or Memory
BERNARD ALEXANDRE SABOURIN

Bernard Alexandre Sabourin (Ben), born on August 10, 1941, passed peacefully on March 29, 2020 at the Saint Boniface Hospital. The loss of a good man who touched us all.
Ben is survived by his wife Claudette (née Parent) and his children, Doris (Guy), Bruno (Jannine), Patricia; and Maria, their Argentinian AFS student. Ben leaves seven grandchildren, Danielle, Nicole, Joëlle, Alex, Jenna, Beau and AlexiLee; four siblings, Lorraine (Gerry Muller) (both predeceased), Claudette (late David Zilli), René (Gisele Bérard) and Gérald; and many nephews and nieces.
Ben was an entrepreneur/businessman. As a young man, he took over his father's garage and Chrysler dealership in his hometown of St Jean Baptiste. In the 1970s, Ben designed fiberglass trailers he coined Casa-Rolla, and fabricated the yellow seats for the Rainbow stage. Later, Ben also designed the short-nosed school bus at Superior Bus Manufacturing (previously known as Sheller-Globe Corp.). Ben finished his career as manager of the employment center in St. Boniface.
Upon his retirement, he and his wife Claudette took up permanent residence at Albert Beach. They spent their summers golfing and entertaining with their family/friends. In the winter they enjoyed travelling to warmer climates like Arizona or to New Zealand to visit their daughter Patricia.
We thank all the staff at St. Boniface Hospital for Ben's care. We also wish to thank our families and friends for their prayers.
Cremation has taken place. Due to the COVID-19 and social distancing, a public service will not be held.
In lieu of flowers, donations may be made to the Heart and Stroke Foundation.
LECLAIRE BROTHERS
475 Provencher Blvd.
in care of arrangements, 204-775-2220
As published in Winnipeg Free Press on Apr 04, 2020
Condolences & Memories
(43 entries)
Chère pepère et memère, you are in our thoughts and prayers. We will always remember you as our second father because you always treated us as your second kids and watched over us in a loving and caring way (even while we were hanging out with boys at Albert Beach 😉). We are thankful for our time spent at Albert Beach during the summers; enjoying the sunshine and the lake, memère's homemade cooking (especially the blueberry and rhubarb desserts), playing canasta (modeling us into card sharks from a young age), and watching you win all the computer games! It was truly a priceless gift and a fond childhood memory that we will carry with us throughout our lifetime. As we transitioned into our young adult lives, you remained a supporting presence in our lives. You always expressed interest and encouragement towards our endeavors, whether it be summer jobs or academic studies. No matter how busy our personal lives got, we could always count on the moments of respite spent catching up and enjoying a glass (or a couple) of your wine. You have a huge heart, you were always thinking of everyone first before yourself. Now we hope you are taking time for yourself, enjoying as many glasses of wine as you want, and beating everyone in cards! Love you always, Nicole & Joelle. - Posted by: Joelle and Nicole (Granddaughters ) on: Apr 28, 2020

Chère pepère, you will be surely missed by me, Nicole et Joëlle. I will always remember and cherish each summer we spent at plage albert with you and memère. We considered you both our cooler stand-in parents during that time whom allowed us to have a belly full of candy, laze on the beach with sand in out toes and have absolutely no care in the world. You were also a great at chasing away all the annoying boys at the beach. And we learned quick no to mess with you or be smart alecks as one stern look from you would put us right back in our place. Also, we all learned how to appreciate drinking a glass of wine from you and there was always a never ending supply of wine at the cabin. We will always love you pepère and you will always be in our hearts. I can't believe you're gone, but I know that you're up in heaven having a nice glass of wine and sharing many laughs with all of your beloved friends and family and one day we will join you at up there in heaven. Rest in peace pepère. - Posted by: Danielle LeGras (Grand-daughter) on: Apr 18, 2020

Je viens d'apprendre la triste nouvelle. Même si je suis un peu en retard, je tiens à exprimer mes plus sincères condoléances à toi, Claudette, et à ta famille. - Posted by: Louise Simard (" Coz") on: Apr 15, 2020

Nos sincères condoléances à Doris, Guy et famille. Nous pensons à vous dans ces moments difficiles. Nous vous embrassons très fort. Adèle et Noël. - Posted by: Adèle Hébert-Kirouac (Friends) on: Apr 10, 2020

I have never met Ben but I have had the distinct pleasure of previously working with his daughter, Doris. Although Doris and I worked for a short period of time in Alberta as Nurses our friendship developed quickly, effortlessly and abundantly. In reading the many condolences from family and friends it is evident that you Doris have many admirable qualities from your beloved Father; sincere laughter and a kind and gentle soul. I offer my deepest condolences to all family and friends in this time of unwavering sadness. Doris, In time the smiles will return with memorable thoughts of your dad. - Posted by: Heather Kuntz (Friend of Doris) on: Apr 09, 2020

Ben meant so much to Warren and me... it's hard to know where to start. He had a keen business mind. When we started our own business, he and Claudette helped us with number-crunching, how to make a P&L and the importance of tight inventory control. I always remembered something he said back then: "A person may be good at what they do, but it doesn't mean they can effectively run their own business." We always knew we could call on him for advice, and more than anyone, he was instrumental in our success. We are (still) so thankful for your wisdom, Ben. When Ben and Claudette lived in St.Jean, we'd often drop by their place on Sunday afternoons. We'd sit in the screenhouse by the river, have a beer and talk about life, business and politics. He'd cook us a fabulous wood-fire steak. We always felt accepted. We always felt welcomed. I'm sorry that we won't get to keep eating steak with you when the weather warms up, but I promise you we'll have one 'in your honor' with Claudette. Ben, we choose not to mourn you, but to celebrate a life well-lived. Thank you for everything you were to us/did for us. We stand with your family; until we meet again. - Posted by: Suzanne Klippenstein (Sister-in-law) on: Apr 08, 2020

Mes sincères condoléances à toute la famille. Comme jeune, j'ai souvent passé du temps chez les Sabourin et je me suis tout le temps sentie partie de la famille. Que de triste nouvelles. Je pense à vous tous. - Posted by: Lucie Desaulniers (Friends of Doris (daughter)) on: Apr 07, 2020

Uncle Ben intrigued and terrified me as a child. I think he liked it that way. I always thought he was a cool character. He introduced me to water beds, ride-on lawnmowers and red eyes (the drink). He taught me that you don't need a chiselled physique to rock an unbuttoned shirt, mixed drink and cigarette. He stalked me relentlessly for 4 hours at a family BBQ one time, just because he felt like it. Aunt Claudette, Doris, Bruno and Pat, I'll always smile and laugh when I think of Uncle Ben. He was a unique character, one-of-a-kind, generous and thoughtful. Stephanie, Holden and I are deeply sorry for your loss. - Posted by: John Stephanie & Holden (Tormented Nephew) on: Apr 07, 2020

Claudette, I was so fortunate to meet you in 2013. Over the years of my friendship with Danielle, I have felt that I grew to know you and your husband through Danielle's vivid storiy-telling. May your family and friends be bolstered by the rippllng effects that Bernard has had on many of your lives. May you go in peace, knowing that, "No man is an island, no man stands alone. Each man's joy is joy to me. Each man's grief is my own". - Posted by: Wanda Lehman (Friend) on: Apr 07, 2020

Nos sympathies à toi Claudette et toute ta belle famille. Nous sommes là pour toi. Nous n'avons que de bonnes mémoires d'avoir côtoyé Ben au cours des années. Nous le voyons encore quand il venait à St. Joseph avec ses grosses autos modernes pour te "cruiser" Claudette. Nous le trouvions tellement "debonair"!!! Au cours de sa vie, Bernard a toujours été un excellent entrepreneur et malgré tous les défis qu'il a vécu, nous ne l'avons jamais vu découragé. Bon repos. "Till we meet again". Love you, Renald & Lorraine Parent et toute notre famille. xoxoxoxoxo - Posted by: Renald & Lorraine Parent (brother/sister-in-law) on: Apr 07, 2020

I have such wonderful memories of spending time at Albert beach at your cottage/ home. You and uncle Ben were always so welcoming and made everyone feel so at home. I will miss him, his dry sense of humour, big laugh and gentle caring spirit. Sending you big hugs and kisses auntie clo, Doris, Pat and Bruno. - Posted by: Paula (Churchill) on: Apr 07, 2020

"Recevez toute notre affection et notre soutien en cette rude épreuve. Nos condoléances les plus sincères et nps prieres sont avec vous tous. La fille, les gars et nos famille de ti-Bob et Ninette. - Posted by: Emile Sabourin (cousin) on: Apr 07, 2020

Our condolences Claudette, Doris, Bruno, Pat and extended family. I have many happy memories of Ben (and you too) from our trips to Manitoba over the years. We could always count on a new story with every trip, most we still tell after all these years. Ben was a character in the best possible meaning of the term. It's not possible to remember times with him without a smile and a laugh in spite of the difficulty of this time. Love, Gerry and family - Posted by: Gerry Churchill (Nephew) on: Apr 07, 2020

Le départ de Bernard ne fut pas facile pour nous et nous souhaitons nos sympathies les plus sincères à Claudette, à Doris et famille, à Bruno et famille, à Patricia et famille et aux frères et sœurs : Claudette, René et Gérald. Claudette m'avait demande de préparer une eulogie mais puisqu'il n'y aura pas de funérailles, je vous partage mes pensées pour l'eulogie via ce medium. Bernard a toujours été un homme de principe et un ami fidèle…nous nous sommes connus non seulement en tant que cousin germain mais aussi en tant qu'amis proches depuis notre enfance allant jusqu'à dernièrement. Les souvenirs sont trop nombreux pour énumérer dans ce texte mais tout de même je vous partage les suivantes : nos semaines ensembles en tant qu'enfants à la résidence de l'un l'autre, en passant par le Camp Notre Dame à la Plage Albert, de nos visites de couples avec les enfants pendant les six dernières décennies, les temps passées aux chalets de l'un l'autre à la Plage Albert ou au Lac Beresford et nos innombrables jeux de Canasta et j'en passe. Non seulement entrepreneur mais aussi vendeur, on farçait toujours que Ben pourrait vendre des réfrigérateurs aux résidents du nord. Il a eu des hauts et des bas dans ses initiatives commerciales mais toujours, il maintenait le cap guidé par l'intégrité, l'honnêteté et l'audace…il était visionnaire, il était créatif et il était ambitieux. Bien que ses dernières années lui posaient des défis de santé, je ne l'ai jamais entendu se plaindre…il cherchait toujours la solution la plus pratique pour qu'il puisse continuer à aller au chalet et jouer au golf…ses deux passe-temps favoris. Nous étions trois, les Trois Mousquetaires de Saint-Jean-Baptiste, Rodolphe Comeault, le premier à partir, maintenant ce fut au tour de Bernard d'aller le rejoindre et ensemble, vous êtes tout probablement déjà en train de faire des mauvais coups en haut en quelque part…à bientôt vous deux. Lucien et Lucienne Loiselle - Posted by: Lucien Loiselle (cousin) on: Apr 06, 2020

Sincères condoléances à toi Claudette, aux enfants, petits enfants, frères, sœurs. Nos pensées sont avec vous dans ces temps difficiles. Nous vivons un temps déjà assez accablant et nous vous souhaitons bon courage de passer à travers une autre dure épreuve. - Posted by: Jocelyne, Andrée, Odette, Charlotte (Cousines) on: Apr 06, 2020

Je pense a toi Claudette dans ces moments difficile. Mes sympathies a toi et la famille. Il y a plusieurs années qu'on a pas fait contacte mais je n'ai pas oublie ton beau sourire et ton amitié. Prends bien soin de toi. - Posted by: Madeleine Gagnon (friend and co-worker) on: Apr 05, 2020

Ben was a true entrepreneur, enjoyed leadership, and was very approachable. Please accept our sincere condolences from someone who knew the family from several points of view: friendship, education, and camaraderie. - Posted by: Jim Dewart (Friend of Ben, his extended family, and teacher of his children.) on: Apr 05, 2020

Nos sincères sympathies à Claudette et famille. Aussi nos sympathies à René, Gérald et Claudette. Nos pensées et prières sont avec vous tous. Gérard & Louise Perrin - Posted by: Gérard & Louise Perrin (Cousin) on: Apr 05, 2020

If you spent one day with him you would have the best time of your life. My favourite memory of Ben is when I went golfing with him and I am happy I got to spend time with him while he was alive. Happy that he is in a better place. He is probably making red wine in heaven. - Posted by: Alex sabourin (Grandson) on: Apr 04, 2020

My condolences Claudette & ur family Yes I remember how u & Ben came & helps us when we flooded in 1997 that was so great sure had some great laughs especially that u guys had been threw floods already Mes sympathies Claudette Angèle Perron - Posted by: Angèle Perron (Friend ) on: Apr 04, 2020

Dear Claudette Our deepest condolences to you and your family in this time of sorrow. Our thoughts and prayers are with you. Marcel & Debbie Bissonnette - Posted by: Marcel Bissonnette (Cousin) on: Apr 04, 2020

My father passed away when I was one year old. At the age of sixteen I came to this wonderful family who adopted me as their daughter for a year. Ben was my father. Always smart, sharp, funny. How to forget our talks! Always in my heart Ben Sabourin. All my love to my Canadian family. - Posted by: Maria Abraham (Your argentine daughter) on: Apr 04, 2020

Claudette et les enfants... En lisant ce message, beaucoup de bons souvenirs de Bernard; oui, son sens d'humour, sa fierté et surtout sa créativité! Mes sincères sympathies et vous serez dans mes prières, surtout en ce temps doublement difficile... amitié, Marie-Ange Sabourin - Posted by: Marie-Ange Sabourin (Cousin) on: Apr 04, 2020

Mes sincères condoléances à toi Claudette, tes enfants et tes petits-enfants. De bons souvenirs ça ce n'oublie pas. - Posted by: Gilbert Comeault (Cousin) on: Apr 04, 2020

My deepest sympathies Claudette, Doris, Bruno, Pat and your families. Ben will always have a special place in my heart. I loved him and miss him already. My family and I will always have the best memories of Ben and the summer holidays we enjoyed together over the years. Ben was firstly a caring, nurturing family man putting his family's needs above his own. He was a great debater on all subjects from politics to sports. Ben developed an interest in wine making over the years and made the best wine I ever tasted. He always made sure I had an endless supply when I visited -always so thoughtful, an amazing host and just so much fun to be with. Ben and my husband had a wonderful friendship over the years. When my husband passed, Ben dropped everything and drove to Ontario to grieve with our family while delivering a very fitting eulogy. I was very comforted in having his support during that difficult time. Claudette and Bruno (my third son) accompanied Ben. Doris who was in the Maritimes on another matter made a pit stop in Ottawa so she could be among us as well. I will never forget your kindness and support. Forever in my thoughts, love you, Danielle - Posted by: Danielle Churchill (Sister in law) on: Apr 04, 2020

Nos sincères condoléances à Claudette et les familles Sabourin/Parent. On tiendra de beaux souvenirs de nos rencontres à coeur. Dave will have one less of the guys to chat with. - Posted by: Dave & Noëlla Ramsay (Voisins (Plage Albert)) on: Apr 04, 2020

Thinking of you and family at this sad time. Lisele - Posted by: Listless LeBlanc (Friend) on: Apr 04, 2020

Dear Claudette and Doris. Our sincerest condolences to you and your families. Ben was a very likeable and memorable person and we know he will be missed. Our thought are with you. Don and Wilma - Posted by: Don and Wilma Sparkes (Friends) on: Apr 04, 2020

Nos sincères condoléances à Claudette et la famille. Son sourire et humour était contagieux... - Posted by: Robert & Debbie Dupas (Cousin) on: Apr 04, 2020

Nos pensées et prières sont avec toi Claudette et la famille en ce temps difficile. - Posted by: Norbert & Lucette (Brother) on: Apr 04, 2020

C'est avec beaucoup de tristesse que nous avons appris le décès de Bernard (Ben). Nous avons de très bons souvenirs avec Ben au chalet. Toutes nos sympathies à toi Claudette et à la famille. - Posted by: Pierre, Odette et Florence (Amis) on: Apr 04, 2020

Ben was the brother I looked up to when we were growing up. He was my friend, my mentor and my consult in so many facets of my life. Loving this man was easy. I and many others who knew him will miss him. Rest in peace Ben! To Claudette and her family we grieve together having shared a wonderful human being. May time slowly lessen the lost we all share. - Posted by: Rene Sabourin (Brother) on: Apr 04, 2020

Ben was a Boy Scout leader in the 60,s. Dedicated and kind and caring.Always accepted people as they were,non judgemental! Made you feel good! Today,I lost a friend,"out there ". Toujours pret. - Posted by: Yvan Gosselin (Long ago friend ) on: Apr 04, 2020

Mes sincères condoléances, Claudette, à toi et à la famille de Bernard. Qu'il repose en paix. - Posted by: Annette Bonomo (friend and neighbour) on: Apr 04, 2020

Ben & Claudette were close friends especially when we were all living in St.Jean. We especially remember our encounter in New Zealand while visiting Pat. What great memories! - Posted by: Richard & Elane Sabourin (Cousins & close friends) on: Apr 04, 2020

To my Dad, You were an approachable, intelligent and strong man with a wicked sense of humor. You had a memorable personality. You will be missed by many. Love you Papa. Doris xo - Posted by: Doris Sabourin (daughter) on: Apr 04, 2020

Nos sincères sympthies à toi Claudette et toute ta famille. On te souhate courage dans ta peine. ON pense à vous tous! - Posted by: George & Denise Perron (cousin) on: Apr 04, 2020

On pense à toi Claudette et tes enfants pendant ces moments difficiles. Ben était un gentil homme. Il laisse de beaux souvenirs. Nos condoléances les plus sincères. - Posted by: Suzanne & Patrick LeMadec (Amis) on: Apr 04, 2020

Our sincerest sympathies to Claudette and her family. I worked with Claudette at Université de Saint-Boniface and also met Patricia there. Our prayers and thoughts are with you and your family in these hard and trying times. Please keep safe and healthy. - Posted by: Gilbert & Lise Ruest (Co-worker) on: Apr 04, 2020

My sincere condolences to Ben's family and friends. Ben was a great brother and always made sure his younger sister was doing well I will miss Ben's jokes, sense of humour and most of all the memories he left me with. Your loving sister, Claudette - Posted by: claudette sabourin-zilli (sister) on: Apr 04, 2020

My sincere condolences to Ben's family and friends. Ben had a huge kind heart and I was proud to be his sister. I will miss you greatly and will cherish all the memories and fun we had together. Your loving sister, Claudette - Posted by: claudette sabourin-zilli (sister) on: Apr 04, 2020

He was a kind and generous person! - Posted by: RICK BOUX (NEIGHBOR) on: Apr 04, 2020

Our Condolences Claudette And the family rest in peace , From Fred & Eva , - Posted by: Fred & Eva Peloquin (Cousins) on: Apr 04, 2020
Email Alerts
Sign up for free email alerts of new obituaries for specific people, towns & more.
❮ Go Back to Listings