Search:

Winnipeg Free Press Passages
All Titles
Notices are posted by 10 am Monday through Saturday
❮ Go Back to Listings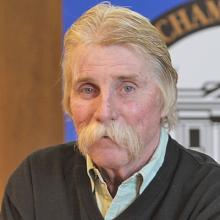 ROBERT BORDEN HADLEY
Born: Dec 15, 1951
Date of Passing: Oct 02, 2022
Offer Condolences or Memory
It is with deep sadness that we announce the sudden passing of Robert Borden Hadley on Sunday, October 2, 2022 at the Brandon Regional Health Centre.
Borden was born in Shoal Lake, Manitoba, the younger of two brothers born to Edgar and Alice. Borden arrived on December 15th, 1951 - about 18 months after his brother, Brian. Their father left the RCMP to pursue priesthood, and in 1960 he was posted to his first parish, in Brooks, Alberta. He served there until his sudden death in December of 1962. Borden was 10 years old, Brian not much older; so Alice moved the family back to Rossburn the following summer, before settling in Brandon in the fall of '63. This was Borden's home ever after.
The boys went to school here; although it must be said that Borden's school years were brief. The family aren't sure how many grades he managed to finish before the principal at Neelin called his mother, and told her to take him home. Apparently, riding your dirtbike through the school on a dare is enough to earn you an expulsion. Alice asked what he was going to do now, and Borden had a ready reply: "Go to work!"
His girls will tell you that Borden was always working. When he was 12 or 13, he'd found summer work as a Carney, working fairs with Royal American Shows. Brian remembers he did that for five or six years. He met his wife, Pat Glaseman that was, in 1971 when they were both working at McKenzie Seeds. I think Borden's stay there was brief. I might remember a story about racing forklifts. Pat lasted longer at that job.
Borden's ambition was to go into business for himself, and he did that many times. One of his early ventures, with partner Tony Leslie, was the Grand Valley Gulf. This was a service station that had a small restaurant and grocery attached. They sold a pile of ice cream out of that station, because Borden, as a former carney, knew how to pitch to the customers who came in.
While still a partner in the Gulf Station, Borden also opened Friar Tuck's Restaurant, on Princess, another early venture. When Grand Valley Gulf burnt to the ground, Borden moved into the painting and decorating business, initially as Rainbow, and later Royal Decorating. Darryl Solomon was a partner in at least one of those businesses. Borden painted for many years, before setting up Smooth Movers, in 1982. Pat was a partner in that venture, even after their marriage ended in 1987.
Borden had many partners, and many business ventures over the years. There was the Movie Stars Video Rental shop, and any number of Apartment blocks renovated and run over the years. He was a silent partner in some ventures, too.
His partnership with Pat produced three children: Todd, Tobi, and Bobbi. Todd was born in December '74, Tobi in May of '76, and Bobbi in October of '79. As a father, Borden was, well, often at work, trying to support his family. He was never the disciplinarian – that was Pat's job – but he was always devoted to his kids. Even after he and Pat divorced, he paid regular child support. That continued until her death, by which time his kids were in their '40s. "She's the mother of my kids," he'd say, if anyone asked why he was still sending cheques.
Pat remained friendly with him through the years. When Borden lost a lung to cancer, in 1989, he moved back in with her, and she nursed him through his recovery. And when the kids were at her place for Sunday dinners, she'd often send them home with some of her perogies, cabbage rolls, or spaghetti for their Dad. She knew he enjoyed her cooking.
Borden worked hard, and his hard work was rewarded as Smooth Movers transitioned to become Smooth Freight. At their peak, Smooth had over 300 vans on the highway. Borden was truly honoured when, in 2012, he was recognized by the Chamber of Commerce as Businessperson of the Year. Although, if you knew Borden, you know it was often a charity as much as it was a business. If he knew anyone who hit hard times, well, chances are there was a job at Smooth. He'd find something for someone to do, if they were willing to work.
Borden Hadley had a soft heart, along with his head for business. He always kept cash in the ashtray of his truck, so that he'd have something to give someone panhandling. When he started spending some of his winters in Arizona, he would make up care packages at Christmas to give out to the homeless folks on the streets there. Bob Jenkins was one of his partners in those ventures. Everyone got a sandwich and a drink and $5, because Borden believed everybody deserved something at Christmas. When there was a need, Borden also stepped up to support Brandon's Christmas Dinner.
But his biggest soft spot was for children in need. You won't find Borden's name on their website, or find his picture there, but the Westman Dreams for Kids got its start when Borden learned about a family who needed help to be with their child, when that child was slated for heart surgery in Edmonton. Borden called up Ron Ball and said, "We need to do something." That something eventually became Westman Dreams for Kids.
Borden stayed on the fundraising side of the project, happy to hit up friends for support, and to raise up the auction bidding at their events, but never wanting it to be about him: It was always about the kids, and their families.
That said, he was more than happy to tell you that the Buffalo mounted in his living room was the one that knocked Ron Ball out in the chute one day. It went to be hamburger the next day, and when the head came up for auction, Borden wasn't too upset to find himself stuck with the winning bid.
If you were Borden's friend, you probably found yourself on the receiving end, at one time or another, of some prank or jest at your expense. The closer you were to Borden, the more likely you were to be on the receiving end of some friendly feud. Ron told him, "Somedays, I wonder why I am your friend."
The answer is that Borden was the most loyal of friends, and the one guy who would always be there when you needed him. He was that kind of father, too, especially when the kids got older. If they got into trouble, he would back them to the hilt; and if they just needed some advice, he was always willing to listen.
That love and loyalty was what led the kids to bring Borden home from hospital last month. He knew he didn't have long to live, and he wanted more than anything to get out of hospital and get home. Todd came in from Arborg, Bobbi moved out to the house, and Tobi called and came around, and Brolin stepped up, all to make sure that Borden was safely cared for in his last weeks of life. The family did everything to keep him comfortable, and to allow friends to come and say their goodbyes.
Borden was at home almost to the last, coming back into hospital only on the first; and passing there the next day, Sunday October 2nd. Borden leaves his brother Brian, and wife Catarina, his son Todd, and daughters Bobbi and Tobi, and grandson Brolin to mourn their loss. He will be remembered by a wide circle of friends in this community, as well as in Arizona, where he spent most of his winters in the last dozen years or so.
The Celebration of Borden's Life was held at the Victoria Inn on Monday, October 17, 2022, officiated by Joe Ball.
Donations in memory of Borden may be made to Westman Dreams for Kids, 404 – 18th Street North, Brandon, MB R7A 7P3.
Lots of Love Dad!
Todd, Tobi and Bobbi
Expressions of sympathy may be made at www.memorieschapel.com
As published in Brandon Sun on Feb 04, 2023
Email Alerts
Sign up for free email alerts of new obituaries for specific people, towns & more.
❮ Go Back to Listings