❮ Go Back to Listings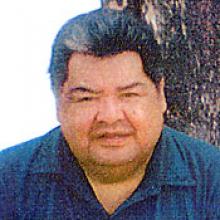 OSCAR LATHLIN
Born: May 20, 1947
Offer Condolences or Memory
OSCAR LATHLIN Oscar was born on May 20, 1947 at The Pas, Manitoba to Arthur and Lillian Lathlin formerly The Pas Indian Band (now Opaskwayak Cree Nation (OCN). Oscar was a member of the Church of the Redeemer where he was baptized. He was also a member of the Anglican Young People Association (AYPA). Oscar received his education at The Pas Indian Day School, Frontier Collegiate at Cranberry Portage where he graduated from high school, and at Brandon University. During his lifetime, Oscar continued to live at OCN and enjoyed his cabin at Clearwater Lake when he was home from Winnipeg. He worked for OCN as the Band Manager and SCTC as the Executive Director, the provincial (Manitoba Newstart, Autopac adjuster) and federal governments (Canada Manpower, Department of Indian Affairs as Associate Regional Director-General), which took him to northern Canada (Yellowknife) and to Winnipeg. Oscar also worked at many other positions throughout western Canada and in The Pas during his lifetime. In 1985, Oscar was elected Chief of The Pas Indian Band. He was Chief for five years and served on various committees of the SCTC, MKO, AMC and the AFN. Oscar worked on many important issues locally, regionally, provincially and nationally. During his time as Chief, OCN signed a gaming agreement with the province, started the land management protocol for First Nations, expanded the infrastructure on OCN, was instrumental in the devolution of child and family services for Manitoba First Nations, and was foremost for First Nations taking responsibility for programs and services for their own people. Oscar had confidence in First Nations people administering their own programs. When he was a young boy, Oscar lost his father who had taught him traditional pursuits such as trapping, fishing and hunting. Oscar was also given the task of tending to their sleigh dogs. After the loss of his dad, Oscar assumed his family role as man of the house. This was a big responsibility for Oscar. During this time, Indian Affairs staff came along to gather children for residential school. Oscar's mother hid him so the Indian Affairs staff could not, and did not, take him. Oscar never forgot his humble background, his upbringing, his roots and his family. In 1990, Oscar ran in the provincial elections and was elected as the MLA for The Pas constituency. He had been elected MLA consecutively since 1990 right up to the last election. Prior to that, Oscar was appointed critic of various portfolios when he was in opposition. One of Oscar's most proudest moments and what he saw as one of his significant achievements was winning all the polls in the last Provincial election. Premier Gary Doer appointed Oscar a provincial minister when their party made government. Oscar held two portfolios during his time as MLA; Minister of Conservation and Minister of Aboriginal and Northern Affairs. Oscar died suddenly on November 2, 2008 at his cabin by Clearwater Lake at the age of 61 years. Oscar is survived by his wife, Leona, daughter Amanda and his precious granddaughter, Elyse; sons, Oscar Arthur Edward Jr., Curtis, Douglas Marles, Vincent (Angela) Sinclair, Rick (Raquel) Sinclair, and Bradley Sinclair; his brothers, Arthur (Archie and Rose), Don (Olive), Riley (Lori), Dennis (Amanda), his sisters, Muriel (Stan) Turner, Matilda and Stella, uncles/aunts, Thomas (Louise) Ballantyne, Solomon (Charlotte) Ballantyne, Raymond (Eleanor) Ross-Lathlin, Nathan Head, Harry Lathlin, Lucy Head and Agnes Bloomfield, mother-in-law Evelyn Jebb and brothers and sisters-in-law; many nephews and nieces on his paternal and maternal side of his family and many relatives: Lathlin, Ballantyne, Ross, Umpherville, Jebb, McLean and Highway (Shirley and Henry) . Oscar was predeceased by his parents Arthur and Lillian, his maternal grandparents Simon and Harriet Ballantyne; paternal grandparents, Donald and Sophia Lathlin; his children's mother Matilda Daniels; brother Sam; sister-in-law Pauline; uncles/aunts, Irene and Herbert Highway; Leonard and Hannah Lathlin; Simon John and Mary Jane Ballantyne; Eliza Jane Ross; Florence and Robert Umpherville; John Samuel and Madeline Lathlin; Joseph and Matilda Bloomfield, and Harry George Bloomfield; father-in-law Ernest Jebb and brother-in-law Vernon Jebb. Interment took place at Emmanuel Cemetery, Opaskwayak Cree Nation. In lieu of flowers, if friends so desire, donations may be made to The Pas Wellness Center in care of The Town of The Pas, Box 870, The Pas, Manitoba, R9A 1K8 or The Opaskwayak Health Facility, in Care of Opaskwayak Health Authority, Box 10280, Opaskwayak, Manitoba, R0B 2J0, would be appreciated by Oscar's Family. Hemauer Funeral Home, The Pas, Manitoba, in care of arrangements.
As published in the Winnipeg Free Press on Nov 12, 2008
Email Alerts
Sign up for free email alerts of new obituaries for specific people, towns & more.
❮ Go Back to Listings