❮ Go Back to Listings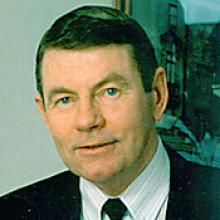 GRAHAM L. DIXON
Born: Jan 29, 1931
Date of Passing: Dec 06, 2008
Offer Condolences or Memory
GRAHAM L. DIXON, CD Graham Lanning Dixon was born January 29, 1931, a time when little boys were not afforded the same luxuries of childhood to which Canadians are accustomed today. Images of Graham's early days running rogue in the streets of Vieux Montréal are best captured in the stories written by his favourite author Mordechai Richler: the hilly cobblestone streets, the people, the cars, the horses, the music. Raised by a single mother in the Dirty Thirties, school-aged Graham was sent to board on farms in the village of Hemmingford, Québec. Young life was hard work, but remembered with warm thoughts of kind people. As a teen, Graham attended the Institut français évangélique de la Pointe-aux-Trembles, a co-ed boarding school. Graham credited the school's headmaster, retired WWI Colonel Claude C. Gooday, for motivating him to join the military at 17. Never one to take the easy road, Graham joined the French Canadian Infantry Regiment the Royal 22nd out of Québec City - and after 3 months of training he was a skilled soldier and fluent French-speaker. Especially fond memories from his 10 years of military service were of training with the US Marine Corps at Camp LeJeune, North Carolina, leading new recruits through training in Churchill as a 19 year-old Corporal, instructing at the Airborne school in Rivers, Manitoba, and accomplishing 299 parachute jumps. Actually, the real number was 301, but 2 didn't count as they were unauthorized - as disciplined as Graham was, he got into mischief once in awhile! At 20, he was assigned to the Canadian Embassy in Paris as aide de camp to Ambassador Georges Vanier, whom he held in high regard. After tense times in the Korean War, good times at the battle school in Japan, and interesting times in post-war Germany, Graham retired from Regular Forces as a Captain, and served six years in the reserves with the Armoured Corps. Following his military service, he completed a Commerce degree, then joined the Federal Public Service. After managing several districts for Manpower and Immigration he became Regional Director for Alberta, Director for the Prairie Region, and finally Metro Manager for Winnipeg, bringing him back to the city where he met and married the love of his life. Politically active and committed to serving his country, Graham became Senior Policy Advisor to the Honourable Lloyd Axworthy on the Manpower and Transport portfolios. Next on the career path was 10 years as Regional Director for the Canadian Bankers' Association. Virtually the day after his retirement party, he put his knowledge to work as a consultant, providing management and business advice to diverse public and private sector groups in areas such as aerospace transportation, grain and commodities, and health. Known for his broad vision, intellect, compassion, and strength, he played a key role in the Core Area Initiative of the 1980s, chaired the Mid-Continent International Trade Corridor and Churchill Task Forces in the 1990s, and contributed to innumerable Federal task forces and advisory councils into the 21st century. Graham sat on the Federal Judicial Appointments Committee for Manitoba, the boards of the St. Norbert Foundation, Riverview Health Centre, the Eric and Jack Wells Foundation, the Manitoba and Winnipeg Chambers of Commerce, and the Winnipeg Symphony Orchestra, among many others. He actively supported the Royal Canadian Legion, the Korea Veterans' Association, and the Association of Jewish War Veterans. In his recent role as President of the Jewish National Fund for the prairie region, he saw possibilities and forged connections never before explored by the JNF. He continued his work fostering partnerships between Israeli scientists, First Nations leaders, and provincial Ministers until the last days of his life. With all his achievements, Graham was most proud to be a husband and father, and devoted himself to his wife Faye and daughter Susan. Warmly embraced from the start by Faye's family, he embraced them back twice as hard, and demonstrated his love by hosting beautiful gatherings and preparing sumptuous meals. Sharing a bottle of fine wine over dinner, Graham entertained guests with pithy observations and clever turns of phrase. Graham found his home in Winnipeg. After a somewhat vagabond existence, he never lost his appreciation for new people and places, and adored travelling with Faye and Susan. In spite of his busy working life, there was always time for his amazing garden, for playing golf with Faye, for quietly paddling his canoe, and for taking care of his home and the people who shared it. Graham Dixon died December 6, 2008. Funeral services were held December 8 at the Shaarey Zedek Synagogue in Winnipeg, led by Rabbi Alan Green. Pallbearers were Steven Bagel, Jim Carr, David Greenberg, Jeffrey Hirsh, Rami Kleinmann, and Dr. Jack Rusen. Honourary pallbearers were the Honourable Lloyd Axworthy, Terry Duguid, Arnold Frieman, Roger Garrity, and John Silverman. Donations can be made to the Graham L. Dixon/JNF - Manitoba Endowment Fund (204-947-0207) to advance his initiatives. Graham often quoted that famous MacArthur speech, Old soldiers never die, they just fade away. And although Graham was a soldier to the end, battling the disease that took his life with courage, strength, humour, and dignity, he will not fade away. His memory will live on in the hearts and minds of all who had the good fortune to know him, and in the legacy of all the important work he did. He will be missed but never forgotten.
As published in the Winnipeg Free Press on Dec 13, 2008
Email Alerts
Sign up for free email alerts of new obituaries for specific people, towns & more.
❮ Go Back to Listings