Search:

Winnipeg Free Press Passages
All Titles
Notices are posted by 10 am Monday through Saturday
❮ Go Back to Listings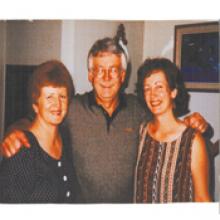 BILL (BILLY) GORRIE OR (WILLIAM CHARLES) -
Send Flowers to the Family
Offer Condolences or Memory
BILL (BILLY) GORRIE OR (WILLIAM CHARLES) 1950 - 2011 (As written by Billy Gorrie) After reading so many obituaries of people I knew that were written by someone else, I decided to write my own. The picture is of myself and my two sisters, Sandra Gorrie and Christine Sudol. That's me in the middle (Kidding!). The last number of years of my life I could describe with an old joke "I could never see the light at the end of the tunnel and when I did it was always an oncoming train." Anything that ever went wrong in my life, believe me, I had a hand in it. But I have lived a long life and have received countless blessings from so many people and animals that I couldn't ask for more. "A sign of a truly happy person is when all you really want is only what you really need." Some of the songs that have been running through my mind recently are all songs where something in the lyrics of each one of them has struck a chord (no pun intended) with me: Layla, Still, Bohemian Rhapsody, If I Had A Million Dollars, Somebody To Love, Touch Of Gray, The Boxer, Margaretville, Total Eclipse Of The Heart, The Dance and Sunday Morning Coming Down. Anyway on to my "Thank You's" and there are so many that to fit them all in I'll use very few last names but you'll know who you are when you read this and if I failed to mention anyone, please forgive me but I've only got about half a dozen brain cells left. First, all the dogs because they are God's only creatures who truly give you "unconditional love", Buster, Penny, Macaulay, Taylor, Sport, Dot, Dash, Keyeppie, Murphy, Ally Girl, Lil Cooper, Riley, Jazz, Lexi, Heidi and Sophie. My family: Christine and Ted Sudol, Drs. Sandra Gorrie and Gerry Clayden, Ruth Ziemski, Kelly and Eric, Mike and Cat, Nigel and Matthew. It's very difficult to describe the love I have for them. My wife of 30 years, Gail and Gail's mom Mrs. Eleanor Cooper, Robyn, Christine, Daryl and Louise Cooper and Louise's children. Daryl - you were always so good to me and my family. I'll never forget that Christmas Eve you came to visit me at the Grace - a long way out of your way and the gift you put into my hand. That act of love, caring and kindness alone in the hospital brought tears to my eyes and made me so grateful that God does make people like you. So many relatives and friends I want to thank - you could almost sing Paul McCartney's "Let Em In". To this; Jo Honey and Roger, Gerry "Legs" - he was like a brother to me, a best friend who called me almost daily to see how I was and I love him like a brother. Thanks Ivan and Yvonne, Eddie B., Ken and Vickie Singer, Dwight, my good friend Joyce G., Rhea who showed me I could love again and gave me hope, Terry and Lynne, Don and Fay, Gord and Barb, Shauna, Don P. and Linda and Lee, Frank and Christine, Diane at the Village, Jim and Audrey, my friends at Coldwell Banker - Rita, Dave, Kim, Peter (Breakfast?) and Eva, all the people at my AA, especially the fantastic people at my A action group, Gloria Dei, Herman, Lanny, Glen and Ruth K. Everyone at the CKRC/99.9 FM reunion who sent me so many e-mails: Beau and Heidi B., Reg J., Susan, Paul etc., Cathy, Sue, Jan Peters (Lewis?) from Silver Heights one of the best people I've ever had the good fortune to know. Dr. Schwartz and the staff at Assiniboine Animal Hospital, the kindness and friendship shown me by all the people at Smitty's Lounge in Westwood particularly Wayne, Angel, Greg (my cloudy day friend), Jenn, Brittany, Amanda (who were so concerned about me one day they contacted the Grace and the police to check on me). DJ's in Westwood especially Heather, Chef Michael who really knows his craft, the two Jacquelines, Carey, Chantel, Claryssa, Peter, Alyssa (she's been so nice) and Victoria. My neighbours on Musgrove, all the staff at 1 North and the Psychiatric Ambulatory Unit at the amazing Grace, Dr. A, Cathy M., Kirk K. to name a few, and so many more. I'm going to have to end this as it's pretty long. I'm not sure my estate can afford to pay for such a long obit. But they're the last words I'll ever write. So tough! There's just a couple of more things I need to say. My mom and dad predeceased me in 1999 and 1973 respectively and there hadn't been a day I don't think of them and my good old dogs Buster, Penny, Macaulay and Taylor. I guess we'll all be hooking up again soon. There will be no funeral nor memorial service. Someday if you think of me just raise a pint and say a Scottish toast like "Here's looking up your kilt" (I'm sure there's probably others). No flowers please. All charities deserve our support but I'd love it if you could make a small donation to any no - kill animal shelter, the Manitoba Chapter of the Canadian Mental Health Association or the many Humane Societies throughout Manitoba, or all of them if you can afford it. And I know a lot of you can! So please be generous, I'll be watching! All I want is no sadness, no mourning, no tears. I hate that stuff. Please just be happy for me cause I'm finally free from all the Demons that have been with me for much of my life. God (The Holy Trinity) loves us all, me, you, all of us. No matter what! It's unconditional! Think about that word unconditional and what it means. It's also known as "The Grace of God". It's like a prayer I say every day: "God please help me be the kind of person my dog thinks I am". Plus the serenity prayer we say everyday at AA. "God grant me the serenity to accept the things that I cannot change, the courage to change the things that I can and the wisdom to know the difference." I thank God for the serenity and the wisdom. Remember, I love all of you so much so please forgive, cut others some slack and behave, as I'll be watching. Turn the other cheek, treat others as you want to be treated, be kind to animals, etc. And if you're not nice to others I'll make it rain on your summer BBQ (except on August 6) or have a big Doberman pee on the pant leg of your best suit or - well, I'll think of something. And one of the best gifts we can ever receive is a sense of humour. No sadness, no mourning, no tears. I've always loved a good sense of humour (Like Ruth Z. and Gerry C.). It's great for your mental health! So, as I used to sign off on every on-air show I ever did; "Thanks for listening and until next time, God Bless and Goodnight" Love, Billy Gorrie.
As published in Winnipeg Free Press on Jul 09, 2011
Condolences & Memories
(2 entries)
I also was thinking of the Gorrie family so started searching for Christine, Billy & Sandra & sadly came across this beautifully written obituary. Will never forget the fun times with Billy & his sisters. - Posted by: Coreen ('adopted cousin' from the 1950's,) on: Aug 25, 2018

My parents and I were reminiscing about our time in Maddock and our fond memories of our friendship with the Gorrie family. In our Internet search, we came across Billy's written 'farewell.' Our condolences to the family . . . - Posted by: Steve W. Raimo (Friend from Maddock) on: Apr 20, 2018
Email Alerts
Sign up for free email alerts of new obituaries for specific people, towns & more.
❮ Go Back to Listings