Search:

Winnipeg Free Press Passages
All Titles
Notices are posted by 10 am Monday through Saturday
❮ Go Back to Listings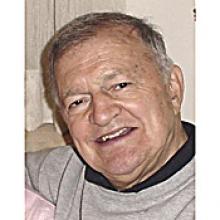 GLENN (KEEPER) MCWHINNEY
Born: Aug 10, 1930
Date of Passing: Apr 14, 2012
Send Flowers to the Family
Offer Condolences or Memory
GLENN (KEEPER) MCWHINNEY August 10, 1930 April 14, 2012 It is with profound sadness that we announce the passing of Glenn Simpson McWhinney, loving husband of Lily (Hann); devoted father to Leah (Rheal Dupuis), Jill (Bill Palmer), Paul, Jeffrey (Lisa Laudinsky) and Bruce (Kerry); adoring Grandpa to Hope (seven)- daughter of Paul and Kim, and Declan (five)- son of Bruce and Kerry these two little people were so precious to him and they loved him back. He was an easy man to love. Glenn also leaves to mourn sisters Pat (Bob) Arrowsmith and Isabel Evanochko; brothers Bill (Marie), Bob (Gertie), Hugh (Wilma) and Bruce (Jean) McWhinney. Please know that he cared deeply about you and wished you all the very best. Also grieving his loss are the McKinnon family; sister-in-law Olly, brother-in-law Bruce, their children Pam (Braden Szuuts), Cindy (Ron Seid), Melinda (John L'hirondelle) and Alison (Arden Buskell), nephews Ryan and Ben (Szuuts), who he watched grow up into fine young men. Also many nieces and nephews who were all very important to him he was so proud of you all! His daughters' stepchildren and their families are also grieving his passing. Rheanne, Kelly, Mackenzie and Liham Mault; Kristian, Kristie, Kiera and Kaylie Dupuis; Scott, Sylvia and Spencer Palmer; Tara, Clarke, Wyatt and Evelyn Gallagher. They will never forget Great- Grandpa Glenn and he cherished each of you! His boyhood buddy George Borsos will also deeply miss him George, you were a loyal and true friend to him always. Glenn was predeceased by his father Hugh, mother Ruby, mother-in-law Natalia, father-in-law Egnace, brother-in-law Walter and another best buddy and sister-in-law, Naida Hann Glenn loved her dearly. Glenn was an exceptional and gifted athlete and was recently inducted into the Manitoba Sports Hall of Fame and also holds a place in the Alberta Sports Hall of Fame. He played junior football with the Weston Wildcats before joining the Edmonton Eskimos in 1952 where he had two Grey Cup appearances and one Grey Cup ring in 1954. He joined the Winnipeg Blue Bombers in 1955 and was named the Most Valuable Canadian Player that year. The next season he suffered a broken neck that ended his football playing career but he worked as a scout for the team for the next two years, including 1958 Grey Cup. He also excelled in basketball as a guard and ruled the Winnipeg Men's Senior League for over a decade with King's Best (1956 and 60) and Labatt's Blues (1963 as a player/coach) winning two provincial championships. When Glenn returned to Winnipeg to join the Blue Bombers, he married his sweetheart, the love of his life and the prettiest girl there ever was Lily in 1956 and they began their amazing adventure together. Glenn's family was the most important thing in his life and they all were his biggest fans. Watching his children grow up with all the kids on the street and attending the same schools together brought so much joy to Glenn and to see him throwing the football or baseball with his boys and any other kids who were nearby was a common practice. Glenn taught most of the kids on the street how to throw a ball, tie up their skates and many fondly remember him driving everyone to early morning hockey practice and then shoveling snow off the rink at Bronx Park so the kids could play. There are not enough words to praise this very special man. Special thanks to Winnipeg Fire and Paramedic services for their respectful response and gentle delivery to the hospital. To Katherine Graham and all the staff on the 3rd floor (east and west) of Concordia Hospital who came to our rescue after a very difficult long weekend, we thank you. Also thanks to Dr. Craig Hildahl who helped allay our worries and fears you were our rock. Thanks to Colleen Newman for her diligence and take charge attitude to get us in to the hospital when we did your kindness means so much to our entire family. Dr. James Johnston, Erin Elphee and Jane Cappella of CancerCare MB thank you for your care and over the past 10 years Glenn always felt so safe in your hands. It is a far, far better thing that I do, than I have ever done; it is a far, far better rest that I go to, than I have ever known. A private family graveside gathering will be held at a later date. In lieu of flowers, a donation may be made in Glenn's memory to Siloam Mission, 300 Princess, R3B 1M3 Street or CancerCare Manitoba, ON1160 - 675 McDermot, R3E 0V9. A man among men rest in peace, my love.
As published in Winnipeg Free Press on Apr 21, 2012
Condolences & Memories
(19 entries)
My sincere condolences to Mrs. McWinney, Jeff and the entire family. It is a time of sadness however please take comfort in knowing that he was one of the best, most caring people on this earth. By far the best "second dad" anyone could ask for. I say second dad because that is what he was to me and many others that relied on him to get us to games and practices. He taught us life lessons of caring, compassion, sportsmanship and friendship that carry through to this day. He is gone but will never be forgotten. - Posted by: Marco DeiCont (Family Friend) on: Jun 11, 2012

Perhaps the epitome of Glenn's enthusiasm was his aggressive play on the basketball court while still wearing his neck brace - back in the day. - Posted by: Jim Bulloch (jr.) (My sincere condolences to the McWhinney "team". "To live in the hearts of those we leave behind is ) on: Jun 04, 2012

Because I am coming to Winnipeg next month I thought I would look up some of my 'old' co-workers at Bulloch & McWhinney. When I Googled Glen I was absolutely shocked to read of his passing. You have my sincere sympathy. I was Jim Bulloch's secretary however being a small office of five we all became good friends. That was 46 years ago. I am so sorry. Ardelle Murfitt Vancouver, B.C. - Posted by: Ardelle Murfitt (Secretary at Bulloch & McWhinney) on: May 11, 2012

My sincere condolences to the entire McWhinney family. I have so many wonderful memories of time spent with Uncle Glenn and the McKinnon and McWhinney familes. Such a warm caring man who loved sharing himself with all around him, from Hazel Dell to East Kildonan to all across Winnipeg and beyond. I feel so fortunate to have spent time with Glenn McWhinney, as a sports enthusiast I enjoyed his stories and his talents. Regardless of our age it is never easy to lose a parent, especially one as special as yours. All my love to Aunt Lil and all of the kids, my thoughts and prayers are with you all. - Posted by: Scott Kaisaris (Close friend) on: Apr 29, 2012

I would like to express my deepest sympathies to the Mcwhinney family. Everyone in the Hematology lab will miss him. He was a fabulous patient who was always upbeat and never complained, even though we all knew he was quite ill some days. Everyone would like to thank him again for all the donuts he brought us. He was always so kind and conciderate. I will personally miss him. I will miss our "football" chats. We always had a bet on our "favourite" CFL team. He bet Blue and I bet Green. Unfortunately, we see a lot of patients every day, but every now and then we have a very special bond with one of them. Mr. Mcwhinney was one of those patients. He will be missed by everyone. - Posted by: Marlene Dinelle (Friend) on: Apr 29, 2012

My sincere condolences to you and your family Jeff. You're in my heart and in my thoughts. I'm so sorry for your loss, I know how close you were to your dad. Much love....xoxoxo.... Heather - Posted by: Heather Perkins (Friend) on: Apr 24, 2012

Dear Jeff our hearts go out to you and your family at this most difficult time. Helen and I both know and understand how close you were to your Dad! Words at this time are totally ineffective, except to say you and your family are in our thoughts and prayers. - Go Eskies Go - " ALWAYS AN ESKIMO! - Posted by: Rod and Helen Harder - North Fort Myers Florida (Friiend and former workmate of Jeff's at Northwest Airlines Winnipeg - YWG ) on: Apr 24, 2012

Our deepest sympathies to the McWhinney family on the loss of a wonderful man... inducted last November as an all round athlete, Glenn was a true gentleman and it was an honour to get to know him as we celebrated his athletic career. - Posted by: Rick Brownlee (MB Sports Hall of Fame) on: Apr 24, 2012

I am deeply saddened by your loss. He was my greatest sports supporter through all the "Bronx Park" years. I will always remember sitting with him at the Bomber Game listening to his stories along with his friends. What a huge loss you must all feel; yet how fortunate you all were to have such a wonderful Father. - Posted by: Tracey Gibson Gwynne () on: Apr 23, 2012

Glenn's was a life well lived. As one of the older kids on Hazel Dell, I often babysat for Glenn and Lil. Glenn was always a consummate gentleman and family man. I remember him fondly for his ethics, sportsmanship,and community involvement. What a fantastic man! My sincere condolences to Lil and family. Pat Simcoe-Rosenbaum & Harv Rosenbaum - Posted by: Pat Simcoe-Rosenbaum (Former Neighbour) on: Apr 22, 2012

My sincere condolences to McWhinney family... .R.I.P. Mr.Glenn McWhinney. - Posted by: henry (neighbour) on: Apr 22, 2012

Back in the early sixty's while attending St. John's Tech, I worked part time for Glenn/George at Sportsman's Billiards on Main and Bannerman. He was a fun guy to work for and would thank me for working for him when he came at the end of the day. My condolences to his family. - Posted by: Jim Campbell (Friend ) on: Apr 22, 2012

I will remember Glenn as a strong and very positive man. On behalf of my family, please accept our condolences. - Posted by: Rich Gillis (friend of the family; former neighbour) on: Apr 22, 2012

My sincere condolences to you and your family Jeff. My mom passed away in March so I know what you're going through. I know how much your dad meant to you and in that regard he was a lucky man. - Posted by: Tim Turner (Friend) on: Apr 21, 2012

I am Roger Savoie's daughter-in-law and had spoken to Glenn on many occasions on the phone while to two trouble makers were playing telephone tag whenever Roger was in town. I can just imagine the stories being told now by the two of them. Sympathies on your loss. - Posted by: Tracey Savoie (daughter in law of Glenn's Bomber teammate) on: Apr 21, 2012

To the McWhinney family, our sympathies to you all, sorry to hear about your loss. He was a great man... - Posted by: Robert and Joelle Poirier (family friend) on: Apr 21, 2012

My sincere condolences to all the McWhinney family on the loss of Glenn. In the good old days we called him "Tubby" and he was a truly good man with a terrific personality and wonderful values. Sleep peacefully. From an old family fried from Ross Avenue, Carol Nielsen. - Posted by: carol nielsen (friend) on: Apr 21, 2012

My Dearest McWhinney Family, my deepest heartfull condolences. My Uncle Glenn, your husband, father, and GRANDpa was one of the most, if not the most amazing man I knew and adored...just like all of you! John and I have talked extensively along with our family how each one of us was made to feel so very, very special by both, Uncle Glenn and Auntie Lil. It was like you were the only one in the world that was so interesting or so important. Oh my memories will live with me forever of so many wonderful times together. My trips back to 295 for spring break, car washes, A&W, Dairy Queen, our family trip to Niagra Falls, Victoria Beach, around your beautiful dining room table, the Hazeldell gang, smoking a cigar with Leah in the blue station wagon...and of course Uncle's love for chocolates. Everytime i eat a turtle chocolate or hear Moon River or Danny Boy I will shed many tears from my eyes, but they will all be tears straight from my chubby little heart. We miss you and we will love you forever and ever. Rest in Peace my favorite Uncle. xoxoxo Mindy, John, Jared and Jayme - Posted by: Mindy & John L'Hirondelle (Niece ) on: Apr 21, 2012

My deepest sympathy, Lil and your family. Glenn inspired many people and was well remembered by the Eskimo people. Our son, also a former Eskimo missed meeting Glenn when he was last here in Edmonton. Good wishes to you Lil. - Posted by: Ed Harper (friend) on: Apr 21, 2012
Email Alerts
Sign up for free email alerts of new obituaries for specific people, towns & more.
❮ Go Back to Listings