Winnipeg Free Press Passages
All Titles
Notices are posted by 10 am Monday through Saturday
❮ Go Back to Listings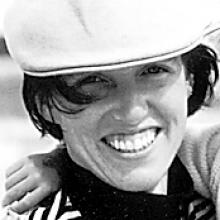 BRENDA HOWISON
Born: Aug 31, 1960
Date of Passing: Jul 12, 2013
Send Flowers to the Family
Offer Condolences or Memory
BRENDA HOWISON August 31, 1960 - July 12, 2013 It is with the heaviest of hearts that we announce that Brenda Howison, beloved mother, daughter, sister, partner and very dear friend has died. Brenda died exactly one month after she was diagnosed with an aggressive cancer of an unknown primary origin that had already spread to her liver at the time of her diagnosis. Brenda was brought up in the North Kildonan area of Winnipeg by a close and loving family who treasured her individualistic nature and encouraged her passion for life, love and adventure. Upon graduating high school, Brenda travelled with her brother through England and then Israel where the two of them worked on a farm. She then returned to Winnipeg to pursue her glamourous trade of choice: hairdressing. When Brenda was 23 years old she married Jamie Howison and together they had two daughters: Jessica and Margaret. The young family moved to Winnipeg's North End and Brenda quickly became a neighbourhood treasure, as she started her own hair-cutting business out of home in 1989 and worked out of it until her illness. Brenda and Jamie went their separate ways when the girls were still young and Brenda and the girls remained living in their beloved home. She was a wonderful mother, having devoted her deepest love and care to the girls who adored her profoundly and miss her deeply. She touched the lives of many in both her personal and entrepreneurial life. She was a determined individual who returned to complete her Post Secondary education at Red River College in order to fulfill her business administrative ambitions and to provide for herself and family. After her education Brenda worked for both North West Company, and Red River College all while maintaining her salon business on the side, and maintaining connections with people wherever she went. Brenda had the rare combination of being both pragmatic, and romantic. While she had extraordinary resolve towards hard work and the maintenance of a good home life, as well Brenda had a strong commitment towards indulging the senses in the unknown and in the lovely, whether it be red wine, chocolate, or the spiritual side of life. However, above all Brenda's strong connections with people were her joie de vivre', and it is no surprise that during her illness her friends and family surrounded her, intoxicating her with their love and support. Brenda, accurately known by a dear friend as "sweetness itself", remained perfectly graceful until she was taken from us. Although the tragedy of her illness was undeniable, Brenda only became more graceful in the face of death. In her last days she was often found smiling at her daughters as she told them that she still felt okay, asking visitors to stay over for supper, and falling asleep in the arms of her very best friends. She leaves behind her two daughters Jessica Howison (Ryan Trudeau) and Margaret Howison (Caley Smith), her parents Bill and Sue Klassen, her loving partner, Rod McCormick, her brother Dale Klassen (Rhian Brynjolson), two sisters Donna Koslowsky (Bob Koslowsky), and Lynn Bergen, and an overwhelming community of loving friends. A memorial service will be held Friday, July 19 at 11:00 a.m. at St. John's Cathedral, 135 Anderson Ave. In lieu of flowers, donations may be made to CancerCare Manitoba.
As published in Winnipeg Free Press on Jul 16, 2013
Condolences & Memories
(28 entries)
Brenda was as she appears in all of these tributes. Vivacious, full of laughter and love, thoughtful, caring, wise, a free spirit, joyful, and always ready with a smile. We had many chats, walks and talks, coffees and lunches. She was a mentor to me. Always at the ready with a nugget of wisdom, she just had a way about her, you felt more at peace. So I too hope that she is now at peace and that her lovely daughters whom she spoke so highly of are wrapped in the warmth of her continuing love for them. I hope that God holds her family in his loving embrace as they come to terms with their great loss. Her brother Dale's eulogy was very moving. RIP dear friend. - Posted by: Diana La Plume (Friend/Co-worker) on: Jul 19, 2013

Dear Bill, Sue and Family, I am deeply saddened by the news of Brenda's passing. In reading the lovely tribute, Brenda sounded like a wonderful person, just like her parents. You were both so caring and compassionate with our family through my dad's illness and passing and wish I was in Winnipeg to support you during this very sad time. Please know you are in my thoughts and prayers. - Posted by: Liz Kozuska (Friend) on: Jul 19, 2013

I first met Brenda when my daughter, Dana and her daughter, Margaret, when they were starting nursery school. She always had a smile and was very welcoming to me. Later on, I'd come over so she could cut my hair and would always have a hug for me and ask me how my family was and would have a good chat with her. I will miss her. May your spirit roam free my friend. - Posted by: Leanne Hanuschuk (friend) on: Jul 19, 2013

my deepest condolence go to Brenda's famiy. no words can express what each and everyone is going through this time of your loss. Yes Brenda was one Special lady enjoyed our little chats. and always willing to give a helping hand. we will miss you my friend and I know the office will not be the same. R.I.P. Lovely Lady you left us far too soon. but lots of good memories you left with each and every one of us ... bernice downing - Posted by: Bernice downing (co-worker ) on: Jul 18, 2013

It has been awhile since I last saw Brenda but the bonds and memories of our times together with our girls and the numerous neighbourhood connections and activities run deep and will never be forgotten. Among the many things, Brenda was our hairdresser and she particularly loved it when my daughters were old enough to come to the appointments on their own. I can only imagine those conversations. This was Brenda - curious, warm, loving and always there for others. My deepest condolences to Jessica, Margaret and the entire family. Brenda is loved and will be missed by all who knew her. - Posted by: Liz Ambrose (friend) on: Jul 18, 2013

My thoughts and prayers go out to all of Brenda's friends and her family. She always brought a ray of sunshine to my day when we had our little chats in the elevator. She was easy to talk to and share things with..and I will miss her very much. - Posted by: Christine Burchak (friend) on: Jul 18, 2013

I met Brenda through a dinner club that a group of friends gather together...we shared great times, food and laughter. We are so saddened to hear of Brenda's passing. Our thoughts and prayers are with all of her friends and family. "Some people come into our lives and quickly go. Some people move our souls to dance. They awaken us to new understanding with the passing of their wisdom. Some people make the sky more beautiful to gaze upon. They stay in our lives for awhile, leave footprints on our hearts, and we are never the same." We are all truly blessed to have met such a beautiful soul. Rest in peace ... Sincerely, Deb Woodman - Posted by: Deb Woodman () on: Jul 18, 2013

I'm so sorry for your deep loss, and also that I will not be able to attend the memorial service for your Mom. I am grateful I had the opportunity to get to know Brenda, and be blessed by her joy for life and relationships. Praying for her family. - Posted by: Freda Klassen (Met at Red River College) on: Jul 18, 2013

Brenda was a person I always loved to visit. She was cheerful and caring. Her loss is devastating. I will miss her terribly. My heartfelt condolences to the entire family. - Posted by: Nancy Glinter (Friend) on: Jul 18, 2013

Gone too soon my friend, your beautiful spirit will carry on through your daughters and will never be forgotten. I'm so thankful to have met Brenda and enjoyed our times in & outide of work, having our tea, our talks about life & our children, your smile and peacefulness you brought to so many people's lives. Rest in Paradise MISS YOU 4ever - Posted by: Tina (Friend/Co-worker) on: Jul 18, 2013

It was a real shocking news to receive on Friday night about your passing my dear friend Brenda. I feel so bad that I was not able to see you when you said that you are not feeling very good. We thought about you many times in this last few days hoping that you will let us come visit you. and now you're gone, but our good memories of you will remain. Thank you very much for those quick but so precious times we shared either with a glass of wine or without. My deepest condolences to your children and the whole family. We will meet again someday. God bless! - Posted by: Luz Sanchez (Friend and former co-worker at Northwest Company) on: Jul 17, 2013

A wonderful person and a true friend whose life was cut too short. Such a terrible loss for all those who were lucky have known her. My condolences to the family and especially to her daughters. Rest in peace my friend...till me meet again. love you xoxo - Posted by: maria andrade (friend/co-worker) on: Jul 17, 2013

What a beautiful story of her life. She sounds like a wonderful person who has definitely been a great inspiration to all who knew her. We are so sorry for your loss. - Posted by: Shauna, Jeff and Danica Prociuk () on: Jul 17, 2013

I've known Brenda socially for about 5 years and she was always a very warm person, with a wide, easy smile and bright eyes. She was always in such good spirits. I will miss her and my thoughts are with her family. - Posted by: Bromley Basford (Friend) on: Jul 17, 2013

My deepest condolences to Brenda's family upon her loss. I shared many wonderful times with Brenda at work and at her home (that glass of wine was always ready when she cut my hair) and will always remember her as the warm hearted, fun loving, advice giving, smiling person that she was. Brenda, you will always be remembered by me and now, may you rest in peace in God's world. Will always love you, Babe and will miss our email sessions. Jean - Posted by: Jean Arberry (Co-worker/Friend) on: Jul 16, 2013

I've worked with Brenda for the past several years. I will miss you dearly Brenda. This office is not the same without you. I will miss our many deep discussions about life and happiness. We've gone through a whole lot together, it's time for you to rest now. Love you and miss you much.. Wanda - Posted by: Wanda Gordon (Co-worker) on: Jul 16, 2013

I still think about Brenda even though it has been many years since I have spoken to her. I taught both Jessica and Margaret when they were little girls and enjoyed a warm relationship with Brenda. She was also a great hairdresser!! I am so sorry to hear about her passing and send my sympathy to her family. Miss Karen - Posted by: Karen McGregor (Friend) on: Jul 16, 2013

I am so very sorry your family has to suffer such a loss! It is part of life but that does not make it any easier to deal with. I wish I had met Brenda, for the words written as a tribute to her, discribe a loving, kind and sweet person; someone that everyone would like to know. I hope that soon, happy memories of Brenda will bring you comfort. My sincere sympathy to Brenda's family. - Posted by: Barbara Duke (Friend) on: Jul 16, 2013

I knew Brenda for 5 years. she was a beautiful person, she had a smile of an angel. We will miss you. - Posted by: Norma (co-worker) on: Jul 16, 2013

I was blessed to have worked with Brenda, she was always there for any of her co-workers when they just needed to talk or a shoulder to cry on you could always count on Brenda, she helped me thru difficult times never judged anyone she loved life loved her daughters to no end they were her life. I will miss you so very much my dear wonderful loving caring friend, the school will never be the same again without you in it. love you. - Posted by: Tracy rutherford (friend-co-worker) on: Jul 16, 2013

I have just read a loving and accurate tribute to a very original individual. Much love to Brenda's family and friends. This truly is a great loss. We will all miss her so much. - Posted by: Lori () on: Jul 16, 2013

So sorry to hear this news. Brenda was a great colleague to have at RRC and she will be missed greatly. Her greatest joy in life were her daughters, she spoke so fondly of them and their achievements. Her eyes would light up and you could just see the love she had for them. Gone far too soon....... - Posted by: Janet Townsend (colleague) on: Jul 16, 2013

My deepest sympathy to Jessica and Maggie. As you are all too familiar with, your mom was a kind, caring, loving person, who lived life to the fullest. I could go on and on speaking of all of her amazing characteristics and traits. I never saw your mom without a smile on her face. Even when she came up to tell me in person that "it" was back; as I had tears in my eyes, she told ME it was going to be okay - 'it is what it is' and that until she received her results, she was going to live life as if she didn't have "it", and that once results were received, she would take it one day at a time and continue to live life to the fullest, and I'm sure she did just that. She was a very brave and courageous young woman; I will miss her cheerful smiles, 'hello's', and chats. Jessica and Maggie, your Mother will forever be in your hearts. - Posted by: Val Stewart (Co-Worker/Friend) on: Jul 16, 2013

Although I have not known Brenda for very many years it was obvious she was a beautiful person who touched many others and who lived her life with devotion and grace. I am glad to have known her. - Posted by: David Wood (friend) on: Jul 16, 2013

Brenda you will be missed deeply. My sincerest sympathy to your family especially your daughters. RIP - Posted by: Louie Girden (Friend from RRC) on: Jul 16, 2013

Brenda was a real pleasure to get to know, I enjoyed our many conversations and laughs together. She will truly be missed. The ol office just won't be the same without you. Always remembered and never forgotten RIP Dear Brenda - Posted by: marney wahl (co worker) on: Jul 16, 2013

I would like to express my condolences to Brenda's family at this difficult time. God Bless - Posted by: Darryl Oshanyk (Red River College) on: Jul 16, 2013

I had the privilege of meeting Brenda at Red River College and worked very closely with her for the better part of 5 years. She was such a caring person always looking to help people and ALWAYS had time for a visit when I dropped by her office. Her smile was such a part of who she was...it made the Foodservice offices a much brighter place. She introduced all of us to her wonderful daughter Maggie and Maggie worked with us for awhile as well. You could tell how great a Mom she was by watching her talk about her daughters and how she was when Maggie was around the office for a visit. I had only seen Brenda a few times over the past couple of years however it was a very nice occasion when I would walk back into her office and get one of her hugs...will miss that dearly! The one way we did stay connected was our constant playing of Scrabble online...which allowed us to chat online quite frequently...she constantly beat me at Scrabble though was always up for another game. Her compassion and understanding of people will be missed by everyone...rest peacefully gentle soul! Love ya Brenda xo - Posted by: Clark Cunningham (Friend ) on: Jul 16, 2013
Email Alerts
Sign up for free email alerts of new obituaries for specific people, towns & more.
❮ Go Back to Listings