❮ Go Back to Listings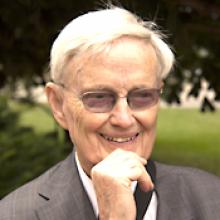 GORDON PATRICK LINNEY
Born: May 21, 1929
Date of Passing: Oct 29, 2014
Offer Condolences or Memory
GORDON PATRICK LINNEY Born May 21, 1929 in North Battleford, Saskatchewan, slipped away in his sleep after a lengthy and courageous battle with cancer October 29, 2014 at age 85. Family and friends thank the dedicated staff of the St. Boniface Palliative Care unit for their care and kindness. Predeceased by his parents George Henry Linney and Lillian Eliphalette Catherwood, by his sister Edith Catherwood (Olsen) of Vancouver, and brothers Edward Thayer Linney of Calgary and John Alexander Linney of Montreal. Beloved uncle to Norma Linney (Mader) of Halifax, Robert Linney of Dunvegan, ON; Catherine Olsen of Toronto, Colleen Linney and Robyn Linney (Lawton) of Calgary, Lori Linney of Gore, New Zealand, Jim Olsen of Vancouver, Bill Olsen of Cranbrook, BC, Brian Olsen of Coquitlam, BC, and Robert Olsen of Groningen, The Netherlands. Gordon was a dedicated figure skater, describing it as the passion of his life. He was a 7th figure and freestyle medalist, gold dance medalist and he won the Western Canada Junior Mens Title in 1956. He was a Canadian Figure Skating Association (CFSA) Gold Test and Sectional Competition Judge, Vice-President of the FSCC Vice President and a member of the CFSA-FSCC Council on coaching development. He has been an FSCC member since 1965, a board member since 1969 and a coaching course lecturer since 1977. Gordon turned professional in 1957 and started coaching at the Edmonton Figure Skating Club. He later joined the staff of the Royal Glenora Summer Skating School in Edmonton. In 1970, he moved to Winnipeg to become a senior instructor at the Winnipeg Winter Club. In 1973 he established the Winnipeg Summer Skating School which he continued to run until August of this year. During his coaching career Gordon inspired thousands of Manitoba skaters. His students have competed in more than 18 Canadian championships. He was also a constant student of the sport, teaching and coaching as figure skating underwent dynamic changes. Gordon was also passionate about the environment, travel, photography and Winnipeg. For his 80th birthday he invited all family members to Winnipeg for a two-day celebration of the city and his birthday. Friends and former students are invited to join Gordon's family in a celebration of his life at 11:00 a.m. Thursday, November 6, 2014 at St. Luke's Anglican Church, 130 Nassau Street North. In lieu of flowers, please support either the Red Cross or the Skate Canada Manitoba Grassroots Bursary. Cheques should be made payable to Skate Canada Manitoba Grassroots Bursary, 145 Pacific Ave., Winnipeg, Manitoba R3B 2Z6.
As published in the Winnipeg Free Press on Nov 03, 2014
Condolences & Memories
(34 entries)
Gordon and his family lived across the street from us in Edmonton. I have known him as long as I can remember. Gordon, my sister Iris and I were members of the first Glenora Club which had two outdoor rinks. We were fortunate in that a wonderful coach, Peggy Currie, came to our rink, and helped us move indoors to create the Edmonton Figure Skating Club. Since Gordon and I knew each other, we started dancing and skating together. I agree totally with what others have said about Gordon. We had a very special relationship which lasted until now. We were always in touch. We enjoyed going to several World Champonships together, with my husband, and to the Olympics in Vancouver in 2010. We were even going to go to Skate Canada in Kelowna until Gordon said he wasn't well enough. I think I knew then that it was Good bye. He would never have missed the occasion. I was a coach too. I hope I left my students with as good memories as Gordon has, but I doubt that is possible. He was a very special friend who shared my love of skating. I can't believe he is not there to talk over the latest news and competitions. We had such a good time, any time we could be together! - Posted by: Fay (Inlis) Wright (Pair and Dance Partner , Childhood neighbour ) on: Mar 16, 2015

I met Mr. Linney after I had been sent to the Banff school of Fine Arts and told I "had to take from the countries best coaches..."to get any farther in my career. My Family did NOT have money . non the less i felt pressured to go to "the best', etc etc etc. and came home disillusioned and confused...0 after all, I could not pay for all those lessons my competitors did)I found Mr. Linney...he was the only coach who really CARED about me- and his knowledge /sport to teach me what I needed to know..to get my gold medals, and understand the physics of the body/sport, etc. of ice skating. This man literally changed my life and I will FOREVER be indebted to him for his knowledge, humility to share it, and dedication to the sport and me ( only one of his students) i was one of the first people in Canada to land a triple jump. I owe that only to Gordon Linney. i did do patch about 4 hours a day, and free skate on top of that but..I loved it. and I Loved having a coach who card about me.That man is/was a MASTER in his area of expertise, and I will always have a very special place for him in my life/hart/soul. I remember how much he gave to Marray Carey and his partner, Mr. Linney was the best....there are no comparisons. I actually just tried to call him today to see how he was feeling I had no idea he had left his body. Rest in Peace Mr. Linney, you are one of the most important people in my life. and always will be. Love, Judy - Posted by: Judy Winters (student) on: Jan 24, 2015

Gordon Linney was a long-time friend whom I much admired as a completely dedicated coach -- and he was, right to the end. We both taught at The Royal Glenora Summer Schools in the late 60s before we both left for other positions. Gordon was extremely witty and fun to be around -- and we enjoyed a couple of holidays together, escaping to warmer climes to thaw out. Gordon loved to travel and he saw much of the world. He will be sorely missed by his many friends including me, and by all who knew this very special person. - Posted by: Ron Vincent (Fellow Figure Skating Coach and Friend) on: Dec 15, 2014

As a student we always addressed him as Mr Linney, when I turned Pro Mr. Linney ask me to then call him Gordon. It took a long time to sink in out of respect for an amazing person. Gordon took me to a life in skating that I will be forever grateful, a skater who excelled at Sectional to Nationals and then International, represented our country and then from there a professional career and World Professional Champions in Ice dancing and now a 33 year position as a professional coach, thank you Gordon I owe what I have because of you, thank you for the tools of skating that make us move forward in our profession. May you rest in peace. - Posted by: Murray Carey (Student, Coach, Friend) on: Nov 19, 2014

The thing that I will remember about Mr. Linney was his inclusive attitude and willingness to give everyone an equal opportunity to enjoy the joy of figure skating. He recognized that a large and diverse skating community benefited everyone. He would encourage anyone with an interest in skating to participate without judgement. He understood that being a good skater depended as much on desire and passion for the sport as talent. He was always able to encourage everyone without his ego getting in the way. He was a kind, determined, adventurous, and humble gentleman. We will miss you Mr. Linney. - Posted by: Sheila Johnson (Parent of skater) on: Nov 07, 2014

Mr. Linney was a true inspiration for me. He helped me tremendously with my figure skating, and he shaped me into the person I am today. I'm truly grateful :-) - Posted by: Jessica (Student) on: Nov 07, 2014

I came to know Gordon when I decided to take up figure skating at the age of 29 and have been privileged to call him friend ever since. He taught me everything I know about the sport we loved; he held my shaky hand through so many tests and gave me the confidence to give back through the judging I did for many years. I have many treasured memories of our years together; he taught me many life lessons along with the skating lessons......all in his quiet and humorous way. There were many layers to this man - a man generous with his time and his care. He lived a good and full life, was and continues to be an inspiration, and will be truly missed. Hugs and Godspeed, dear Gordon. The world will be the poorer without you. - Posted by: Jo-Ann Roy (Student and friend) on: Nov 06, 2014

A hero among men who lived the most honourable life. - Posted by: Wendy Doig (Ivy May's Mom (A skater's mother)) on: Nov 06, 2014

On behalf of myself and Jocelyn Dankewych, we both admire Mr. Linney for everything he has done. Coming to the rink, tireless hours morning and night. His upbeat positive attitude is what kept the figure skating community together. Not only do we all respect him for his figure skating, and family life changes - but for his long battle when not being at his best. He is one of the strongest men I know, and will be continually looked at with the utmost respect. Thank you, Mr. Linney for shaping the lives of figure skaters and friends for many years. We are honoured to be students of yours. - Posted by: Brittney Dankewych (former student ) on: Nov 06, 2014

Thank you Mr. Linney for all your passion and energy promoting our sport. I always enjoyed your humorous stories on your worldly travels. You are truly loved and we will miss you greatly. - Posted by: Melody Collo (Former student and Coaching Friend) on: Nov 06, 2014

Gordon was a terrific man who lived a very active and interesting life. May we all be so lucky. Somehow in his busy schedule he always remembered my kids' birthdays even if I had trouble doing the same. One of my earliest memories of Gordon was getting to go for a ride around the block in his convertible. Back then he was the cool uncle. Still is. That's the way I'll always remember him. - Posted by: Jim Olsen (Nephew) on: Nov 05, 2014

Gordon was such a quiet and unassuming man whom I was fortunate to know over as a volunteer in skating over a 30 year span.. I served with Gordon on Section committees and watched him at competitions with his students. I was always impressed with how he connected with his students and also with judges, coaches and volunteers. Always the gentleman. - Posted by: Hillary Baker (Skating friend) on: Nov 05, 2014

Gordon's dad - my Father's brother - came from Ireland so we had regular contacts over many years. I had the great pleasure of Gordon's company on the occasions he visited Ireland. He was a kind, generous and humble man. We last met when I was on a visit to Vancouver. Our thoughts and prayers are with his Canadian family and friends for whom this is such a sad time. We were all privileged to know him. Gordon Linney [Dublin] - Posted by: Gordon Charles Scott Linney (First Cousin ) on: Nov 05, 2014

Thank YOU for all that YOU have done for Linda! We will miss YOU! - Posted by: Dace and Vilis Students (Linda`s (skater from Latvia) parents) on: Nov 05, 2014

As the "skating secretary" at the WWC in 1971-72, I remember well what a thoughtful, lovely man Gordon was. One of my favourite memories is of sitting at the big oak table in the Granite Club foyer, registering skaters from near and far for the Summer Skating School that Gordon started. RIP - Posted by: Marlene Stoesz (Former co-worker) on: Nov 04, 2014

Mr. Linney was a kind, caring man, who always treated all the skaters with compassion and respect. Working with teenagers definitely has it's challenges, but Gordon was always able to bring out the best in each of us (whether that was on the ice, or our personal development). A true teacher of life, and legend in the skating world. Thank you for all that you have done for us skaters. - Posted by: Cory Krentz (Student) on: Nov 04, 2014

I have known Mr. Linney for almost my entire life. As a 4 or 5 year old I took my first lessons from him at summer school at the Granite Curling Club. I learned the importance of being prepared and on time. Mr. Linney always gave generously of his time mentoring me as I started my coaching career. I was in awe of his vast knowledge of the sport, but more importantly his professionalism. I fondly remember a PSA convention several of us "Winnipeger's" went to in Boston. I took a picture of him on a boat in the Boston Harbor. We were on our way to a clam bake. He was relaxed, smiling, and looking wistfully into the waters beyond, unaware that he was being photographed. I had that picture blown up, and it remains one of my favorites. You have touched so many, many lives in such a positive way over the years Mr. Linney. Ever humble you would not have let people know of the untold volunteer hours that you poured into the sport we all love. Generations of coaches, students, and officials past and future will continue to benefit from your efforts. I am eternally grateful for the impact you have had on my life. Where you are now, ice is free, lessons can start whenever you show up, rinks are warm, stage parents do not exist, and payments show up in your bank account without you having to do month end! Enjoy it! Godspeed Mr. Linney, Godspeed - Posted by: Brenda Vail (Former Student, and Fellow Coach) on: Nov 04, 2014

Mr. Linney was a kind man who always wanted the best for everyone. He treated everyone with respect and encouraged everyone to excel at whatever endeavour they were undertaking. Always the elder statesman, he will be missed dearly by the skating community. - Posted by: Darryl Stoyko (Student) on: Nov 04, 2014

Gordon was an incredible man. He put in tireless hours at many arenas even when he wasn't at his best. I will forever admire his determination and thank him forever for his encouragement to my daughters. I consider it a privilege to have called him my friend and will miss him immensely. - Posted by: Margo Russell (Friend) on: Nov 04, 2014

Mr. Linney as we called him was my first coach at the Edmonton FSC. His patience, unlimited knowledge and belief in all he taught inspired us to reach for the top. I loved his soft nature and twinkle in his eyes with a raised brow when we had not done what we were suppose to. He lives in my heart and I will continue to coach his techniques and skills to skaters. He will be missed but his lessons live on. Thank you Mr. Linney. - Posted by: Margaret Vasey/Nycholatv (Student ) on: Nov 04, 2014

Mr. Linney was a wonderful man. He was dedicated and compassionate and he has left a large hole in the heart of Manitoba figure skating. I work hard every day to be the coach to my students that Mr. Linney was to me. Thank you Mr. Linney you will be missed. - Posted by: Lorie (Wallace) Charbonneau (Former student now skating coach) on: Nov 03, 2014

Mr. Linney made such a positive impact on the skating community. The most memorable lessons he shared were of hard work, dedication, and determination (which he lived by). Truly a legend of the sport. It was a blessing to have had the opportunity to learn from him. - Posted by: Dustin Novak (Villeneuve) (former student) on: Nov 03, 2014

So very sorry to hear of Gordon's passing. He was, and will be for a very long time the "icon" for Manitoba figure skating. He was a tremendous supporter, role model and mentor to all skaters, coaches, and officials who were lucky to have met him. He will be truly missed and remembered by many in the skating world! - Posted by: Maxine Cook (Coaching Friend) on: Nov 03, 2014

Mr. Linney selflessly dedicated his life to skating in Manitoba. He was the measure of the high standards that we all wished to rise to. I am so grateful to have known this kind, gentle, caring man and honored to have considered him my friend. He will be greatly missed. Mr. Linney, may your legacy live on forever as your memories will live on forever in the hearts of every skater who knew you. - Posted by: Lorene Mann-Baxter (Friend) on: Nov 03, 2014

Mr. Linney was the one person who could always cheer you up. He had a gift for people, and he changed lives where ever he went. We are all so thankful for his support and passion for skating. Mr. Linney was an outstanding man and coach. We will miss you. - Posted by: Caitlin Mostoway Parker (Student ) on: Nov 03, 2014

Gordon contributed his skating knowledge to all of us. I will always remember him for the conversations that were non skating related. He was such a terrific conversationalist,, kind and thoughtful man. I will miss Gordon greatly. I am blessed to have called Gordon my friend - Posted by: Mary Ellen McDonald (skating friend) on: Nov 03, 2014

Mr. Linney will be missed widely in the figure skating family. So many skaters have told me how instrumental he was in their development as skaters. Coaches are special people, they give of their time and talent to see others succeed. Figure skating is so fortunate to have had Mr. Linney as an advocate for the sport. - Posted by: Lori Knott (Figure Skating Judge and Friend) on: Nov 03, 2014

Mr. Linney, forever and always a Gentleman. As a parent in the sport of figure skating Mr. Linney taught me valuable lessons about patience, support and expectations. As a member of the human race Mr. Linney taught me, through his own actions, fundamental values of humour, caring, honesty and integrity. Thank-you Sir, in this world you will be missed. - Posted by: David Crockett (Life Student) on: Nov 03, 2014

Gordon was the epitome of a Figure Skating Coach. Always a gentleman no matter the circumstance, a great role model for other coaches, skaters, and friends. He will be dearly missed at rinks around Manitoba & across Canada. Rest in peace, Dear Friend. - Posted by: Ora Dunbar (Friend & Fellow Figure Skating Coach) on: Nov 03, 2014

Gordon was a special man who was a speical part of our family. He visited often and we always enjoyed sharing our family holidays with him. Amazingly he was always able to buy exactly the perfect birthday and Xmas presents for our daughters...size, cultural relevance, cool factor...he always nailed it. We will miss him greatly. - Posted by: Chris Lawton (Nephew-in-law) on: Nov 03, 2014

Mr. Linney was more than a coach, he was a lifelong friend and fan of any skater he taught. I will never forget his crooked smile, his sense of humour, and his passions for skating, travel and the environment. Mr. Linney stood by me through so much and I know he will continue to do so, always in my heart. It is an honour to have been your student and I miss you so much. - Posted by: Devon Rawluk (Scheirich) (Figure skating student ) on: Nov 03, 2014

I have been so fortunate to have known Mr. Linney. He was just a quiet and kind man with a lovely chuckle, always interested in what his students were doing whether they were continuing their skating or not. A good friend of my mother, he spent many evenings with us having dinner and participating in lively debates. It was always a joy to have him at our house and be surprised with his wit and to listen to his chuckle. Mr Linney you are a star and I am so glad I met you! I know I am not alone. - Posted by: Sidney Macaw (Student and friend.) on: Nov 03, 2014

Gordon was a great ambassador for the sport of Figure Skating. He was the Skater's best supporter, the Judge's most respected Coach, and a true mentor to all Coaches. His legacy will go on in Manitoba for years to come. - Posted by: MaryAnn Penner (Coaching Friend) on: Nov 03, 2014

Gordon Linney was an amazing coach, mentor & friend to his skating family. He had a quiet manner & subtle sense of humour. He will be dearly missed by all who knew him. I am truly honoured to have known him. - Posted by: Diane Harder (Figure Skating Judge & friend) on: Nov 03, 2014
Email Alerts
Sign up for free email alerts of new obituaries for specific people, towns & more.
❮ Go Back to Listings