Search:

Winnipeg Free Press Passages
All Titles
Notices are posted by 10 am Monday through Saturday

❮ Go Back to Listings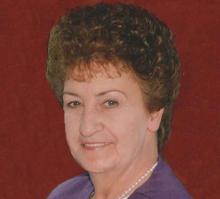 MARGARET ANNE WOJCIK
Date of Passing: Jul 21, 2015
Send Flowers to the Family
Offer Condolences or Memory
MARGARET ANNE WOJCIK (nee GRAFT) After a lengthy illness with Congested Heart Failure and COPD, our beautiful and loving Mother, Grandmother, Great-Grandmother, Aunty and friend, Margaret (Toots) died on Tuesday, July 21, 2015 at the Grace Hospital at 11:25 a.m., at the age of 82 years of Winnipeg and formerly of Beausejour, Manitoba. Mom died 19 days after her last and oldest living brother, Jack Graff who died on Thursday, July 2, 2015 at the Deer Lodge Centre. This was hard for her as she knew there was only the two of them left and she always joked as to who was going to go first. But when Uncle Jack died, her health seemed to have turned more for the worse and she wasn't able to attend his funeral. Not long after, she was admitted to the Grace Hospital for one final time after several visits within the past couple of years. Remaining to forever cherish Margaret's memory are her four loving children: daughter, Christine Mitchell (Grant), granddaughter, Stephanie (Kurt) and great-grandson, Hunter (Kurt's children, Kylee, Kamren and Natasha); sons, Arthur (Art) Wojcik (Carrie), grandchildren Brayden and Taylor; David (Dave) Wojcik (Jamie), grandchildren Kyle, Jasmine and Quinn; and Richard Wojcik, grandchildren, Rachel and Ryan and their Mom, Louise Wojcik; former husband, Ed Wojcik (Vi); long-time friend and co-worker from the Beausejour Hospital Gladys Hastmann, as well as numerous nieces, nephews, relatives and friends too numerous to mention, whom she spoke of often and loved dearly. She was predeceased by her parents, Jacob (November 30, 1964) and Helen Graft (nee Pawlak) (May 16, 1977); siblings Mary Knapp (February 15, 2002), Walter Zirk (December 8, 1991), Natalie Kulik (October 16, 2013), Helen Pihulak (April 28, 2007), Jack Graff (July 2, 2015), Elizabeth (Betty) (Liz) Freidoff (July 11, 1984), Ruth (Minnie) Michlosky (May 21, 1984), Arthur (Art) Graff (July 17, 1998) Bill Graft (January 24, 2005) and Kathy Graft (May 22, 2012); sister-in-laws Barb Graft (June 4, 2002); Margaret Graff (September 28, 2013); and nephews, Danny and Chris Michlosky. Mom was born in Winnipeg on June 13, 1933 and raised and educated in Gull Lake, MB. After moving to Beausejour, she worked as a nurse's aide at the Beausejour Hospital from 1952 until 1964 when she quit work to raise her family. She loved her job as a nurse's aide and it brought her much joy to reminisce and share stories - she had many fond memories of those years! During her child-rearing years, Mom devoted her time to making sure her family was well taken care of. She was particular in making sure her home was always clean, clothes were washed, beds were made and that there was a hot meal waiting when we got home. Though Mom did not own a sewing machine, she was thrilled with the neatness of her hemming of garments and making of simple drapes which she did by hand. We were also the recipients of her crocheted doilies and afghans - she would work from morning till night until they were completed. Mom was clever at making-due with what she had and "improvised" when she needed to. She instilled in us the value of compassion, respect and hard work. Our Mom came from an extremely musically-inclined family (the Grafts, which totalled 11 including herself) and spent many evenings and weekends over the years with her siblings and friends singing and playing their favourite songs. When she was younger on the family homestead in Gull Lake, apparently a Talent Scout from Nashville was told about the Graft Family and Mom had said that they had asked her to go to Nashville but she was too young and scared. For years, it was funny how she talked because George Jones was only two years older than her - with Jones being born in 1931 and Mom in 1933 - that when Tammy Wynette divorced George Jones, she would always say, "see, had I gone to Nashville, I could have married George Jones and we'd all be famous now and he wouldn't have married that Tammy". We couldn't stop laughing because she was all disgusted with Tammy when she divorced George, meanwhile as we all know, it was clearly George that was the problem in the marriage but Mom wouldn't admit that one for years. Amazingly, let's not forget when Mom named her last Shih Tzu "Tammy" whom she loved and cherished up until a year ago when she died. Her wonderful and crazy sense of humour will never be forgotten. It took great pride for Mom in teaching her son, Richard Wojcik to play the guitar at the age of seven and watch as he also became self-taught in playing many more musical instruments without being able to read a note or understand music, such as the piano, organ and accordion and was the patient and encouraging Mom as he "attempted" to learn the violin. This didn't go too well and he finally gave up that instrument pretty quickly as Mom was screaming at him she had pounding headaches because of the screeching noise of the violin strings. It was always a special time for her when Richard would come over and they would sing and play guitar "like they used to". After several hours of both of them singing, harmonizing and playing guitar, she would laugh the next day and say, "I had such a great sleep and slept like a baby again". It brought her peace as she so enjoyed music. Country music was a great love for Mom. She enjoyed playing guitar and singing, not only the "old tunes" from her childhood but also the country songs up until about the late 1990s when things slowly changed in Country Music and CKRC then QX104 FM began cutting out her favourite Country Singers. Throughout the years when her health was better, Richard would take her to concerts when they came to Winnipeg and she was so thankful to be able to see Frank Mills, Don Williams, Kenny Rogers, Tommy Hunter, The Rankins, Dolly Parton, Tammy Wynette, Vince Gill and last but certainly not least, the man she LOVED the absolute most, Country Music's Living Legend, George Jones whom she was able to meet backstage in front of his Tour Bus. You could never tell Mom too much in advance of something exciting or she'd work herself up to the point where she wouldn't be able to go to a family function or otherwise, so it was quite hilarious when Richard conned her into thinking she needed to go with him to the washroom after the George Jones Show (behind the stage) and told her he didn't want to lose her among all the people because she was so precious and that she couldn't be replaced. So, as normal, she grumbled all the way but wouldn't quit asking how I was able to get behind the stage to use the washroom, when there were plenty of other ones along the way, why she was wearing some crazy VIP Pass tag (because she felt like a dog in a kennel) and wouldn't I be getting myself in trouble. Thank goodness, we were able to meet Nashville's Star Jones relatively quickly and when she saw him, her eyes lit up like a Christmas Tree, then she couldn't stop laughing and giggling like a little school girl all the way home and for weeks to come what I pulled off for her. Mom's personality was one of a kind and when it came to all of our friends during our childhood and teenage years, she was the "cool Mom" who laughed and joked with them as she did us which was quite entertaining to say the least. Her children were her world. She was always a phone call away - we will miss her calling us at 6:00 a.m. just so she could be the first one to wish us a Happy Birthday or remind us that "the time would be changing this week-end and make sure we adjusted our clocks." Family was important to her and she commented often on how happy she was that her children had raised such beautiful families! Of even greater joy were her grandchildren! She loved them so much and each one held a very special place in her heart! Mom was thrilled that she was a Great-Grandma and felt especially blessed to have her great-grandson, Hunter. She loved hearing about Hunter's adventures with his Nana and Zaida and treasured their weekly visits. Prayers will be held on Sunday evening, August 2, 2015 at 7:00 p.m. in St. Mary Roman Catholic Church, 530 Atlantic Avenue, Beausejour, MB. Funeral Liturgy will be celebrated on Monday, August 3, at 11:00 a.m. also in the Church. One of Mom's final wishes was to be laid to rest on a winter morning during hoar frost as she truly loved the beauty in the soft rime. We will be honouring her wish and she will be Entombed in her Mausoleum in St. Mary Roman Catholic Cemetery, Beausejour, MB. The Wojcik family would like to express our sincere thanks and appreciation to Mom's family physician, Dr. Amel Zaki and to Dr. Ramin Hamedani and Dr. Julian Joshua for the wonderful care they provided over the years; the Pharmacists at Leila Pharmacy, especially Lucy, for their dedication and excellent service; the Home Care nursing staff, who were like family to Mom - she looked forward to your visits and was very thankful for your friendship; as well, to Emilie DeGuzman - no one else could hold a candle to you when it came to doing Mom's hair - you were always a life-saver; to health care aides, family friend Suzie Steeves and Imelda from Drake Medox who provided 24 hour support for Mom during her final days at the Grace Hospital so every need for her care and comfort was given so that she would not be left alone at any time; to Grant and Louise, who were a tremendous help getting Mom to various doctor appointments over the years. Most importantly, Art, Dave and Richard would like to thank Christine and Grant for the past 10 years of being Mom's main support - helping her with grocery shopping, hospital admissions and her day to day needs necessary to help have our Mom remain in the comfort of her own home. We realize there were many sacrifices made on your behalf and just know that no words can express our sincere gratitude - God Bless You! In lieu of flowers, donations in Margaret's memory may be made to Siloam Mission, 300 Princess Street, Winnipeg, MB R3B 1M3 or to a charity of one's choice. For those who wish to sign Wojcik's online Guest Book please visit our website at www.wojciksfuneralchapel.com Margaret's son, Richard Wojcik of Wojcik's Funeral Chapels (Serving Beausejour) 204.268.2263 is in care of his Mom's arrangements. Mother You can only have one Mother loving, kind and true. No other friend in all the world will be so true to you. For all her loving kindness, she asked for nothing in return. If all the world deserted us to our Mother we could turn. For those of us who have a Mother, treasure her with care, for you will never know her value, till you see that she's not there. To hear her voice, to see her smile, to sit and talk with her awhile, to be together in the same old way, would be our dearest wish today. "We Love you Momma and always will! Thank you for all your love, support and guidance throughout the years. We will miss you dearly....until we meet again"
As published in Winnipeg Free Press on Aug 01, 2015
Email Alerts
Sign up for free email alerts of new obituaries for specific people, towns & more.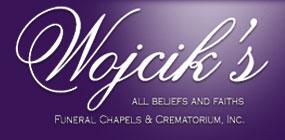 Wojcik's All Beliefs & Faiths Funeral Chapel (Serving Beausejour)
Serving Beausejour (Map)
Ph: 18664246271 | Visit Website
❮ Go Back to Listings