Search:

Winnipeg Free Press Passages
All Titles
Notices are posted by 10 am Monday through Saturday
❮ Go Back to Listings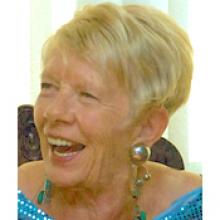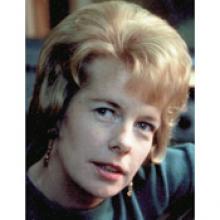 ALICE POYSER
Born: Jan 26, 1933
Send Flowers to the Family
Offer Condolences or Memory
ALICE POYSER, UE Alice was born on January 26, 1933 in Morris, Manitoba, the third and last child of Harry and May Shewman. The Shewman clan, a United Empire Loyalist family founded when William Shewman fled the rebellious Republic, always had sons. It was family tradition that every second generation named a boy William: Harry's father was William, and Harry's son would be a William. But, instead of boys, Harry and May filled their house with daughters. For the first three years of her life, for the sake of tradition and to preserve family honour, Harry called his youngest girl "Willy". A child of the depression, with a socially engaged mother and a fun-loving political (MLA) father, Alice's upbringing instilled in her a relentless ambition softened by a lively sense of humour, and an unquenchable interest in people. Her first appearance in the newspaper when at age five she asked if the farm neighbours had lots of kids because they needed them just like they needed all their chickens, cows and horses presaged her life long curiosity and her ultimate career in journalism. She was a bright student, one of only two in her Morris Collegiate graduating class to go on to university, where she involved herself in many extracurricular activities, including following her Dad's love of politics. She chaired the Young Conservatives, representing Manitoba at the 1954 National Convention, where she posed for photos with "Dief the Chief". She paid for her own education, working at Canada Packers, and as a waitress at the Park Theatre Luncheonette at Clear Lake. Working by day, and partying by night, she met a kind young man named Ted Poyser, who wooed her by buying her chocolate bars, and lotion for her sunburn. Graduating in 1954 with a BA a degree she claimed was "as much use in the labour market as a hangover" she defied both social convention and the tight job market, setting out to launch her own career. She considered business, but refused an offer from Great West Life when they admitted, in answer to her due diligence questioning, that "No, they had never had a woman President of the company". She persuaded the Federation of Agriculture to hire her as their Public Relations Director. She attracted the attention of the Welfare Planning Council, where she became the executive secretary of the Recreation Division, organizing conferences that built support for the YMCA, and YWCA day camps. Later she joined the Volunteer Bureau, coordinating fundraising campaigns for the United Way and the Red Cross. Through all this, Ted quietly played his hand with skill and patience: they married in 1956, and had two children, Liz in 1957 and John in 1961. Juggling the demands of a young family and work, Alice found her balance working as a free-lance journalist. Women were not much welcome in the profession at the time, but Alice was a force to be reckoned with. If the old boys in the Press Club did not like it, they would just have to adapt, or step out of her way. Between 1961 and 1975, Alice published articles, theatre reviews, and book reviews in the Winnipeg Free Press, Chatelaine, Maclean's, and Star Weekly. She doubled as a researcher, story editor, writer, and interviewer for CBC TV, including Another Dimension, a daily public affairs show, and Take 30, a national TV show. She hosted a daily open line radio show on CBC for three years, and spent three summers hosting CBC's Cross-Country Check-up. Journalists then were offered free trips to exotic countries, with the understanding that they would write something favorable, or at least interesting, about the destination. Alice availed herself of trips to Sweden, Italy, Sardinia, India and Africa, writing whatever she actually thought of each place. A serious mid-career illness forced an end to the travel, and a reduced work load. After recovering, she taught journalism at Red River Community College until her retirement in 1986. Believing that good journalists are necessary for a responsible press, Alice threw her heart into teaching a new generation of young men and women. Even after retirement, she continued to mentor young women journalists well into her 70s. Alice was active in the community, serving as President of the Manitoba Motor League from 1982 to 1985, and as a Director of the Canadian Automobile Association for 25 years. She was a director of ACTRA for 18 years, four on the national executive, and was a board member of the Manitoba Environmental Advisory Council, the Tire Stewardship Council, the Manitoba Arts Coalition and Laurel Centre, a women's post-treatment centre. An avid patron of the Arts, Alice held season tickets at the Royal Winnipeg Ballet, Manitoba Theatre Centre, Warehouse, Prairie Theatre Exchange and the Winnipeg Symphony. She loved the Fringe Festival her personal best was attending 26 plays in 10 days. She was a familiar sight at the Fringe: even towards the end of her active life, partially blind and confined to a wheelchair, she still managed to take in at least a dozen plays each summer, bantering with the cast from her front row seat, and loving every minute of it. She and Ted travelled the world together, and spent three months every winter in Mexico. To the end she was certain that given enough time even in a wheelchair she would reach Machu Picchu. Alice loved to entertain and have fun. She was one of the few who actually enjoyed cocktail parties: for her, a soiree with 100 strangers offered 100 new friends to meet, 100 new stories to learn. In her brightly colored jackets and her signature extravagant earrings, her distinctive laugh filled the room. Her dinner parties were legendary: channeling her mother, Alice's food was always excellent, the table beautifully set, the conversation topical, lively and witty. Channeling her Dad, the dignity was tempered with good humour: guests could suddenly find themselves engaged in bubblegum blowing contests, wrestling matches, or modeling silly hats. The unexpected was expected at Alice's, for she lived every aspect of life, and every moment, with exuberant joy. She was delighted in April 2012 when her Shewman family history was verified, and she was recognized as a descendent of a Loyalist, entitled to add the UE designation to her name. But she resisted any impulse to name one of her children "Willy". Alice was predeceased by her parents and by her sisters, Jean Margaret Brunnen (2008) and Vivian May Reid (1961). She is survived by her husband Ted Poyser, her daughter Liz Knight (Phil), her son John Poyser (Mari Ann), and her grandchildren Alison Knight, Grayson Poyser, and Emma Poyser. Alice's family thank Linda Reimer for her loving care of Alice over many years. A celebration of Alice's life will be held at 2:00 p.m., Saturday, May 28 in the Provencher Ballroom, Fort Garry Hotel, Winnipeg. In lieu of flowers, it would give Alice joy if you make a donation to The Laurel Center in Winnipeg. http://thelaurelcentre.com/donation/ Frame your mind to mirth and merriment, which bars a thousand harms and lengthens life.
As published in Winnipeg Free Press on May 14, 2016
Condolences & Memories
(9 entries)
A teacher, a mentor, a friend. The world will miss your rare combination of wisdom and wit. I miss our get-togethers here on the left coast. What a remarkable human being and now a stellar after being I'm sure. - Posted by: Erin Smithson (J student) on: May 31, 2016

Alice was one of my Mother's very best friends. She was fun, generous and had an infectious sense of humour and style. I loved how she dressed, how she decorated and her abilities as an incredible hostess. She was involved in so many different causes and was always so passionate about everything she did. I know Ted, Liz-Anne and John, that it must be hard to say goodbye to that wonderful energetic person, and am so sorry for your loss. Joan DeGraves - Posted by: Joan DeGraves (Friend) on: May 27, 2016

Alice was a firecracker - so quick-witted - and an ace instructor. Her laugh was unmistakeable, especially at Fringe plays, and I'm so glad to have had her in my life. She will shine on in our memories. Sincere sympathy to Ted and family. - Posted by: Gerri Thorsteinson (Cre Com student (1980-82) and friend) on: May 19, 2016

Alice was a character. I often learned more from her in the office than in the classroom and she always seemed to have time to talk and offer encouragement. My condolences to the family. - Posted by: Phil Mowatt (Former student RRCC (1980-82)) on: May 17, 2016

Alice had the good sense to size me up for an Advertising Major during my first Journalism class in 1984. I passed the required j-course with the understanding I'd never darken her door again. We clicked personally though and during a period of under-employment she hired me to sell print ads for a publication. One day I called her at home but Ted replied she was still sleeping and wouldn't come to the phone "for love or money." Her bursts of laughter were legendary (think Andrea Martin's Edith Prickley) and she had very good aim during a food fight at alumni gatherings. Tough, fair, and no BS, she made an impact for which I am grateful because I would have been a terrible journalist. Thanks Alice... - Posted by: Cam Bennett (Former J-Student) on: May 16, 2016

Long after Alice stopped being my formidable teacher, she continued to be one of my favourite people. Nobody loved being among people more than Alice nor derived more energy from doing so. You never ate the same thing twice at her many dinner parties. This was a shame as the food was always unusual, phenomenal and worthy of the odd repeat. Alice encouraged you to bring strangers to her dinners with the implied understanding that they be interesting. Ted was the perfect dry foil to her parties and life. They traveled far and amassed several lifetimes of stories and experiences. I always marvelled at how they supported each other and how much they admired each other. It was always clear that Ted was as tickled by Alice at 50 and 70 as he was at 23. I will miss making Alice laugh. Her laugh was as brash and bright and wonderful as her dress and her spirit. They only made one Alice. Lucky are we who she shone her light on. -30- - Posted by: Gord Godoing (Student/Friend) on: May 14, 2016

As one of my mum's dearest friends, Alice often visited us in Duluth, MN where my mother and father worked in non-profit community service. I have such fond memories of Alice going to Gooseberry Falls with us when I was a child, playing in the water with me and always so loving and kind. And witty! Alice was, without question, my favorite of all my mother's friends. I'd get to see her as well when we went to Winnipeg each summer to visit my grandparents. Alice was so easy, witty and charming, she fit in easily and was like family. After losing her vision, my mother sent her books, usually mysteries, on tape. Sadly, the last book on tape Mum ordered for Alice sits here in Mum's room, too late for Alice to enjoy. Her passing brings me great sorrow. My very sincere condolences to Ted and the rest of her family. This world just lost a shiny sparkle - but I'll imagine her being one in the sky now. RIP, dear Alice. I loved you. - Posted by: Cathlin Hess (daughter of Alice's dear friend, Bula Hess) on: May 14, 2016

May you now be free to once again laugh and be the colorful lady I have always admired and adored..... Sympathies to the family - Posted by: Tracy McKay (Family friend) on: May 14, 2016

Ah, dear Alice, you loved to poke the hornet nests! Many a fine J-career started under your tutelage. Thanks for all the laughs. Condolences to Ted and family. Barb - Posted by: Barb Mekelburg (friend and former co-worker) on: May 14, 2016
Email Alerts
Sign up for free email alerts of new obituaries for specific people, towns & more.
❮ Go Back to Listings