❮ Go Back to Listings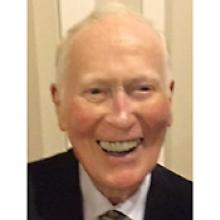 HERBERT BRIAN HOWLAND STEWART
Born: May 22, 1928
Date of Passing: Jun 16, 2016
Offer Condolences or Memory
HERBERT BRIAN HOWLAND STEWART It is with deep sadness that we announce the peaceful passing of Herbert Brian Howland Stewart, after a brief illness, on June 16, 2016. Herbert was born on May 22, 1928 in Winnipeg and was the third of four sons born to Henry Greenwood Stewart (Harry), and Elizabeth (Chub) Howland Stewart (nee Reeves). He was predeceased by his parents, brothers Dennis, Lawrence and Henry (Hank), and Hank's wife Jocelyn. He is survived by his sisters-in-law Girnith and Gloria, nine nieces and nephews, their spouses, children and grandchildren, plus many who considered him to be their uncle. He remained happily unmarried. Herbert was someone who knew how to live. What an attitude! People who met him said he was "an inspiration" and that he dressed as if he represented "GQ for octogenarians". Herbert's life was defined by lovability, a positive attitude, charm, connectedness, and COMMUNICATION. He corresponded with his grade 12 Latin teacher for 64 years before moving back to Winnipeg and meeting her in a Continuing Education class. Herbert continued to use a fountain pen, and was a prolific writer. The ideas that he shared were inspiring and his letters were often treated as keepsakes. In the late 1940s Herbert studied architecture at the University of Manitoba and then worked for Green Blankstein and Russell, (now Stantech). He maintained close friendships with these colleagues all his life. In the late 1950s, Herbert left Winnipeg to attend music schools in London, England, studying voice, with a view to a career in opera. Ultimately he decided that architecture would be a more pragmatic career path to follow and decided to settle in Toronto. While keeping his feet on the ground with architecture he continued to sing in operas, musicals, and choirs, and had a lifelong love of the arts. Herbert made light of his accomplishments, displaying things like his Certificate in "Beginner's Tap Dancing" which he earned when he was in his 60s. Herbert was a member of Subud, an international spiritual association, for over 50 years. He was an early member of Subud Toronto as well as serving as Chairman of the International Subud Committee from 1975 to 1979. He traveled extensively and developed friendships with Subud members all over the world. In the early 1980s Herbert's friend, Ken Ang, fellow graduate of the University of Manitoba Faculty of Architecture, invited Herbert to join his architectural firm in Singapore. Herbert accepted and in addition to his architectural work, he was quickly drawn into musical circles and performed at the Raffles Hotel on numerous occasions. He eventually returned to live in Toronto and finally moved to Winnipeg in 2010 where he renewed old acquaintances and promptly joined three choirs. Many thanks to the wonderful staff of St. Boniface Palliative Care for their care and compassion. Also thank you to the many friends, who called, wrote, visited and honoured him in their thoughts and prayers. Cremation has taken place. Funeral services will be held on Saturday, June 25 at 11:00 a.m. at Holy Trinity Anglican Church, 256 Smith St. (please use the entrance off Donald Street), followed by a reception next door at "The Met", 281 Donald St. A private interment will take place at a later time. In lieu of flowers, please consider a donation in Herbert's memory to the University of Winnipeg, Stewart Family Scholarship Fund (PACE) c/o the UW Foundation, 901 - 491 Portage Ave., Winnipeg, MB R3B 2E4, or the charity of your choice. THOMSON "IN THE PARK" 204-925-1120 Condolences may be sent to www.thomsoninthepark.com
Publish Date: Jun 22, 2016


HERBERT BRIAN HOWLAND STEWART Herbert, aged 88, of Winnipeg, passed away peacefully on Thursday, June 16, 2016 at St. Boniface Hospital. Longer obituary to follow within the next few days.

Publish Date: Jun 18, 2016
As published in the Winnipeg Free Press on Jun 22, 2016
Condolences & Memories
(6 entries)
As an in-law of the Lyon/Lindsay clan, I heard many stories of my husband Robert and his brother J-D growing up next door to the Stewart family. Down-home memories (often hilarious) in interesting times. Moving back to Winnipeg in 2012 it was wonderful to run into Herbert at many events. Herbert seemed to be listening and learning all his life concerned about the world around him and how it was shaping up. I'll miss seeing you there Herbert. - Posted by: Adina Lyon (Friend) on: Jun 28, 2016

On behalf of Des St Lawrence and his sons, let me express our sorrow of hearing of Herbert's passing. He had a true love of life and was always a joy to be around. I remember what fun it was when Herbert would visit my parents when I was growing up in Winnipeg. His visits were often at Christmas and despite the weather, he would take the whole family out and regale us with stories of Singapore, London or some other exotic location. I have a photo of Herbert taken on one of those trips. He is standing outside, it looks very cold as he is wearing an enormous fur coat, but he is still beaming from ear to ear, which is the way I shall always remember him. A few years ago I met Herbert on a visit back to Winnipeg for my mother's funeral, and he still had that zest for life I had remember from decades earlier. He was also extremely supportive to my dad during that difficult time. Herbert was one for the ages and we shall all truly miss him. - Posted by: Keith St Lawrence (Friend) on: Jun 26, 2016

Herbert, when you came into our lives I was a little girl, only seven years old, and as you liked to say so often, you thought what a charming boy I was when we first met! All the years since have been richer for you having been in them. I have never forgotten how kind you were to me, just a child when we met and it was such a joy when I had my own children and they too loved you as I had. You brought with you everywhere you went an enthusiasm for life and I am thankful your lovely soul swept through our home, and alighted to stay for so very long. All of us loved you. Your laughter at dinner, your appetite for joy, your quiet unconditional love, and your wonderful habits, like sitting down to do your writing, will be missed. Every family celebration was that much more special because you were there. Christmas morning with you, even watching you lavish butter on your stolen as you gulped your tea, was always a pleasure. When you took film at York you and I drove home from school together, many long drives and many reflections on the art world later, I am so thankful the timing was such, that I attended there at the same time as you. And you always let me sing the exciting bits when we performed Gilbert and Sullivan together at dinner because you were so good to children. Herbert, I love you and I am so thankful you came to dinner so very long ago and I am so thankful you stayed and stayed and stayed. Life has been richer for all you brought to it, not only for me, but for everyone you encountered. I agree with Cecil, you were a living breathing teacher, of how to be a free spirit, to simply be yourself. That was your greatest gift you know, by being yourself, you always set everyone else free to do the same if they wished! I give thanks for you. Our very home was designed by you, your imprint was with us even when you were out! How many people can be blessed to say such a thing? But the best was you Herbert. No bricks or mortar in our home, can surpass the light you brought into it. Thank you for being you dear beloved Herbert. It was your greatest gift, not all your talents, but the you behind them all!! - Posted by: Paula Willis (family friend) on: Jun 23, 2016

On behalf of the Lyon/Lindsay clans, I want to express our deepest sadness at Herb Stew's passing. Doesn't change the fact Herbert that you still owe me a letter (we wrote each other with fountain pens) and he knows I hope he finds a way to deliver. The Lyon/Lindsay connection with the Stewart family extends back 90 years. They lived next door to each other on Tait Avenue. Herbert was my sister's Godfather and he sang at my parents' wedding in 1956. J-D and Herbert shared much over the 80 years they knew each other including a love of theatre and music notwithstanding that J-D was tone deaf. After my father's passing, i took up the baton and continued to write Herbert and pass along the odd bottle of good old maple syrup - which - to anyone who knew Herbert - was gladly acknowledged as Herbert had one weakness and that was "sweets"! He infectious laugh and insatiable curiosity were but two marvelous facets of this renaissance man's character. Most who met him were immediately alerted to these qualities and many more. If he could speak to us who inhabit this plane, He would say he is not gone, he has just passed onto another level - perhaps his metaphysics will win the day. Certainly he is missed and I doubt his like will be seen again in our techno-instant world - more's the pity. To you, Herbert, I owe thanks for teaching me a great deal about many things not the least of which is to just be yourself. - Posted by: Cecil Lyon (multi-generational family friend) on: Jun 22, 2016

On behalf of the Lyons and Spence families, my wife Grace and I express our sincere condolences to the Stewart families. Herbert grew up next door to the Lyon's on Tait and a block away from the Spences on Rupertsland. We have remained friends over the years and enjoyed our day trips up to Lake Winnipeg to the Lyon's Den every summer since he moved back to Winnipeg. The Heavens now have a strong voice to carry the choir. - Posted by: Sandy Spence (Long term friend) on: Jun 22, 2016

So sorry to hear of Herbert's passing. He was part of the same writing group I was in and I so enjoyed his writing and his sense of humour. We also enjoyed the odd occasion when he would sing for us. He had such infectious enthusiasm about life and was so active. I will miss him. - Posted by: Lillian Smith (member of same writing group) on: Jun 20, 2016
Email Alerts
Sign up for free email alerts of new obituaries for specific people, towns & more.

Thomson In the Park Funeral Home and Cemetery
1291 McGillivary Blvd. (Map)
Ph: 2049251120 | Visit Website
❮ Go Back to Listings