Search:

Winnipeg Free Press Passages
All Titles
Notices are posted by 10 am Monday through Saturday
❮ Go Back to Listings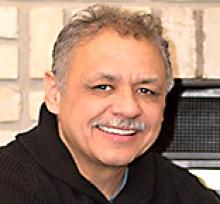 DARRELL LITTLE BLACK BEAR PHILLIPS
Born: Dec 31, 1964
Date of Passing: Aug 22, 2017
Send Flowers to the Family
Offer Condolences or Memory
DARRELL LITTLE BLACK BEAR PHILLIPS December 31, 1964 - August 22, 2017 After a year spent dealing with illness, Darrell was called to his Heavenly Home. Darrell spent his last few days full of faith and trust in the Lord's mercy and surrounded by his family and friends. He leaves to mourn his passing: his wife Charlene, his children, Kyle (Sheena), Ryan (Chelsea), Keccia, Josh, Maria, Danika, Brendan, Bethany, Rachel, and Joe, his mama Isabel, his sisters, Wanda (Clayton), Lisa (John), Bobbie (Gabe), Chantel (Vin), Leona, Kateri, and Joy, brothers, Cameron, Nate, Den, and his special brothers from another mother Doug Mercer, Jaydee Marchand, and Dan Dionne, as well as his grandchildren, numerous nieces, nephews, cousins, and special cousins, Brian, Ardel, and Cynthia, his in-laws, Diane, Joan (Walter), Bernice (Archie), Robert, Corrinne (Kelvin), Darren (Heather), Curtis (Mel), and Amanda (Eric). Darrell was predeceased by his children, Henry Alexander and Anthony Francis, mother Aurellia, father Buzzy, his sister Sharon, and his brothers, Sherman and Richie. Darrell had a zest for life that was driven by his faith in God. He spent his life travelling, singing, and enjoying the outdoors for its beauty, by hunting and camping. He passed on all of these things in different ways to his children. His work brought him joy because it helped him fulfill something dear to his heart, which was to help First Nations communities across Canada. At a young age Darrell met the woman he would spend the rest of his life with, Charlene. Their marriage has long been one that others have looked up to. Char and Dar truly walked through life as partners and best friends that let their faith in each other and God guide them through a life blessed with many beautiful children. His children were his pride and brought him great joy. He lived a simple life and never sought material possessions. Instead he was a man who knew that through God all things were possible and he shared that message with everyone around him. Now he has received his reward in heaven. There will be a service at St. Theresa Parish (3597 Main Street, West St. Paul) Friday, August 25 at 3:00 p.m. with viewing to begin at 2:00 p.m., wake services will be held from Friday, August 25 to Sunday, August 27 at his mama's residence in Hollow Water First Nation (House 86, Wanipigow), and funeral service to be held at Sacred Heart of Jesus Church (Wanipigow) Monday, August 28 at 12:00 p.m. with last viewing at his mama's residence before that. Pallbearers will be his sons, Kyle, Ryan, Josh, Brendan and Joe, and nephew JD. Honourary pallbearers are Wesley Simard, Doug Mercer, Jaydee Marchand, Dan Dionne, Brian Seymour, and Ian Bushie. Funeral arrangements entrusted to: Rock Fontaine, Funeral Director Honor-Respect-Dignity in Winnipeg 223-2576 or toll free 1(866) 499-2601 My Jesus, My Joy!
As published in Winnipeg Free Press on Aug 24, 2017
Condolences & Memories
(18 entries)
I first met Darrell when we were both with the Western Hour gang. It must've been 1986. We went up to Island Lake And St. Theresa Point for a show and on our down time we ended up jamming together. Darrell's voice was wonderful...a huge fan of Ronnie Milsap he was, and to me he sounded just like him. We hung out a little when we got back to the city and he took me to The Westbrook, where I looked at the stage and said, "one day I will play in that stage." Haha!! Well, we put together a band shortly thereafter and we went on to play on that stage, and many more. I learned how to play back up fiddle by playing behind this man's songs and we made some great memories travelling throughout the province in the band van. I can't believe you're gone, my friend, and my heart breaks for Char and the kids. When I visited you days before your passing, the love surrounding you was palpable. I'm grateful for those moments we had to make some amends, and tell each other how our lives were touched for the better by meeting up in that northern community. I miss you already and know you're smiling down on us. - Posted by: Patti Kusturok (Friend/band mate ) on: Sep 09, 2017

I will never forget the day we met Darrell, I spoke to him in Spanish as he walked inside our business. He paused, looked at me, gave me a big smile and continued thru the aisles. When he came to the front counter to pay for his purchase, he still had a big smile on his face but let me continue my conversation (monologue!) until he couldn't hold it any longer and erupted in a big laugh and said "I don't know what you're saying but it sure sounds interesting". After that we called him "Mexican" our brother from another mother. Our deepest condolences to Charlene, the kids and the rest of the family that he was always so proud of. - Posted by: Marvin & Mayra Dubon (Friends) on: Aug 29, 2017

Darrel you will be truly missed but one day we will be reunited in Heaven with our wonderful Heavenly Father. Although we may have only crossed paths once or twice in our lifetime it was always great to see you and laugh & chat with you. I remember how great of a person you were. The memories from school just seem like yesterday. Darrel you were such an inspiration to all that you met. You were such a caring person that always showed love toward others. You always had a smile on your face and not once did I ever see you angry. You were a dedicated, talented athlete that loved the many sports that you played. The boys hockey team, cross country running, volleyball, track & field, softball just to name a few. You were awesome my friend and you were such an encouragement to the teams that you played on. You were also such an intelligent young man. Your grades were always at the top and you were such a great speaker in front of all that you spoke to. I remember when you were chosen to represent our school on the "Reach for the Top" game show on t.v. I remember all of us students at high school in the residence were all just gathered around the t.v. cheering you on & so proud of your accomplishment. That took courage and that is just what you had. You were never afraid of failure and you took risks. My friend you will be truly missed and I will forever keep the memories of you close to my heart. My condolences go out to your wife Char & your family. Will remember you all in our daily prayers because God can give you the comfort that passeth all understanding. God Bless! - Posted by: Linnette (Ducharme) Mckay (High school friend at Frontier Collegiate Instiute 1980-1983) on: Aug 27, 2017

Charlene and Family I am very sorry to just hear of your loss. I have very fond memories of your family from St. Gerard School. May our Lord Jesus Christ give you comfort at this difficult time. Darrell was a man of deep faith and was very committed to his family and I was very blessed to have have gotten to known him over the years. Robert Praznik - Posted by: Robert Praznik (Friend) on: Aug 26, 2017

We will always remember Darrell's energy, support and encouragement as he sat on the sidelines of the volleyball court cheering on his son Brendan and the rest of the team. Our sincere sympathy to Charlene, Brendan and the entire Phillip's family. RIP Darrell. - Posted by: WinMan Volleyball Community (Sharlene, Tim, Colin) (Friends) on: Aug 26, 2017

Saweniminan, saweniminan, saweniminan, saweniminan. This is a Cree prayer I learned from Stan McKay. It means, "we ask only for what we need." One of the things I loved so much about Darrell is that he was a living example of how you could be fully Indigenous and profoundly Christian. May this prayer give you, his beloved family, the strength to carry on without him in the days ahead. Every step, every day, saweniminan. Much love from Marcus & Jenn, Johanna & Sophia. - Posted by: Marcus Rempel (Friend) on: Aug 25, 2017

Darrel was a true sportsman when we were on the saw team. I met Darrel a few times throughout his life and he was always very pleasant man. Rest in peace Ole Friend🙏🏽🙏🏽❤️ - Posted by: Wayne Constant (Played Midget hockey with Darrel in Cranberry Portage ) on: Aug 25, 2017

Charlene may the Lord be with you, to comfort you, through your time of loss. I will always remember Darrell for his humor, laughter, his love of the Lord and the gentle encouraging words he shared. He let the light of the Lord shine through him and in doing so touched many people. I know that having known him and you has made a difference in my life. I am honored to have known Darrell. Devonna - Posted by: Devonna Pass (Cote) (Friend) on: Aug 25, 2017

Charlene and family - my heart breaks for all of you. Darrell was an angel on earth and now an angel with God. I know his faith was strong and I hope that this helps your family to get through this difficult time in your lives. If you need anything please do not hesitate to let me know. Hugs and prayers. God give you strength - Posted by: Lidia collins (Friend) on: Aug 25, 2017

My sincerest condolences from the bottom of my heart.😢 I will never forget when he came to the hospital with his guitar and sang to my sister because she loved his singing. It touched all our hearts deeply and will never be forgotten. Will be sadly missed. - Posted by: Candace irvine (Friend) on: Aug 25, 2017

We have so many fond memories of Darrell, Charlene and the kids during the time they spent in Hull, Quebec. What a loving and caring family man he was. We met on the steps of St. Mary's in Ottawa just before the birth of Rachel in 2000. We will always remember Darrell as a gifted, passionate man with an outstanding personality. He knew how to live and how to love with conviction and with faith. The Christmas dinner we had with them was a feast like no other. Darrell was a great chef as is Charlene. It was a privilege to have had Darrell as a friend in this lifetime. His beautiful wife Charlene and his awesome family keep his spirit alive in our hearts. - Posted by: Evelyn Bishop Monica Bishop (friends) on: Aug 24, 2017

I am so sorry to hear of your loss! Darrell was a good man who helped so many people make a good life! He never judged people coming out of the Correctional system and gave them a hand in starting their life over again! My heart is with you all! Hiy! Hiy! - Posted by: Melanie Keeper Setter (Friend) on: Aug 24, 2017

Darrell you will be sadly missed and never forgotten this is from me and my family - Posted by: Travis Boulanger (Cousin) on: Aug 24, 2017

I had the pleasure of working with Darrell on gang awareness and prevention - he was in Manitoba and I was in Sask. working for the Federation of Sask. Indian Nations. I immediately saw a healthy, strong, aboriginal male who had many gifts, made people feel at ease in all kinds of situations. Through his connections we delivered a gang prevention video which was widely distributed and was critically acclaimed for the message it promoted. Darrell had a lot to do with that. We also worked on a very important health prevention initiative in northern Manitoba and Darrell was an awesome consultant and we became chums and I also ran into this crazy Doug Mercer- seemed like "two chips off the ole block". Darrell was a hard worker and I call him somebody who "could lift almost anything" in the Indian world be it program development, conducting sessions, report writing, policy development. I believe many First Nations were better off after having Darrell come into their community. He always left something behind. I was saddened to hear of Darrell's failing and I still recall the last phone call a few months ago where we talked briefly - even then Darrell was positive. I have spent some time with Darrell and Char in their home - fun times.... Darrell you have gone from mother earth but I know you're probably already offering how to help out and strumming your guitar. Love you bro. Cal Albright - Posted by: Cal Albright (Colleague and chum) on: Aug 24, 2017

I was introduced to Darrell by my late husband Royce who convinced me and Ovide Mercredi to hire him at the AFN. I was immediately impressed with his competence, professionalism and his great sense of humour. We had many fun and fabulous times working together. The crazy things that would come out of that guy's mouth!!! I can just see Charlene rolling her eyeballs while shaking her head in a "oh no, there he goes again" way that we all know :) He helped me out with some tricky, complex projects and I hired him again to work on an Indigenous Gangs project for Corrections and he delivered, as always. I watched his daughter's baptism in Ottawa while the family was here and my heart was touched as he held her before the Virgin Mary's statue. I thought to myself at the time "the love in this man's heart is overwhelming". I saw the light of Jesus in his eyes when he smiled. He was always there for me during my struggles and lit up my day. He taught me a lot and I will miss him greatly. Our last exchange was earlier this summer with our usual little check in. May God bless Charlene and all the children and may they know that he has forever touched so many and has only made our lives better. I am eternally grateful to have known our dear Darrell. - Posted by: Gina Wilson (Friend) on: Aug 24, 2017

My big brother. Still can't believe you're gone. Your presence in our lives will be greatly missed, at our family gathering with you leading us in prayer, to our travels around the world. I love you so much, now and always. Rest in peace with God now, singing with his angels. - Posted by: Joy (Sister) on: Aug 24, 2017

My deepest condolences to you Charlene, and your family. Darrell was a wonderful man, one that was full of faith, humour, laughter and a great guitarist. I know you both walked in the Lord as a couple always depending and trusting that the Lord would provide for you and your family. This was a great witness to many, and many people will miss Darrell now. I pray that the Lord console you and keep you all close to His heart. I'm sure Darrell is now at peace playing and singing praises to our Lord. May Little Bear now rest in peace in the heavenly kingdom. - Posted by: Vince Kaskiw (Friend) on: Aug 24, 2017

A truly great man. I will carry fond memories and will miss him dearly. My sincere condolences to your family. - Posted by: Sharon Varga (frien) on: Aug 24, 2017
Email Alerts
Sign up for free email alerts of new obituaries for specific people, towns & more.
❮ Go Back to Listings