Search:

Winnipeg Free Press Passages
All Titles
Notices are posted by 10 am Monday through Saturday
❮ Go Back to Listings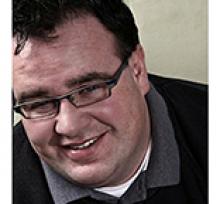 ROD MINAKER
Born: Aug 06, 1973
Date of Passing: Nov 30, 2017
Send Flowers to the Family
Offer Condolences or Memory
ROD MINAKER August 6, 1973 - November 30, 2017 With grief in our hearts at the loss of a dear husband, father, brother, son, uncle, and a friend to many, we announce the passing of Rod Minaker on November 30 from cardiac arrest. Rod is survived by his wife, Tanya, and their daughters Lorelei (nine) and Talia (five); mother Gloria Chizick (Andrew), Andrea Knaggs (Eric) and Corey Chizick (Heather); father Frank Minaker (Petra); brother Rick (Lisa) and nephews Ethan and Noah; brother Blake (Courtney); brother Evan (Jena); sister Amy (Daryl) and nephews Brayden and Grayson; parents-in-law Vern and Sara Braun; sister-in-law Sheryl (Darci) and nephews Edan and Keon; and sister-in-law Jeanelle (Rob), nephew Campbell and niece Raina. Rod had a deep faith in Jesus that guided everything he did. Rod had a massive heart and a deep, abiding compassion for others. He valued his relationships with people and God above all else, and was a joyful, warm, loving, and funny man, and showed so much love to others in so many ways. Rod graduated from John Taylor Collegiate in 1991, and became a counsellor by profession after graduating from Providence College with a Master's of Psychology in Marriage and Family Therapy in 2007. From graduation on, Rod worked with many individuals, couples and groups, helping to bring light into dark places for many people. He also conducted many anger management and resentment group sessions. Rod considered it a tremendous privilege to do what he loved doing - helping others to realize and experience their own value and to experience the joy of healing and positive change. He had most recently set up his own counselling practice, Luminous Counselling Services, and was passionate about continuing his work of helping to illuminate people's lives. Rod and Tanya are longstanding members of Charleswood Community Church, and Rod was an active member of the CCC community and got involved in community life in many ways. Rod had an awesome sense of humour and was a delight to so many friends who will miss his laughing, cheerful, and loyal presence, and his love of 1980s R&B and hip hop, jib jabs, and all things Star Wars. Above all, Rod was an incandescent husband and father, loving Tanya, Lorelei and Talia with a very palpable and passionate devotion. He and Tanya married in 1999, and Rod wore his heart plainly on his sleeve where his family was concerned, regularly expressing a deep gratitude and pride in the fact that he got to be husband to the love of his life, and father to their two wonderful girls. Lorelei and Talia remember a dad who gave the best super big bear hugs and tickles, and who told the silliest jokes, including singing "Raspberry Beret" in an awesome falsetto to tease Lorelei every time the family ate raspberries at the dinner table. He made up stories about "puppy and bear" for Lorelei and Talia, and built some outstanding snow forts, often devoting hours to the task. The family shared so many happy times together, barbecuing (Rod was the family grill-master), biking, making trips to the beach and the park, and just being together. Rod packed a lot of love into the time he had with his family, and we trust and know that such love never dies. Tanya and the family are so thankful for all of the prayers, meals, and words of support and love for Rod that they are receiving. Tanya would also like to thank the paramedics and the police officers, Brad and Darrin, for their kind support. A memorial service in Rod's honour will be held at Charleswood Community Church (760 Charleswood Rd.) on Friday, December 8 at 1:30 p.m. In lieu of flowers, donations can be made to a trust fund set up for Lorelei and Talia's future education at Cambrian Credit Union.
As published in Winnipeg Free Press on Dec 05, 2017
Condolences & Memories
(18 entries)
I send my deepest condolences to Rod's wife and their daughters. Rod was my counsellor and helped me deal with a lot of stuff I was going through, he wasn't just any ordinary person/counsellor. We laughed and cried occasionally during sessions together, and that's what made him special, he showed that he cared and helped any way he could. He was truly one of a kind. I unfortunately just found out today about his passing because I was trying to book an appointment with him. He will be missed. - Posted by: Stefanie (Client/friend) on: Dec 29, 2017

I worked with Rod at a previous job. Rod gave me his time and plenty of great insight. He was a good man and my heart breaks for Tanya and the kids but I know they are strong and they will be united again. God bless. - Posted by: Peter Kipling (Friend) on: Dec 08, 2017

I didn't know Rod well, but I did have the pleasure of attending his morning Bible study during adult Sunday school a little while ago.He was the leader and I found him to be a humble man who enjoyed joking around and laughing.He was so respectful and carefully listened to each participant's comments.He was knowledgeable and also open with our group about life experiences and regarding his love for his wife and daughters.He facilitated in such a way that led several people to share personal stories. The study was valuable and memorable.Another memory of Rod was way back in the 90s when I was in a church play with him.He played Marley in "A Christmas Carol" and was hilarious! I remember him dragging these chains across the stage , evoking much laughter from the audience. I am praying for Tanya and the girls during this very sad and difficult time. I know that Rod is now rejoicing in heaven, in God's Holy presence....in a place where there are no tears, no regrets, no pain of any kind.He is in his eternal home of peace, unending love and everlasting joy. Praise the Father, praise the Son, praise the Spirit, three in one ....who was, and is, and is to come . - Posted by: Darcy (Attended church with Rod and Tanya and girls ) on: Dec 07, 2017

Rod is an amazing person who I will miss immensely. He helped me out with counselling sessions back when I decided to go speak to someone about my mental health and struggles with my own well being. Rod is someone whose awesome personality and character stood out the moment you had a chance to speak with him. I am still so heartbroken that he is no longer with us. The world has definitely lost an amazing human being. His family, loved ones, and the ones who have a deeper connection with him than myself are definitely in my thoughts and will continue to be in my thoughts. My deepest condolences. - Posted by: Kurtis (Friend) on: Dec 07, 2017

I had the pleasure of working with Rod at Whispering Pines during this last year. I so enjoyed the occasions when I was able to work with Rod in group. He had a warm and endearing way with clients. I was very proud that he was part of our team, and I always felt that he had my back! He made everyone feel respected and valued, and we respected and valued him. - Posted by: Kathleen Helgason (Co-worker) on: Dec 07, 2017

His memory will always be with us. He truly was a good man who really loved helped bring people together. Our thoughts are of him and for his family and friends during this difficult time. - Posted by: Victor Lagassé (Friend) on: Dec 07, 2017

Rod Went To High School & Was Friends With My Brother Paul. They Had A Chance Meeting Which Ultimately Led To My Coming Into Contact With Rod. I Had Been Quite Ill For Sometime Suffering Initially With Obsessive Compulsive Disorder & Many Of The Other Illnesses Associated With It. My Situation Was Very Dire & The Stresses It Put On Many Family Relationships Had Them At Their Breaking Point. I Was To Much Ill To Even Go Into An Office To Meet With Rod So He Willingly Took The Time To Come Meet With Me Where I Was Living. During Our Numerous 3 Hour Meetings Rod's Sincere Compassion & Understanding Was Very Apparent. The Heartfelt Efforts He Put Into Our Sessions Was Much Needed At That Time Along With His Ability To Understand A Very Complex Situation From Both Sides Without Prejudice. I Had Just Accepted A FB Messanger Request From Rod On Nov.22 & Looked So Forward To Updating Him On How, From That Very Dark Place, Things Had Finally Got So Much Better. He Always Spoke Glowingly About His Wife And Daughters Whom He Obviously Cherished With All His Heart. To His Family, Please Accept My Sincerest Condolences & I Know This World Is A Lesser Place Without Him. - Posted by: Brent Bodnarchuk (Client/Friend) on: Dec 06, 2017

Sincere condolences to Tanya and Lorelie and Talia from me and my colleagues at Russell and Associates Counselling Group. I had the distinct pleasure of knowing Rod as an academic in his Masters studies and as a later as a colleague. Rod stood out in the classroom and in relationships. He was not a wallflower. Rod brought energy and enthusiasm to every encounter it seemed. The room seemed to change for the better when he entered. I remember Rod's quirky and off-center sense of humor. Rod and I meet for breakfasts at the Pancake House on a too infrequent basis. The talk was professional consulting at times, heavy relationship stuff at times and ridiculously juvenile at times. His off-center humor was guaranteed to lift a down mood up. I enjoyed his sense of humor, and he enjoyed his sense of humor. I love a guy who laughs at his own jokes. It was all time I treasure. I personally experienced from Rod different dimensions of love. He offered to help in practical ways even very recently. Sometimes love looks like helping to move furniture. But he also loved by the way he would rise to defend injustices that he saw perpetrated against his friends. His impulse to advocate for the victim was strong, volatile, and noble. Mostly, I remember Rod's deep commitment to being the best therapist he could be. As his colleague, I have the clear view that his patients/clients were blessed to have his input into their lives. He wanted better life for every person he worked with, and every peer he interacted with. So, while I mourn the loss of a professional colleague and friend, I know I also join countless others who mourn the loss of a guy who was there for them, gave his time to them and gave his undivided attention to them. Rod will be missed. - Posted by: Don Russell (Colleague) on: Dec 06, 2017

I worked with Rod while he was completing his degree. He was a valued member of our team and made great connections with the youth we worked with. I was shocked to hear today that Rod had passed. My condolences to Tanya and the girls as well as all of Rod's family. He will be missed. Rod was a beautiful soul who deeply cared and wished to help others. He pursued this passion in his education and his work. You will be missed my friend. Brock - Posted by: Brock Haywood (Co-worker) on: Dec 06, 2017

I am so very sorry to hear of Rod's passing. Rod has been a kind and thoughtful, caring and soulful counselor to my family and I for the last 2 years. Rod always went above and beyond the call of duty and cared more than his job required. My heart goes out to his family and particularly his wife and lovely daughters. I am just heartbroken for you all. - Posted by: Cindi Burak (Client) on: Dec 06, 2017

Last Christmas, when I came to a family wedding, we had a Dueck Christmas at Charmaine and Andre's lovely country home. I had the privilege of chatting with Rod and sharing some of my journey....I had just recently started a relationship with Doug, which ultimately led to marriage. Rod's capacity for listening and asking the right questions, showed me his superior qualities in his counselling profession. I was looking forward to introducing Doug, to Rod, this coming year...alas, it's not to be. So sorry for your loss, Tanya, Lorelei and Talia.....grieving with you! - Posted by: Myrna Chudyk Hedlin (Aunt to Tanya) on: Dec 06, 2017

My sincere condolence to Rod's family. May the memories of his kindness which we have the opportunity to share and experience, ease the pain of your loss, and inspire all of us to carry and give forward the same caring for one another. - Posted by: Aida de la Cruz (Co-worker) on: Dec 06, 2017

I'm thankful to have had the opportunity to work with Rod for 2 years. He was a welcome addition to our agency (2014-2016) and brought a mindful approach of therapy to many clients. He was missed since, and ever so-much-more now. It was a blessing to have met Tanya, Lorelei and Talia. On behalf of the staff I offer condolences, and will keep you in our prayers. Rod will always be dear in our thoughts and memories. - Posted by: Gerry Goertzen (Colleague) on: Dec 06, 2017

We are all still reeling at the sudden loss of Rod. He was a wonderful brother and played such an important part in my life. To help support Tanya, Lorelei, and Talia, we've created a gofundme page on their behalf. Please take the time to visit it, share it, and donate if you are able. - Posted by: Blake Minaker (Brother) on: Dec 05, 2017

Gloria and Family, we are sorry to hear about your loss, our thoughts and prayers are with you. Pat and Mel Proceviat - Posted by: Mel and Pat Proceviat (Friend) on: Dec 05, 2017

Our deepest and heartfelt condolences to Tanya and the girls.I met Rod as he is my son"s neighbour,and enjoyed his humour and wit from our first meeting.He will be truly missed by all. - Posted by: Julius Rucki (Friend) on: Dec 05, 2017

Mrs Minaker And Daughters I First Met Mr Minaker Through Bergen And Associates In Sept Of 2006. Mr Minaker In My Words Was "Gentle Giant" He Helped Me Through Some Very Tough Times!!!! If It Wasn't For Mr Minaker I Would Not Have Had The Courage/Hrutspa His Words Not Mine!! To Re Enter Red River College's "Educational Assistant Program" And Graduate With "Honors" In June Of 2012. My Sincerest Condolences On The Passing Of Your Husband And Father Mr Rod Minaker Yours Truly Jeffrey GH Brennan - Posted by: Jeff Brennan (Former Patient) on: Dec 05, 2017

We wish to send our sincere condolences to you all and pray God will give you peace at such a difficult time. - Posted by: Theresa and Stuart Nikkel (Clarkleigh neighbours ) on: Dec 05, 2017
Email Alerts
Sign up for free email alerts of new obituaries for specific people, towns & more.
❮ Go Back to Listings