Search:

Winnipeg Free Press Passages
All Titles
Notices are posted by 10 am Monday through Saturday
❮ Go Back to Listings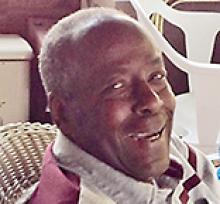 CLAY LEWIS
Born: Sep 18, 1929
Send Flowers to the Family
Offer Condolences or Memory
CLAY LEWIS Our remarkable Dad was born in Tennessee, on September 18, 88 years ago. Coming from a huge family with 12 brothers and sisters, he was the last surviving member. He often talked about his days growing up in Memphis. Living next door to Graceland was quite a temptation for Clay. He said he was 'well known' to the security guards there because he and his friends would often fence hop to play 'Nicky Nicky Nine Doors' in an attempt to catch a glimpse of Elvis. Aretha Franklin was a neighbour, as well as a childhood friend of Clay's older sister. Family life was strict, as was the norm back then. College education was a given and all Clay's brothers and sisters had a small percentage of any monies they received, handed over to their mother in order to save for future schooling. Clay followed suit, obtaining his MBA from Morehouse of Atlanta in 1949, a year behind Martin Luther King. Although he only knew of Dr. King, he was friends with his future wife, Coretta Scott. It was also at Morehouse that Clay came across a recruiter who was looking for black students to work in Canada for the summer as a Pullman porter for the CPR. This appealed to him because he was curious about this thing he had heard of called 'snow.' With Winnipeg as his home base, he soon saw plenty of that! Despite the fact that he was very far from the racial tensions of the south, he still experienced racism in Manitoba but he was smitten with Canada. His work took him across Canada, where he fell in love with mountains. In 1948, he became a member of the Brotherhood of Sleeping Car Porters, one of the first black unions in North America. (Up until its formation, porters were expected to work 72 to 100 hours straight, only allowed short catnaps when they could). On Portage Avenue across from the Bay, there was a Smitty's restaurant that was frequented by black professional athletes. My Dad talked of the days when he hung out there with CFL star Leo Lewis and many other ball players. It was their 'safe place'. The 1950s brought the Korean War and Clay enlisted. It was many years before he was able to open up about his experience there but his stories are worth telling. He moved up the ranks quickly during his 18 month service. Initially trained in combat infantry, parachuting and mine placement, he became a Master Sergeant in the Heavy Tank Co. of the 15th Infantry Regiment. Amazingly, he was later one of the first two African Americans to be assigned to the 91st Division an all white Texan regiment. When I asked my Dad how it went, he said, "Well, I guess the Army knew what they were doing". To this day we aren't sure what he meant by that but it must not have been easy. Despite this, he was decorated with a Bronze Star for heroic achievement. A modest man, he said he never really understood why they gave it to him. He was lucky enough to only sustain one minor injury during his time in the combat. Some of you may have noticed the small scar in the middle of his forehead. That's where he hit his head inside the tank after it hit a bump while he was reading a comic book. After the war, Clay returned to Winnipeg back to the railway life, becoming one of CPR's Porters-In-Charge. He was sub-sequently hired to demonstrate the first all-stainless steel dome car trains in Canada at the time. On the inaugural journey, my Dad was proud to say that the President of Budd Company, who manufactured the cars, gave each porter $15 every morning a small fortune for those days! Clay remained with the CPR until 1974 while at the same time, he had begun his lengthy career in Social Services. His accolades in the health care field are many but his passion was for the Main Street Project. Founded in 1972 with his good friend, John Rodgers, it was a place to help the lives of those struggling with addiction. John and our Dad were lifelong friends. They, along with Court of Queen's Bench Judge Morris Kaufman, played the same lottery numbers since 1986. I asked my Dad one day what he would do if he won the 'big one'. He said 'buy a truck, and a home with a large garden. Oh and a gardener to help'. John and Dad also had a tradition of going out for Sunday brunch every weekend. Even after John passed away, my sister and I continued this routine but instead taking turns in our homes. When it was Daddy's turn, we were amazed at the spread that was seemingly whipped up out of nowhere. Clay was an awesome cook and LOVED his bacon and eggs! After marrying our Mom, Anne in 1969, we moved from St. James to Southdale, then finally to Norwood. It was at Nordale School that Dad joined the weekly Badminton club and he played for many years. He also loved to go on his nightly bike ride, which inevitably took him to Country Style Donuts for coffee and a smoke. As a kid I remember him working on the Free Press Jumble Puzzle every night while he read the paper and drank his coffee as we did our homework. Weekends were often spent doing his favourite things yard work, watching NFL games (Go 49ers!), or going for drives. One of his favourites was driving out to Lockport to watch the fishermen. He loved the English Garden in Assiniboine Park, too. In summers, we took long road trips to visit either his family in the U.S. or my Mom's in Ontario. He didn't care where we went, he just loved driving. As we grew up and left home, we always stayed in touch. Les and I made a point of taking him to Assiniboine Park for a Father's Day picnic and for their annual kite-flying event. It was a boyhood pastime of his and he marvelled us with tales about building kites out of newspaper and string that would fly for days, once the stick was staked in to the ground. We took him to Disneyland when we were in our 20's. I'll never forget the screams he let out as we rode Space Mountain and at his request, twice! He really was a big kid at heart. In our adulthood, my sister and I remained close with our Dad. He loved to talk on the phone with his granddaughter, Avi, in Kelowna. His fridge was covered with our family pictures, bad 80's hairdo's and all. There were family pictures all over his home. He was a beloved mentor to a lot of nieces and nephews in California, especially to his sisters who were raising sons. Family was always so important to him, no matter what the issues. In fact, as children, we didn't think twice about the fact that at every family birthday, Easter, Thanksgiving and Christmas, our entire family gathered including our biological father, Larry Buffie, his wife Dorothy and their two daughters, Sam and Alex. We had decades of good times (and meals!) together, creating so many wonderful family memories. As adults, Les and I now realize how lucky we were to have both a Father and a Dad as a constant and present source of love throughout our lives. It takes a big man to put their children first in this way. Turns out, Clay was an animal lover. We didn't really know how much of one until one year, Les needed a doggy sitter for her Cairn Terrier. She found out months later, as a slip, that he had taken Ozzy to the McDonald's drive-through every night to get a hamburger, which he would feed to him from the front seat. We laughed about that for years! Oh, and his laugh! When he laughed hard enough, he would wipe tears off his face and blow his nose. It was infectious! Being the friendly, generous and down to earth man our Dad was, he made lots of friends in his long lifetime. One special person worth mentioning was his friend, Louise "Tootsie" Forsley. They knew each other for 70 years and saw each other through more than one marriage. When they hit their 60's and found they were both unattached, they realized they were both looking for a plutonic partner to hang out with. And by hang out, I mean dinners at Rae & Jerry's (a fave) nearly every week and attending the Winnipeg Jazz Club together. Clay LOVED jazz. Dad once told us that he wanted his ashes spread in the Red River. I asked him why the dirty old Red? To which he replied "The Red flows down to the Mississippi which will take me home to Memphis". He said he didn't want a funeral, but more of a 'party like they did in my growing up days'. Everyone would drink and toast, 'to help them on their way' he said. Lastly, my sister and I would like to apologize to all those friends, family, neighbours and acquaintances who were unable to communicate with Clay in recent years. We loved the fact that so many of you always kept him in your thoughts, even those who hadn't seen him in years. Although you often hear this sentiment, he really did leave a lasting impression on so many people. In lieu of flowers, let's all raise a glass and toast his wonderful legacy. We will miss you, Daddy and love you so much, Jill and Leslie Buffie, aka "B" and "Moe", son-in-law Troy Looper and granddaughter Avi, Larry, Dorothy, Sam, Alex and Rick. Say "Hi" to Elvis. If you wish to reach out to the family, please contact his daughter Jill at jillbuffie@gmail.com.
As published in Winnipeg Free Press on Jan 27, 2018
Condolences & Memories
(9 entries)
Thank you for sharing Clay's life story! Although your family visits were a rare treat, I remember Clay with great fondness. He had a wonderful smile and laugh, as well as a genuinely caring soul. My thoughts are with you all. - Posted by: Denise McLean (Doern) (Friend) on: Feb 13, 2018

Jill and Leslie So sorry to hear of your Dad's passing! You both are truly blessed to have had a lifetime of very SPECIAL HUGS, SMILES and LAUGHTER with such a devoted, loving DAD who LOVED "HIS GIRLS" with all his heart! May all your memories hold forever in your hearts! Our deepest sympathy and thoughts are with you at this difficult time. Donald and Arleen Looper - Posted by: Donald and Arleen Looper (Troy's parents) on: Jan 31, 2018

Please accept my condolences for your loss. I knew Clayden when I was a little girl as he was a friend of my Mom (Lorraine London) and step father (Lit London). I remember his gentleness, big smile and laugh. His life made a difference to many. - Posted by: Daria Kajda (acquaintance) on: Jan 28, 2018

So very sad to hear about your Dad's passing Jill (and Leslie). What a wonderful and beautiful account of his life's story, thank you for sharing that. Our deepest condolences to you and your family. Our thoughts are with you. Harriet and Kerry - Posted by: Harriet Rosen and Kerry Fieber (Friends of Jill) on: Jan 28, 2018

Dear Jill and Leslie, 'm sorry to hear of your father's passing. We always enjoyed your visits to Mississauga from Winnipeg. He was a man with a big smile and big heart. I greatly appreciated your wonderful testimony of his life. - Posted by: Michelle (Doern) Houghton (family friend) on: Jan 28, 2018

What an exceptional life Clay lived. Thank you for sharing these memories, Jill and Les. I enjoyed reading and learning of his younger years and of his commitment to "Family". I'm sure everyone will enjoy these memories, too. He was a true "Humanitarian", and a "Pillar" in his Community; leaving many Legacies. I will fondly remember his humor, love of his grand-child, ready smile and, Famous Baked Ham he liked to cook up during the holidays. Fondly Missed, Troy L. - Posted by: Troy Looper (Jill Buffie's Husband) on: Jan 27, 2018

Daddy, you raised us to be strong independent women who stood up for the world's injustices. In the Lewis tradition, your priorities were work and family. Now that I'm grown up and have daughter of my own, I'm so very grateful to have had you as my "Pops", to show me what is important in life. I will miss your big smile and laugh, your wonderful hugs, the regular long distance phone calls, and the visits where we just sat on the couch together, drinking coffee and reading the paper. I have a lifetime of happy memories that I will hold on to and share with your granddaughter as she grows up. She misses her Papa Clay and wanted to light a candle for you last night at dinner. We did that and I silently promised that I would see to it that your story is heard far and wide. - Posted by: Jill Buffie (Daughter) on: Jan 27, 2018

So sad to hear of Clay's passing. I have such fond memories of him growing up in Norwood with Jill. I can picture him now just hanging out on his deck having a smoke on a warm summer afternoon! He was a great dad to Jill and Les and an inspiration to the many lives he touched, especially those at the Main Street Project. He will be missed by all who had the pleasure of knowing him! Cheers Clay! - Posted by: Wendy Stephanchew (Friend of Jill) on: Jan 27, 2018

Jill & Leslie, What a wonderful picture you painted of Clay's life. So much of it I kind of knew through stories heard when I was lucky enough to tag along with Bill (my Dad) when there was something to chat about vis a vis insurance and Main St Project or simply when Clay, Dad & John needed a Marigold fix downtown. There was never a shortage of stories to be told. I was also so much in awe of the extent of service that Clay & John provided to the "down and out" community….hard to imagine that anyone could devote so much of one's life so passionately to ANY cause….I guess "they" needed it most and Clay & John found their mission to give it to them….Reading your story of Clay's life in the paper this morning reminded me once again that he had passion for everyone and everything in his life……family first and foremost…. - Posted by: Jeff Coleman (friend) on: Jan 27, 2018
Email Alerts
Sign up for free email alerts of new obituaries for specific people, towns & more.
❮ Go Back to Listings