Search:

Winnipeg Free Press Passages
All Titles
Notices are posted by 10 am Monday through Saturday
❮ Go Back to Listings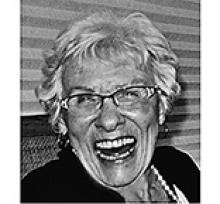 FRANCES DOROTHY MACDONALD
Born: Sep 19, 1929
Date of Passing: Jan 02, 2018
Send Flowers to the Family
Offer Condolences or Memory
FRANCES DOROTHY MACDONALD Frances Dorothy Macdonald (nee Waight) died peacefully on January 2, 2018 at her home. Her children, Harold Macdonald (Ariane), Mary Macdonald and Nancy Macdonald (Stephen Atkinson), and son-in-law Denis Mager miss her tremendously but know she is being held in the hug of all hugs by her late husband Harold G. Macdonald, daughter Susan M. Macdonald and son-in-law David W. Wood; and by her loving parents George Charles Waight, Ellen Olive Waight (nee Bradley) and Dorothy Audrey Waight (nee Thomas). Frances's grandchildren Olivia Macdonald Mager, Amory and Manlius Wood, Marta Macdonald and Amelia and Abigail Atkinson adored their grandma and cherish the memory of being so loved by her and always with such warmth. Frances also dearly loved Alexandra and Alastair Wood. Frances's nieces and nephews, the Mannings, the Wests, the Macdonalds, and her Bradley cousins, also deeply mourn her loss. For Frances the currency of friendship was not about favours or gifts but rather, authenticity, acceptance, and humour; and so Frances made many great friendships with people of all ages. Though Frances had said goodbye to many friends, those she shared her final years with, many at the Canoe Club, miss her greatly. Our mother was born in Winnipeg on September 19, 1929 to Dorothy and George Waight. Having endured the First World War; her father on the front lines and gassed in the trenches, meant that Frances was born into a home where the decision to live life to the fullest had long since been made. In Winnipeg in the 1920s and 1930s that included snowshoeing, regular trips by train to Minaki to camp and oil paint, and belonging to the Winnipeg Sketch Club, the Little Theatre and the Canoe Club. Frances's mother Dorothy died when Frances was five, but despite the pressures for a single father to give up his child, George refused to let her go and eventually began another very happy family life with his wife Ellen Bradley. George had met his match. Ellen was as hospitable and fun loving as he was and so Frances's life could continue as it had begun. They settled into a house in the Riverview area, where Frances had a wonderful childhood in spite of the war. Rope swings and swimming in the Red on a hot prairie day, regular bike trips with friends to Lockport for ice cream and hot dogs, more snowshoeing, downhill skiing with the Winnipeg Ski Club on the riverbank; taking the trolley every Christmas from Riverview to East Kildonan to be with friends no matter what the weather; gatherings at their home for the Second World War service men; her dad teaching her to paddle at the Canoe Club. Guests for dinner, guests for lunch, guests for cards, out of town guests overnight. A time when three adults slept in one bed to make room and laughed themselves to sleep. As Mom said it was a Ton of Fun. And there was the Bradley farm in Milestone, SK where her mother Ellen had grown up. This became one of Frances's favourite places in the world. There, Frances was embraced by her new grandparents Tottie (Susan) and Billy and by the whole Bradley clan. (Tottie had firm words for Ellen at the time of her betrothal to George, "Now you be good to that child!"). It's where Frances got to know her larger than life uncles and aunts, marvel at her Uncle Jimmy's inventions, swim in the dugout, and look in wonder, no less, at the eyelashes of a cow. Frances studied piano completing her Grade 10 examinations. She excelled academically and eventually decided to attend Home Economics at the University of Manitoba where she received top marks for her lemon meringue pie, which became our family favourite. Mom was a fantastic cook. How many times over the years did we call to ask her "How many minutes per pound for the turkey (or roast) and at what temperature?" or "Remind me Mom, how do I make gravy?" Either we were really dense or we just loved talking to our mom. It was a ritual. Frances always credited her cooking skill to her mother Ellen and Ellen said she got it from her mother Tottie. A lovely thread pulled through to Frances and with any luck, to the rest of us. Frances was always independent and this spirit eventually led her to Toronto. But before leaving the University of Manitoba she acquired another skill. Bridge. Fran enjoyed the mental rigors and the camaraderie of the bridge table her whole life and her last game was just a few days before she died. Frances had a ball in Toronto "the Good" as it was known back then. At her first job at the Toronto Star in advertising, she was offered $19/week but thought she deserved more so demanded $25 and got $24. Fran finally settled and excelled at a job she loved with Trans Canada Airlines doing the cross continental bookings. Frances was forced to resign when she became engaged to Harold, regardless of her boss's accolades and intentions to promote her. That was in 1953. Frances and Harold were married in Winnipeg at St. Albans Anglican Church. On their honeymoon Frances took her first lessons in golf, and to her surprise she loved it and so throughout her life, golf would be another way for Fran to spend wonderful times with family and friends. Fran and Harold began their life together in Edmonton where Harold's parents and siblings and children lived. There, Frances had her first taste of being the rector's wife and she knew immediately that role was never going to be her thing. Frances was a straight shooter. A very intelligent person who instinctively sought out the latest thoughts and ideas, and so despite having been denied equality in the workplace, she had the self-confidence to expect autonomy at home. Bravo, as our dad would eventually say. Harold and Fran's marriage, challenged by gender inequality, the church and the demands of raising four children, survived the test of time. The two of them shared many activities over the years, including daily happy hour and debrief, backgammon and cribbage, listening to their favourite music, a hilarious story, and playing and later watching golf, and this saw them through their 55 years together. Frances created a home for her husband and eventually four children. She was a wonderful mother. In the early years she recalled mostly a blur of coping and caring, but as her children grew she became our friend and a day didn't go by when one of us, and usually more, had a nice long chat with her over the phone. She was our anchor. Mom made everyone feel welcome in our home and all of our friends gravitated toward her. In fact one of her children's marriages just might have got its start as a result of Fran's popularity! No guest in our house ever saw themselves to the door. It was "Thank you so much for coming" or we heard about it. Frances had a flair for creating beautiful spaces and so in all the places she lived, no matter how awkward or small, Frances transformed them, with her artistic eye, into a beautiful home. For Mom decorating was all about how a place "felt". Frances was raised in a home brimming with culture. Inspired by her parents, Frances joined an Art Group in the 1970s and developed her talent and absolute love of painting. Frances eventually returned to work, first as the Volunteer Coordinator for Meals on Wheels (often getting her children to volunteer), then Frances began a fulfilling career in selling houses. Her success, in many ways due to her authenticity however finding the perfect match between client and home was where Fran found her real love of the job. Our mother also developed a tremendous appreciation of history from her parents. Surrounded by beloved objects from the "Rainbow Tavern" that her father created, Frances had a broad understanding of the present day informed by what had gone before. She was thrilled to be on the Antiques Roadshow when her father's roll top desk, which was given to him by his employer, the great philanthropist Bill Alloway, was featured. But Frances never let nostalgia get in her way. She was a "with it person" staying up with the latest in fashion, décor, politics and social change. Before there was the notion of political correctness or inclusivity our mother treated everyone she met with respect, warmth and kindness. A real estate colleague remembered from years ago, a time when they were driving in Fran's car on one of those brutally cold Winnipeg winter days, and Fran suddenly stopped the car and got out. They watched her walk across traffic to a homeless gentleman and give him her gloves. We saw this same innate compassion with each person she encountered when she was in the hospital. Frances got to know everyone's name; the aides, nurses, doctors and all the cleaning staff and she always had a kind word for her many and often noisy hospital roommates, male and female. Despite her own suffering, she took the time to get to know them all. But to be to be fair, Frances didn't love everyone. She couldn't abide a snob though it's likely the snobs she met, never knew. Kill it with kindness was one of her favourite bits of advice. Our beautiful mother knew how to live life. Frances lived in awe of the natural world, whether in her home on the shores of Lake Winnipeg or on a drive with Harold in Whitehorse. A life full, with avid bird watching and feeding, gardening at the lake, doing the Globe crossword, oil painting, cheering the Jets and the Bombers, watching Jeopardy and beating everyone, listening to Sunday night Jazz, following the figure skating, listening to her husband, her kids, and friends, consoling her children, applauding her grandkids. Our mom was someone one who could always find the interest and the marvels in what each day had to offer. She was a wonderfully warm and authentic person and an absolute ton of fun; she had a dazzling smile that would warm you to the core. As one of her friends recently said, "Frances Was Spectacular". How very blessed we all are, to have known her. There has been a burial service with family and there will be a celebration service for Frances in the coming months to be announced. In lieu of flowers please make donations in Frances's memory to Sanctuary North c/o Tony Boston, 530 Indian Grove, Unit 516, Toronto, Ontario M6P 0B3.
As published in Winnipeg Free Press on Feb 03, 2018
Condolences & Memories
(6 entries)
Just looking at my Facebook and found your Mom's obit. What a wonderful woman! I adored her. Respecting your Mom was not hard to do. She was a lovely lady. Thinking of you Mary and thinking of your sister and of David as well. I still can't believe all that has happened in your life. Love you Mary. ❤️ - Posted by: Tamara Wetherall (Friend) on: Sep 26, 2019

My mom Addie Penner's neighbour, Mary Valentine introduced Addie to Fran many years ago and those three (along with other pals) enjoyed countless hours together. Fran sure knew how to have fun and enjoy life! There are some wonderful photos of them out at our cottage. Sincere condolences from Addie and me on your family's loss of this great lady. - Posted by: Kathy Penner (Friend) on: Feb 08, 2018

I adored Frances but after reading the obit, realize how very little I knew of her..just know that I loved spending time with her. She will be missed. My condolences to the family for your great loss. - Posted by: Janne young (Co worker) on: Feb 04, 2018

My Sympathy to Mary and family. Your Mother was a lovely women. I loved her dearly. She will be greatly missed by myself and family. Tamara Wetherall - Posted by: Tamara Wetherall (Friend) on: Feb 03, 2018

My Sympathy to Mary and family. Your Mother was a lovely women. I loved her dearly. She will be greatly missed by myself and family. Tamara Wetherall - Posted by: Tamara Wetherall (Friend) on: Feb 03, 2018

My condolences to all of Fran's family. As secretary and also realtor at Elders/Stevenson on Academy Road I worked with your Mom for several years. The picture you chose is exactly how I think of Fran - she had the most marvelous sense of humor and an infectious laugh! I also loved how she called a spade a spade. I will always remember her fondly. - Posted by: Cathy Therrien (Former co-worker) on: Feb 03, 2018
Email Alerts
Sign up for free email alerts of new obituaries for specific people, towns & more.
❮ Go Back to Listings