Search:

Winnipeg Free Press Passages
All Titles
Notices are posted by 10 am Monday through Saturday

❮ Go Back to Listings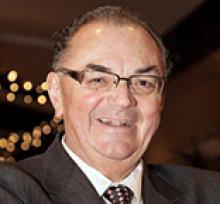 LEONARD BARANYK
Born: Jun 09, 1944
Date of Passing: Feb 18, 2018
Send Flowers to the Family
Offer Condolences or Memory
It is with great sadness and very heavy hearts that the family of Leonard Baranyk announce the peaceful passing of their beloved Husband, Father, Gigi, Uncle, Great & Great Great Uncle on Sunday, February 18th, 2018 at the family home in AHWATUKEE (meaning "House of Dreams"), Arizona.

Leonard was born on June 9th, 1944 to Walter and Anne Baranyk in Seech, Manitoba where they farmed long hours, lived off the land and understood tough times were simply a reality of every day life. Ukrainian was his first language and very proud of it and he did not learn English until the age of 6. Electricity wasn't even a part of their farm life until he was 9 years old and he still remembered the yard light going on for the first time. Leonard was the oldest child in the family growing up with his Brother Nelson and Sister Jan whom he loved dearly and both remained very important to him through out his life.

He attended school at Seech for seven years and moved to Strathclair in 1957 where he completed high school. After high school he relocated to Winnipeg to chase his entrepreneurial dream. He graduated from Success Commercial College with a degree in Business Administration. By working hard and determination he achieved his degree in record time.

Leonard began his career in 1964 in the garment industry at Frankroy Limited/Steerling Cloak. During this time he furthered his education at the University of Manitoba by studying and completing the Registered Industrial Accounting program. In June 1967, Leonard was destined for two major changes in his life, both occurring in the same month. First he married the love of his life, Eleane Kuch, and second made a career move to Pratts Wholesale Limited as an accountant. This is where his business career began working as an accounting clerk to where he is his today, the Chairman and CEO of Pratts group of companies. Together Leonard and Eleane also owned and managed over 20 rental homes and ran an Income Tax Business called "Income Tax In Your Home" that kept them both very busy.

In 1972, the happy couple were blessed with the birth of their first son Leonard Jr., and then in 1977, doubly blessed with the birth of their twin sons Jason and Jeffrey. All three were healthy and happy meaning Leonard could finally call out "MY THREE SONS" with all the joy and pride a father could only dream of. Then he finally got his 3 girls, Daughter in laws Mary, Natasha, and Lynley whom he loved dearly, in addition to his step-grandchildren Jesse and Jamie. His real pride and joy were his 2 Grandsons Lenny (Leonard the 3rd) and Nicholas who he thought the world of. They both were his favorite hockey players to watch and said they were always his #1 Stars.

He also enjoyed his Grandpets Ellie, Bandit, Zeus, Nibbles and Bulldog Tank who he said had a face only a mother could love.

Leonard was a visionary and a leader with passion. NO was an answer he never accepted and his fearlessness of risk made him a legendary entrepreneur. The combination of street smarts, honesty, experience, hard work, determination and education throughout Leonard's life molded him into a successful businessman. He originally acquired Pratts Wholesale in Winnipeg on Dec 18, 1980 after working there for 13 yrs. Pratts started back in 1910 (over 107 years ago) but at the time of purchase it was only 5000 sq ft with 8 employees. From there he expanded to Dauphin MB in 1987, to Regina SK in 1994, and with Jason's help Calgary AB in 2011. He also purchased Smiths Quality Meats in 2002 and JJL Storage and Logistics in 2014 with Jeff's help.

Under Leonard and Eleane's ownership with their 3 Sons, he took a tobacco and confectionery wholesale into a full line retail grocery distributor, that evolved into the largest Western Canadian owned broad line food service distributor, supplying all 3 segments with 20,000 fresh/frozen/dry products servicing Western Canada from the B.C. border to Thunder Bay ON. and as far North as Santa Claus lives.

After a career spanning over 50 years, the company now employs over 550 staff with over 600,000 sq. ft. of warehousing. Despite these accomplishments, it has always been the personal relationships that meant the most to Leonard and countless grew into life long friendships that will always be cherished within the family.

Leonard was a member of ITWAL, a National selling and marketing group supporting National Brands for independent wholesalers and proudly sat on the board of directors for many years. He always said if it wasn't for ITWAL he wouldn't be where he was today. He was a long time supporter of Variety, the Children's Charity and always had a huge heart for children in need. He received the Variety Humanitarian award and Variety International award for his involvement. He also supported many other charities and always wanted to give back.

Leonard had many passions in life, telling jokes, listening and dancing to Ukrainian music, hunting with his sons, playing cards especially crib, suntanning and sitting by the pool in his speedo with his #2 sunblock, golfing & curling at Rossmere C.C where he has been a proud member for many years, ping pong, playing Pac-Man & Tetris on his game boy, watching sports but his favorite was spending time with his family & friends. Leonard's idea of cooking supper for Eleane was taking her to his favorite restaurant, Salisbury House on Leila. He enjoyed having lunch everyday in his board room "family style" with anyone who happened to drop in.

Favorite memories that he talked about were attending the Masters Golf Tournament in Augusta twice, golfing with John Daly, Fred Couples and many other PGA & LPGA golfers. He enjoyed attending dinners with stars like Wayne Gretzky, Harry Belafonte, and many more. Most memorable times were spent at the family cottage at Delta Beach, many Christmas's in Treasure Island Florida, traveling with Eleane to many destinations with Aruba being their favorite until they found their dream home in Phoenix where they enjoyed spending most of the winter.

Leonard's legacy will not be forgotten simply because along side all of his hard work and seriousness, he insisted on maintaining a lighter side many will remember fondly. A few of Leonard's locally famous motto's were: "We Work hard & Play hard", "Lenny, Jason & Jeff make sure you wake up in morning", "You can always make a mistake, but just don't make the same one twice", "Do it right the first time", "It takes years to earn respect but only seconds to lose it", and one reserved only for his boys- "If Brains were bird droppings you would have a clean cage".

Leonard has always made the industry fun to work in. He always had an open door policy where you could walk into his office anytime with no appointment needed. He insisted that the most important deals to be negotiated had to start with a joke, progress to a glass of Chivas Scotch, two ice cubes with water nearby, and end with his word, a powerful handshake, and finalized deal written on his favorite legal document.....a.k.a. cocktail napkin....and then many more jokes.

On June 9th, 2017 the 50th anniversary of Leonard's association with Pratts, and his 73rd Birthday, his life long accomplishments were honoured when the street in front of the Winnipeg head office of Pratts was renamed from Hutchings Street to "Leonard & Eleane Baranyk Way". The ceremony was a complete surprise, attended by hundreds of guests, and followed by his 50th Wedding Anniversary the next day.

Though all 3 of his sons are fully vested in the business today, it is Eleane who Leonard has self admittedly claimed to be "The Real Boss". She will continue as she always has to make sure the boys are all fed, stay healthy, and most importantly, ensure they stay in line. "MY THREE SONS!" will carry on for years to come, and Eleane will ensure they do so in their Fathers memory.

Left to cherish Leonard's memory are his loving wife Eleane of 50 years, son Lenny (Mary) Grandson's Lenny and Nicholas, Son Jason (Natasha) Son Jeffrey (Lynley) Step Grandson Jesse (Jamie) Zacharias, Brother Nelson (Shirley) Baranyk, Sister Jan (Harve) Rochelle, Sister in Law Anne (Edward) Marynowski and many nieces and nephews and countless friends.

Leonard was predeceased by his father Walter 1992, Mother Anne 2016, Father-in-Law Matt Kuch 1988, Mother-in-law Teenie 1994, Brother in law Harry Wowryk 1966, Sister in law Jean Wowryk 2017, Nephew Richard Wowyrk 2016, Great Nephew Christopher Wowryk 1999, and special friend Ron Drobot in 2016.

A special thank you to all our Family, Friends, Neighbours, Employees, Suppliers and Customers for all your support over the years. A special thank you to Dr. Marvin Slutchuk, Dr. Shantanu Banerji, Taylor and all the St. Boniface Cancer Care staff for always putting a smile on Leonard's face every appointment. To the Emergency response team, special neighbours Ron & Rhonella Brelinski, Eileen Bible and Ray Rodriguez in Phoenix thank you so much for being there for Eleane as you all were her pillar of strength.

PALLBEARERS

Nelson Baranyk, Harve Rochelle, Barry Wowryk, Don Tomchuk, John Kadynuik, Dale Tallas, Ed Holowaty, Tom Tetlock, Mark Poklar

HONOURARY PALLBEARERS

Kim Peters, Erik Wallace, Grant Avery, Rene Miller, Glen Linney, Bob Russell, Joe Poudrette, Harry Watson, Earl Barish, Ray Rodriguez

PLEASE NO FLOWERS, WE ENCOURAGE DONATIONS TO BE MADE TO:

The Leonard Baranyk Memorial Fund at Variety, the Children's Charity of Manitoba c/o 2-1313 Border Street, Wpg Mb. R3H0X4 or by calling 204-982-1050

OR

The Canadian Cancer Society - Manitoba Division at 193 Sherbrook Street, Wpg MB R3C2B7

CELEBRATION OF LIFE: SATURDAY, MARCH 3rd, 2018 @ 3:00PM SPRINGS CHURCH 595 LAGIMODIERE BLVD, WPG, MB. R2J3X2

PRIVATE FAMILY INTERMENT TO FOLLOW CELEBRATION OF LIFE @ GREEN ACRES MAUSOLEUM HWY #1 EAST AT NAVIN ROAD WPG MB. R2C2Z3

RECEPTION TO FOLLOW "LEONARD STYLE" WITH DINNER RIGHT AFTER CELEBRATION OF LIFE @ OFF SITE LOCATION TO BE ANNOUNCED AT SPRINGS CHURCH (R.S.V.P is required to Brad Lenz brad.lenz@pratts.ca or 204-949-3013)

Leonard was larger than life, never gave up, will be missed by many but never forgotten.
Rest in peace Superman.
VICHNAYA-PAMYAT
As published in Winnipeg Free Press on Feb 24, 2018
Condolences & Memories
(29 entries)
I was deeply saddened to find out that Leonard had passed away. I hope that I can offer my condolences to his family and all his friends. - Posted by: James Aird (Customer ) on: Mar 08, 2018

To the family ..... Please accept our deepest condolences Len and I went to a one room Seech School in the early fifties.. Len his brother Nelson and sister Jan from the south of school and my sister Joyce from the north. In 1953 we moved to Hamiota, and lost contact with Len . In 1961. I moved to Winnipeg to attend Red River Collage, got married to Phyl and again met up briefly with Len. Again we lost contact with Len till a few years ago, my cousin Leon Twerdun had celebration for the time he spent as a deacon serving in the churches in south east communities of manitoba. Len and I had a good conversation on the past times we had together. Later we met Len again at the Kadynuik social. I remember Len as a happy, jovial, fun loving guy. He always loved a good joke. Len I know that you are in a happy place and enjoying it. You will always be remembered us and by all your friends............. So long....Dave and Phyl Twerden - Posted by: Dave and Phyl Twerden (School friend) on: Mar 05, 2018

Our sincere condolences to the Baranyk family on your loss of Leonard. - Posted by: Jarema family - Evelyn, Adeline, Garry, Amelia () on: Mar 04, 2018

My sincerest condolences to the Baranyk Family. While I did not get to know Leonard very well, since he Golfed mostly with John Kadynuik and Harry Watson at the Triple 4 Tournaments.I had the pleasure of playing with Lenny JR several times and if the apple does not fall far from the tree, that family is in good hands. RIP Mel Nadeau - Posted by: Mel Nadeau (Supplier) on: Mar 02, 2018

I was saddened by the news of Leonard's passing . He was such a great person and will be apart of our memories forever . - Posted by: Brenda Anttila - Rusen ( née Delabbio ) (Buddie Delabbio ( daughter) ) on: Mar 01, 2018

So sad to hear about the passing of Leonard Baranyk. My condolences to Eleane and family. I met this unforgettable good man in 1973 through my business association as a supplier. I, like many others, took an instant liking to Leonard because of his openness, honesty and integrity. It was always a pleasure to spend time with him whether through business, golfing, Jet games or other events. I know he will be missed by so very many. - Posted by: Stan Bergen (Business ) on: Feb 28, 2018

We are so very sorry for your loss, Leonard was a wonderful man and will truly be missed. His involvement with Variety was a blessing for so many including us. We will continue to smile every time we think of him and look forward to volunteering at your golf tournament for as long as you will have us. Prayers and hugs coming to all of you.🙏🏻 - Posted by: Terry Lynne and Ken Hause (Friends) on: Feb 28, 2018

Sending condolences to the Baranyk family. He will be missed. Sorry to hear about the loss. May God Bless you and your family in this time of sorrow. Our thoughts and prayers are with you. George and Bernice Gregorash. - Posted by: Bernice and George Gregorash (Friends ) on: Feb 27, 2018

Our thoughts and prayers are with the Baranyk family. Leonard was a very special man, kind, always with a smile and a joke. He treated everyone as "familia"(family). He will be missed and may he be at rest. VICHNAYA-PAMYAT. - Posted by: Ken and Audrey Mackenzie (Retired employee and friend) on: Feb 27, 2018

Please accept our deepest sympathies on the passing of your father. We found him to be a kind, congenial man who was friendly to everyone and an ardent supporter of his community and various charities. He was very proud of his grandchildren and we met him at many hockey, soccer and school events. He had a zest for life and business and will be forever remembered by his family and friends. - Posted by: Robert and Joann Stalker (Friend) on: Feb 27, 2018

My condolences to the Baranyk family. The obituary condensed a lifetime into a few paragraphs any was well put. I can remember Len so well from Rossmere where I first met him. Being Ukrainian we hit it off immediately. A gentleman, entrepreneur and a giving individual who will be dearly missed. R.I.P - Posted by: Pat Werestiuk (Friend) on: Feb 27, 2018

Sorry for you loss Eleane, Lenny, Jeff and Jason and families. Leonard will be missed by all that had the pleasure of knowing him. While working at Pratts and all the years of calling on Pratts, Leonard was also there to greet you with a big smile and a friendly hug. He will be missed, but the memories will live forever in our hearts. - Posted by: Val Burgess (Business Acquaintance) on: Feb 27, 2018

Our sincere condolences Eleane and family. Len will always be remembered as a very special person with a heart of gold. May the good Lord welcome him into his kingdom. - Posted by: Ned Derkach (Friends since beginning of school at Seech, MB) on: Feb 27, 2018

My sincerest condolences to the family. Leonard was not just a business acquaintance but a true friend and a teammate on his curling team at Rossmere Curling Club. He always made you feel like a part of the family with a big smile, joke and a handshake he was truly a genuine person. I enjoyed every visit and every game with him even getting a chance to lose badly at ping pong to him. I was amazed at, for being such a big guy, what a great ping pong player he was. One of my favourite memories with Leonard was we were playing in the Club Championship at Rossmere and it came down to the final rock and I was saying no to sweep he was yelling yes- came up a tiny bit short.... he was right again. I will really miss his sense of humour and his warmth making you always feel welcome. Rest in Peace Leonard you earned it. - Posted by: Darren Mathews (Friend) on: Feb 27, 2018

Nelson, Shirley and family, our heartfelt condolences in the loss of your brother, our thoughts are with you during this difficult time. Your family will always cherish the special times and memories with your brother. Eleanor (Rochelle) and Ian Grant - Posted by: Eleanor and Ian Grant () on: Feb 26, 2018

Jan, Harve and family, our heartfelt condolences in the loss of your dear brother, our thoughts and prayers are with. We know you will always cherish the wonderful memories. With heavy hearts, Eleanor and Ian - Posted by: Eleanor and Ian Grant () on: Feb 26, 2018

Our condolences Elaine to you and your family, Leonard has left a wonderful legacy, he will be truly missed. God bless your family. Eleanor(Rochelle) and Ian Grant, Brandon, Manitoba - Posted by: Eleanor (Rochelle) and Ian Grant, Brandon, Manitoba (Extended family) on: Feb 26, 2018

Our sincere condolences Eleane and family. You all have wonderful memories of Leonard that will keep him close to your heart. - Posted by: Gary and Cynthia Light (Friend) on: Feb 26, 2018

My sincere condolences to the family. Mr. Baranyk always had a laugh and a smile of warmth and a big " Hello, How are you?" greeting whenever I had crossed his path. His energy was that of kindness, honesty and a genuine charismatic gentleman. I am heartbroken for the family. Xo - Posted by: Michelle (Friend(Mary, Lenny)) on: Feb 25, 2018

Our condolences to your family. Leonard has left a wonderful legacy. A life well lived. Our sincere sympathy, the Gera family. - Posted by: Dave, Joyce Gera & Family (Friend) on: Feb 25, 2018

A great man. Thank you for your kindness. - Posted by: Kelly weyerman (Former pratts employee) on: Feb 25, 2018

To the Baranyk Family: My sincerest condolences, I am going to miss him. Wally - Posted by: Walter Galagan (Friend) on: Feb 25, 2018

My thoughts and prayers are with you Eleane and all the family. Sorry to hear of your loss - Posted by: Sheila Taylor () on: Feb 24, 2018

Sorry for your loss Eleane, Lenny, Jason and Jeffery. I have many found memories of Leonard during my time I called on Pratts. He was a true professional and gentleman and made everyone feel welcomed! I will remember him fondly. - Posted by: Jaime-Lynn Dyck () on: Feb 24, 2018

Thank you Eleane, Lenny and Jason for the visit on Wednesday. It was good to share memories of Leonard, Dad, with you. As I, Sharon, had known Leonard from 1974, from the bank I worked where Leonard made the deposits for Pratts, and Royce, being one of Pratts competitors, we are honoured with his memories. Thanks Leonard for letting me, Sharon, win a few crib games. God Bless. - Posted by: Royce and Sharon Yackel (Friends) on: Feb 24, 2018

Jan, Harve and family. Barb and I send our sincere condolences on your loss of Leonard. At our first meeting, Leonard's warmth and smile and his firm handshake impressed us greatly. God Bless his Family. Jim & Barb Campbell - Posted by: R. (Jim) Campbell (family friend) on: Feb 24, 2018

Sending condolences to the Baranyk family. Truly a wonderful man inside and out. He will be sadly missed by all who knew him. - Posted by: Kim Tronrud (Friend) on: Feb 24, 2018

I've known Mr. Baranyk and the family since 2011 and have always been very proud to state that fact. He will undoubtedly be missed but I can confidently say will not be forgotten. He's championed many things and has left behind him a legacy that will last for a long, long time. - Posted by: Brad Lenz () on: Feb 24, 2018

Sincere condolences. I met Leonard through my work with Canad Inns and came to value his wit and insight. I was always so impressed with the relationships that he had with his staff, many of whom regarded his as family. The Winnipeg business community will miss him greatly. - Posted by: Bev Sterling (Business acquaintance) on: Feb 24, 2018
Email Alerts
Sign up for free email alerts of new obituaries for specific people, towns & more.

Green Acres Funeral Home and Cemetery
No. 1 Hwy. E. & Navin Rd. (Map)
Ph: 2042223241 | Visit Website
❮ Go Back to Listings