Search:

Winnipeg Free Press Passages
All Titles
Notices are posted by 10 am Monday through Saturday
❮ Go Back to Listings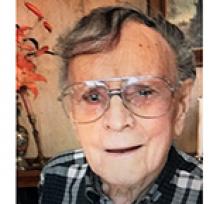 LLOYD CLEVELAND BARTLETT
Date of Passing: Mar 16, 2019
Send Flowers to the Family
Offer Condolences or Memory
LLOYD CLEVELAND BARTLETT MD, FRCS(C) Lloyd Cleveland Bartlett MD, FRCS(C) died at the Grace Hospital on March 16, 2019 at the age of 101, having lived a full and satisfying life. Predeceased by his loving wife Desta in 2017, he is survived by their five children, Lorna, Sheila, Robert (Rosie), Rex (Cindy) and Ellen (Alvin), nine grandchildren, Jennifer, Leo, Sacha, Emily, Anna, Ashleigh, Chelsea, Toby and Aiden, and six great-grandchildren, Madeline, Maya, Etienne, Kaitlyn, Rowan and Olivia. They will all remember him with love. Lloyd was born in Stratford, Ontario to Reginald Bartlett and Olive Masters Bartlett. Lloyd and his siblings grew up helping their father with his inventions and foundry and spending time with the large Bartlett clan who farmed near Bancroft. Against the odds in those tough Depression times, Lloyd put himself through medical school at the University of Western Ontario. In 1942, he married Desta Kathleen Buse, a Registered Nurse, and they set out for the small fly-in mining community of Favourable Lake. For seven years they worked together, explored on foot and by canoe, made friends, and faced many challenges, including a serious forest fire. They recalled those times fondly and never lost their sense of attachment to the Canadian north. In 1950, Lloyd and Desta moved to Winnipeg. Desta attended to their growing family while Lloyd devoted himself to his medical career. First on McMillan Avenue, and later at the large and gracious house on Yale or at the Gull Lake cottage, their homes were always the centre for family gatherings. In mid-life Lloyd developed an enduring passion for diet and exercise. He learned to swim and took up running and weight lifting. His daily regimen became central to his well-being. He was fortunate to have a wife who obliged his very definite ideas about diet with good humour and great competence. Lloyd attributed his long good health and ability to maintain a remarkable level of independence to his strictly healthy lifestyle. Medicine mattered a great deal to Lloyd; his accomplishments in the field were many. He developed surgical techniques and equipment including the first cannulated intravenous needle. He was renowned as a diagnostician. He served as President of the Manitoba Medical Association and as a tireless campaigner against the tobacco industry for the Canadian Medical Association. He mentored several generations of medical students and was deeply moved when some of those doctors and nurses made a point of acknowledging him during his last weeks in hospital. Lloyd will be remembered for his intellect, his hard work and his strong sense of family. After a long and remarkable life, may he rest in peace. A Celebration of Life will be held Friday, March 29, 2:00 p.m. at Thompson Funeral Home, 669 Broadway. Flowers are gratefully declined. Donations in his honour to Western University www.giving.westernu.ca or a charity of your choice would be welcome.
As published in Winnipeg Free Press on Mar 23, 2019
Condolences & Memories
(20 entries)
He was our family doctor in Winnipeg at a time when the doctor would come to your home with his little black bag. My twin brother and I will never forget him. - Posted by: Gordon Scott (Patient ) on: Nov 01, 2021

Dr Bartlett was my doctor at the Medical Arts building in Winnipeg in my 20's before I moved to Montreal. I feel blessed to have known such a distinguished person. He told me swimming is great exercise and not to smoke. Thank you Dr and Mrs Bartlett. My heart is heavy to discover you passed, my sincere condolences to your family. - Posted by: Raime Anne Goldberg (Patient ) on: May 03, 2021

I was so blessed to have Dr L C Bartlett as my physician! He was a great doctor and he definitely gave us solid advice on our health care. Especially my smoking cigarettes, he hounded me every visit but never failed seeing me through every step of the way. His parting gift to me on our last visit was a pneumonia shot, he said that should last you a lifetime. Rest In Peace dear soul - Posted by: Shirley Grantham (Patient ) on: May 24, 2020

Dr. Bartlett was my doctor when Dr. Ibbitt wasn't available. Both Dr. Bartlett and his wife were lovely people. I always loved Lloyd thinking of a dapper, handsome man. Differed tie every time!! Desta was the best nurse and patience with us and his husband! Louise got to work with both of them when he left us!!! They will both be missed!! - Posted by: Carole Osadchuk (Patient) on: Jun 18, 2019

I met Dr. Bartlett and his very dear wife in 1980, when I brought my parent's to him for their appointments. I then became his patient also. In 1985 he also found my cancer during an annual checkup. I had an infection in my hand and he had prescribed antibiotics and he told me that if it was not better by the next day (Saturday) I was to go to emergency to have the antibiotics administered intravenously. They were going to the cottage for the weekend. On Saturday he called my home to determine how I was. I was transferred to Edmonton in 1989 and he referred me to a Doctor that had been one of his students. I would fly back once a year for a checkup until about 1999. He was one of the best and to date gave me 34 extra years of life. My sincere condolences to the entire family. - Posted by: Sarah Drichel (Patient) on: Apr 01, 2019

Dr Loyd was a marvellous doctor who became my Doctor in the early 50's after he moved from Favourable lake, where he was associated with Berens River Mines Ltd and my father an executive of the company. He saved my life at age 27 by identifying early stage Hodgkins cancer in a tiny lump on my hip. I was recovering in the Hospital for six weeks following cancer surgery where he visited me every day. I am forever grateful for his care. When he learned I was a competitive runner he became interested in running for his well-being. I introduced him to the YMCA where he became a long time runner on the Y's 90 yard track. In 2009 I changed to a new doctor because I wanted a doctor who would outlive me. Dr. Bartlett, you nearly fooled me. He was truly a remarkable man, and he will never be forgotten. My condolences to the Bartlett family on his passing. - Posted by: David Drybrough (My doctor for 58 years) on: Mar 28, 2019

In the late 1960's, Dr. Bartlett saw my grandfather for the first time. The family lore was that he told my grandfather to go home, quit smoking, start exercising and lose 30 pounds. "I don't want a patient who is determined to kill himself" is what we heard when the story was told. My grandfather respected the direct approach, and took the advice. He followed Dr. Bartlett's prescribed diet for the rest of his life. A pioneer in being a doctor of wellness. - Posted by: Linda Lytle (Relative of a former patient) on: Mar 28, 2019

It was my sincere privilege for 35 years to be a lifelong patient of Dr. Bartlett my entire family, including some uncles and aunts, Dr. Bartlett was there first and only doctor. He was superbly intuitive with his diagnosis skills that friend send it to his entire medical practice and personal life. His methods procedures and focus we're undeniable and he never wavered. Other doctors could recognize Dr. Bartlett surgery to his patients, by his device and unique suturing skills. I would see him at the YMCA running track, rowing, and lifting weights right up to his retirement in June 2018 he rose early morning and exercise every day. He inspired me greatly with his common sense and ethics pursuit and passion to provide more than the best consultation and advice. I truly feel very fortunate to have had that special walk in life with Dr. Lloyd Bartlett and your absence will be for ever felt and your memory will live long. Rod Westmacott lifelong patient and considerate friend - Posted by: Rod Westmacott (Life long patient & a considered friend ) on: Mar 26, 2019

I met Dr. Bartlett and his lovely wife in the electrical department at Home Depot at Polo Park many years ago. We three talked for quite a while - I convinced them to invest in a lamp that Mrs. Bartlett was attracted to. I later discovered that I knew three of his patients who regarded him very highly! Whenever he came into Home Depot (I met one of his daughters once) he would always seek me out to have a little chat. He also asked about me whenever one of my friends went to see him at his office. She had been his patient for decades! He was a remarkable man and was so interested in people and their lives! His memory was definitely amazing! I am so sorry to hear of his passing and my heartfelt condolences go out to his family. I loved seeing this gentleman - always dressed nicely - bow tie and all - coming down my aisle! - Posted by: Margaret Penny Flock (Home Depot associate - customer) on: Mar 26, 2019

Dr. Bartlett was my Dr. for 45 years. My Mother's also. He was with me through a lot of medical and personal issues. I will miss him. He was a Dr. till the end. He was even worried about me after he retired, giving me advice about a operation I was thinking about having. Going to his office was enjoyable, talking with Mrs Bartlett and all the Nurses. RIP and my condolences to the whole family. He was a great man. Long time patient, Phyllis - Posted by: Phyllis Hildebrand (Long time Patient ) on: Mar 25, 2019

Lloyd was a teacher of mine in medical school at the University of Manitoba, later a colleague and friend. He was very interested in medical exams and testing as was I at one time. Lloyd even wrote a book on medical exams called "Exams Are Made for Passing!" He was a superb surgeon, a dapper dresser, a superb role model and a friend|! He had a good life and changed many lives for the better! Per Ardua ad Astra Merv Letts - Posted by: R Merv Letts (Student, colleague and Friend) on: Mar 24, 2019

I am so sad about this news. Until his retirement, I was his patient for 30 years. I got to know him when I worked for Canadiana Pet Shop back in the 1980. He loved his hobby and came to buy fish every week. When I went to his office, first and foremost we talked about the fish tank in the waiting room. He liked that. Dr Barthlett looked after me for all these years . Every time I left the office , I felt great. He took his time with you and was throughout . I loved my doctor. There will not be any other like him. Thank you for being you and for all the beautiful years . Rest in peace DR Barthett. You will be missed - Posted by: Nadine Barbanchon (One of his patients ) on: Mar 24, 2019

The amazing and wonderful Doctor Bartlett looked after my health since the late '60's and of all those who took part in keeping me well , he was the one who proved to be most thorough, kind and caring. Never once did I feel rushed. He took the time to ask pertinent questions and always followed up on previous records.His staff often mentioned how efficient he was.There was never a delay in seeing a specialist , if the Good Doctor felt it was required.If it wasn't for him I dare say, I wouldn't be alive today.Thanks to both Doctor Bartlett and his lovely wife Mrs. " B" , I along with countless others , owe them a huge debt of gratitude. I will miss you both and know that I love you. Borys Peter Kozak - Posted by: Borys Kozak (Patient of Doctor Bartlett.) on: Mar 24, 2019

Dr. Bartlett took care of our mother many years ago--He was very good to her and concerned about her comfort and safety. We all appreciated his concern and interest. Sincere condolences to his survivors !! N.A. Francis-Richards - Posted by: Nora Francis-Richards (daughter of ex-client) on: Mar 23, 2019

Dr. Bartlett was my doctor for years and I will truly miss his compassion, his incredible listening skills and professionalism. My sincere condolences to his family. R.I.P. sir. - Posted by: L Schreier (Patient) on: Mar 23, 2019

Dr. Bartlett was my doctor for the better part of 40 years, starting at age 12 when we first moved to Winnipeg. At age 30, I came down with pneumonia, and though it was quite a hike from our neighbourhood, I insisted on going to the Grace, because I knew he would be there. I was quite worried about my condition, but was able to relax once I saw him. I trusted him, loved to have conversations about things not medically related, and will be grateful to Dr. Bartlett for his great care over the years. My condolences to the family on his passing, but you have been blessed. - Posted by: Michael Grant (Patient) on: Mar 23, 2019

Growing up on the next street, I came to know many of Dr. Bartlett's children. At the same time, he became my father's physician. They shared their philosophies on health and wellness which served them both well--each surpassing 100 years. I ultimately became a colleague of Dr. Bartlett and was always impressed with his mental acuity and creativity. Also owning property at Gull Lake, I had the privilege of interacting there and witnessing some of his inventions. He was truly a "renaissance man" and will be missed, no doubt. My condolences to the family. - Posted by: Garvin Pierce (Neighbour and friend) on: Mar 23, 2019

Very few in any field could have helped more people and cared more for their clients than Dr Bartlett. I will miss his wisdom and highly professional Doctor's care. His personal interest in each patients life clearly demonstrated his dedication to patient wellness. Rip Dr Bartlett, condolences to the family. - Posted by: Mel Vanstone (Patient) on: Mar 23, 2019

Dr Bartlett was the most understanding, caring and knowledgeable Dr I've ever known. His stern manner on certain issues was full of guidance and love. I was adopted 54 years ago and my parents had already been his patients and he was the first Dr to see me. I respected and adored him. I will remember with kindness how he never questioned looking after our family in office or home calls. Rest in peace Dr Bartlett from all of us. Brian, Roberta, Geoffrey and Naomi Johnson. May rest and peace be given as freely as your kindness was given to all. - Posted by: Naomi Johnson-Giesbrecht (Patient) on: Mar 23, 2019

I am 30 years younger than Dr. Bartlett. I met him in the early 1970s in the weight room of the downtown Wpg YMCA where we both worked out religiously about 5 days a week. He was extremely dedicated to his workout regime and diet even back then. I can remember it like it was yesterday. I engaged him as my personal physician around 1975+/- and he remained that until his retirement in June 2018. Lloyd was extremely knowledgeable regarding health, nutrition, and diet. His dedication to his fitness regime was unparalled even in his later years (1/2 hour of cardio and 1/2 hour of weights daily right up until the end as far as I know). He was the most conscientious, dedicated, and caring doctor anyone could ever ask for, that's why I stayed with him as long as I did (45+ years). It was a coincidence that Dr. & Mrs. Barlett moved to Campbell Street 10 years or so ago where I have lived since 1973 and then became my neighbor about 6 houses away. Rest in peace Dr. Bartlett and thanks for looking after me. - Posted by: David Johnson (Life long patient & former fellow member of Winnipeg downtown YMCA.) on: Mar 23, 2019
Email Alerts
Sign up for free email alerts of new obituaries for specific people, towns & more.
❮ Go Back to Listings