❮ Go Back to Listings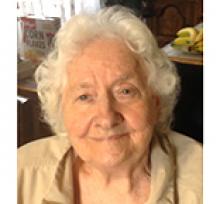 JEAN HENDRICKSON
Born: May 18, 1930
Date of Passing: Apr 10, 2019
Offer Condolences or Memory
JEAN HENDRICKSON
May 18, 1930 - April 10, 2019

Jean Frances Hendrickson (born Jennie Sklepowych) was born at home on May 18, 1930.
Her parents, Rose Negrych and Nykola Sklepowich, were Ukrainian immigrants. Her mother came to Canada as a child with her family, her father immigrated alone as a young man. They met, married, and farmed in the Venlaw area near Gilbert Plains, Manitoba. Jean was a twin, but her sister did not survive the birth, and Jean forever felt something was missing in her life. She had three older brothers and five older sisters, all of whom predeceased her, and a younger sister, Zita, who survives her.
Jean is survived by her six daughters, Barbara, Kathy (Allan), Susan (Terry), Lorna, Karla and Jennifer (Gord), her son Henry; and her grandchildren, Anthony (Lorraine) Hendrickson; Jonas, Aaron and Kieran Hendrickson-Gracie; Jane, Thor and Hanna Hendrickson-Rebizant; Kristin Hendrickson; Nick and Claire Pankiw; Adam, Matthew and Peter Revel; and Luke Hendrickson. Jean is also survived by her sister-in-law Bernice, and many much loved nieces, nephews, cousins and dear friends.
Jean lived on her family's farm near Gilbert Plains, excelling in school, playing ball, and making lifelong friends, until her mother's death in 1948. She moved with her brothers and sisters to Winnipeg and had many stories about life on Young Street. She started grade 12 at United College, but decided instead to teach on permit at Oatfield, a one room school near Eriksdale. Jean loved that year in Oatfield and believed her year there helped her get through the grief of her mother's death and to grow up. She returned to Winnipeg to finish high school at Daniel McIntyre Collegiate, then went to teach, again on permit, at Cossette School in Inwood. There she would meet Wallace Hendrickson, a handsome and slightly wild young Swede, who most likely literally swept her off her feet. After a year in Normal School to train as a teacher (class of 1952), Jean taught for a year at St. Daniel School near Carman. Jean married Wallace on July 4, 1953 and taught for two years at Pembina Crest School in Winnipeg before she and Wallace, with baby Barbara, moved to Wekusko for a northern adventure. Five years later they returned to Winnipeg, now with four little girls, and lived in the house at 736 Warsaw Avenue.
The next move, but not before two more girls joined the family, was on January 1, 1967, to a farm near Narcisse. Henry was born after this move, and Jean and Wallace would live out their days on the farm. There were years of hard work on and off the farm, (Jean returned to teach in Inwood) and watching her children grow up, her daughters move away, and her son take over the farm. Jean lived through the most exciting of times. This world has changed so much over the past nine decades. Jean was always learning, whether in classes, reading, watching television, and listening to the radio, or from the people who graced her life. She was interested in all world issues, politics and in most sports, and she had an opinion on everything.
Jean loved a good joke and always had a joke to share. She loved her garden and her flowers. She loved meeting new people and Jean's home was always a welcoming place. The coffee was always strong, the food was always delicious, the company and conversation were always good. Rarely did a day pass without someone stopping by for business or pleasure.
Our mother was smart, strong, determined and hard working. She was kind, supportive and loyal. She was proud of her family, of her home, of her life. She had lifelong friends but made new friendships quickly and easily. She was a cherished teacher to so many children. She was a special daughter, a loving sister and a wonderful friend. She had a long, successful marriage and worked side by side with our dad before he passed away in 2016. She was a really good person. And mostly, to us, her seven children, she was a wonderful mother.
Our mother had a full and blessed life. We like to think that our mother died peacefully and satisfied, without any great regrets. She was a woman of great faith and was not afraid to die, but she loved the life she lived. Lorna and Kristin were with her as she left this Earth. Our lives will never be the same, but we are so blessed to have had her for as long as we did. We will hold her dearly in our hearts.
A family memorial will be held at a later date.
Memorial donations, if desired, can be made to the Gethsemane Lutheran Church in Inwood, Manitoba; or the Heart & Stroke Foundation of Manitoba.

Ken Loehmer Funeral Services
204-886-0404
As published in the Winnipeg Free Press on Apr 20, 2019
Condolences & Memories
(8 entries)
Wallace and Jean welcomed our family into their lives. Appreciate them more than words can convey. Her ready smile, honest ways, were always ready along with a cup of tea. Glad to have had the privilege of knowing these people and sincerest condolences to those left behind. - Posted by: Debbie Chikousky (neighbour) on: Apr 25, 2019

During the sixteen years of knowing the Hendrickson family I knew this day would come, but it still hurts very much. I first met Jean sixteen years ago when Henry invited my brother and I to come and hunt with him. After the hunt we joined him for breakfast at Jean and Wallace's. My first impression of Jean was her friendliness and gentle spirit. I always enjoyed her stories of growing up and of life on the farm. She could talk to you about any subject and was very knowledgeable about them as well, although she really knew her political and sports the best, especially hockey. She would rattle off the player's stats, home town, where they went to college, and on and on. She was very proud of her country and her family. We were privileged to spend some Thanksgiving meals at the farm, where we got to meet many of the family members. We also got to attend some of the church services at their church in Inwood where we were treated to a great potluck after service. Shortly after meeting Jean and talking with her I knew she had a great love of God and His creation. Her Bible was always near and she really enjoyed the radio and TV Christian programs. Jean not only studied her Bible, she lived it! I could go on and on about the great times of visiting on the farm. I was happy that Roberta and I, along with our grandchildren, Reed and Bella, got to enjoy those trips to Manitoba, and truly appreciate the saying of "Friendly Manitoba". Thanks again to the family for allowing us to share your parents and especially your precious mom. I'm going to greatly miss her but I know, with out a doubt, she's reaping in heaven her rewards for a life well lived. - Posted by: Joe Today (Friend, but treated like a son ) on: Apr 24, 2019

Such sadness with hearing of Auntie Jean's passing. Our phone conversations were always rich with family stories and how things were going with all of us and all the rest of the families and cousins down here. She always had nice things to say. My condolences to all the family. We will so miss her dearly. With loving thoughts, Marlene & Family - Posted by: Marlene Sklepowich (Niece) on: Apr 24, 2019

Truly and deeply saddened. I admired, respected and loved Auntie Jean! Blessings to her as she transitions. Blessings to her lovely family. - Posted by: Terrea Hendrickson (Daughter of Donald Edward Hendrickson) on: Apr 23, 2019

Saddened to hear of Jean's death. Will remember "Auntie" Jean for her bright eyes and beautiful spirit. Forever interested in our family, always welcoming and loving. Admired how current she was in the political situation of the day and always ready for a lively conversation with all who were willing. I know she will be deeply missed by her family and friends. As will I. - Posted by: Val Hendrickson (Through my father, Donald Edward Hendrickson) on: Apr 23, 2019

My heart aches today with the news of Auntie Jean's passing. She holds a special place in my heart, and in the hearts of the Kenora cousins. Although we were separated by miles, I always connected deeply to Auntie Jean when we could visit in person or on the phone. I have always loved and admired her for her strength of character and outlook on life. We had some wonderful long phone conversations, wherein she always asked about my parents and siblings, and filled me in on what each of her beloved children were up to. We would take a trip down memory lane, and talk about all sorts of things. She had much political interest over the years, until in recent times, when she tried to curb her political comments, trying to convince me (and herself) that she was letting go of all that political stuff. She made me laugh! We were both teachers, Jean and I, and often spoke about education, and the learning needs of children. I love Auntie Jean and I wish her a glorious transition, and a blissful reunion with Uncle Wallace, and all those who waited excitedly for her arrival on the other side of the veil. Blessings to the Hendrickson family, as they adjust to yet another great loss. I send condolences on behalf of Donald and Shirley Hendrickson and our family, from Kenora. Farewell Auntie Jean. Love Debbie xox - Posted by: Debra Wingrove (cousin ) on: Apr 23, 2019

Jean had a beautiful spirit and demeanor. She always showed interest in our family and never hesitated to offer a comforting hug at gatherings. She had a fabulous sense of humour. May the entire family find peace knowing it was a privilege for others to be in her presence. "Grandma Jean" treated everybody like family regardless of your connection with her and continues to put a smile on my face. We should all be so lucky to have lived a life with integrity and kindness like Jean did. Thinking of you all with love (especially our dear sister-in-law Susan), Chris, Sue and Hunter - Posted by: Susan and Chris Rebizant (sister and brother-in-law) on: Apr 20, 2019

She was a lovely lady who always had a smile and a kind word. Whenever I saw her, it always amazed me that she always remembered my name and never mixed me up with my sisters. My own relatives do that. Rest In Peace. Janice Morin and family - Posted by: Janice Morin Fred West Janine Morin-West and Meghan Morin-West (Friends) on: Apr 20, 2019
Email Alerts
Sign up for free email alerts of new obituaries for specific people, towns & more.
❮ Go Back to Listings