Winnipeg Free Press
All Titles
Advanced Search
Notices are posted by 10 am Monday through Saturday
❮ Go Back to Listings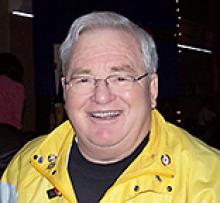 LARRY (GEOFFREY LAWRENCE) JONES
Born: Apr 02, 1939
Date of Passing: May 21, 2019
Send Flowers to the Family
Offer Condolences or Memory
LARRY (GEOFFREY LAWRENCE) JONES
April 2, 1939 - May 21, 2019

It is with profound sadness that we announce the sudden passing of Larry on May 21, 2019.
He was predeceased by his parents Geoff and Ethel. Larry is survived by his loving wife Carol; his daughters Heather (Jeff) and Jennifer (Brent); grandchildren Kendall, Brayden, Isabella, Skyla and Wil; his brothers and sisters; and many nieces and nephews.
Larry was born in Winnipeg on April 2, 1939, and spent most of his childhood living in St. Vital with his parents and five siblings. He graduated from Glenlawn Collegiate and went on to work in the computer industry until he retired in 2001. Larry's true love was his wife, Carol, who he absolutely adored, his daughters Heather and Jennifer, his grandchildren, his family and his numerous lifelong friends who were also family. Larry and Carol met in 1963 and Larry was not going to let Carol slip away. He used his outgoing personality and thoughtfulness to capture her heart. They were married for 53 happy years and raised their daughters in the most loving home. Larry and Carol enjoyed spending time at Granite Lake and camping across the country with their daughters. So many childhood memories for his girls were created in KOA campgrounds across Canada. Larry loved helping others. He volunteered for everything, including the Children's Hospital Telethon for many years, and countless hours at many curling events. Larry was also an integral part in the creation of the computerized draw for the 100th anniversary of the MCA curling bonspiel that attracted a record setting 1,270 teams which he was very proud of. His love of sports was evident throughout his entire life. He enjoyed baseball, fishing, hunting, golf and curling. Larry also spent 34 years as a baseball umpire and a basketball referee.
For anyone that knew him, they will agree that curling was certainly Larry's favourite sport! His love and enthusiasm for the game of curling was what sparked the interest in the game for Carol, Heather and Jennifer. Having been a member since 1955, he always cherished his time and membership at the St. Vital Curling Club. He served as the club president in 1983 - 1984 and was a constant fixture at the club. He later found a real passion for coaching and teaching young curlers including both his daughters, Heather and Jennifer, and their curling teams. He went on to coach Jennifer to her first Scottie's title in 2005 in St. John's, Newfoundland. Due to his dedication and love of the sport, Larry was given an honorary life membership to the St. Vital Curling Club and the Manitoba Curling Association, which were both very special honours to him. He was widely known and respected in the curling community throughout Manitoba and across the country and, to honour his name and reputation, the Larry Jones Junior Bonspiel was created at his home club. It was always a highlight of Larry's year to be around the club to watch the future generations of the game he loved and to present the winners cheque to the winning team. Larry was so proud of the St. Vital and the fact that Jennifer and her team always represented "his" club around the world. To say that he never missed a game that Jennifer played would somehow be an understatement. He and Carol spent countless hours hitting the refresh button on the computer, watching games on TV and travelling around Canada and the world to be there in person for all of the biggest games and events. His calls from the stands for each and every member of the team, and especially for his home province of Manitoba, became a staple at the Scotties Tournament of Hearts over the last 15 years. Win or lose, he was always there for the post game hug, absolutely beaming with pride. He wore his pride for all to see.
Larry also volunteered his time to the many large and small curling tournaments held in Winnipeg and especially loved being the team driver for teams from around the world so he could have the opportunity to meet new friends. He was extremely outgoing and witty and could spark a conversation with anybody, which was one of his favourite things to do. Larry had nicknames for those close to him and loved to make jokes and "tease" which made him unforgettable. Everyone knew who Larry was, but the real value was in getting to know him. He was one of a kind. He would always call to say hello and make sure that his friends and family were okay. Larry had time for a phone call or a visit for everyone in his life and was never too busy. A special thanks to his friend, Joe, for his weekly visits to play crib which Larry always looked forward to. Larry's grandchildren adored their grandpa and his silliness and love of life will carry on in them. We will love you always Larry, Dad, Grandpa and Mr. J and miss you forever but never forget. Rest in peace and have a single malt scotch on the rocks for us.
A celebration of Larry's life will be held at Glen Lawn Funeral Home, 455 Lagimodiere Blvd., in Winnipeg on Tuesday, May 28, 2019, at 10:00 a.m.
In lieu of flowers, donations can be made to the St. Vital Curling Club Junior Program (286 Regal Avenue, Winnipeg, MB, R2M 0P5) or the Sandra Schmirler Foundation (www.sandraschmirler.org).
Family and friends may sign a
book of condolence at www.glenlawn.ca

Glen Lawn Funeral Home
204-982-7550

As published in Winnipeg Free Press on May 25, 2019
Condolences & Memories
(26 entries)
Carol, Heather and Jen, we are so sorry to hear of Larry's passing. Mr Jones (to me) will always be a part of all of us he touched. His welcoming smile, friendly wave, sincere interest in others and willingness to help. I am flooded with memories from The Bay seeing him come home from umpiring, playing with Freckles in the yard but my favorite was when he would walk me home (one house) after babysitting (he had been curling of course). Thank you Larry for blessing all of us, Rest In Peace xox. Lucinda, McMaster, Rob, Mackenzie and Nick Pollitt - Posted by: Lucinda McMaster (Prior Neighbour) on: May 31, 2019

My heartfelt condolences on the passing of your dear husband,father, and grandfather. Wanda - Posted by: Wanda Kaglik (Friend) on: May 30, 2019

Carol, so sorry to hear about Larry. Having worked together for a short time at Monarch Life in the seventies, it was nice that we could stay in touch at bonspiels and curling events around the country. I always looked forward to our chats and catching up on old times, etc. I considered him a good friend. Take care and know we are thinking of you. Kirk & Sharon Westlund - Posted by: Kirk Westlund (Friend) on: May 29, 2019

My condolences to the family. Larry always made those around him laugh. One of the most genuine and pleasant people I've ever met. He's left a very positive impact on many of us and will be missed. - Posted by: Tom Nott (Friend ) on: May 29, 2019

My condolences to your entire family. Heather and Jen, I have such fond memories of your Dad. May you find peace in the good memories as well. Hugs, Tara - Posted by: Tara Lavery (Friend) on: May 28, 2019

Carol. I am so sorry to hear about the death of your husband. It is so hard to lose the ones we love. Please accept my heartfelt condolences. Laura - Posted by: Laura Frost Smith (nursing classmate of Carol's) on: May 28, 2019

Carol, Heather, Jennifer and families. We were deeply saddened to learn of Larry's death. The curling games, golf tournaments, bridge games and social gatherings bring back so many fond memories. Our deepest sympathy. Jim/Barb - Posted by: Jim and Barb Lauder (Friend) on: May 27, 2019

Sorry to hear of Larry's passing. Larry and I worked together in the 1980s. Loved going to the Woodie for lunch and seeing the old gang from IT. We always had a few good laughs. Always enjoyed Larry's company. He was so proud of his family. He left his mark on the world. - Posted by: Bob Derby (Friend) on: May 27, 2019

My condolences to Carol & the family. Jim(Rusu) always said Larry was one of the finest gentlemen he knew & remembered every car & the trailer he sold you. I'm sure they will be sharing a beverage two, - Posted by: Karen Genthon (friend) on: May 27, 2019

We were sorry to learn of Larry's passing , a friend who you might see him every year, 2 years or 5 years, but always the same friendly greeting and smile . His many friends and Family will miss him dearly , the St Vital Curling Club and the many curling friends he made over the years all have memories of Larry . We extend our sincere sympathy and condolences to Carol and your Family Members . May he R.I. P. - Posted by: Tom Johnstone (Friend ,School Chum) on: May 27, 2019

Dearest Carol, Family and Friends, How my heart aches for you all. I could not write until today as the tears for you splashed on my keyboard. My fondest memory in "training" was the overwhelming love story of you and Larry, Carol. The joy radiated from you. Larry bought you a rose EVERY week. At our 50th Nursing anniversary, I asked you if he still did. You said no and my heart sank. You said "he buys me a dozen every month " and my heart soared ! May you find peace as Larry's soul has soared. - Posted by: Alma( Turner) Stebbing (Nursing Classmate) on: May 27, 2019

My condolences to Carol and family .I did not know Larry his obituary was a great tribute to his life . - Posted by: Clara Scherloski (Classmate of Carol ) on: May 27, 2019

I remember when Larry was so excited about going Duck Hunting. - Posted by: Russell Scott (cousin ) on: May 27, 2019

Sending heartfelt sympathy on the recent loss of Larry. This must be a very difficult time for all of your family. Over the years from Ontario, we have watched with fondness the wonderful memories you were able to create as a family. Jennifer's success on the curling rink always included captions of you and Larry being there to coach and cheer her on. Know that you are in my thoughts and prayers. Bernadette (Bond) Gray - Posted by: Bernadette (Bond) Gray (Friend) on: May 26, 2019

I was so very sad to hear about Larry's passing. I have known the family for about 10 years now and am very aware of how much they all loved you. I will miss our visits at the rink in Portage la Prairie. You and Carol were always so kind to me. Your friendship will always have a special place in my heart. RIP Larry. May the curling gods continue to shine for you in your children and grandchildren 🙏 - Posted by: Evelynne Callander (Family friend) on: May 25, 2019

Deepest condolences to the Jones family. - Posted by: Agnes and Dennis Hornyak (Fan of Jen's) on: May 25, 2019

Thinking of you all! - Posted by: Lynda Koe (Friend ) on: May 25, 2019

I'm so sorry for your loss Jennifer. I lost my dad to Dementia 16 months ago, my mom passed away recently on March 28th. Both of us are big fans of you and your team. I totally understand everything you're feeling right now, it's an unbearable pain. Lean on friends and family through this. Mom and I got to meet your oh so proud mom in Moose Jaw at the Scotties. One day at a time is all I can offer. I'm in the same shoes as you are...hang in there. Lots of love from Regina. 👊🙏💔 - Posted by: Lee-Anne (fan) on: May 25, 2019

Always looked forward to seeing Carol and Larry at the Scottie's when Jen and team were involved - which was most of the 16 Scottie's I have attended! Larry will truly be missed. Condolences to Carol, Jen and the rest of the family. - Posted by: Sue Amundrud (Friend) on: May 25, 2019

So sorry to hear of Larry's passing. I love the picture with his Manitoba jacket, he was very proud to wear that brown and yellow. I enjoyed many games of curling sitting with Carol and Larry as the best fans of Jennifer. Thoughts are with all the family and I am sure Larry will find someone up there to have 8 ends to play with. With Sympathy Audrey Hogg - Posted by: Audrey Hogg (Curling Friend) on: May 25, 2019

Dear Jennifer, So very sorry to hear of your dad's passing. Although we did not have the privilege of meeting him, we often saw him while watching your team on TV and saw what a proud dad he was. Mavis and Brian Smith Victoria - Posted by: Mavis and Brian Smith (Friend of friend (Janet Arnott)) on: May 25, 2019

Our most sincere Condolences to you, Carol and the the rest of the family. It was our pleasure to have met you, Larry and Jennifer's two lovely children at the New Year's Party at the Club House. - Posted by: Phyllis & Walter Blahut (Met at New Years party at the Club House.) on: May 25, 2019

It was our pleasure to meet and spend several hours with Larry and Carol at the Sydney Cape Breton airport after the Scottie's in February. While waiting several hours for our delayed flight to Toronto, we enjoyed chatting with Larry and Carol. (Three large pizzas helped pass the time as well). Talking to him, we quickly realized how much his family and curling meant to him. May God's healing graces comfort you Carol and your family. Sincerely, Tim and Linda Moore 174 Lace Bark Lane Belwood, Ontario - Posted by: Tim and Linda Moore (Friends from curling) on: May 25, 2019

So sorry to hear of your dear husband's passing. What a loss and grief!! I read the obituary and was so impressed by his dedication and love. To my mind it really was a life well lived and victory!!!! Amelia. - Posted by: Amelia Malfair (nursing colleage of Carol's) on: May 25, 2019

My condolences to Carol and family! I met Larry in the late 80's when I was working at Youville Centre. The description in the Obituary of Larry's personality matches how I saw him when we met. ...and yes, I could tell that Carol was his ultimate friend, companion... I so appreciated learning more about his accomplishments in the sport of curling among other contribution to other sports. So, of course, I have followed Jennifer in her accomplishments in Curling, Gold Medal..... Carol, I loved your message at our 50th Nursing reunion. You sure packed a lot of memories in that impressible speech. Both you and Larry have given much to your community and I am sure you will continue. Sending you lots of love and strength. Suzanne - Posted by: Suzanne Zonneveld (friend and nursing classmate of Carol) on: May 25, 2019

Our condolences to Carol, Heather and Jennifer and the rest of the Jones family. I wanted to thank you for the memories and times we shared together. We had some great times with the dinner club, around the pool and within the neighbourhood. You were a driving force for curling and it was fun to be able to curl with you when I lived in Winnipeg. Past years we drifted apart but I always have fond memories of our times together. Take care my friend and thanks again for the memories. Hugs to the Jones Family. May you be comforted with his memories at this time. - Posted by: Doug Calder (Friend and neighbour) on: May 25, 2019
Email Alerts
Sign up for free email alerts of new obituaries for specific people, towns & more.
❮ Go Back to Listings