❮ Go Back to Listings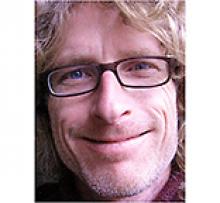 JONATHAN LINDSAY AUSTMAN
Born: Sep 16, 1961
Date of Passing: Aug 01, 2019
Offer Condolences or Memory
JONATHAN LINDSAY AUSTMAN
September 16, 1961 - August 1, 2019

Suddenly on Thursday, August 1, 2019, Jonathan, beloved brother, uncle, cousin, friend and yogi, passed away at the age of 58.
Jonathan was born in Newcastle, NB to Don and June (Friesen) Austman, where the family was stationed at nearby St. Margarets, as Dad was in the R.C.A.F. Jonathan's early life as a rambunctious carrot top was one of living in various places across Canada, as is the life of every Air Force brat, before the family settled in Winnipeg in 1971.
After high school, Jonathan was involved in the music scene in Winnipeg, which led to working with the likes of the Wyrd Sisters, Acoustically Inclined and Al Simmons, as well as being involved with the Winnipeg Folk Festival, the West End Cultural Centre, and the music recording industry in Winnipeg. A back injury had Jonathan turn to exploring yoga as a way to heal himself, which in turn became the major focus of the rest of his life. He immersed himself into Ashtanga yoga, studying in India with Sri Pattabhi Jois, and spending time in Toronto, and at the Kripalu Yoga Centre in Massachusetts. For several years, he had his own yoga studio in Winnipeg before taking his talents to Yoga Public. He was the yoga teacher's teacher, training many people over the years. Jonathan imbued kindness and compassion, integrity and wisdom, into everything he did, his quiet calm a notable quality.
Jonathan was preceded in death by his parents, Don and June, and his eldest sister Laurel. He is survived by his sisters, Shannon (Orla), Pamela and Melissa (Cameron), and brother Todd (Laurel), brother-in-law Les, nieces and nephews, Matthew (Andrea), Lexie, Sean (Katie), Brendan (Jen), Bailey and Noah, and his great-nieces and nephews, Kailyn and Rylee, Nate and Gwen, Stella, and Eric. He leaves to mourn so many cousins, aunts, uncles, friends and the yoga communities in Winnipeg and Toronto and wherever his multitude of students have settled.
Over the years, Jonathan had embraced Buddhism and lived a simple life. He has now found a peace he could not attain here. "This world is shrouded in darkness. Here, only a few can see their way free. These few birds escape from the net, and fly away to the heavens." - quote from the Dhammapada.
A celebration of Jonathan's life will take place on August 24, 2019 in the Provencher Ballroom at the Hotel Fort Garry, 222 Broadway Avenue, Winnipeg, from 1:30 p.m. to 5:00 p.m. Doors open at 1:00 p.m., and program starts at 1:30 p.m. Cremation will take place with Friends Funeral Service.
In lieu of flowers, please donate to the charity of your choice and be sure to hug your loved ones, talk to them, listen to them and tell them you love them. Jonathan would wish that all who attend not wear black, but don whatever colours you would wear if you were going to visit him.
As published in the Winnipeg Free Press on Aug 10, 2019
Condolences & Memories
(16 entries)
Our hearts go out to you today. You are in our prayers. - Posted by: Sydney and Doris Griffith (Friend to Martin and sister to helene) on: Aug 24, 2019

He was a good friend and mentor who was a very big influence in my life. I do and will continue to miss him. Thoughts and prayers to Jonathan and his loved ones. - Posted by: Richard Moody (Friend) on: Aug 24, 2019

With a deep sadness beyond words, I think of you every day and wish we could have known each other better. My relationship was with your mom, who loved you so much and was ever proud as you moved forward on your amazing life's path. You were such a cute little boy and became the most gorgeous man, inside and out. I'm so glad you're at peace but so sad for the rest of us. - Posted by: Sandra Friesen (cousin) on: Aug 23, 2019

It was my great honor and blessing to have been Jonathan's friend since 1984. Jonathan was walking Grace. He shared his heart and his wisdom with all of us. He fill the world with love wherever he walked. With his impish grin and beautiful infectious laughter he made all of our lives more beautiful and filled with joy. I will always be thankful for the 35 years of sharing his friendship. Love you always my friend I will always carry you in my heart. - Posted by: Sonia O'Toole (Friend ) on: Aug 18, 2019

My dear Jonathan… Cousin, friend and brother from another mother. Deepest condolences go out to the family and all who knew him. I am holding him in the arms of love, always ❤️ - Posted by: Lane Hunt (Cousin) on: Aug 17, 2019

I had the privilege of Co-Teaching Yoga Teacher Training with Jonathan at The Yoga Sanctuary in Toronto. He was one of the first teachers we hired when we opened in 1999. I asked Jonathan to co teach with me in 2001. We had many great classes together. He brought his love of the practice and deep insights to the lectures we taught. Recently we stayed connected by sending Hellos and messages through students who practice in both cities. I shall always smile when I think of him. Cynthia Funk - Posted by: Cynthia Funk (Friend Co Teacher) on: Aug 15, 2019

So many years have gone by and yet I still see that smile, your deep knowing, your kind, beautiful, musical self. We had some great travels together back in the day and I remember you and those times with the Wyrds with such love and gratitude. You were a mentor and a friend back then, and I am so sad for your passing from this life...I wish you peace on your next journey. - Posted by: Nancy Reinhold (Friend) on: Aug 14, 2019

Good-bye to a young cousin I wish I'd had the chance to know better. Still remember the yoga advice Jonathan gave me on my last visit to Winnipeg and will always think of him in my attempts at yoga practice. Sincere condolences to Shannon, Pam, Todd and Melissa. - Posted by: Debbie Friesen (Cousin) on: Aug 13, 2019

Shocked and deeply saddened to hear of this sweet man's passing. My condolences to the Austman family and his Yoga Public family. I will be forever grateful for making his acquaintance. Rest in Peace Jonathan. - Posted by: Laura Graham (Student) on: Aug 13, 2019

I had the privilege to practice with this great man and am heartbroken to hear I will no longer get to enjoy his spirit and presence. We have lost a great man. - Posted by: Allison Stasiuk (Student) on: Aug 13, 2019

An inspiration, a teacher, a helper. Jonathan, you have affected me in ways that will live as long as I do, and for that I am grateful. May you sleep peacefully. - Posted by: Andy Toole (Student) on: Aug 12, 2019

I toured with Jonathan as a member of the Wyrd sisters for a few years. I also am a good friend of his cousin Lane. We had many adventures, conversations on the road. I am saddened by his passing and offer my love to all those who knew and loved him. - Posted by: Lianne Fournier (Friend) on: Aug 10, 2019

Very sad to hear of the loss of this gentle, engaging and enjoyable soul. My prayers, love and best wishes to all the Austman family - Posted by: Chris Lawrence (Stepbrother) on: Aug 10, 2019

Sending my condolences to my friend Pam and the entire family. Too young, too soon. Holding you tight in my heart Rest In Peace Jonathon - Posted by: Brenda Rinneberg (Friend of Pam) on: Aug 10, 2019

Always greatful for our encounter on the earthly plane. Jonathan taught the beneficial mantra, "Slowly slowly". Still the backbone of practice. Be at peace brother, do not be afraid of the blinding white light. Om Amideva Hrih! - Posted by: Howard Gurevich (Friend, student, fellow practitioner) on: Aug 10, 2019

I will miss you so much for the rest of my life, baby brother. Folding your aching spirit in a warm hug forever close to my heart. - Posted by: Pamela Austman (Sister) on: Aug 10, 2019
Email Alerts
Sign up for free email alerts of new obituaries for specific people, towns & more.
❮ Go Back to Listings