❮ Go Back to Listings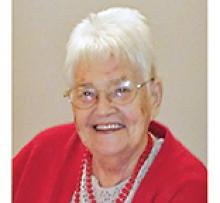 ELEANOR HAMABERG
Born: Aug 28, 1927
Date of Passing: Dec 24, 2018
Offer Condolences or Memory
ELEANOR HAMABERG

On December 24, 2018, our mother, mother-in-law, grandma, great-grandma, sister, sister-in-law, auntie and friend passed away as she lived, peacefully with dignity and grace at St. Boniface Hospital following a stroke.
Mom was born on August 28, 1927, the eldest of three girls, to Bob and Gertie Cosens (deceased) in Gunton, MB. Her sister Mayme (Nick) Lesko predeceased her. Her youngest sister Dorothy (Tom Simpson, deceased) and her family survive her.
Mom spoke fondly of her youth enjoying having her grandparents on both sides nearby, walking to and from school, reading (by the light of a coal oil lantern), family gatherings, skating, working alongside her dad with the farm animals - especially the sheep, and all outdoor activities. As a young teen she worked at the Gunton post office. After completing grade 11, Mom moved to Teulon and worked as a nursing assistant at the hospital while living in residence. She spoke of all of her duties there with passion and sparkle as she worked alongside the much-respected Dr. Goodwin. She would travel home on days off by train. Mom had thoughts of continuing her education to become a nurse. That all changed when, at a dance, she met a handsome, spirited, young man from the Norris Lake region by the name of Courtney Hamaberg. To see them dance together, even almost 50 years later, was truly a beautiful sight! They courted and she was introduced to a large farm family (Dad and five siblings) of Swedish descent. Wow! Quite a contrast to her more reserved small family, descendants of England. She was always in awe of Ma and Pa Hamaberg at the endless cooking, baking, washing of clothes, gardening, canning and chores that came with raising such a large, rambunctious family. She LOVED every minute of ALL of it. Sister-in-law Olive (Roy) McMahon is the only surviving sibling on Dad's side, along with numerous, much treasured nieces and nephews and their families.
Mom and Dad were married on May 31, 1947 and the adventure began. They moved to Inwood where Dad bartended, delivered milk by horse and buggy, worked for Hydro and took various jobs to support his new wife and soon to grow family. After the births of Bob, Howard and Wendy they purchased their first farm just outside Inwood. Much later, their last child Cindy was born. Their family was complete, two boys and two girls!! They resided there for the next almost 18 years. Although starting out with only a couple of cows, horses, sheep, chickens and pigs, they worked alongside each other to grow their farm into a small but successful, self sustaining homestead. Dad took a seasonal part-time job with MTS to supplement the farm. Mom worked tirelessly gardening, canning, fixing up, painting, planting flowers, and anything to "spruce up" the old farmhouse to make it a home. All the while, helping Dad in the fields, milking cows, cooking, baking, and cleaning and raising four children and all the pets they acquired; dogs (especially Scotty), cats, ponies, a goose, you name it, we had it and they were all loved and treasured.
Music was a mainstay in our family. Mom sang, played organ and guitar by ear and passed this on to all of us, especially the boys who played in numerous bands over the years. To this day, it is almost a given that instruments, singing and even dancing will break out!
Our farm was always open to family, neighbours and friends and many a time was the site of wiener roasts, birthday parties, Christmases and the like. Mom always worked hard to make every event special, an extra coat of wax on the floors, decorating, baking, and celebrating all occasions. There was ALWAYS room at the table for one more. She often said "there wasn't a lot of money, but there was ALWAYS a lot of love and music. She and Dad always agreed that the farm years were the BEST years of their lives.
Mom and Dad sold the farm and moved to Teulon in the mid 1970s. There they acquired more friends and neighbours and delighted in the same lifestyle as the farm. Mom was able to fulfill her nurturing character by taking on jobs in homecare, babysitting, cooking at a residence for native students, and house parenting at that same residence with Dad. Oh, how they LOVED all kids!!
Their love for kids was never more experienced though, than their love for their grandchildren was as all six of them came along. Babysitting them, sleepovers, gift buying, playing with them, visiting them, teaching them, and instilling in them the same unconditional love and traditions they instilled in their own kids. Mom is survived by grandchildren, Joanne (Brent), Jason (Karen), Cory, Casey (Blaire), Mark Jr. and Ryan and six great-grandchildren, Devin, Kelsey, Cameron, Kenneth, Carter and Keaton. She was predeceased by infant grandson Jamie.
After Dad's passing in 2005, Mom remained living in the condo at Prairie Estates in Teulon that she and Dad had just moved into shortly before his passing. After a few years she moved to Gateway Manor in Teulon and then finally to Thorvaldson Care Centre in Winnipeg just three months before her passing. She embraced every place she lived, making friends easily, taking part in gatherings with neighbours, coffee groups, birthday parties, activities and day away programs. As she aged, Mom was content to read, do crosswords, Jumble, knit, crochet, (countless slippers, mittens, afghans and stuffed bears) and watch curling and skating on TV. Two sports she really enjoyed to do in her youth.
Mom had a deep Christian faith that she did her best to live daily. She relied on that faith all of her life. She was a lifelong member of St. Cyprian's Anglican Church in Teulon and participated and took part in the ACW, vestry, decorating the altar, doing readings on Sundays, helping at Fall Suppers, lunches and the like. She would often say "God had a hand in that, kids!"
Mom always told us no matter where she resided, that it was "the best place with the best neighbours, the best staff, the best meals, and the best caregivers". She was also blessed to have a private caregiver Rose and housekeeper Mary while residing at Gateway. We are thankful to each and everyone of you, along with Dr. Loudon and the Teulon medical team, the Teulon pharmacy, grocery store, family members and community as a whole for everything you all do. It is because of your care, kindness, patience and generosity that Mom was able to live a long, healthy, happy life and manage as independently as possible until her passing.
As per Mom's wishes, we, her children: Bob (Sharon), Howie (Deb), Wendy (Mark) and Cindy (Al) invite you to share in a casual gathering to CELEBRATE Mom's life. The gathering will take place on August 24 at 1:00 p.m. at the Teulon Hall. She was clear that she wanted us to celebrate her life and not mourn her passing. In her own words she said "I have lived a long, full, happy life and have had the best of everything. If I had it to do again, I would not change a thing."
We will miss you endlessly Mom but take comfort that you are once again with Dad watching over us. We will honour your greatest wish, that we, your family, stick together and love and take care of each other...ALWAYS!!
Give Dad a hug for us and don't forget to leave the porch light on! So as God calls us one by one, that light will lead us all back to you. xoxo
If one so desires, donations can be made in Mom's memory to the Gateway Manor Day Away Club in Teulon, Manitoba or the Heart & Stroke Foundation of Manitoba.
Interment of ashes has already taken place.
We thank MacKenzie Funeral Home Stonewall for being in charge of arrangements.
MacKenzie Funeral Home
Stonewall
204 467 2525
info@mackenziefh.com
As published in the Winnipeg Free Press on Aug 17, 2019
Email Alerts
Sign up for free email alerts of new obituaries for specific people, towns & more.
❮ Go Back to Listings