❮ Go Back to Listings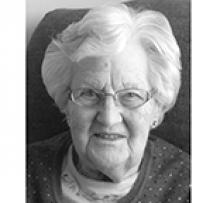 RUTH GENEVIEVE GRIEVE (BLAND)
Born: Nov 16, 1921
Date of Passing: Jul 30, 2019
Offer Condolences or Memory
RUTH GENEVIEVE GRIEVE

Ruth Genevieve Grieve (née Bland) passed away peacefully on July 30, 2019 in Thunder Bay, ON, following a short illness. She was 97.
Ruth was born on November 16, 1921 in Brandon, MB, and grew up there with her mother and elder sister, Beth. Her elder brother and father, to whom she was devoted, both died when she was young. Abandoning hopes of a nursing career, Ruth found clerical work after finishing high school.
In 1943, she married Lindsay, the love of her life, who was serving in the R.C.A.F. They began married life in Goderich, ON, before Lin was posted overseas. Ruth returned to Brandon, where she had their first child, Robert, in 1945.
After the war, they settled in Winnipeg, building a home in River Heights for their expanding family (Charles 1947, Kenneth 1952 and Margaret 1957) and later a cottage in the Whiteshell. They were transferred to Thunder Bay in 1963, returning to Winnipeg in 1969.
Ruth was an accomplished craftswoman, fashioning everything from her own wedding dress to clothing for the children. She loved quilting and was a prolific knitter. In midlife, she rediscovered her talent for painting; she enjoyed the creative atmosphere of art groups in Fort Garry, and exhibited in their shows for many years. Her beautiful garden was also a testament to her love of colour and form.
Ruth and Lin were active square dancers into their 80s. They travelled widely, especially in retirement, and shared a love of singing: in the church choir, Lakehead Choral Group, Winnipeg Philharmonic and the Silver Tones, often entertaining seniors younger than themselves.
Ruth was sustained through life by her strong Christian faith and was an active member of Anglican churches wherever she lived. She was a Cub leader in younger years, and later a volunteer at Victoria Hospital.
Loved by all who knew her, Ruth was admired for her generosity, loyal friendship and willingness to lend a hand. She had a mischievous sense of humour that often broke through her sense of 'proper' decorum. She was devoted to her family and happiest when surrounded by grandchildren.
Predeceased by Lin in 2018, Ruth is survived by four children, eight grandchildren and 13 great-grandchildren. She will be greatly missed by all.
A service to celebrate the life of Ruth and Lin will be held on Saturday, September 21 at 10:00 a.m. at St Paul's Fort Garry Anglican Church.
As published in the Winnipeg Free Press on Aug 24, 2019
Condolences & Memories
(5 entries)
I knew Ruth when I was a teen living in Brandon, where I occasionally met her through her sister, Beth Scott. My mother, Marjorie Collier, and Beth were life-long friends, and so whenever Ruth and Lin were in town, she would often have them over for a visit. I can even remember Mrs. Bland! I remember Ruth well as a painter and a singer (perhaps in a Welsh choir?), and am certainly sad to read of her death. May God comfort you in your loss, and may you find strength in the many ways her life connected to so many others. - Posted by: Norman Collier (Acquaintance) on: Sep 09, 2019

Instead of a personal memory, Ruth had given me a copy of a poem she used to recite when she was a kid. The poem was accompanied by a ripe tomato from her garden! THE MAKING OF FRIENDS BY EDGAR GUEST If nobody smiled and nobody cared and nobody helped us along, If each every minute looked after itself and good things all went to the strong, If nobody cared just a little for you and nobody thought about me, And we stood all alone to the battle of life what a dreary old world it would be! If there were no such thing as a flag in the sky as a symbol of comradeship here, We lived as the animals live in the woods with nothing held sacred or dear, And selfishness ruled us from birth to our end and never a neighbor had we, And never we gave to another in need - What a dreary old world it would be! Oh, if we were rich as the richest on earth and strong as the strongest that lives, Yet never we knew the delight or the charm of the smile that the other man gives, If kindness were never a part of our ourselves, though we owned all the land we could see, And friendship meant nothing at all to us here - What a dreary old world it would be! Life is sweet because of friends we have made and the things which in common we share, We want to live on, not because of ourselves, but because of the people we care, It's giving and doing for somebody else on that all life's splendor depends, And the joy of this world when you've summed it all up - is found in the making of friends! - Posted by: Mary Holding (Friend and neighbour) on: Sep 04, 2019

We saw Ruth and Lin on several occasions on their visits to the village that her father came from - Lilley in Hertfordshire, England. He was my grandfather's brother and there is a family photo of her grandmother and my great-grandmother on the wall in homes in both Canada and England! I remember Ruth as a lovely, warm and friendly, if slightly 'proper' lady with a great sense of humour. She loved coming to Lilley and we loved spending time with her and Lin. As children we used to marvel at her stories about Brandon and the prairies and as we got older we were able to take them to places when they visited England and hear more about their lives which seemed so exciting and different to our own. We also had a great holiday with them in Canada some years ago with a memorable time in Winnipeg as well as visits to Ken and Bob. She asked once why the bathrooms in our English homes were so lovely and I hadn't the heart to let on that this was because they were always re-decorated when we knew they were coming to visit. For some reason the English branch of the family had the view that the Canadians were very wealthy and we had to provide accommodation as good as they were used to at home! The world will be a much poorer place without these two lovely people. - Posted by: Andy Offer (Cousin in England) on: Aug 29, 2019

I will cherish my memories of my Aunt Ruth, a most kind, generous, fun-loving woman. We last saw Lin and Ruth in Vancouver, just before their departure (at 90!!) on an Alaska cruise. What a wonderful woman. My condolences to Bob, Chuck, Ken and Margaret, their spouses, children and grandchildren. - Posted by: Tom Grieve (nephew) on: Aug 28, 2019

Although I did not really know Ruth, I know she did amazing job raising her one son Bob. I have also been privileged to know his wife Carol. I am saddened to hear of this news. I would like to extend my deep condolences to her family and loved ones. I read that she and her husband sang in a choir! This is where Bob gets this amazing gift from! May God be with you and your wonderful families at this time! Kind wishes, Sabrina - Posted by: Sabrina Ree (Acquaintance) on: Aug 26, 2019
Email Alerts
Sign up for free email alerts of new obituaries for specific people, towns & more.
❮ Go Back to Listings