❮ Go Back to Listings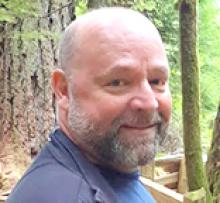 BRADLEY C. KIENE (BRAD)
Born: Feb 09, 1962
Date of Passing: Aug 13, 2019
Offer Condolences or Memory
BRADLEY C. KIENE
February 9, 1962 - August 13, 2019

It is with profound sadness that we announce the passing of a true force of nature. Brad was called from this world suddenly on August 13, 2019 in Nanaimo, BC at the age of 57.
He left his native Manitoba one short year ago to explore new opportunities on Vancouver Island. The fact that he could see both the mountains and the sea at the same time was something he marvelled at and he would share the scenery with friends and family on a regular basis. Anyone who met Brad will not likely forget him. His personality was larger than life. Those of us who knew him witnessed his generosity of spirit, his passion for what he believed in and his dedication to family.
Brad is survived by his loving fiancée Rhonda Stewart; brother Brian (Monique); sisters, Darcie (Bob Dumontier) and Delaine (Rod McLeod). His nieces and nephews, who will miss him dearly, are Graham and Julia Kiene, Sophie and Marco Dumontier, Laura, Dylan, Sydnee and Wyatt McLeod. A special place in his heart was reserved for Nevaeh Champagne, Rhonda's granddaughter, who captivated him entirely. Brad was predeceased by his father, Dennis, and his partner Sandi Boulet, both in 2000. His mother, Mary, who he loved so completely, joined him in passing three days after his death.
A Celebration of Life will take place for Brad on Saturday, September 7, 2019, at the Winakwa Community Centre from 7:00 p.m. to 10:00 p.m.
Please consider a donation to the Heart & Stroke Foundation.
As published in the Winnipeg Free Press on Aug 24, 2019
Condolences & Memories
(15 entries)
I had a friend… One never knows who they'll meet in life nor the directions they may go. Brad and I met back in the 90's, it was the car business and while we were somewhat competitors working for different dealerships, we were kinda on the same team. We both worked for GM stores, and those other guys were the enemy. For those that know the grind and pressure of that business it can be a never ending drain when you're inside it, but then there's the outside. For Brad and I our friendship really grew outside the business, like on the golf course or sitting around hav'n a brew and solving all the world's problems. The business was never far away and we would spend countless hours bouncing things off each other, we learned from each other and taught each other, you know, like friends do. I think when I look back I reflect on how we were able to discuss most anything, and whether we agreed or were totally on opposite sides it didn't matter. We could debate and laugh, argue or design a plan to make something better, it just all seemed to flow so easily, like friends do. Many many years and many many beers. I was looking in the fridge today and there was one of Brad's special beers, kinda in the back. I took it out for a moment and just stood there, how could this be real. But that's how it was, we usually had one of his beers in the fridge, cause he might just be stopping by, you know like friends do. A few years ago Cynthia and I moved out west, it was a big move away from most everybody we know. Tired of the cold we found paradise on Vancouver Island, and one day Brad came to visit. We hadn't seen each other for over a year but it changed nothing, long chats, hugs and and a little bribery on my part to get him out here, like friends do. I'll never forget the first day I met Brad, nor the day he surprisingly showed up in Nanaimo to announce he had landed a job here and was moving to the island, he told me we had lit a fire inside of him. There was something about the mountains and the ocean he loved, funny how sometimes two very different people can make the same life changing decision. He said he missed us and it was time for a new adventure in life, he wanted to be closer, like friends do. I could really go on and on, years of friendship turned into decades yet those memories are what I will have to carry me through the loss I feel now. Brad had a way of spreading his energy, his generosity came in so many forms that really words could never fully express. And so I will say goodbye but never forgotten, like friends do. I had a friend and I will miss you, like friends do. - Posted by: Brian Biebrich (Friend) on: Sep 06, 2019

It was a pleasure working for Brad, he would tell me he doesn't look after himself very well, my answer to him was your too busy looking after everyone else. A couple of great memories I have was when Ricky K. was getting trained by Brad on how to do a timely vehicle delivery, I asked Rick later what he learned. Rick's reply was "Here's your car, its nice and clean if you have any problems phone Brad Kiene", or the day he was performing an aggressive manager chore, he was walking at a fast pace thru the wash rack, with his head up and he fell into the wash sump pit with his expensive new suit on, Granger couldn't stop laughing for weeks. God bless you buddy. I know there is a special place for you up there. - Posted by: jack (freind) on: Sep 05, 2019

Brad did have one of the biggest personalities to ever fill a room. He loved living and made me laugh every time I saw him. Friends come and go throughout our lives and one never knows when the last time you are together will be. Our last time was a social just after he met Rhonda... he was happy and that is the way I will always remember him. I know he is up in heaven causing all kinds of raucous because he knows how to liven up a place. They are lucky to have him and we are sad that he is gone. Our condolences to Rhonda and all of Brad's family - Posted by: Esther & James (friends) on: Sep 04, 2019

My sincere condolences to the Kiene family on the passing of your mom and brother. While Brad and I hadn't been in contact recently, I will remember him as a gentle man who worked hard for what he believed in. Godspeed Brad. - Posted by: Greg Kirby (acquaintance) on: Sep 02, 2019

I met Brad when he was General Sales Manager at Park Pontiac in 2001 while I worked for General Motors, we hit it off right away. You couldn't help but love all that positive energy. I remember him driving a new Corvette through Whiteshell, or living the life in the Mayan Riviera. We kept in touch all these years, my family and I went to visit Brad and Rhonda in Nanaimo this past May. I have comfort in knowing that he was in a good place in his life. The glass was always half full with Brad. He was there for you and didn't judge, the definition of a true friend. He called me on my birthday every year for 18 years; a wonderful human being. Thank you for the memories and the lessons you've taught me. Hugo - Posted by: Hugo (Friend) on: Aug 29, 2019

I am very saddened to learn of Brad's passing. I met him a few years ago just prior to his first chance meeting with Rhonda while waiting in line at the store. It was clear to see he had met a kindred spirit in Rhonda and his already enthusiastic spirit reached for a new apex. Brad, you truly were a one of a kind friend and although our friendship was just beginning, I learned more about what it means to be a good friend from you than from anyone else in 60 years. My sincerest condolences to Rhonda and Brad's family and friends. - Posted by: Rob Poapst (Friend) on: Aug 28, 2019

Brad you were an incredible person with boundless energy! I'll never forget the day Pierre introduced us. We will miss you! - Posted by: Timm Slaney (Friend ) on: Aug 27, 2019

Brad Kiene Way back to Chesley's Resort, I had the pleasure of meeting Brad around 1972. We hit it off and became friends forever, Brad did many things in life and chose what he loved the best, the car biz, Still right here. Our Condolences to the family Randy & Jeana - Posted by: Randy Edwards (Lifetime Friend) on: Aug 26, 2019

So many great memories of Brad. My most precious memory is when he promoted me, trained me, and mentored me as a Financial Services Manager for twenty plus years thereafter. He greatly impacted my career, my family, and my life and he will be dearly missed by me, my family, and so many friends. I've never met a stronger, kinder, or more generous person who just loved his family, his friends and all the great times he had in life. My deepest condolences to his fiancé Rhonda, his brother Brian, his sisters Darcie & Delaine, their families and his many many friends. "Don't pray for an easy life....Pray to be a strong person"...BCK. - Posted by: Grant Drowsy (friend) on: Aug 26, 2019

~~Sincere condolences to all the Kiene family on the loss of Brad. My thoughts are with you. - Posted by: Debi Provost (Friend) on: Aug 25, 2019

To the Kiene family, We remember a very special Christmas together in 1974 in Bradenton, Florida. You spent a special holiday in Disney World and we got together with your family and our family for Christmas. We are shocked to hear about Brad and we are very sorry. Penny & Bill Rannard - Posted by: Penny & Bill Rannard (Friends of family (Mary & Dennis) Beth & Weldon Beattie) on: Aug 25, 2019

To Brad's family and friends, I am so very sorry for your loss. I can only imagine how difficult this time is for you. To Rhonda, what beautiful memories the two of you have made. You and Brad deserved a lifetime together. Please know I am here for you. So so sorry. - Posted by: Lana (Rhonda's friend) on: Aug 24, 2019

I had only known Brad and Rhonda for about a year but in that short time felt that they were friends. Brad was the manager of the Galaxy Motors where I bought my Kia last August. He was a dear, genuine person. I looked after his dog, Nugget, a couple of times and recently found out she passed away in July. My heart goes out to Rhonda who lost so much in the space of one month! Brad was way too young to be called away. I feel blessed to have met this man. My deepest sincere condolences to Rhonda and his family. 💞 - Posted by: Lynne Conn (Friend) on: Aug 24, 2019

Brad was a great man with a heart of gold. Such a huge loss and he will be missed. Rest in Peace my friend. - Posted by: Bob James (friend) on: Aug 24, 2019

Thinking of you Brian and Monique and family during such challenging time of loss. Wishing you peace to bring comfort, courage to face the days ahead and loving memories to forever hold in your heart. - Posted by: Greg & Nicole Goderis and family (friends) on: Aug 24, 2019
Email Alerts
Sign up for free email alerts of new obituaries for specific people, towns & more.
❮ Go Back to Listings