Search:

Winnipeg Free Press Passages
All Titles
Notices are posted by 10 am Monday through Saturday
❮ Go Back to Listings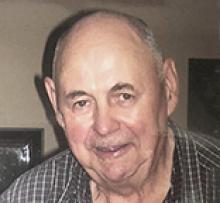 ARTHUR (ART) THOMAS BRYANT
Born: Aug 14, 1934
Date of Passing: Aug 22, 2019
Send Flowers to the Family
Offer Condolences or Memory
ARTHUR (ART) THOMAS BRYANT
August 14, 1934 – August 22, 2019

The world lost a great man on August 22, 2019. It is with profound sadness and very heavy hearts that we announce the sudden but peaceful passing of our dear husband, father, grandfather and great-grandfather at the age of 85.
Art is survived by the love of his life of 61 years, Bev; and five children, Lori (Stuart), Susan, Carol (Don), Ross and Paul (Sherri). His grandchildren and great-grandchildren brought him tremendous joy. Art and Bev didn't miss any of their sporting events, recitals, plays or concerts. Kyle (Kaleigh, Emerson, Nash, Calder and Cassidy), Matt (Jordan), Kirstie (Jonathan), Josh (Alex), Kaden and Ty all have very fond memories of their Grandpa. Art is also survived by his sister Gwen Oliver and many nieces and nephews. Art was predeceased by his parents, Barbara and Ernie; sisters, Doris and Margaret; and his grandson Chad.
Art was born August 14, 1934 in Russell, Manitoba to Barbara and Ernie Bryant. His three older sisters welcomed him with open arms. He was raised on a farm near Inglis, Manitoba. Dad was extremely proud of his Inglis roots and loved to tell stories of growing up on the family farm. Dad truly believed that "You can take the boy out of the farm but you can't take the farm out of the boy".
Art was a devoted and highly respected teacher in the Winnipeg School Division for over 45 years. Most of his career was spent at Churchill and Kelvin High Schools. Art also taught evening and summer school for over 40 years. Art developed strong bonds with many of his students that continued throughout his life.
A celebration of Dad's life will be held on Thursday, August 29, 2019 at 11:00 a.m., at Westwood Community Church, 401 Westwood Drive.
In lieu of flowers, Dad's wish was to make a donation to Canadian Centre for Child Protection (Family Fund), 615 Academy Rd., Winnipeg, MB R3N 0E7.
Although we are heartbroken, the many memories that we have of our Dad will be cherished forever.
INTEGRITY
Cremation & Funeral Planning
204-295-5408
IntegrityFuneralPlanning.com
As published in Winnipeg Free Press on Aug 24, 2019
Condolences & Memories
(56 entries)
Art Bryant was an amazing man and I was fortunate to have him as a guidance counselor at Churchill High. I graduated in 1973 and was a few credits short when applying to Red River College in 1976. Art somehow managed to get me accepted as a "mature student" and I went on to have a successful career in the electronics industry. I am very thankful to have known him and forever grateful for the influence he had on my life. Rest In Peace kind Sir! - Posted by: Dave Davis (Student) on: Feb 11, 2020

I just heard this sad news. Mr. Bryant was my home room teacher (grade 8 - early 1960's) both my wife and were students at Churchill High. Throughout the years we talk about our fond memories of him. I remember his humor and his true interest in his students. If I was being disruptive in class he would call out "Mr MacLeod...". Blessings to all who loved him. - Posted by: Ian MacLeod (Student ) on: Jan 12, 2020

Always remember how he changed my life. He drove me to Tec Voc to register for commercial art and I graduated. Worked in field for 25 years thanx to him! - Posted by: Cheryl Sudyko (Student) on: Jan 11, 2020

Your father was a huge man in stature plus he had an even bigger heart. He especially helped my brother Gerald through some really tough times. Your father never lost faith in him and believed in him, when others could not. He was so special. A teachers teacher ! He made me so happy when he attended my brothers funeral. May God Bless you my brother. I am sure He already has. 🙏❤️ - Posted by: Don (Student) on: Sep 09, 2019

ART WAS MY HOME ROOM TEACHER AT CHURCHILL FROM 1963 TO 1965. HE WAS SUCH A CARING PERSON. HE HELP US ALL GET THRU BAD TIMES. WHAT A SAD TIME.RIP. RUSS. - Posted by: Russ Johnson (Student) on: Sep 03, 2019

Hey Scholars. That's what Mr. Bryant always said. He was an amazing person and can't say enough how much he influenced me. His caring and compassion changed me as a person. He was on me when my grades fell at Kelvin high school and always pushed me to be better. Going to miss having our quick chats at McDonalds. Rest in peace Mr. Bryant, you left your mark on this world. - Posted by: Rod Vincent (Student) on: Aug 31, 2019

Art Bryant Was a truly remarkable person. His genuine care and interest in the well being of students really set him apart. I have fond memories of him in the halls at Kelvin actively helping students with various issues. His ability to connect with students was amazing. I am very sad to hear of his passing. He will be greatly missed. - Posted by: Nancy Orlikow (Former student) on: Aug 31, 2019

Mr. Bryant was a true legend, he always found time to chat and express a keen interest in some long haired teenager's life. It didn't matter if you were in IB, a jock or just an average student he made time for you. I was one of those students who truly excelled in school 🙄🙄, but somehow found himself a credit shy from graduating. I received my report card and low and behold I did graduate, looking over my impressive marks I noticed I had a full credit for "stage set design ". I knew Mr. Bryant was involved although he never mentioned it, I'm assuming Art had faith in me to move on. There are hundreds of people who will pass through your life, some will have an impact while others may not. This man definitely has made an impression on my life, he was one of a kind. Rest In Peace Mr. Bryant, you were my favourite at Kelvin HS. - Posted by: Jeff Van Norman (Stident) on: Aug 30, 2019

My condolences to the family and his many close friends. I met Mr. Bryant in 1989 and he was more than just a cousellor to me. He was someone I could talk to as a young mom. He made it possible for me to be a mom and come to school to learn and was amazing on days I had no sitter. I am glad to have known him while I went to Kevin High School. His compassion and huge heart showed always. May he rest in peace.♡♡♡ - Posted by: Michelle (Student) on: Aug 30, 2019

I had the pleasure of working with Art at both Churchill and Kelvin. He was always so very happy and positive- always seeing the best in students. He was simply one of the nicest human beings I have had the chance to meet - genuine, committed, and caring. I will miss his handshakes- he had the biggest hands I've ever seen- which matched the size of his heart and kindness. He left the world a better place. - Posted by: Bobbi Ethier Taillefer (Colleague ) on: Aug 30, 2019

Art was my basketball coach at Churchill High in the early 60's. He was a great coach, an excellent teacher and wonderful human being. In the late 70's Art contacted me when I worked in Human Resources at Great- West Life's HR Dept. He was looking to help one of his students to get work experience. So typical of Art to use every contact to help a student. . - Posted by: Mike Sampson (Churchill High student on Art's basketball team in the 60's) on: Aug 29, 2019

It was with great sadness that I received notice of Coach's passing. He had an effect on all of us that he taught or coached. He taught us how to win and how to lose. I remember him telling the team winning and losing is what life is about and it's how you handle it that's important. Winning means you work harder to improve, losing means you work even harder. I learned a lot during my years at Churchill High School but most of my memories are with sports particularly with Coach Bryant. I also learned that he never forgot about us, In April of this year Coach called me, this may seem not out of the ordinary, but the fact that he tracked me down in Vancouver and wanted to know how things were going for me and for a few of my teammates that live here in Vancouver as well. Most amazingly his call came some 60 years since our last contact. I learned another lesson from the coach, take time to say hi to old friends it can mean a lot. Thanks to his call I got to say thanks for being a great coach and friend and the opportunity to say goodbye to a great coach but more importantly a good friend who never forgot me and my teammates. Thanks Coach and thanks to Bev for supporting Coach in his quest to teach and help his students. To the Bryant family thanks for sharing Coach with all of us. Coach we will all miss you. - Posted by: G Gerbasi (Student) on: Aug 29, 2019

Rick and I are so sorry to hear of Art's passing. Only knew Art for a short time but it was an honour to have met him. Art was a very kind and sweet gentleman. Our condolences goes out to Bryant family you are in our thoughts and prayers. - Posted by: Dianne & Rick Rogers (Friend through grandson's hockey.) on: Aug 29, 2019

Art and Bev were like second parents to us. My mom and dad (Willie and Donna-Mae Arnason) were best friends with Art & Bev. I read through all the wonderful tributes to this very remarkable man and it made me smile. He will be missed. My only solace is know you are with Dad again Art.....Say "Hi" to Inspector Fanukan for me! - Posted by: Jodi (Arnason) Luprypa (Like a daughter) on: Aug 29, 2019

Mr. Bryant cared about every student he came in contact with and always had their best interest in mind. At Kelvin he would roam the halls checking in with students, making sure they were all ok with his trademark comment "Now listen, scholars...". It was not a token check-in, if a student had a problem or needed some help, he did everything he could to make things better. I respected him for his dedication to every student he came in contact with. I saw Mr. Bryant a couple of years ago at a Blue Bomber game and he remembered me by name! After 30+ years and thousands of students, I found that remarkable, but then, he was a remarkable man. Unfortunately I am not able to be there for the service to show my respect to Mr. Bryant and support his family & friends as they work their way through the mixture of emotions and to see old friends & former teachers to share some stories & fond memories of Mr. Bryant. My thoughts and prayers are with you. - Posted by: Gord Foulkes (Student) on: Aug 29, 2019

A former "Scholar" is deeply saddened by the loss of this great educator and friend who was respected by all who knew him. Will miss bumping into him at Bulldog games, Bomber games and around the Courts of St. James. - Posted by: Grant Rodgers (Former Student) on: Aug 29, 2019

Damn. It was my first thought when I learned of Mr Bryant passing. I was one of the lucky ones whose life was touched by you in the early 60's. You were our basketball coach for 3 or 4 years at a very important time of our youth. We were mostly from the less polished part of Ft Rouge. You led us to a city championship but you were the real champion. I remember the flying running shoe in the locker room that zoomed past your nose as you came to check up on us after a practice. The room went silent but you said nothing and walked back out as if to say why spoil their fun. I remember the team going to your house probably for a cake by Mrs Bryant and to celebrate our City Championship Year. We all chipped in to buy you a team sweater. It was a way too small of course but you appreciated the sincere but naive attempt to honour you. When Churchill has its 50th, you greeted me by name in a warm and welcoming way and after a brief conversation you said you had something for me. Circumstances didn't allow the something to passed but in a couple of weeks a package arrived at my home in W Kelowna from Art Bryant. In the package was a Churchill Scarf and a framed picture of our Championship Bulldog Basketball team. Recently on April 17 of this year you phoned my very good and longtime friend and teammate Gerry Gerbasi to inquire as to how all of us were doing. You remembered us and were still interested after almost 60 years. You reported you and Mrs Bryant were doing well and that you were coming up to 85. I could have sent a note to you but I didn't and I am truly remorseful. I guess in a simple way I thought you would live forever but I do have my memories. I'm sure no one will miss you more than Mrs Bryant and your immediate family but there are loads of other souls who will remember you. By the way, along with the scarf and picture was a brief note in your own personal style that said "Dave, those were great and wonderful years". Yes Mr Bryant they truly were Great and Wonderful Years and you were a big part of that for all the guys on our team. I will always remember those words and what they referred to. Dave Smith, '64 Churchill Grad Victoria BC - Posted by: Dave Smith (Bastetball team from early 60's) on: Aug 28, 2019

Art Bryant is an old friend, and a remarkable person. My parents knew him well, and I was lucky to be taught by Art at Churchill High School. He always provided a huge modicum of respect for the student, this had an effect on all of us. The effect was real. Most of those taught by Art that he habitually referred to us as "scholars" rather than sundry students. He was the gentle giant in the classroom, the kind of guy that one didn't mess with.... his mild admonitions to those who broke his rules were memorable in their fairness, kindness, and ultimately his success in teaching us how to be good human beings. And of course, he loved sports and football. We owe much to Art, RIP in peace my good friend. Ian - Posted by: Ian Dixon (Friend) on: Aug 28, 2019

My condolences to Mr. Bryant's family. I had the opportunity of working with him at Kelvin High School. He always presented the students' best interests! I also saw him many times in the halls at Churchill High School. He would just come and visit!! Josie Audino - Posted by: Josie Audino (Friend and colleague) on: Aug 27, 2019

The world has lost a truly remarkable scholar, teacher, family man, and human being. I was fortunate to have Mr. Bryant as a teacher at Churchill. Later in my teaching career we became colleagues at Kelvin. When I would walk in his office and say "Mr. Bryant". His response was, "Wendy, it's Art". Calling him Art just never seemed right. Mr. Bryant is responsible for helping very many students get a high school education and go on to be productive adults. He cared not only about the students but also their families. His kindness and caring throughout adulthood for many of us. My brothers Jim, Andy, and myself feel very blessed to have had Mr. Bryant in our lives over all the years. To his family we extend our deepest sympathies. Treasure the memories of him. He was a big man with a heart of gold! The world has lost a truly unique human being. - Posted by: Wendy Morris (Student & Colleague) on: Aug 26, 2019

Mr Bryant was truly the best teacher I have ever had! His presence, discipline and caring for his students impacted me at a time in my life that was most beneficial. Actually I was on my way out the door playing hooky and he came out of the classroom as he spotted me. He knew the best way to handle his students was to bear witness! That was enough! He was there! Rest In Peace Art. We are sending fond regards your way. - Posted by: Janice Caine (Student at Churchill High) on: Aug 26, 2019

Mr. Bryant was one of the most caring and understanding people I have ever met. His ability to work with so many of us who likely would not have graduated high school had it not been for his time, care and dedication, is simply amazing. He will be missed greatly by all those whose lives he touched. Thank you for all you did for me Mr. Bryant. My condolences to the Bryant family. - Posted by: David Webster (Student) on: Aug 26, 2019

I was very lucky to have Mr. Bryant, Art as a part of my life. We met at Kelvin when I was a student and later on worked together as well. I have never met a more kind, caring and positive person than Mr Bryant. A man with great integrity who truly loved the teaching profession. The world just got a little dimmer, without his shining light....I will miss you my friend, thank you for making my life and teaching career that much better...love and support to Bev and the rest of the family, your dad was amazing! - Posted by: David Harack (Teacher, Colleague, Mentor and most of all Friend) on: Aug 26, 2019

The world has lost a truly exceptional man. Art was such a kind person who showed love for everybody who walked into his life. When I was in high school, Art helped Hymie Fox coach our varsity boys' basketball team. I have fond memories of Art always supporting our development as both players and young men. I vividly remember him driving us back from a tournament in the US when we were caught in a snowstorm. He decided that it was too dangerous to drive our vans on the highway so we had an unscheduled stop in Emerson for the night. Then he and another coach (Tom Smith) put us up for the night in a hotel, they took us out for Chinese food and bought us what seemed like unlimited candy for the night. In that moment, as a grade eleven student, Art seemed to me to be the most altruistic human to ever walk the earth! Later on in life, when I became a teacher and coach, I was always amazed by Art's continued devotion to Kelvin and his infinite interest in the lives of my friends and I. He never needed to drive us home from practice and games, to encourage us when we had lost all confidence in ourselves, to be fiercely loyal to his friends, family and community. He didn't need to do any of it. But he did. And he did with unquestionable humility and compassion. Art, sleep well. You will be profoundly missed and we will never forget the verse you contributed in our lives. - Posted by: Chris young (Friend/student ) on: Aug 26, 2019

Mr. Bryant was part of an amazing group of teachers at Kelvin High back in the 80's & 90's but he stood out. There has never been a more caring individual, or someone who worked harder to make sure you were successful as a student. Whether you were applying to elite universities or just trying to make it out of high school. We were all "scholars" to him and he let us know it. Over the last ten years we enjoyed running into him at hockey rinks or gymnasiums at our children and his grandchildren's events. RIP Mr. Bryant you were one of a kind that hundred, no, thousands of students will remember fondly! - Posted by: Cory & Paul Krestanowich (Student then friend) on: Aug 26, 2019

Mr. Bryant was a wonderful, thoughtful, kind and gentle man. He and Bev raised amazing kids to grow up to be just like him. He will be sadly missed and never forgotten. All my love to the family. - Posted by: Stephanie Oland Duncan (Friend) on: Aug 26, 2019

Mr. Bryant, it seemed not only that you were always there with a kind word for me, but as far as I could tell for just about everyone else too. You made Kelvin High School a much, much better place during your time there. - Posted by: Andrew Forsythe (student) on: Aug 26, 2019

Mr. Bryant influenced all that knew him. I can't think of a single fellow student that he didn't positively influence. He was a truly a great person. I have and will remember him with reverence and fondness! "Scholars". Sincere condolences to his family. - Posted by: Ryan Landa (Student) on: Aug 26, 2019

Sincere sympathy to you all in the loss of Art. He was a great friend to my husband Richard. Many happy memories of their time spent together. - Posted by: margaret Kasak (friend) on: Aug 26, 2019

Thank you Mr Bryant for helping shape my life, and I'm glad I had the opportunity to tell you this every time I saw you over the years. Even though I graduated from Churchill in 1972, your voice has been in my ear. One of my favourite moments was having the opportunity to introduce Mr Bryant to my grandson Riley when he started playing football at Churchill in 2012. A teacher who made a huge impact on so many of us. - Posted by: Bob MacDonald (former student) on: Aug 26, 2019

It's hard to imagine the profound influence a teacher can have on a student. Mr. Bryant was one of those teachers for me and I know many others. After speaking with him I always left our meetings feeling better because he would interject humour with whatever it was he had to say. Most recently I would see both him and his wife Bev, at different arenas in town, watching our grandchildren play hockey. His memory of people and events was amazing. I will miss our talks and trips down memory lane. All the best to the family. Thinking of you all. - Posted by: Bob Clarke (Student) on: Aug 26, 2019

Art was a huge influence in my life when I was a student at Churchill High School. I was a confused teen who wasn't doing well in school & was failing more than one subject. In Grade 10, I was going to drop out of high school. He convinced me to stay in school & grind it out in order to graduate. That meant summer & night school to catch up which I did. He believed in me when I stopped believing in myself & I will always be forever grateful. Eventually I graduated with a degree from the U of M. He got me through a real rough patch in my life. Art was a great man who cared about his students & will be surely missed. RIP Mr. Bryant. - Posted by: Al Nickel (Student) on: Aug 26, 2019

Mr Bryant was a very wonderful man and an outstanding teacher....he was instrumental in the success of our daughter! - Posted by: Heather Rogers (Former students Mother) on: Aug 25, 2019

Your husband/father was one of the best teachers I ever had. He had a genuine concern for his students, you knew he cared. He was my teacher over 50 years ago and I will always remember him with fondness and respect. - Posted by: Terry Gifford (student) on: Aug 25, 2019

Art was a big man with a big heart. He cared about people deeply and knew the value of developing relationships with everyone he met. He will be missed. Sincere sympathy to Bev and the entire family. - Posted by: Ross Wedlake (friend) on: Aug 25, 2019

Mr Bryant was a guidance counselor at Kelvin High when I graduated over 34 years ago. Despite all the years, he is someone who I remembered fondly and frequently. The genuine care and kindness and the support that Mr. B provided his students was what he was most known for. Our paths crossed a number of years after I graduated and it was clear that he hadn't changed a bit. My deepest sympathies to the entire family. I know he will be deeply missed! - Posted by: Kristen Houston (nee Robinson) (Student) on: Aug 25, 2019

Sorry for your loss. Art was a wonderful person 🌹 - Posted by: Martha Brooks (Friend) on: Aug 25, 2019

Mr Bryant is the reason most of us even got through high school. I was at Kelvin 1984-1986, Mr Bryant was always kind, thoughtful, inspiring and most of all so tolerant of our crazy antics! Cheers to a good man! - Posted by: Virginia Lansdown (High school student) on: Aug 25, 2019

Mr Bryant was an incredible man. Always with a smile and words of encouragement. He changed many people's lives with his caring attitude. I'm sorry to hear of his death. - Posted by: Kate Orlikow (Former student) on: Aug 25, 2019

What a great man. I remember him fondly from my days at Kelvin High School particularly leading bus ridership in a way that made it fun and his favourite comment, "listen up scholars"! My condolences to the family. Take care. - Posted by: Margo Beatty (Wilkes) (Student) on: Aug 24, 2019

I have many fond memories of Mr. Bryant at Kelvin High School. Peace and Love to your family at this difficult time. - Posted by: Sue Swail Bang (student) on: Aug 24, 2019

Growing up across from Mr Bryant, I always appreciated his kind and gentle manner. He always had time for a chat, a joke or just asked how I was doing. When I moved back into the neighbourhood as an adult, I always enjoyed seeing Mr Bryant walking in the area. I could always count on a knock at the door in February when he canvassed for the Heart & Stroke Foundation. He was truly a gentle giant with a heart of gold. My condolences go out to all his family. His quiet presence will be missed in the neighbourhood. - Lisa (Knight) Omand & Family - Posted by: Lisa Omand (Neighbour) on: Aug 24, 2019

I didn't know Art Bryant but heard of all his wonderful qualities from his daughter Carol. Also he was a well respected teacher at Churchill in the Riverview Area where l lived for many years & his reputation with his students was & is well known to the Riverview Community. I was always amazed at Carol's Mom & Dad who were so active & vibrant, loving each day with zest & a love for life. Their life pattern was a model for all of us to follow one of positivity & Joy. Sending sincere condolences to all of the "Bryant's" & their relatives who will miss this man. The memories he shared with each one of them l know will be cherished in those everyday little moments !Cheers to a life well lived! - Posted by: Cindy Parker (Friend from Robertson School) on: Aug 24, 2019

Art was truly one of the most committed teachers/counsellors I met during my career. Although sometimes his solutions presented challenges for administrators, there was never a question that he presented the best interests of the students with whom he worked. He could also hit a softball further than you would think it could travel. My condolences to the family. Clay Bottrell - Posted by: Clay Bottrell (colleague) on: Aug 24, 2019

I couldn't agree more: "The world lost a great man." Mr. Bryant was my all time favourite teacher when I was a student at Churchill High. He had a special warmth that affected all the students who knew him. I am one of the lucky students who later became his friend and that warmth continued and will always continue as Art's memory will always be with me. As an educator myself, I learned from his example, that if you love what you do and care deeply for the students you teach, teaching is a very rewarding profession. This was a lesson I carried with me throughout my career, and I will always be grateful that Art passed it on to me. Rick Hallstead - Posted by: Rick Hallstead (Student then friend.) on: Aug 24, 2019

I first met Art in the mid 1950's while we were both residing in the U of Manitoba residence. After university, we both went our separate ways, About 4-5 years ago, we reunited through our mutual interest in the Kirkfield Park UC. Art planted, watered, weeded, care for, and removed flowers and shrubs on the property. He was meticulous, on a daily basis, to ensure the appearance was excellent and admired by our members. A great loss. - Posted by: Jack Callum (friend) on: Aug 24, 2019

I will remember his visits to Robertson school with treats in hand and a smile on his face to visit his daughter Carol, which you could see in his eyes just how proud he was of her. My condolences to all the family on the loss of such an important male role model in their family! - Posted by: Cheryl Yarish (Friend) on: Aug 24, 2019

Mr. Bryant was a favourite! I'm so sorry for your loss. I wanted to share with you that one of our classmates posted about the passing in our graduating classes private Facebook group and the comments are incredibly touching. Many of my peers commenting that they would never have graduated high school without him. Personally, he opened my eyes and heart to understanding social inequalities. He taught me that not everything is as it appears, that many of my classmates had no food. I began to empty my cupboards on a weekly basis. I ultimately ended up pursuing a profession in social work and Mr. Bryant played a significant role in this path. I was so pleased to tell him in person at the Kelvin reunion in 2012. May his memory comfort all who knew him. He was a special man. - Posted by: Rishona Hyman (Slutchuk) (Student from kelvin class of 1992) on: Aug 24, 2019

I was shocked and saddened to hear about the oh so sudden loss of Art. It is so hard to lose a parent and we are never ready for it. I will always remember how supportive a man he was as I met him at the various walks and occasions. I always appreciated the effort it took for him to come along. My condolences to the whole family. My thoughts are with you all. He will be surely missed. - Posted by: Karen Wiebe (Friend to Lori and Stuart) on: Aug 24, 2019

I heard about Mr Bryant before I ever met him. My brother and sisters went to Kelvin before I did and they spoke of him using the most beautiful adjectives. When I came to Kelvin, all the stories I heard of this huge, kind, caring, considerate, thoughtful, generous and understanding man were now mine to experience - and Mr Bryant lived up to his reputation. I wasn't the 'easiest' student; I was a bit flamboyant, a know-it-all and I had a cheeky side. Mr Bryant had this magical way of connecting with teenagers, and his way of communicating has helped me through some of the rocky-roads of being a parent, "How would Mr Bryant handle this?". I was 1 credit shy of graduating and Mr Bryant set up a whole mini-curriculum for me in order to get that one extremely valuable credit. He believed in me and brought out the best in me. Without Mr Bryant, I would never have graduated from high school. I am forever grateful for his guidance, faith in me, and friendship. God has reserved a very, very special place in heaven for you Mr Bryant. Rest in Peace. - Posted by: Omar van den Berg (Student) on: Aug 24, 2019

Mr. Bryant was my guidance counsellor at Churchill High School in the early 70s. He was a very kind and helpful person in a basically terrible school. I'm glad I was able to meet him and talk. He gave me a lot of hope when I didn't feel good about myself. RIP Mr. Bryant - Posted by: Brian Pail (Student ) on: Aug 24, 2019

Mr. Bryant was one of the nicest teachers I remember at Churchill High in the 70's. Condolences to the family. - Posted by: Alison Coates (Former student ) on: Aug 24, 2019

RIP Mr Bryant. You were truly one of the memorable people in my high school years. I'm absolutely sure your personality and humbleness that you brought to your teaching profession was a mirror of the man you were to your family. You will be greatly missed. Thank you for your guidance along my short time with you. - Posted by: Mike Dufault (Student 1974-1978) on: Aug 24, 2019

Art touched the lives of many and will be fondly remembered. Condolences to his family. - Posted by: Dennis Fenton (Former colleague) on: Aug 24, 2019

He was my teacher and guidance counselor in the late 70's at CHS. Caught me cheating on a test one time. Carried me out of the room with one arm. (I was a buck 40 soaking wet). Put me up against the wall and asked if I was ever going to do that again. I said no sir. He said you can do a re-write next week. lol He truly changed my life that day. He was strong, yet compassionate. He met with me after that in his capacity as a guidance counselor. I went on to go to U of W and had a really good career after that. God knows what path path I would have taken if not for him. He was truly the greatest man I ever met and I feel blessed for having known him. My condolences to the family... - Posted by: Garth Alexander Barnett (student) on: Aug 24, 2019

My condolences to the family, Mr. Bryant was a gift. Churchill High School is where this fine "bear" appeared into my life. A legend with the biggest soul that I have had the pleasure of knowing. Such great memories from my high school days and running into him everywhere. Sharp as a tack, unbelievable memory and without question one of the greatest story tellers. I will miss sitting down beside you every April and listening to your stories. You have no idea Mr. "B" how many lives you have touched. This is a real tough one. RIP Sir..... - Posted by: Wade Cadger (Former Student & Friend) on: Aug 24, 2019
Email Alerts
Sign up for free email alerts of new obituaries for specific people, towns & more.
❮ Go Back to Listings