❮ Go Back to Listings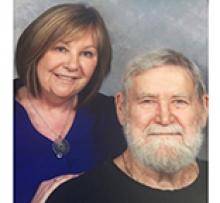 CHARLES KEEP (CHARLIE)
Born: Sep 09, 1943
Offer Condolences or Memory
CHARLES KEEP
RUTH KEEP

It is with great sadness and disbelief that we announce the sudden and tragic loss of our parents, Ruth Allison Keep, aged 65 years, and Charles Robert Keep, aged 75 years.
Our parents found each other later in life, and between them, forged a family of eight. They married on October 6, 1989. Their love was so natural and effortless...what they had together was beautiful!
Ruth was born in Ashern, Manitoba on March 20, 1954. Mom had an infallible love for all her children - we meant the world to her! She was everyone's biggest cheerleader showering us with loving and affectionate words - and meaning every one. Mom had a nursing career for 20 years and cherished all the wonderful friendships she made. The relationship she had with her sisters was extremely important to her. She always looked forward to the sisters' lunches.
Charlie was born in Brighton, Sussex, England on September 9, 1943. He was passionate about music. He was always singing and loved to play his guitar. Dad was a second tenor for the Winnipeg Male Chorus for the better part of 20 years. He had just recently accepted the position of vice-president of the choir. The choir meant a great deal to both our parents. They were family to them. Dad taught at Red River College for almost 50 years. He was a well written and organized man, always sending his wife and children amazing letters expressing his love.
Our parents were long time members of the Headingley United Church. For over 20 years Dad was the presbytery rep for the Church.
The congregation was family. They had many fond memories from potlucks, church plays and a trip to the Maritimes.
Left behind to cherish their memory are their children, Daniel (Trina), Brennan (Rochelle), Shelley (Trevor), Stephen, Kevin, and Jessica (Ray); their grandchildren, Harleigh (Reece), Jade (Keenan), Issabella, BillyBob, Kassidy, Faith, Liam, Donovan, Madison, Brianna, Riley, Nathan, Jonathan, Brayden, Tera Lynn, Kaitlyn, Adrianna, Sabrina and Dante; their great grandchildren, Luca, Ryleigh and Ryleigh; Ruth's sisters, Gail (Len), Sandra (Ron), Bonnie (Albert), Terri (Bill) and Cheryl (Lloyd); Charlie's siblings, Carol (Brian), Tim (Cathy), Tom and Liz (Rob).
Condolences will be held on Wednesday, September 4 at 2:00 p.m., with Rev. Cathy Maxwell, presiding at Chapel Lawn Funeral Home, 4000 Portage Avenue.
The family would like to thank the Winnipeg Police, Fire & Paramedic and all of the other emergency responders that helped in this situation.
In lieu of flowers, please hug a loved one and take a moment to express the value they bring to your life.
Donations can be made in their names to the Winnipeg Male Chorus or the Winnipeg Humane Society.
For those who wish to sign the online
Guest Book please visit www.chapellawn.ca

Chapel Lawn Funeral Home
204-885-9715


As published in the Winnipeg Free Press on Aug 31, 2019
Condolences & Memories
(20 entries)
I am so devastated by this tragic news and the loss of your parents. My deepest condolences to all of you. You are in my thoughts and prayers. I worked with Charlie at RRC in ACCESS. He was a great support and a wonderful human being. I only met your Mom once but it was enough to know she was special. I know she was so special to Charlie. He always spoke so highly of her. They are both going to be sorely missed. Much Love Donna Holenski (co-worker). - Posted by: Donna Holenski (Co-worker) on: Sep 02, 2019

I am so sad for your loss. I met Chas at RRC and we shared the same office for 20 years. Through that time he was always my mentor, advisor and friend. He will always be missed. - Posted by: James Slade (Co-worker ) on: Sep 02, 2019

Charlie was My Instructor at Red River College. A patient, knowledgeable, and helpful Man. I will remember Him for his kindness. Thanks for all Your help Charlie. Rest Peacefully. Condolences to Family and Friends. - Posted by: Cheryl Bandura (Former Student) on: Sep 02, 2019

Words just don't seem enough as you all cope with this devastating loss. I recall many summers and Christmas days spent with Ruthie & Bonnie out at the Babkirk farm when we were children. I never met Charley but heard nothing but wonderful things about him and how they were still very much in love. What a blessing that they found each other. Lives well-lived, hearts well-loved, and souls forever missed. Wishing you all comfort & peace. Elaine (cousin) & George Lawson - Posted by: Elaine Lawson (Cousin of Ruth) on: Sep 02, 2019

I met Charlie and Ruth Keep briefly during a Winnipeg Male Chorus concert in Feb 2019, I was hired to do a bit of drumming for the choir. Charlie spotted our same last names at rehearsal and approached me afterwards. I saw a resemblance in our faces and the face of my late father so I totally suspect we were related some distant (or not so) way. My people also came from England & I had hoped to explore that further. They introduced me to the family present at the concert - I could see that Charlie & Ruth were both gentle, caring, family-oriented people. To read that now, over and over in the condolences comes as no surprise. Precious people. I am so sorry to hear of this tragedy and SO SORRY for your losses. - Posted by: Neil Keep (Acquaintance) on: Sep 02, 2019

Liz, Rob and family. We were so very saddened to hear of Ruth and Charlie's passing. I know your family is so close and to lose someone you love so much is devastating. Reading the obituary just gave me a warm feeling. They both sounded so amazing....a true love story. Again, our hearts ache for your loss. Your friends, Kim, John, Tyler and Jasmine. - Posted by: Kim and John Mueller (Freind of the family) on: Sep 02, 2019

I'm incredibly sorry to hear of Charlie's passing. I met Charlie back in September of 2007 when he taught me at Red River College. He was the best of the best. He was extremely knowledgeable in mathematics and english literature. He genuinely cared for his students and went great lengths at making sure we understood the content. My deepest sympathies go out to his family. He was a good man. - Posted by: Claude Lambert Jr. (Former Student ) on: Sep 01, 2019

Deepest sympathy to family and friends. They are both in heaven watchin over all their children. R.I.P. - Posted by: Geraldine and Lyle Beuckx (Friend) on: Sep 01, 2019

I am so sorry for your incredible loss. Charlie was my teacher at Red River when I went back for my nursing degree. He was a wondeful, patient, kind teacher and I don't know if I would have made it through my first year without him. I also had the pleasure of going to see him in a play at the Headingly Community Centre and still have a picture of him with a huge smile on his face all done up in his theatre makeup. What a huge loss. I'm so sorry. - Posted by: Kirsty (Former Student ) on: Sep 01, 2019

My sincere condolences to you all. - Posted by: Nichola Pattinson (Neighbour. ) on: Sep 01, 2019

What a tragic loss,my precious sister Ruth and my gentle brother-in-law Charles. So many fond memories of our Family gatherings,sisters dinners, sisters lunches. The belly laughs,the hugs,the sharing of each other's joys and sorrows over the years. Life will never be the same. You will be forever loved, Forever missed. Love Sandra and Ron Kmet - Posted by: Sandra Kmet (Sister) on: Sep 01, 2019

Such a tragic loss. My condolences to all family members. I grew up on Craig St. with the Keeps. May the passage of time help to heal and bring you peace. - Posted by: Janice Johnson (McCormick) (Aquaintance) on: Aug 31, 2019

Charlie and Ruth, you both leave a big hole in the family, but your thoughts, teachings and values will be edified by your children and surviving family and friends. You have left those around you richer for having known you. Love from the Tindale family back in the UK. - Posted by: Marieve Macey (Cousin) on: Aug 31, 2019

I sat or stood beside Charlie most of my 15 years in the choir. My good fortune. I am definitely going to miss him, his gentle ways and his quiet sense of humour. I didn't get to know Ruth very well, but to be attracted to Charlie, I know she was a special person as well. Anyone who knew them is devastated, I'm sure. My prayers go out to all the family. - Posted by: Tim Proskurnik (2nd tenor Winnipeg Male Chorus) on: Aug 31, 2019

I am so, so sad to hear of Ruth and Charlie's deaths. I worked with Charlie at RRC and Ruth had been a student of mine. When I first met Charlie he was a single parent. This was in the days when a male as a single parent was not common at all. Charlie was impressive in so many ways...he was an amazing Dad, his students at RRC loved him and he was a very caring, compassionate man. I remember when Charlie and Ruth first got together. They loved each other so much and were definitely made for each other. Ruth was also a caring and compassionate person and an awesome nurse. I can't imagine what the families are going through but please know others are thinking of you. - Posted by: Leslie Walsh (Colleague, friend) on: Aug 31, 2019

I met Charlie and Ruth in Spring of 2017,and at the Baby shower to welcome our granddaughter Ryleigh in July 2017 at our house in Pinawa! We met again at a holiday gathering at Jade and Keanan's - (Selkirk)- in December 2018. Words can not express the sadness we feel for the loss of such a genuinely nice couple! Life is truly such a short journey when you lose loved ones so tragically! Sending our prayers ,thoughts and love to All the family! Kathie and Kevin Duff, Pinawa Manitoba - Posted by: Kathie Duff (Jade's mother in law) on: Aug 31, 2019

My sincere condolences, Charlie was my teacher at Red River, and he was one of the best around. He made things so relatable, so you could understand. I owe my nursing career to him. Rest in Paradise. - Posted by: Michelle Meilleur (Student) on: Aug 31, 2019

Sincerest condolences to our wonderful friends. We shared two great roadtrips together to US national parks and to Branson. We were also great church friends. Bill and Dorothy Brown - Posted by: Bill Brown (Friend) on: Aug 31, 2019

We are so sorry to here of their passing.Our prayers are with you and your family,take care be safe. - Posted by: Darcy and Linda Kisilowsky (close friends) on: Aug 31, 2019

I'm so very sorry for your families tragic loss,may they rest in peace!God Bless... - Posted by: Shannon (No relation) on: Aug 31, 2019
Email Alerts
Sign up for free email alerts of new obituaries for specific people, towns & more.
❮ Go Back to Listings