Search:

Winnipeg Free Press Passages
All Titles
Notices are posted by 10 am Monday through Saturday
❮ Go Back to Listings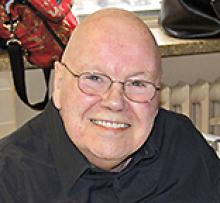 NORMAN WALDRON (WALLY) FOX-DECENT
Born: Jul 22, 1937
Date of Passing: Sep 05, 2019
Send Flowers to the Family
Offer Condolences or Memory
NORMAN WALDRON
(WALLY) FOX-DECENT,
CM CMM OM CD

Wally Fox-Decent, 83, passed away peacefully in his Montreal home the afternoon of September 5, 2019.

Wally was born in Winnipeg to the late Eric and Frances Fox-Decent, July 22, 1937. He grew up in Winnipeg's West End, attending General Wolfe and Daniel McIntyre. Always indifferent to sport, he "governed himself accordingly" by being elected class President each year in high school. He proceeded to United College and was active in English and French drama and debating throughout. On graduation, he won the Lieutenant Governor's Gold Medal for Academic Excellence. Sports did not improve.

He married his life-long love Joan in 1962. They lived together in Winnipeg for 47 years before moving to Montreal in 2009, where Joan would predecease him in 2014. In 1962 he also became a professor of political studies at the University of Manitoba, where he would teach for 33 years. A natural and gifted orator, he would typically lecture without notes, and received the university-wide teaching award twice (though he wasn't pleased that the prize money was taxable).

Wally's academic career ran parallel to an exemplary 42-year career in the Naval Reserve. Enrolling in 1954 at HMCS CHIPPEWA in Winnipeg, he eventually became CHIPPEWA's Commanding Officer and subsequently rose to the rank of Rear Admiral. He reached the apex position of Chief of Reserves and Cadets in 1987, and likewise became the first Canadian to become Chair of the NATO Chief of Reserves Committee the following year.

His third vocation was as a celebrated labour mediator and arbitrator. He settled more than 120 public and private sector labour disputes. The respect he earned from labour and management alike would catapult him into the positions of CEO and Chair of the Worker's Compensation Board (sometimes held concurrently) from 1992 to 2005. Recognition of his inspirational leadership and profound ability to bring opposing sides together led to his appointment as Chair to myriad public boards and task forces, including task forces on the Meech Lake Accord and the Charlottetown Agreement, the Labour Management Review Committee and the United Way.

In Wally's heyday, he was larger than life. Bristling with joviality and at times irreverence, scarcely a week seemed to pass without mention of some fresh labour / management fire he was putting out. Winnipeg, for a time, was Wally's World. His outstanding contributions were recognized by appointments to the Order of Canada and the Order of Manitoba, and numerous awards and distinctions including the Commander of the Order of Military Merit and the Canadian Forces Declaration.

The family asks that in lieu of flowers, those who wish may make a donation to the United Way/Centraide.

A service will be held in Montreal on September 13, 2019 at 1:00 p.m. at the Alfred Dallaire Funeral Home located at 4231 St-Laurent (visitation and viewing from 10:00 a.m. on), with burial and reception to follow.
As published in Winnipeg Free Press on Sep 10, 2019
Condolences & Memories
(16 entries)
I pay tribute to a fine Commanding Officer HMCS Chippawa and a great professor U of M back in early 80's. Capt(N) Fox-Decent was one heck of a great Commanding Officer..gate vessel weekend 1976...terrific..Port Angeles U.S. Coast Guard....there are many RCNVR that I will remember, but too many to list... Respectfully, Wayne Bennink, MTA, CD2 Canadian Forces Retired, Canadian Forces Veteran - Posted by: Wayne (HMCS Chippawa and University of Manitoba Political Sciences.) on: Sep 28, 2019

My condolences to Wally's family and to the many young people that he nurtured, guided, mentored during his illustrious and varied careers. Truly bigger than life, Wally will always remain in my memory as a vibrant and warm human being. I have many delightful memories of Wally as a pivotal component of numerous theatrical events United College presented, many of which involved my urging Wally to "learn his lines". Maybe he was disinclined to sports activities, but that was never evident when he was active on stage where he moved gracefully and boldly. Imagine the oddity, therefore, of seeing Wally hugging a fireplace mantle in one play we shared. Why? Because he pasted the unmemorized lines to its surface, and it became his big cue card! Many years later, during our meetings in B parking lot of the U of M, we commiserated with each other about the burgeoning size of classes ( his were popular, edging close to 200), and other workplace issues. His behaviour was always exquisitely outrageous to me. A voice of reason and brilliance is stilled. Those of us that delighted in him will miss him deeply. - Posted by: Shirley Grosser (We were students in the same graduating year at United College, and faculty members at U of M ) on: Sep 18, 2019

The Davis' were fortunate enough to be neighbours to the Fox-Decent family at West Hawk Lake for many years. Wally will be remembered as tremendously kind-hearted, humourous and as an amazing role model in my youth. I carry many fond memories of Wally and Joan's always warm welcome into their home away from home, listening to his many worldly stories and of course, the familiar smell of his old English pipe. I will always be grateful for his kind support by referral as I embarked on a 30-year career serving the Canadian Healthcare system. Wishing you forever peace and contentment as you sail off on your next great adventure. - Posted by: Victor Davis (Friend & Cottage Neighbour) on: Sep 13, 2019

I was blessed to be a cottage-neighbour with Wally and his family for many years. Wally was always interesting, funny and a great conversationalist. My heartfelt condolences go out to the Fox-Decent family. Cheers, Wally, the world is a lesser place without you. - Posted by: Paul Davis (Friend) on: Sep 13, 2019

Wally and I worked very closely together for 13 years. It was THE BEST 13 years of my career. To go to work in the morning was something I looked forward to. I never knew what the day would bring, but I knew we would always have fun doing it. I will never forget Wally and the special relationship we had. My condolences to Christopher and Evan. He was a wonderful man! - Posted by: Lesley Leonhardt (Kiddo) (Executive Assistant ) on: Sep 12, 2019

To echo other sentiments- 40 years after university, Professor Fox-Decent remains one of my most memorable teachers. I still remember the lecture about ICBM's and missile silos. Totally engaged!! - Posted by: MJ Donald (Student) on: Sep 12, 2019

So sorry to learn this. Shared with so many of whose lives he touched. - Posted by: Cam Mackie (Class of 1958) on: Sep 11, 2019

I never knew you Wally but knew of your many mediation and arbitrations. You were a master at that. I worked for Manitoba Hydro for 40 years. One time 15 years ago you phoned our office that your power was out. Somewhere out towards Headingly. I went wow when I took the call. I told the boys who fixed the problem to make it fast as the could affect a ruling in our favour during negotiations. Thanks for everything Wally. - Posted by: Jim Caron (Aquatance ) on: Sep 11, 2019

As a young recruit in 1987, Rear-Admiral Fox-Decent was the reviewing officer on my basic training graduation parade. Fair Winds and Following Seas on your final voyage sir. - Posted by: Commander Colin Stewart, Commanding Officer, HMCS CHIPPAWA (Served under Admiral Fox-Decent) on: Sep 10, 2019

The great Professor Fox-Decent introduced me to university student politics on my first day of class with him. His skill as an orator mesmerized me, and he saw my reaction to his unprecedented and flawless lecture style. Calling me aside at the end of that first class, we began our friendship. When I was elected a Senator two years later, which I attributed to the lessons I learned from him, it was Professor Fox-Decent who met me at UMSU to congratulate me. I was then appointed by the Senate to be Chair of the university's Student Senate and once again -- you guessed it -- it was Professor Fox-Decent who marched right over again with his congratulations. The next year, I was elected Senior Stick of Commerce, and it was me this time who went straight to his office to tell him before anyone else. He was like a proud father, and I'll never forget his eye contact and his flowing tears of joy for me. Now, forty years later, it is his family, students, friends and the naval reserve who have the tears. What a magnificent Canadian! - Posted by: Ted Moorhouse (Student) on: Sep 10, 2019

I was so saddened to hear of Uncle Wally's passing, as well as Auntie Joan's in 2014. As their god daughter I will never forget the special relationship that they forged with me throughout my younger years. His wonderful, kind, generous and "larger than life" presence around our family's dinner table will never be forgotten. I miss you Uncle Wally. Thank you for playing such a pivotal role in my formative years. You were, quite simply, the best! - Posted by: Michele Hadley (god daughter) on: Sep 10, 2019

Wally, myself and 10 others were fellow Yeoman in the Gilbert and Sullivan production at DMCI in 1954. Wally, judging by his storied career went on to live his life as a keeper and watcher over his fellow man. Truly, he has been an inspirational figure to many. He was a leader from the outset. - Posted by: Gary Jones (DMCI fellow student) on: Sep 10, 2019

I had the pleasure of working with Wally on the WCB BOD. Our meetings were never dull. Wally had the ability to drive our disparate group towards consensus on most occasions especially when we had to make tough decisions. It was always fun to socialize with Wally during our free time on Board retreats. He was never without a great story or anecdote. He has been, and will be, missed. My sincere condolences. - Posted by: Ed Gallos (Friend & WCB Board of Directors colleague) on: Sep 10, 2019

TUES. 12:35PM SEPT.10/19 TO WALLY'S FAMILY-ETC. I'M SAD TO HEAR/READ THAT WALLY HAS PASSED. I WOULD LOVE TO SEE HIM IN MONTREAL, ONE LAST TIME- HOWEVER, MY OWN HEALTH, TROUBLES ME. I'LL BEAT THIS SCIATIC NERVES /PAIN PROBLEM, JUST AS WALLY BEAT - THE WRONGS OF THIS WORLD-THROUGH COMMUNICATION ETC. PERSEVERANCE-HUMAN GUMPTION-SMARTS-AND ALL THE REST. HE WAS A VERY GOOD MODERATOR- FAIR+ TYPE OF MAN. "BETTER THAN FAIR"! ONE TIME -WHEN I WAS RUNNING FOR MAYOR-HERE IN WINNIPEG- "I WAS TOLD YOU VERY WELL COULD OF WON IT ! " WHEN I MET HIM - AGAIN.. DOWN THE ROAD OF LIFE." WALLY WAS IMPRESSED-" AS TO THE "GAS MASK I WORE" IN REGARDS ALL THE STUBBLE-BURNING AROUND WPG./MB. AT A MAYORALTY -FORUM. I ATTENDED. IT MADE NATIONAL NEWS ON TV.."GAS MASK "WINS FORUM! YOU HAVE VERY GOOD SPEAKING SKILLS-AND IDEAS! YOUR SOMEWHAT LIKE A POLITICAL ENTERTAINER- TO MAKE YOUR POINT. PERHAPS POLITICS IS YOUR FORTAY? NICE MAN TO SAY THAT. ALASS- DOUBLE PNEUMONIA - FORCED ME TO WITH DRAW- AND THE CITY OF WINNIPEG/ELECTIONS DEPT. LADY-IN CHARGE-SAID- MR.SCOTLEND -WE HAD TO PUT ON EXTRA STAFF- TO MAN THE PHONES-TO INFORM MASSIVE PHONE CALLS-ENQUIRING-IF YOU WERE STILL RUNNING FOR MAYOR. SHE SMILED-YET SPOKE FIRM.. AS WALLY'S LIFE- TURNED-EVERY WHICH WAY-FOR THE GOOD! MINE- TURNED-ALSO-"THE WAY THAT ONE TRAVELS-IS THE WAY....?..THAT YOU CHOSE.. GOD BLESS YOU WALLY-ON YOUR NEXT "VOYAGE". CHARLIE. - Posted by: CHARLES ALWYN SCOTLEND (MET A FEW TIMES AT FUNCTIONS.) on: Sep 10, 2019

I took a Political Science course with Professor Fox-Decent at St. John's College, University of Manitoba, in 1970. He was an amazing teacher. He really connected with his students. His lectures were always so interesting, and one never felt bored listening to him. He was, quite simply, the best teacher I ever had at University, and it's no surprise that he won the teaching award twice. - Posted by: Robert (Student) on: Sep 10, 2019

Professor Fox-Decent was a spectacular lecturer and, forty years after I took my classes with him, his lectures are still very memorable. - Posted by: Susan (Student) on: Sep 10, 2019
Email Alerts
Sign up for free email alerts of new obituaries for specific people, towns & more.
❮ Go Back to Listings