❮ Go Back to Listings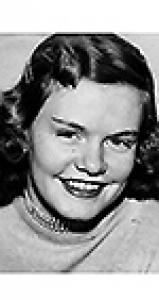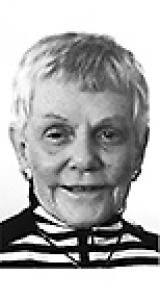 PATRICIA MAE MYLES (PAT)
Born: Aug 24, 1934
Date of Passing: Sep 10, 2019
Offer Condolences or Memory
PATRICIA MAE MYLES
August 24, 1934 - September 10, 2019

It is with heavy hearts that the family of Pat Myles announces her peaceful passing, at home, on September 10, 2019.
She will be lovingly remembered by her children, Joe and Mary Lou, her grandchildren, Evan (Courtney) and Elyse, her sister Wendy (Gren), special family friend Vienna, as well as her extended family and many wonderful friends and neighbours of all ages.
She was born in Winnipeg to "Ozzie" and "Bunny" Thomas and was predeceased by her husband of 60 years, Joe, and her older brother, Jack.
She spent most of her life in Winnipeg except for a few childhood years in Davidson, Saskatchewan, as well as Dauphin and Gimli, Manitoba when her father served as a flight instructor in the Second World War. She enjoyed a happy childhood surrounded by extended family. After graduating from Kelvin High School she earned both a Bachelor degree and Master's degree in Social Work from the University of Manitoba. She married Joe in 1958 and they celebrated their 60th wedding anniversary together last July, before he passed away this last April.
She loved and excelled at being a mother and some of her happiest hours were those spent playing, baking, reading and making up new games and stories with her children when they were young, then later talking, playing Scrabble and travelling with her children as they got older. Once a week when the kids were young, Joe would go to choir practice and Pat and the kids would write and direct their own home movies. She was later overjoyed to have grandchildren in her life and also shared many wonderful experiences and holidays with them. She was thrilled when her grandson asked her to walk him down the aisle at his wedding in 2017. She shared a very special relationship with her niece, Heather (Emmy), and her nephew, Peter (Réka). She delighted in seeing them become parents and enjoyed laughing, playing and baking with Heather's children, Julia and Ben, and meeting and hearing about Peter's daughter, Kiana.
She had many talents and interests that she maintained throughout her life. She discovered a love of skating in her elementary school years and formed lifelong friendships with her fellow skaters, touring small towns to perform in carnivals. After grade 12 graduation she auditioned successfully for the Ice Follies and joined them in San Francisco. After several months she decided to return to Winnipeg to pursue a University education but maintained her love of skating her whole life. She spent a summer in Sun Valley, Idaho performing for the resort guests in ice shows, and then was instrumental in developing the City Of Winnipeg's Learn to Skate program, which she coordinated and taught for many years. She especially loved introducing preschoolers to the sport and even gave their very first skating lessons to a few who went on to eventually become NHL players.
As a social worker, she especially loved her time helping teens with emotional difficulties, some of whom still kept in touch. She was a huge support to many, many people facing challenges throughout her whole life. She was the one that people instinctively trusted to comfort and support them. She was the mother her children's teenaged friends would turn to in times of distress and many continued to call and drop in on her periodically for the rest of her life.
She was active her entire life. Up until a few years ago she skated weekly. She started doing yoga decades ago, long before it became popular. She tap danced with a fantastic group of women right up until the end of their season, performing in the Dance Recital at MTC this past June. When she was 75 years old she did the splits for their year-end performance.
She had an exceptional ability to connect with people and made friends wherever she went. She had many friends of all ages from preschoolers to people in their 90s and those who were lifelong to those she met more recently, from her favourite lab tech to the serving staff at her favourite local restaurant. She shared very special friendships with her neighbours and we are very grateful for the tremendous support they provided as she became less well. She was the neighbourhood grandma and derived great joy from sharing in the lives of the neighbouring children as they grew up - attending their recitals, hearing about their trials and tribulations and celebrating their talents.
She loved animals, especially her beloved dogs. She lost Lhassie a few months ago at 16 years but Hollie was at her side even as she passed away. She had a special fondness for polar bears and had polar bear pictures covering the kitchen walls and collected multiple polar bear statues, decorations, stuffies and themed art. She enjoyed visiting the polar bears and also volunteered at the Assiniboine Park Zoo. She insisted on putting carrots out for the bunnies in her yard every day and also made friends with the neighbourhood squirrels.
She developed type 1 diabetes in her 20s. Diabetes presented her with many challenges, which she faced with courage and determination. She was ahead of her time, a true pioneer, who began glucose monitoring and frequent injections to optimize her blood sugars long before it was accepted practice, though this approach was subsequently proven and became standard practice. She was proud to be awarded the Joslin Medal in 2010 for having lived successfully with diabetes for 50 years. She contributed in many ways to diabetes care in her employment and volunteer work with the Canadian Diabetes Association and as a speaker educating health professionals about her approach to tight blood sugar control. She was a founding member of "The Survivors", a support group for those facing challenges from diabetes. She was also a tremendous support to those who were newly diagnosed with the disease or struggling with its effects. She even wrote a book about her experiences: "Please Lord, Let Me Have One Day Off" (available at the Winnipeg Public Library).
She was unique - a truly brilliant diamond of a human being. She made a huge difference in so many lives and is very deeply missed.
The family would like to thank the Palliative Care team who helped her realize her wish of staying at home when she became ill these last few weeks of her life, with a special thanks to case manager, Erin, and nurse, Lisa.
Family and friends are invited to a celebration of her life to take place at 1:30 p.m., Sunday, October 13, 2019 at St. Peter's Anglican Church, 755 Elm St. with a reception to immediately follow at the Assiniboine Park Pavilion. If friends so desire a donation in her memory can be made to the Winnipeg Humane Society.
"The grinding that would wear away to nothing a lesser stone merely serves to
give luster to a diamond."

For those who wish to sign the online
Guest Book please visit www.chapellawn.ca

Chapel Lawn Funeral Home
204-885-9715


As published in the Winnipeg Free Press on Sep 21, 2019
Condolences & Memories
(6 entries)
Mary-Lou, Joey, Wendy and family So sorry to hear of Pat's passing. Sending our love xoxo Christine Hatzidiakos and family - Posted by: Christine Hatzidiakos (Cousin) on: Oct 12, 2019

Wendy, Heather and family: So sorry to hear of Pat's passing. I had the pleasure of meeting Pat on a number of occasions. She was always such a warm and gracious person. I'm sure all who knew her will miss her smile and upbeat attitude. - Posted by: Jocelyn Hamill (family friend) on: Oct 02, 2019

You know you've hit pay dirt as a parent when your kids want to bring their friends home. I not only spent a lot of my teen years at Pat and Joe's place while hanging out with a Mary Lou, but just dropped by a few months ago as many of their friends did from time to time. Those Christmas Eve parties were some of my best childhood memories. I even remember one where Pat was very ill in bed, but the party was going on downstairs and a few of us were hanging out with Pat in her bedroom. As parents, you were the best! Sorry for your loss Mary Lou and Joe. I'll raise a glass on Christmas Eve. - Posted by: Barb Gudziunas (Friend) on: Sep 23, 2019

My condolences to Joe and Mary Lou, and the grand kids. Pat was a constant in the lives of my generation as was Joe. She had a great style and brought a wonderful energy to the lives of MaryLou and Joe's friends, notably the Christmas in July party back in 09. Her passing leaves me saddened. - Posted by: Richard d Lennox (Friend ) on: Sep 22, 2019

I have known Pat since I was 11 years old when her sister Wendy became my sister-in-law. My Father died the next year just before Christmas. Even though Pat had just lost her own Mom within that same week; she included my family in her Christmas dinner. It was a whole day event and I felt welcomed as though I had always been a part of her family. This was to become an invitation that was warmly extended every year for many years. Pat made a big impression on me. She was an independent young mother and wife who had a career. She was the epitome of sophistication and cool as well as generous and funny. She tried to teach me how to skate. She was a very patient and compassionate teacher. Over the years I witnessed how Pat and Wendy stewarded their families and kept a very close extended family. She was also a very involved and loving Aunt and Great Aunt as well as Sister. She and Wendy have built a very strong foundation for their daughters, sons and grandchildren to continue on. I know that Pat will be deeply missed by every member of this clan. Jo and I extend our deepest love and condolences to you. Love Carie and Jo - Posted by: Carie Winslow (Pat was my sister in law's sister) on: Sep 22, 2019

Pat shared with me her life's story during the last few months. How rich and full she lived her life, raising a family, building relationships in her neighbourhood and going way beyond. All along she tenaciously and courageously fought diabetes which wracked her body. I was so blessed by her attitude of peace as she struggled for life.. What an example of a life well lived. Thoughts and prayers for the family who has lost such a wonderful mother, grandma, and sister. - Posted by: Anne R (Neighbourhood friend) on: Sep 21, 2019
Email Alerts
Sign up for free email alerts of new obituaries for specific people, towns & more.
❮ Go Back to Listings