❮ Go Back to Listings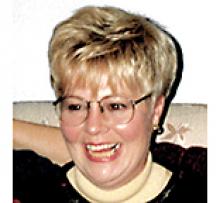 SHERRIE BLASKO
Offer Condolences or Memory
SHERRIE BLASKO
It has been 365 long days since your suffering and pain has stopped and mine began.
I did not realize that those two years would be our last together. Oh how I wish we could have continued fighting your disease together. Our love was a true love with many tests and obstacles which we encountered and passed with success.
One major test for you was with our first born being an emergency caesarean operation. He was taken immediately to Children's Hospital for eight days, without you even having seen him. The separation lasted eight days with you in the Victoria all that time and Jay in Children's.
During our first year of marriage I worked in North-Western Ontario and you in Winnipeg, but we survived.
Our next obstacle was moving lock stock and barrel and a one and half year old to Leaf Rapids for two years without TV, shopping, restaurants and the only radio station was the CBC. Times were tough, but we made the best of it by looking at the experience we gained and our new friends that we made.
Our next obstacle was another move to behind the iron curtain to Czechoslovakia for two years with two small children. But you made the best of it by looking at this being a once in a lifetime experience with the travelling, shopping and making more new friends.
Once back from Czechoslovakia I was again transferred to North-Western Ontario for two years while you remained in Winnipeg.
And our last obstacle was your leaving this earth; not of your own free will and never to return, and I never realized what it was to miss you until you departed from this earth.
I think about you every day and I will never forget you as long as I shall live, my love. You are gone in body, but not in soul. I was never much for showing my emotions and affections, but now I am more than making up for lost time. I only try to remember the good times which were many and they are helping me in getting through these tough times.
You were always a person true to your word. You were true to your word when you spoke our wedding vows "until death do we part as long as we both shall live".
I have lost my soul's companion, a life linked with my own,
and day by day I miss you more
as I walk through life alone.
As published in the Winnipeg Free Press on Nov 09, 2019
Email Alerts
Sign up for free email alerts of new obituaries for specific people, towns & more.
❮ Go Back to Listings