Search:

Winnipeg Free Press Passages
All Titles
Notices are posted by 10 am Monday through Saturday
❮ Go Back to Listings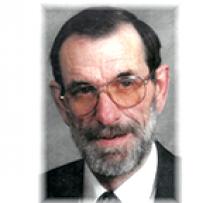 LOUIS EDWARD BOWMAN (LOU)
Born: Jun 19, 1937
Date of Passing: Dec 30, 2019
Send Flowers to the Family
Offer Condolences or Memory
LOUIS EDWARD BOWMAN
June 19, 1937 - December 30, 2019

Peacefully, with family by his side, Lou passed away on December 30 in the ICU at Grace Hospital in Winnipeg.
Lou was predeceased by his mother Ruth Bowman (Klinger), father John Bowman, and daughter-in-law Amy Hawkins-Bowman. He will be missed by his wife Elaine; children, Patrick (Leslea) and Christopher (Robin); grandchildren, Kataryna, Elias, Lucia, Natalia, Benjamin and Jonathan; as well as sisters, Shirley Bodimer, Katherine Powelson, and Mary Humphries, along with countless family and friends.
Lou was a vibrant and larger-than-life personality. Somehow in every situation he managed to be both the hardest worker behind the scenes, doing the little and big jobs that otherwise go unnoticed, while also being the loudest most easily recognized cheerleader inspiring others to do their best. Nowhere was this more true than in his work with youth throughout his adult life. Generations of kids made it through their hardest and best formative years with Lou as a key guide, confidante, and inspiration.
While being known for the occasional embellishment around the campfire or the portage trail, Lou did not have an easy early life. Lou was born in St. Louis, Missouri in 1937. His mother died when he was very young and his father went to fight in the Second World War as a United States Marine, leaving Lou and his sisters in the care of an orphans home. For all those who heard the stories, yes, the part about running away from home at 16 to join the circus was true, as was following in his father's footsteps to the Marine Corps at 17. The other gems, covering everything from forced production of sauerkraut to falling off cliffs, will remain of legend.
After his discharge he worked for the Sperry rail company which brought him to Vancouver where he met Elaine, the woman who would put up with him and be buoyed by him for 53 years. Lou made his career repairing electronics, Xerox copiers, and later specialized engineering printers. He was always fascinated by computers and electronics and was an early adopter before it became a thing. The Bowmans had a personal computer in their home long before most families knew what one was.
Lou's involvement with Scouts covered over four decades where he was seen at local, provincial, national and international events, and when not seen he was certainly heard. Countless Scouts grew up with his booming chants and wild tales, on adventures from Australia and Kananaskis, to Quetico and Birds Hill. Canoeing, rock climbing, camping outdoors at -30 or just putting up a tent for the first time, it didn't matter - if there were kids in need of adventure and inspiration, he was there. In giant groups of younger kids, he was "Turkey" (slyly self- named to allow the kids to be just a touch naughty) who came home hoarse from every camp, to the thanks of parents whose kids slept better than ever before after a wholesome weekend of fresh air and Lou's antics (until they got sick of the songs he taught them). In smaller groups of older teens, he was the guy who would always have time, never judge, always have faith in you and never fail to help. Aided by Elaine who dished out endless breakfasts and perogies to all gathered while she called them crazy for whatever adventure they were about to embark on, they created a space that was, oddly and uniquely, safe and supportive. Few of any age left their contacts with Lou without feeling both valued for who they were, and enabled to accomplish anything to which they put their minds.
Lou brought the same passion to work with the Ukrainian youth camp, where his climbing wall and zip line were the highlight of so many summers. Still setting up the scaffolding and zip line each year, well into his 70s, captures the spirit and vigour Lou brought to every task. Lou's impact on the Folklorama Kyiv pavilion and Holy Eucharist Church youth clubs were similarly profound.
The luckiest of all were Lou's grandkids who had all the same devotion, with undivided attention. Whether building every crazy (read: dangerous) playhouse element or just being present as "grandpa silly-willie" to play (read: rile up) once his building days were over, Lou earned the same thankful scorn from a new generation of parents, this time his own children.
Funeral services will be held at Holy Eucharist Church, 505 Watt St., Saturday, January 11 at 10:00 a.m.
This obituary may be viewed online at the Korban Funeral Chapel website.
In lieu of flowers, donations may be made to a charity of your choice.
As published in Winnipeg Free Press on Jan 04, 2020
Condolences & Memories
(22 entries)
Our condolences to Elaine and family. May his Soul Rest In Peace. Stay well Elaine and keep your chin up. - Posted by: Elaine and David Derksen (Friend) on: Feb 14, 2020

Our condolences to Elaine and family. May his Soul Rest In Peace. Stay well Elaine and keep your chin up. - Posted by: Elaine and David Derksen (Friend) on: Feb 14, 2020

I was just telling friends and family about all this times "TURKEY" (Lou) helped out the 58th Beavers, Cubs & Scouts. About how his voice will forever resonate when I hear a campfire song. His voice and delivery was just unforgettable. (My favorites were Jonny Rebeck's machine. and "This is what I learned in my school" YA-YA.) My thoughts are with his family & friends. Lou you left a legacy that most can only dream of. You will be missed dearly. Oogie Oogie OOGIE! - Posted by: Don McClements (Scout master) on: Feb 03, 2020

Sending our deepest sympathy and condolences to you all . So very sorry to hear of your loss and sending healing thoughts and prayers to our family in Manitoba! With love & best wishes, cousin John,Kelly & Family - Posted by: John & Kelly Sillery (cousin) on: Jan 11, 2020

Condolences to you all. It was a beautiful ceremony. Lou was a huge influence on me as a teen involved in scouting. A mentor and a grounding and supportive person. He will be missed. -Dylan Lee - Posted by: Dylan Lee (Ventures ) on: Jan 11, 2020

My condolences to Patrick, Elaine & your families. My thoughts & prayers are with you. Gisele - Posted by: Gisele Hansen (Friend ) on: Jan 11, 2020

My Thoughts and Prayers to Elaine & Family. So true what you wrote ...Lou was a vibrant and large-than-life personality. Lou was the Mr. Dress Up (Ernie Coombs) A MAN that wore many hats.... A MAN OF GIVING, FAITH & FAMILY. Cherish and celebrate the legacy of your Husband, Father ,Grandpa, Son and Brother. It's not how much we give but how much LOVE we put into giving. GOD Bless My Friend. - Posted by: Kim Kozak (Church friend) on: Jan 10, 2020

God Speed Mr. B,& my sincere condolences to Elaine and family. I met Mr. B 40 years ago when I joined Holy Eucharist Youth Group. His patience, guidance, sense of humor, honesty and encouragement throughout the years will never be forgotten, Eternal Memory. - Posted by: Theresa Stasiuk (Friend ) on: Jan 09, 2020

With heartfelt sympathy to you Elaine and your family. We were blessed to have known Lou. The kindest of man; a wealth of knowledge in life; a passion for religion; selfless help for all others; sitting all night with Wally and I at the Shroud. Lou was always there for everyone. Elaine you have been there for me in my time of need. Please know I am always here for you. May GOD Bless and comfort you at this sorrowful time and always. Liz Turchyn - Posted by: Elizabeth Turchyn (Friend) on: Jan 09, 2020

Condolences to Elaine & Family. We have many great memories & stories of Lou & enjoyed his many antics while at Xerox Customer Service, Winnipeg. RIP, Lou! - Posted by: Walt MacMartin (Worked with Lou for many years) on: Jan 09, 2020

My deepest sympathy to Elaine and family! Lou was always so much fun at work, always so interesting to talk too and an all around great guy! - Posted by: Donna Thompson (Xerox co worker) on: Jan 08, 2020

I had the opportunity to work with Lou when I was president of the U.C.Y.A of Winnipeg in the early 80's. His guidance as a church advisor to our group was immense and inspiring. RIP Lou I know for certain that we never lose the people we love, even to death. They continue to participate in every act, thought and decision we make. Their love leaves an indelible imprint in our memories. We find comfort in knowing that our lives have been enriched by having shared their love. Leo Buscaglia - Posted by: Jerald Kulbaba (Family Friend) on: Jan 08, 2020

Our Prayers to Elaine and the family and Godspeed to Lou. There is never enough to room to write about a man who has changed so many peoples' lives for the better. The moment he met our family, Lou welcomed us into his special world. He was a role model to my daughters and always made them feel they belonged. The fondest memories of him telling jokes or teasing them while at Church or Ukrainian Camp. If a bell rings for every time we talk about an Angel, it must be very noisy up there right now. - Posted by: Teresa Letwin (Family Friend) on: Jan 07, 2020

My sincere condolences to the Bowman Family. I worked with Lou and can attest to his larger than life personality. Lou always had a story to share that would have us all laughing and having fun, his presence was always a warm welcome. I'll never forget him. Rest in Peace Lou. - Posted by: Marianne Gobeil (Friend/Co-worker) on: Jan 07, 2020

My sincere condolences to Elaine and family. All the memories you have will be with you forever. God bless you while you grieve. - Posted by: JUDY SHKOLNY (Church family) on: Jan 06, 2020

Elaine, Chris and Patrick and families, My thoughts go out to on your loss. I will always remember the great times we had with Lou and our Rover Crew. He was always there for all of us..Lou will always be with us around the campfire. Rest In Peace Lou - Posted by: Nicholas Laine (Friend and fellow Scouter ) on: Jan 05, 2020

Deepest sympathy Elaine and family. May you cherish all the memories you had and may God Bless you and your family in this time of grief and sorrow. - Posted by: JUDY SHKOLNY (Church friend) on: Jan 05, 2020

Prayers and loving condolence to you, Elaine and to your family. - Posted by: Sister Theresa Matwe SSMI (Friend) on: Jan 04, 2020

Haven't seen my Uncle Lou in many many years. My fondest memories was as a child and he would always make us kids laugh. He was the best Uncle a girl could have. He will be missed. Prayers from our family to yours. - Posted by: Cindy Bodimer Beer (Uncle Lou) on: Jan 04, 2020

Elaine and Patrick, my condolences to you and your family on your loss. - Posted by: Dena Fabian (Friend) on: Jan 04, 2020

Our deepest sympathies to Elaine and family. May you find comfort in memories and strength in each other's love throughout this very difficult time. Rest in peace, Lou. - Posted by: Vicki and Len Lazaruk (church friends) on: Jan 04, 2020

Deepest Sympathy Elaine and family! May all the good memories you shared help cushion some of this intense grief! May Jesus hold you in his arms as he helps you walk this new path you are beginning. Take care! - Posted by: Sonia Krykolowich (friend) on: Jan 04, 2020
Email Alerts
Sign up for free email alerts of new obituaries for specific people, towns & more.
❮ Go Back to Listings