Search:

Winnipeg Free Press Passages
All Titles
Notices are posted by 10 am Monday through Saturday
❮ Go Back to Listings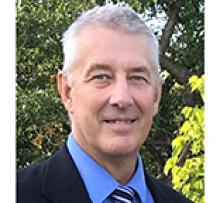 DERRICK MICHAEL TODORUK
Date of Passing: Mar 27, 2020
Send Flowers to the Family
Offer Condolences or Memory
DERRICK MICHAEL TODORUK
1962 - 2020

It is with great sadness that we announce Derrick's passing, at home, in Winnipeg on March 27, 2020.
His integrity, honesty, good humour, sportsmanship and kindness will live on in our memories and through Michael and Kyle - his sons and best friends. Derrick's wife Maria (née de Kluyver) was a steady source of love, dedication and compassion who gave her husband the happiest moments of his life. In more difficult times she provided the extra measure of hope that carried him through the day.
Derrick was quick to admit that he would never be a scholar, despite being the son of two school teachers, Ernie and Dianna (née Mascarin). Instead, he excelled at every sport he was attracted to: golf, track and field, baseball, basketball, football and of course hockey, his utmost passion. He quickly made a name for himself in Transcona, which was his home since early childhood.
His athleticism, sense of justice, commitment to community service, and his gift for relating to people of all ages and backgrounds led Derrick to an honourable 27-year career with the Winnipeg Police Service, from which he retired in 2015 as the Supervisor of the East District Community Support Unit. During his time with the WPS he was a Detective / Patrol Sergeant and served as Detective Sergeant of the Arson Task Force. Derrick counted many former colleagues among his best friends and he never missed a chance to praise their work and good character.
As a coach to both his sons and to countless other youth in local hockey programs since the 1980s, Derrick made an enduring impact and gained the respect and admiration of his players and their parents. Kyle said his dad "had the perfect heart and soul for the job." Derrick encouraged hard work, skill development, sportsmanship, teamwork and fun on the ice. Michael will miss Derrick's presence at his games. The two of them shared a private language of gestures and glances that may have signalled approval, disapproval or "needs practice".
Derrick had two siblings, Andrea (Niklas Lundquist, Laban, Anton) and Mark, both of whom feel much more alone in the world without their big brother. Since 2001, the de Kluyver family has given Derrick the gift of a second family. His parents-in-law, John and Susan; brother-in-law Peter (Kim, Joshua, Matthew, Kayty); and sister-in-law Sandra (Trevor Calley, Meghan, Briana) will miss his storytelling, generous spirit and practical jokes.
The greatest enjoyment for Derrick was spending time with Maria and the boys on family trips and at tournaments. Summers at the lake were also special times, with boat rides, fishing and laughter around the fire. Special thanks to his close friends, Mike, Quinn and Jack for being a part of those memories.
Derrick was well known for the handsome blue eyes that he inherited from his mother. Dianna was devoted to her son until the very end. Derrick was predeceased by his father Ernie in 2012.
Maria, Michael and Kyle want to thank the many friends for their ongoing support during Derrick's fight against cancer, including those who offered rides to games and practices and helped with errands; those who dropped by the house with meals and snacks; and those who prayed, called, or texted to provide comfort and to let them know that they were not alone.
A private interment is planned. A celebration of Derrick's life will take place at a future date when public health conditions permit.
In lieu of flowers, Derrick requested that donations be made in his memory to the Kyle Johnson Memorial Scholarship & Community Fund. For information on how to contribute, call 204-944-9474 or visit wpgfdn.org (keyword search: Kyle Johnson).
Family and friends may sign a
book of condolence at www.glenlawn.ca.

Glen Lawn Funeral Home
204-982-7550


As published in Winnipeg Free Press on Apr 04, 2020
Condolences & Memories
(39 entries)
Sincere condolences to Derrick's wife, sons and family. So very sorry to hear the sad news. Will remember his big smile and laugh. While it has been many years since school days reading the many heartfelt condolences is a testament to the great person that he was. - Posted by: Laurie Lyons (School friend) on: Aug 03, 2020

I'am sorry to hear of Derrick's passing we were friends in High School. He was such a beautiful person I am so glad to have met him. Although I never saw him much as we grew older he will always be remembered. Colleen - Posted by: Colleen Read (School Friend) on: Apr 20, 2020

I am so sorry to hear of the loss of your husband Maria, thinking of you and your sons! Treasure all the special memories you shared and he will be with you always!! Sharon - Posted by: Sharon McLaughlin ((co-worker)) on: Apr 09, 2020

I worked with Derrick in the Arson Unit for a couple years. Derrick was an excellent supervisor who cared about his members. Derrick passed on his extensive knowledge of fire investigations to numerous new members in the unit. Family was always important to Derrick. Condolences to the Todoruk family. - Posted by: Kent & Kirsten Vincent (co-worker) on: Apr 09, 2020

Derrick and I played together on the St. Boniface Saints Jr.A hockey team (Provincial Champions 1980). Derrick was a great teammate and an excellent player. I also had the privilege of coaching the Transcona Regents with Derrick in 1984-1985 (City Champions, Provincial Finalists 1985). After reading many of the online condolences and tributes, I can see the influence that Derrick had in the development of many young men, not only as hockey players but also as "good people". Although Derrick and I lost touch over the last several years, he had a major impact in my life. I always appreciated his sense of humour, warmth and calmness in difficult situations. To his boys, Michael and Kyle, know that your dad loved you. Whenever I bumped into Derrick, he would speak proudly of his family. Look for signs and know that your dad walks with you everyday and watches over you. Love never ends... Please know that I am thinking of you and your family during this difficult time. - Posted by: George Purchase (former team-mate and co-coach) on: Apr 08, 2020

We were very saddened to learn of Derrick's passing. We first met Derrick when he was the oldest of three children who would visit their grandparents in Dauphin. Derrick will be remembered for his smile, charm, wit and pleasant nature with family. His passion in being there for his family and others in the community are a huge loss, especially at this unprecedented time of COVID19. Our condolences. - Posted by: Gladys and Kevin Stewart (Related) on: Apr 08, 2020

I met Derrick at the beginning of my police career and had the privilege to be his dispatcher. We also curled together in the Civic Bonspiel "back in the day" where I heard many stories. Although I may not remember all the stories, I remember always laughing and being very lucky to be around such a genuine and happy person. My deepest condolences to Derrick's family. You are all in my prayers. - Posted by: Brenda Foy (Co-worker ) on: Apr 07, 2020

I had the opportunity to work with Derrick many years ago when I was a junior Constable in District 5. He was a humble, kind, funny person and I always enjoyed our conversations. He offered some good advice and I admired his work ethic. I was very saddened and shocked to hear of his passing. My thoughts are with his family at this very difficult time - Posted by: Becky Tardiff (Co-worker) on: Apr 07, 2020

Derrick was a great guy and a great Cop. Once again in our line of work a great guy gone way too soon. Condolences to his family and sons. Know that your dad was a great Police Officer, a great athlete but most important a great human being. Godspeed my friend, we will take it from here. Smitty - Posted by: Kevin Smith (Colleague ) on: Apr 06, 2020

A fellow Transconian who played for the Saints before Derrick did. We cut grass for Ralph Borger one summer- I learned to not let him drive the tractor because he broke it a few times. Very saddened by his passing but see the lasting legacy he left. Honored to have known him. Travis Dunn - Posted by: Travis Dunn (Friend ) on: Apr 05, 2020

From the ice and clubhouse of Mapesto, the baseball fields of Transcona. To the bus trips with the Saints and Poker games. Derek and my son had a relationship. I watched and will forever remember his greeting to me coming or going, Mr "D" see you next time. - Posted by: Bill Dubas (friend) on: Apr 05, 2020

Derrick was a top notch GP guy when he was in uniform humping calls in a cruiser car..... He was on the same shift as I when I worked in the Comm Centre and he could always be depended on volunteering for calls when they were voiced for a unit to attend...always appreciated his offer and his help to get the que in order....he was a welcome visitor to the Comm Centre and his attitude and smile were infectious and the coffee he brought was most welcome...good guy gone to soon...condolences to his Family. - Posted by: Mike Ewatski (co worker WPS) on: Apr 05, 2020

My husband worked with Derrick and truly loved and admired him. I had the pleasure of meeting him at a work gathering only once but from that point on I could not walk into East End without saying hello to my new friend "boss man" and sharing some friendly banter. I will definitely miss seeing his face. - Posted by: Cheryl Sawatzky (Friend) on: Apr 05, 2020

My deepest condolences to all of Derrick's family. My early hockey and baseball years were spent as a teammate with Derrick. Together we were inducted to the Manitoba Baseball Hall of Fame. We made lots of great memories - On the ball diamond, on the rink and on the golf course. RIP Derrick. Alan and Cathy Willey - Posted by: Alan Willey (Friend and former teammate ) on: Apr 05, 2020

I always enjoyed seeing Derrick at church. He had an infection laugh and was so easy to talk to. My heart felt condolences. - Posted by: Kerry Kruger (Friend) on: Apr 05, 2020

I had the opportunity and pleasure of working with Derrick in the East District Community Support Unit, he was a great person and supervisor and was always willing to do what he could for the members working for him. Derrick's work ethic was an example for other officers and his sense of humor always had us laughing, he will be missed. Condolences to his family and friends. -Jess, Megan and Kate. - Posted by: Jess Zebrun (Co-worker) on: Apr 05, 2020

Derrick was the most influential coach I've ever had, in hockey but in more than hockey too. Memories fade, but I have often thought back to 1984-85 and the effect that he had on a group of 11-year old kids. Through simple rules (play as a team, equal ice time for every player, success comes from hard work, learning through having fun), he created hockey players for life. The confidence he showed in me, allowed me to have confidence in myself. I had no idea at the time, and I certainly had no idea that this would transfer to my own kids and every other player I've coached on the ice or the field too. - Posted by: Rodney Neufeld (Player (whom Derrick coached in 1984-85)) on: Apr 05, 2020

I first met Derrick when my son Rob played hockey for the Transcona Regents. Derrick coached the team to the Provincial finals. I was very impressed with his ability to relate to the kids and the parents and how the team responded to his coaching. My son went on to play for the St. Boniface Saints and so for a few years I never saw Derrick. Then he joined the W.P.S. where I was fortunate enough to be a colleague of his. Although I never worked directly with Derrick I know he was a highly respected Police Officer and excellent investigator. Even though I did not work directly with Derrick I was fortunate enough to have a relationship with him through the Police hockey league where Derek was also respected for his hockey ability. Derrick will be sadly missed by all who were lucky enough to know him or work with him. R.I.P. officer Todoruk. My sincere condolences to all the family. - Posted by: Ross McCorriston (Co-worker) on: Apr 05, 2020

Deb and I wish to offer the TODORUK family our sincerest condolences on the loss of your loved one, and a true friend to us. I worked with Derrick in District 4 (Transcona Division) in the back office (Detectives) and later on the Arson Strike Force. He was a hard worker always ready and willing to conduct our investigations, and help the uniform members when intricate and extensive investigations were required. He had a good repour with victims, complainants' and suspects, and as well treated everyone with fairness and dignity. He was also well liked and respected by his peers and superiors. Derrick even managed to teach me how to golf, sort of, and was not easily frustrated with me, although I did frustrate him with my style of golfing (or lack of style). We will miss him... - Posted by: Rick Vandekerkhove (friend- ex-partner) on: Apr 05, 2020

Sending our sincere condolences to Derricks family . I had gone through school with Derrick and always had a great memory of his happy , friendly and personable nature . Although I really never saw him much in his adult life , when I did , I saw he was that same wonderful person . Sounds like he was a great father and husband as well . May you all cherish your wonderful memories together and , Derrick, may you Rest In Peace . - Posted by: Janet and Wes (Friend ) on: Apr 05, 2020

From one hockey parent to another, I met him along the glass at hockey tryouts a few years ago, but passed him in the rink many times through the years. His blue eyes, gentle demeanour & unwavering support for Michael left a mark & I know that his "cheers" will live on in his boys. Our thoughts are with you all in this time - Posted by: Vanessa Davis (hockey parent) on: Apr 05, 2020

Condolences to family so sorry for your loss sending love and hugs to family and friends. He was an amazing officer. - Posted by: Florence Allard (Coworker) on: Apr 04, 2020

Derrick will live on in many of our memories. He was family first. He was a loyal friend. He was a mans man who was always willing to lend a helping hand. He was a trusted colleague who always had your back. He had a great sense of humor, strong integrity and impeccable honesty. He will be missed but never forgotten. - Posted by: Brian Cyncora (Friend & Co-worker) on: Apr 04, 2020

So sorry for your loss. My sincere condolences. I had the the opportunity to work with Derrick on numerous occasions. His professionalism, dedication and sense of humour has impacted all that have had the privilege to work with him and know him. So sad for your loss. - Posted by: Robert Young (Co worker) on: Apr 04, 2020

Derek was my Sgt. in community support but more than that he was my friend, a constant support and a caring human being. He often put others needs before his own. He was a devoted husband and father who could not be more proud of his boys. It was my privilege to have known him and my heart goes out to Maria and the boys. The world has lost a great one. Rest easy my friend. - Posted by: Travis Cairns (Friend) on: Apr 04, 2020

Maria, as I was browsing the obituaries today I am saddened to see you lost your husband and father of your boys. My deepest condolences to you and your families during this very difficult time. Most sincerely, Vickie and Fred Emms Karen Belcourt and family - Posted by: Vickie Emms (friends from school) on: Apr 04, 2020

Dear Maria, Michael & Kyle: I was shocked and saddened to hear of the passing of Derrick. He had such a profound influence on me at a young age. Although we've never met, I've heard a lot about you all this week from some close friends and family. I've included a special story below that I posted on Facebook. My sincerest condolences to you three, and the rest of your family at this very difficult time. Here's the story: Transcona lost a very special hockey coach late last week. Derrick Todoruk inspired many kids to be the best athletes and people that they could be, and I was lucky enough to be one of them. Derrick and our co-coach George lead us to victory in an improbable fashion during the 1984 -1985 hockey season. We were in grade 6, and this was my first time playing at a more competitive level. We had a pretty good season, and snuck in to the last playoff spot right at the end of the season. And that's when the magic began to happen. Derrick and George instilled a workman-like effort in to us all. We all knew our roles and played them to a "T". One victory lead to another, and we advanced to the city championship final - best of 3. We were playing the team with one noticeable superstar, and we.... well we had some very good players, but we were going to have to win by committee. Game 3 was the most exciting and nerve racking evening of sports in my youth. The game got to overtime, and I saw a young and very hungry Jared M. come flying off the bench, I sent a pass over to him, and he finished the game. We won it all and it felt great! People often comment on my memory - it's still crystal clear at 46. Some of the most special moments that I hold dear in my childhood are from that playoff run with that amazing group of guys, and the coaches Derrick & George. I often tell my kids that championships don't come around every day, so when you get in that position, do your best to raise the trophy. I never won anything again in youth sports - and that's ok. This one was so special it's going to last me a life time. Derrick is the 2nd team "family member" that we've lost, and it really sucks. Cheers to Derrick! Gone way too soon. Love ya man. - Posted by: Tim Mushey (Derek was my hockey coach) on: Apr 04, 2020

I couldn't believe this news, Derrick and I were classmates, as two older guys in class we studied together, completed most practical's as partners, and even started our special duty jobs together. Derrick was just a down right great, honorable person and friend. Its incredibly sad he be taken so young. My prayers go out to all his family. Rest in peace my friend. Bill and Linda Haines - Posted by: bill haines (classmate) on: Apr 04, 2020

We are very sorry to hear of your loss. Our sincere condolences to the family. Jeff, Anna, Owen & Macy Wilgosh - Posted by: Jeff, Anna, Owen and Macy Wilgosh (Friend) on: Apr 04, 2020

I had the pleasure of getting to know Derrick very early on in my career with the WPS. He always had a smile, time to talk and of course his beautiful blue eyes always stood out. Although we did not see each other often, you could always strike up a conversation with him and feel as though he really cared about what was going on in your life. Derrick you are one in a million and the world is a better place for having you in it. Now you are an angel and free from that horrible disease. My sincere condolences to your entire family, I can't imagine how much they miss you. - Posted by: Sheree Hanysh (Co-worker ) on: Apr 04, 2020

Always had a great laugh with his many stories of work, and lots of the family too, when he came to drop off the overtime slips.. And yes... those blue blue eyes made us girls melt!! Sending hugs to your family and up to you Derrick-pooo. Xoxo Patti-pooo - Posted by: Patti Petrie (His FAVORITE Arson Clerk) on: Apr 04, 2020

Our hearts are heavy with the news of Derrick's passing. Over the last year we've thought and spoken of your family often. We took joy in seeing your relationship grow then marriage then family. Please know we are praying for you and your boys. Our deepest condolences. Love you ♥️ - Posted by: Chris & Christina Remillard (Friends ) on: Apr 04, 2020

"Turk" was a great teammate during our hockey days. So sad to see him leave us so early. - Posted by: Gary Michalick (Teammate) on: Apr 04, 2020

I enjoyed meeting and working for a very dedicated officer. Taken far too young. Condolences to his family. - Posted by: Rand Pearson (Co-worker) on: Apr 04, 2020

Words do not suffice to express the heartfelt sorrow we feel for Derrick's passing. He will be remembered as an athlete, friend and man of integrity. We shared many seasons playing together (baseball) or against each other (hockey). Derrick earned the respect of teammates and opponents with his skill, passion, heart and desire. A standout 2B and Pitcher for Transcona Junior/ Senior baseball teams and an All-Star Defenceman with St. Boniface Saints of the Manitoba Junior Hockey League. Over the past few years, we shared our similar challenges and mutual encouragement of the Cancer journey. I will remember our special chats and how his voice sparked when discussing his family. Till we meet again.... "Cancer can take away all of my physical abilities. It cannot touch my mind, it cannot touch my heart, and it cannot touch my soul." - Jim Valvano - Posted by: Max Feierstein (Friend and Teammate) on: Apr 04, 2020

I knew Derrick from the Winnipeg Police. Although we never worked directly together we did interact on investigations at times He was always friendly and professional and simply a very nice genuine person. Sorry to the family for their loss. - Posted by: Dave Lysyk (friend and coworker) on: Apr 04, 2020

I am so hear of your loss. Although I have not seen Derrick or Maria for some time there people you will never forgot. Derrick is one of them. Derrick was always smiling and ready for a laugh. It was truly my honour in Knowing Derrick. With deepest sympathies Tim - Posted by: Tim Austin (Friend ) on: Apr 04, 2020

Darling Maria, Michael, and Kyle, You all are in our thoughts and prayers during this very difficult time. Derrek was a beautiful person who loved his wife and family above all else. It was evident any time you spoke with him. He was so proud of his boys. His beautiful blue eyes and smile will always be remembered when we think of him. Our lives are better for having known him. We feel blessed with your families friendship. Please take care of your hearts, Love always Jeff, Kim, Sam, and Zac Szyszkowski - Posted by: Jeff, Kim, Sam, and Zac szyszkowski (Friends ) on: Apr 04, 2020

My sincere condolences to the family. I worked with Derrick during his tenure at the Arson strike force. His compassion for his job and caring for his colleagues was beyond exceptional. May he Rest In Peace. - Posted by: Bill Harrow (Friend) on: Apr 04, 2020
Email Alerts
Sign up for free email alerts of new obituaries for specific people, towns & more.
❮ Go Back to Listings