Search:

Winnipeg Free Press Passages
All Titles
Notices are posted by 10 am Monday through Saturday
❮ Go Back to Listings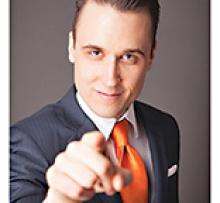 STEFAN AARNIO
Born: Jul 13, 1986
Date of Passing: May 06, 2020
Send Flowers to the Family
Offer Condolences or Memory
STEFAN AARNIO
July 13, 1986 - May 6, 2020

"The Fear of Death follows from the fear
of life. A man who lives fully is prepared
to die at any time" Mark Twain


Stefan passed away, at home, in the loving arms of his mother Jan Paton, father Aarle Aarnio and brother Nicholas Aarnio (Jayda Boily).
A Renaissance man, always wise beyond his years, he was a prolific reader and Philosopher, an Artist, a musician, a standup comedian, and a gifted entrepreneur. Stefan travelled the globe seeking knowledge and sharing his messages through public speaking and coaching on real estate investing.
As a child, Stefan was the leader of the pack. He loved LEGO, building tree forts, Ninja turtles and competitive computer gaming. He loved the humour in King of the Hill and the Simpsons and could easily quote dialogues from favourite movies and songs from musicals. Stefan was on stage the rest of his life.
He was a collector. "I had always been a collector starting with bottles. As a baby I would waddle around in diapers collecting, then it was toy lawnmowers, and then houses and investment properties as an adult".
Stefan was the oldest of Grandma Hazel's grandchildren and they adored each other. They cherished their breakfast gatherings where she shared stories of the Second World War, the Depression and farm life. She was Stefan's first angel investor starting him on his way in business. He was forever grateful. Stefan was a visionary, 10 steps ahead of the game. He was a force of positivity for his partners at Black Card Academy: Ian Streutker, Connie and Allen McIntosh, Jason Greschuk, Brian and Tina Merryman, Rasna Arora, Dan Nagy, James Dmytriw, Sean Lacap and Luke and Jordan Lintz. He coached and motivated people to reach their highest potential and loved to see student success, touching and guiding the lives of many.
Stefan wrote and published eight books. The first publications focused on the art of sales, negotiation and achieving success in the real estate business. As Stefan's spirituality grew, his later publications dealt with his personal experiences while fighting illness. He states: "Do not be afraid to fail for failure is a major part of success. I regret none of my failures. I have loved and lost love. I have won and lost friends. I have made and lost money. I've had health and lost my health. Through the wins and losses the only regret I carry with me is "not doing it". Stefan lived life on his own terms.
"Don't be afraid to break the bank, don't be afraid to break your heart, and don't be afraid to break the world". Through sickness and suffering, Stefan never talked about his illness. Determined to conquer cancer through alternate treatments, he sought spiritual guidance and, at one point in 2019, he was cancer free.
On four occasions, he travelled to the jungle in Costa Rica to heal through water fasting. He carried with him his Grandpa Harvey's childhood bible and it changed the course of his life. Stefan had a second chance to live in a new way. He became more spiritual and met God. Stefan fought cancer with the same fierce passion and determination that shone through in his other accomplishments.
On his return in 2019 he wrote: "I surrender to the fact that I am dead and every day from now on is a gift. Cherish each gift, cherish each day as you fight back the vines that are growing over on your little plot of earth you call life. For one day you will die, and the vines will overtake you. All that will matter will be the people you loved, and the people who loved you. To love and be loved unconditionally".
Stefan evolved, became a greater spirit, ready to move on to the next life.
He sometimes saw himself as a Viking warrior, who would eventually reside in Valhalla with the God Odin, where all wounds are healed and the warriors are restored to full health. They battle all day and feast all night.
The depth and scope of the life he lived was incredible. He never shied away from sharing his opinions and thoughts. He filled and owned a room with his personality as soon as he entered it. Given what he accomplished in 33 years, no one can imagine what the balance of his life would have looked like.
Thank you for the generous support from Stefan's loving aunties: Carla, Joy, Barb, Monica and Dori, his cousins and extended family. The outpouring of support from friends and business acquaintances has been astounding. His followers are vast.
He received Manjeet's magic mango, healing teas and tinctures, and the listening ear of his life coach Jan. We are grateful for the bedside book club, Jason's Kangen water, the food and flowers that arrived, for Pastor Leon and Pastor Ernest from Springs Church who reached out to Stefan, and Cien for the Buddhist "opening of the heart" ceremony.
Wherever you are Stefan, they heard you were coming and are already sitting around mesmerized, listening to you.
A Celebration of Life will be announced at a later date.
Should friends so desire, donations may be made in Stefan's memory to Siloam Mission www.siloam.ca
INTEGRITY
Cremation & Funeral Planning
204-295-5408 - IntegrityFuneralPlanning.com
As published in Winnipeg Free Press on May 09, 2020
Condolences & Memories
(46 entries)
I have been reading Stefan's work for over two years now. I've been rendered the opportunity to coach and mentor students as my university on entreprenuership. Here I am, thinking... how do I get ahold of this great thinker. What an idiot I must be... just found out today, after all those bookswhich mentored me, that Stefan passed awat TWO years ago. It's amazing when a person lives their full potential, they live through ages. Not only did his teachings make me a better business women, but a better person. I quit smoking and I was convinced by a man in the afterlife. WOW... He is a generational legacy for my grandkids. Long live Stefan! Love from South Africa. - Posted by: Nomcebo Msomi (Fan) on: Feb 10, 2022

Stefan's book, "Hard times, Strong men" has helped me get my life together in so many ways I cant even begin to list them out. Thanks Stefan, for pouring out your wisdom on paper, and helping us lost men. The value of what you have given us is so immense I am sure it will be a book that marks a before & after for men all around the world for generations. Rest in Power Stefan. - Posted by: Andres (Reader) on: Aug 10, 2021

I am late , I just found out Stefan passed. I was his nurse when he was admitted to ICU in Florida. Such a strong determined young man. He didn't even want me to call his family to tell them he was ill. I did anyway! We had a few great conversations,and he will be missed! Prayers to using family! - Posted by: Rae Ann Burman RN (Nurse) on: Nov 10, 2020

Stefan left behind a guide for boys to become Men, which is more needed now than ever before. His legacy will far out live him, but I'm sure he would not care much for that, as Marcus Aurelius said, fame is fleeting. - Posted by: Owen (Student) on: Oct 13, 2020

Philosopher, genius, entrepreneur, self made multi-millionaire, and visionary. I never had the pleasure of meeting Mr Aarnio. I'm 17 and about to start learning at Blackcard for RE because of him. I turned my life around in a big way because of him. I may have never met Stefan but he changed my life. My deepest condolences to the Aarnios. Stefan was a gift to the world. - Posted by: Tom Hudson (None) on: Sep 27, 2020

I never met Stefan, nor have I ever corresponded with him, but I was an avid reader of his as well as a regular viewer of his videos. I was talking about Stefan to my brothers and sharing the inspirational and motivating awesomeness of his spirit when I read of his death. I just want to offer his family and friends my deepest condolences for their loss, as I felt a punch of pain myself and I never even had the honor of meeting him. Stefan inspired me to change and take charge in my life, and for that I am grateful. His legacy will live on forever, and he will be remembered by us all for the great man he was. God Bless Stefan Aarnio. - Posted by: Ignatius Horstmann (Fan) on: Sep 16, 2020

I just learnt of Stefan's passing. As a fan I found Stefan's passion and success truly inspiring. As a single Mom I am on my way as a real estate entrepreneur and I owe that in part to people who have inspired me to not settle for mediocrity; one of those people was Stefan. It's amazing what he had accomplished in his short life. May he Rest In Peace and May his drive and ambition continue to inspire. It's not how much time we have but why we choose to do with it. - Posted by: Jenelle (Fan) on: Jul 28, 2020

I found Stefan's YouTube page by accident a year ago. Since then, I've been reading his first book in the series Hard Times Create Strong Men and watching all of his videos. I have used the lessons/advice inside and applied them to my life, and have been preaching to those that I lead. Please accept my condolences, and thanks for supporting him on his path to reach people through his work. - Posted by: Steve Huneau (Customer/Fan/Pupil) on: Jun 28, 2020

To the family of Stefan Aarnio. My condolences. I lost my father about the same time you lost Stefan and it is tough. I only recently have come across Stefan Aarnio. I was given his book "Hard Times Create Strong Men." I didn't know what to expect, but quickly realized that Stefan is a Sage. Brilliant. I was glad that the world still had minds such as his. Then I found out he'd recently passed and my heart was sad. My tribute to him is that I will push this book to anybody who will read it starting with my 25 year old son. This is a must read. - Posted by: Jof Inairec (Fan) on: Jun 16, 2020

An inspirational coach, a driven spirit & a beautiful soul. Happy travels... - Posted by: H.A. (Student) on: Jun 12, 2020

Never met Stefan in person but his book the ten commandments of negotiations and was very touched. Didn't know of his passing until today. You will be missed by all. - Posted by: Adnan Anwar (His published work reader ) on: Jun 10, 2020

I never met Stefan in person, but his knowledge and story changed my perspective in life and have inspired me. I am absolutely shocked and deeply saddened to know that Stefan has passed away. Even being the busy man he was, he took time to answer a question/comment I had for him on Instagram. What a loss humanity has endured with his passing. He truly changed my life with his book Hard Times Create Strong Men. He was undoubtedly the epitome of the strong man which he references in his book so often. My condolences to the Aarnio family. We have lost a great man. But gained so much from him as a desperately needed mentor for this generation. His knowledge, story of a self-made millionaire and legacy for creating strong men to lead our communities and country have undoubtedly made his family proud and will continue to help and guide others to become the strong men Stefan demonstrated to be. Again, much love and support to the Aarnio family. - Posted by: Paul Rodriguez (Customer) on: Jun 08, 2020

Dear family, friends and loved ones, my deepest sympathy to you for I have just come know of Stefan's passing on. Stefan, I had no idea of your physical battle which makes all your messages, literature, media & conversations all the more noble. You have paved a way less travelled in which many could never follow with such uniqueness as you have. Your thoughts, life works, practices and earthly gifts will continue on as you have passed the torch for all those willing to handle the trek. Your visionary point of views have not been lost on me as I continue on. Your energy lives on, I know for certain. Meet you on the flip side one day, Stefan. - Posted by: M-Love (Acquaintance) on: May 29, 2020

I spent many summers during my most formative years alongside Stefan as fellow bassists in the Winnipeg jazz scene. I first met him at the International Music Camp, and my first year in the honour band there was as co-bassist with Stefan. I learned a great deal from him then and over the following years as we both ventured into the emerging jazz scene in Winnipeg as we finished high school. Though I had lost touch with him in recent years, the impact that was made on me by him and others during these years remains to this day. My deepest condolences to the Aarnio family, who lost a good one far too early, and who now see a difficult time made even more so. - Posted by: Jesse Dietschi (Friend/musician) on: May 28, 2020

My Condolences to Stefan's family. There was no mention in his obituary of his best and primary mission. It is a true shame a man of Stefan's principles was taken so young. He was a very talented writer, philosopher and mentor, destined for great things. Rest in Peace Stefan - Posted by: Kevin N (follower) on: May 23, 2020

I only knew Stefan from his personality in Hard Times Create Strong Men. I though he played the dad figure to many young men who were looking for guidance on what a strong man is, how he thinks and behaves and what he strives for. At a young age, in his early 30s, Stefan managed to become a real-estate success and really was an inspiration on how to live your best life. All the best and Rest In Peace Stefan. For all those who have not read his book, I strongly urge you to give it a chance to change your life. - Posted by: Harmeet (Book reader) on: May 19, 2020

Really sad and surprised to hear about Stefan Aarnio'a death. I read hard times strong men and was so moved when he posted my brief testimonial on his Instagram. Would of loved to met him in person, but things aren't always how we want them to be. But now I realize that never to try to become a better man is a waste of precious time, and his death though sadly, has proven to become a lifelong lesson for us all. Wish his family strength is these hard times to be. Thank you. Gbu - Posted by: Igor (Fan) on: May 15, 2020

Jan and Family, Dori just informed me of the loss of your son. My deepest condolences. It sounds like you created and raised an exceptional human being. It is truly astonishing what he accomplished. I hope it warms your heart to read such loving, respectful tributes to him. He touched so many lives, all positively. I'll keep you all in my prayers, it is a terrible journey to travel. Find comfort in all the wonderful memories. Patti - Posted by: Patti (Calderwood) Larson (school friend of Jan and Joy) on: May 14, 2020

I am rocked to hear this news today. We met at a conference 6 years ago. We kept in touch and I saw him 2 years ago and had pleasure to take him for breakfast. Last contact I had with him is when I complimented him on his book, Hard Times Create Strong Men. I loved his audacity to speak the truth in that book, as he did in life. I was troubled to hear the news this morning from a friend I had introduced to his books. He thanked me for introducing me to Stefan's works. Few people impacted me like Stefan did. I will forever be grateful to have met Stefan. He was a man ahead of his time and the current state of affairs globally unfortunately confirms his research. Knowing Stefan, I can understand and respect why he kept his new struggles to himself. RIP Stefan. You will be missed and remembered forever. I had no idea his illnesses came back. You have inspired me in the past. I will try my best to honour your lessons you have shared with the world. Warmest love and respect, Alberto - Posted by: Alberto (Friend ) on: May 14, 2020

Dear Stefan, I am writing to say thank you. I was listening to your book while I was driving to work. It motivated me, it pushed me and made me create a value system that I believe in. Thank you for that! You are wise beyond your years, and despite the fact that I am way older, you added so much depth to my life. You will be remembered. You left us young, but you made a generational impact. I wish your family strength and courage through this difficult time. Please protect them from above. Matt - Posted by: Matt Z (Fan ) on: May 13, 2020

Hello. I would like to start with offering my condolences to the family and loved one. Stefan & I first met in University. We became friends because he and I had a similar approach to life. He started working on his guerrilla recording blog and building a community there. It was shortly after when he moved into flipping homes and buying precious metals, whereas I moved on to pursue a career in music. Although we had grown apart we had always found a way to chat again over the years. It was something I looked forward to. I was just thinking about him last week for no apparent reason, and today I saw a post on social media in memoriam of Stefan. Stefan was a great person. He had a good heart. He was productive and mentally strong. He and I agreed about a lot of things, which for me is rare in this world when it comes to other people. I feel like in some way we were cut from the same cloth. I will miss him. I'd like to thank him for the good times we had when we were younger, and for being the brave person he was. - Posted by: Greg Arcade (Old Friend) on: May 13, 2020

I am so, so deeply saddened by Stefan's passing. His life and untimely death is momentous. My heart goes out to his parents, brother and family. Even though I hardly knew Stefan, I think of him and his loss every day throughout the day. He was a beautiful soul, so gifted and had such a major and profound impact on my son's, Jordan lives. He was larger than life. Stefan was an amazing man. He was incredibly intelligent and so capable. It is so unfair someone with so much to give was taken out of this life so young. We loved Stefan. My sons and I will miss him deeply. He lives on through his writings, those who loved him and those whose lives he touched. - Posted by: Tannis (Luke and Jordan Lintz's mom, our friend) on: May 13, 2020

My deepest and heartfelt condolences to Dick, Jan and Nicholas for your loss. I'm speechless and sending healing thoughts your way. - Posted by: Greg Zembik (Friend ) on: May 12, 2020

I am shocked to hear that Stefan is no more. I consistently watch his videos regarding Real Estate and how to build a fortune. Rest in Peace. You have made great name and people will always remember you with love. - Posted by: Harinder (None) on: May 12, 2020

I loved listening to Stefan speak. I found it easy to learn new concepts about business from his straight to the gut wisdom. Great real estate club!! I enjoyed our chats in the studio while recording his books, I watched him become such a great voice talent in the studio as he pounded thru half a book in one sitting. His work ethic was second to none. I'll continue to watch his YouTube videos and revisit his books some more. RIP Stefan. Jason (studio11audio) - Posted by: Jason Gordon (Recorded first audiobooks) on: May 11, 2020

Condolences to the family. I had the pleasure of spending four days interacting with Stefan in the Fall of last year at a conference. I had interviewed him for my show. It was dynamic. We all appreciated him. Gone too soon. Rest in peace Stefan - Posted by: George Bruno (Friend) on: May 11, 2020

Very sad time for the family. I am a cousin in the US, just traveled to Winnipeg last year and saw Stefan in action at a conference . Very dynamic, focused and confident. Blessings to Jan and her strength as she mourns this heroic son. - Posted by: Karen Peifer (Cousin) on: May 11, 2020

Deepest condolences to Jan and the family. Such a loving tribute for a son who loved and was loved. - Posted by: Jackie Corrigan (none) on: May 11, 2020

STEFAN HELPED ME BECOME A BETTER MAN, A MAN OF VALUE, I START READING BECAUSE OF HIM AND HE WILL ALWAYS BE REMEMBERED EVERY TIME I GRAB A BOOK. MAY HIS GREAT SOUL REST IN PEACE. - Posted by: FAYCAL REBBAH (FAN OF STEFAN ) on: May 11, 2020

Hello. I did not know Stefan personally, but it sure feels like I did. I consider him a hero of mine. Ever since I discovered him a few years back, I have admired all his work and content. He was an extraordinary man and truly wise beyond his years. I am 22 years old, and I strive to one day be as caring, wise, and strong-spirited as he was. Stefan's legacy will live on every day through those he inspired and helped in his lifetime. I send my deepest condolences to his family. - Posted by: Mitchell Khayata (Student) on: May 11, 2020

I was a close friend with Stefan throughout middle school and high school. My favorite memory is of his mother, Jan, driving us around in the Aarnio mini van blasting Sepultura through the streets on Lindenwoods. We would often head to Long & McQuade and jam for hours trying different guitars and amplifiers. As you are all aware, Stefan was an incredibly talented and dedicated musician, playing in everything from disorganized garage bands to live wedding bands. In the early years he was also a passionate snowboarder as his family would take the annual journey out west to Fernie. I was new to the sport but Stefan patiently taught me on the slopes of Holiday Mountain in 2001. As we matured during and after high school our attention turned from metal music, Starcraft and snowboarding toward business. I helped Stefan finish the renovations on his first house in West Broadway and often talked about ideas with him. Never one to be shy of taking risk, Stefan convinced me to take out a student line of credit during the financial crisis to invest in the stock market. Sadly I slowly lost touch with Stefan when I left the province in 2014 but it seems like these last five years have been interesting and fulfilling as he continued to build his real estate business. To Jan, Aarle, Nick and all of Stefan's extended family, I'm so sorry this had to happen. Stefan was an incredibly unique individual who pursued life on his terms. I learned a lot from Stefan and am blessed to have crossed paths with him. - Posted by: James (Jim) Barnby (Friend) on: May 10, 2020

Hello, my name is Patrick Bennett. I got the opportunity to meet Stefan many years ago through our sons, Calvin and Evan. Stefan had rockstar status with them. He was cool, smart and witty, but most of all he was an awesome guy who took time to engage with our children. Calvin took guitar lessons from him and loved every minute of it. Well he never played his guitar to thousands of adoring fans he was mentored by a gentle man and gentleman. One evening Stef and I discussed real estate investment and I was so impressed with his intelligence, articulation and maturity beyond his years. I also had the opportunity to read his first book. His intelligence and depth of thought resonated through it. As a family we are shocked and saddened by this loss. We will always have pleasant memories of Stefan. He was our "special guy." Thank you for raising such a gem. - Posted by: Pat Bennett (Former guitar instructor, babysitter and family friend) on: May 10, 2020

My condolences to your Mother and your entire family. Stefan was a man way ahead of his time. I had the privilege of attending two of his presentations and have two of his books. He had such a way with people. He made an impression on everyone he met and I will never forget him. - Posted by: Diane Mosher (Friend/acquaintance) on: May 10, 2020

I am moved beyond telling to hear of Stefan's passing and hold the grief it causes his family in my heart. That his passing is a transformation, does not lesson pain but I pray, engenders hope. I remember the young boy whom I taught piano many years ago, and many lessons with the clarity of that which is current. Love has no past, only present. May you be blessed, truly with the peace which passes understanding. - Posted by: Mary Hawn (Piano teacher) on: May 09, 2020

My deepest condolences to you Jan, Dick and Nicholas. So many fond memories of spending time together as families and watching Stefan grow up to be such a successful, articulate young man. I'm sure he made you very proud. The last time I saw him he had asked me to make him perogies as he said he thought they were the best he'd ever had. I hadn't seen him for quite a few years but he told me all about his business ventures, good and bad, and gave me one of his books. He seemed to live life to the fullest and be so focused on his goals. I'm sure he has touched many lives, my family's included. Our thoughts and prayers are with you. - Posted by: Marilyn Ekelund (Porisky) (Family friend ) on: May 09, 2020

I've been following Stefan for nearly a year. I followed others who had the same intent as him, but none cared as much about helping those who followed him. I bought his books and watched his videos, but most importantly, I asked him questions. Never once did I ask a question that he didn't respond to and because of that, I'm a much better person today. Sometimes we actually had conversations and he told me how to fix up my life and I couldn't be more appreciative of him. I was likely minuscule in his life, but I looked up to him and I can barely process the fact that he's gone. I'm sorry to his mother, father, and siblings for such a loss. It's going to be really hard for a while, but I know he went directly to Heaven because he belongs in no other place. Rest in Peace Stefan Aarnio. - Posted by: Ishaan Singh (Follower) on: May 09, 2020

Stefan, What can I say? When you have met Stefan, trying to describe him in words is impossible. He had a way of digging deep into your soul to see who you were. He wanted to know. He was truly interested. He gave everything and wanted it all. I only got to know him in the last 2 months, but was blown away by this amazing human. So happy to know him. I cannot stop thinking about him and praying for him. I keep telling him to go to the light. I think he has. I think he is with God. - Posted by: Sylvia Bock (friend, business acquaintance) on: May 09, 2020

I met Stefan as he was just starting out in business. As a banker we had many discussions about the need for money to fuel the potential that Stefan had. He was a force of nature and I any sorry for the family loss. I will miss him. - Posted by: Tullio D'Ottavio (Friend ) on: May 09, 2020

I discovered Stefan on social media and his teachings, style and viewpoints always hit home with me. He had a unique and powerful message and he is an inspiration to me and I hope to carry on his message in as many ways as I can. We interacted a couple of times through messages and he was always a pleasure to talk to. The news of his passing was very sad and surprising to me. Stefan's words and teachings will be carried on and I will carry a part of him with me forever. I have the deepest sympathy for his family and friends and wish you peace in this difficult time. I am breaking into the self-education industry myself and use Stefan as an inspiration and he was definitely a role model for men in today's world. Thank you Stefan and may you Rest In Peace. Sincerely, Brian Ogrin - Posted by: Brian Ogrin (Follower) on: May 09, 2020

From the moment I met Stefan I felt his deep sense of confidence, congruency, resilience and intense passion for speaking his truth and making a difference in the world, all qualities which I admire and respect. Sending loving, healing wishes to family, friends, colleagues. May he rest in peaceful bliss. - Posted by: Jacquie Nagy (Stefan and I met twice. He made a lasting impression) on: May 09, 2020

Sincerest condolences to the Paton/Aarnio families on this loss. Yes, Stefan was a force to be reckoned with. Few people have such vision, strength, and confidence in their destiny. May God bless him in his new world. And may God be with Jan as she mourns her unbearable loss as a mother. - Posted by: Karen Peifer (Cousin) on: May 09, 2020

Hello, I just became aware of Stefan's passing, and I'm in shock. I didn't know that he was sick again. My condolences to all of you. He truly was one of a kind, and I always looked forward to working with him on recording his audio books. He was always upbeat and energetic. In fact, the last book we recorded, The Oracle, he did in one sitting! He arrived at about 10 am and finished at 10:30 pm taking only one half hour break to eat a bunch of oranges. That's crazy. I've been in the business for 35 years now, and that's a new record for endurance. He will be missed to say the least! John Schritt Channels Audio & Post 1010 Palmerston Avenue Winnipeg, MB CA R3G 1J9 channels.edit@shawbiz.ca Call or Text: 204-782-8248 Website: channelsaudio.com - Posted by: John Schritt - Channels Audio (Sound recording and editing) on: May 09, 2020

I didn't know Stefan but I wish I had. Such an interesting person and beautiful obituary. He loved and was loved. Condolences to his family and friends. - Posted by: Pierrette Hebert (None) on: May 09, 2020

We were very saddened to hear of Stefan's passing. He had given so much and had so much more to give. He made the world a better place and inspired many people to reach new heights. Our thoughts and prayers are with you all. Rob and Jo - Posted by: Rob and Jo Poapst (Family friends) on: May 09, 2020

To the Aarnio Family - I am so sorry for your loss. I wish you much strength at this time and the warmest of memories of a truly remarkable and accomplished young man. - Posted by: Sharad Srivastava (Family friend) on: May 09, 2020

hello, I'm writing to thank you for this beautiful tribute to your son and friend, Stefan. I did not know Stefan but as one who is battling cancer for the second time I found this tribute to be very inspiring. He must have been quite a man. My hope is that you may temper the pain and agony of your loss with joyful memories of your shared time together. My wish for you during these unsettled and unprecedented days is peace. Tim - Posted by: Tim Friesen, Altona (none) on: May 09, 2020
Email Alerts
Sign up for free email alerts of new obituaries for specific people, towns & more.
❮ Go Back to Listings