❮ Go Back to Listings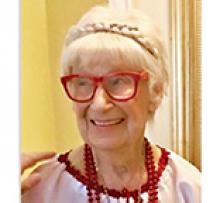 ANNA RITA BABEY
Born: Sep 27, 1922
Date of Passing: May 04, 2020
Offer Condolences or Memory
ANNA RITA BABEY

Anna Rita Babey was born on September 27, 1922, in Hafford, Saskatchewan. She died May 4, 2020, at age 97, in the Month of Blessed Mary, at Oasis New Horizons Tower, Toronto where she received exemplary care for over two years and also for COVID19.
Anna was a proud Canadian and Ukrainian. A devout Catholic. A Matriarch. The oldest living descendant of Wasylyna and Theodore Zipchen, one of Saskatchewan's earliest pioneers.
Anna was the fourth born of twelve children in the homesteader family of Paraskevia Zipchen Hunchak and Alex Hunchak. She grew up on the Canadian prairies during the Great Depression and "dirty thirties".
Ukrainian was Anna's first language, learning English only after going to Nauka school in Hafford. She was proficient in both languages, a lifelong writer of journals, stories and cookbooks, all with magnificent script.
In her teens, Anna worked as a housekeeper in Saskatoon, until she was beckoned home to the farm to help raise younger siblings.
In 1942, she began correspondence with a young Ukrainian immigrant, Paul Babey. On meeting in person several months later, it was love at first sight. Two weeks after meeting, they married in Hafford's Holy Eucharist Ukrainian Catholic Church on September 29, 1942.
Within days, they boarded a train to Winnipeg to begin married life. They settled in Transcona where Paul worked at the CNR shops. They raised their seven children in the heart of Transcona in the Ukrainian Catholic faith at St. Michael's Ukrainian Catholic Church. All neighbours were like family to the Babeys.
Paul and Anna made a formidable team. Together raised a family according to their values and the Catholic faith. Typical of the era, Paul was the breadwinner, family provider, handyman and gardener. Anna was the homemaker who cooked, sewed, taught the children, and volunteered at the church teaching Sunday School, working with the Ukrainian Catholic Women's League and always helping elderly neighbours. She was humble, pious and faith-filled. On most evenings, on bended knees she led the family in praying the rosary. She attended Divine Liturgy daily or as often as she could.
Traditional holidays and holy days were always celebrated by attending Mass and hosting family meals. Forever cheerful, Anna always said: "I've never known depression…" Even in sadness and misfortune, Anna found humour. Her laugh was strong and infectious. She saw beauty all around her. In small things. In detail. She had style, was a lovely dresser, always fashionable.
Anna was a lifelong learner. A creative cook. A hairdresser. Breadmaker. Korovai creator. An ardent Scrabble player. A problem solver. An inveterate reader. An artist of portraits and paintings. An avid obituary reader. Clothing designer. Curiosity seeker. Health enthusiast. When her children learned to swim, piano, typing; Anna learned alongside them.
As her children grew, Anna's life changed. Paul developed medical conditions and retired from the CNR. For the next 22 years, Anna was Paul's loving care-giver wife. For four of those years, Anna also provided care for her father Alex who lived with them. Throughout, Anna continued her church work. She also developed her volunteer worker expertise through Holy Family Nursing Home and other work. During these years she and Paul welcomed the birth of grandchildren.
After Paul died in 1986, Anna moved between Winnipeg and Toronto. In both places she continued her volunteer work: feeding street people, feeding elderly ill in hospitals, and working in nursing and retirement homes.
Anna travelled the world. She visited Europe, Holy Land, Hawaii, other States, the Caribbean, South Africa and Zimbabwe Africa. In Zimbabwe, Anna started and developed a program for street children and AIDS orphans. This later became a permanent program, the first of its kind in the country.
Anna made friends everywhere she lived on Ravelston and Victoria Avenues in Transcona and St. John's Haven Retirement Home where she last lived in Winnipeg before heading to Toronto to New Horizons Tower. Her friends, her children and their children were always uppermost in her mind and heart until her very last day.
Anna was predeceased by her parents, husband Paul, son Jeffrey, grandson Nicholas; brothers and their wives: Steve, Peter, Nick and Sophie, Walter and Sophie, Mike, and sister Olga and husbands, Mike and Paul. Also predeceased are brothers-in-law, Michael Kishensky, John Zelanko and John Lovelace.
Anna is survived by a very large extended family, as well as her brothers, Bill (Edna) and Paul (Margaret); and her sisters, Natalie, Victoria SSMI and Joan; as well as sister-in-law Donna Hunchak. Also surviving her are children, Bob (Stephanie), Donna (Eric), Paulette (Frank), Josephine (Roger), Joanne (Maurice), Marianna (Tom); and her best friend Boris (Denise) Fediusko. Her grandchildren, Tammy (Sheri), Lisa (Sharon), Paula (Quin), Ryan (Amy), Michael, Marston, and Amber (Darren). She was blessed with great-grandchildren, Eden, Bria, Tristyn and Ruby and stepgreat-grandchildren, Coral, Keylee, Kayden and Aiden. Also surviving Anna are many dear nieces, nephews, cousins and friends.
Special gratitude to staff of New Horizons Tower: Tania Nougueria, Justine Bush, Dr. Jenny Hsueh, as well as Dr. Graham Smith and Dr. Paul McHardy for Anna's care over the last few years.
In Anna's memory, donations may be made to Covenant House Toronto, www.covenanthousetoronto.ca or CancerCare Manitoba Foundation.
A memorial service will be held at Rosar-Morrison Funeral Home with Monsignor James Hannah officiating. Date to be determined.
A Memorial Divine Liturgy will be held at Hafford, Saskatchewan at the Holy Eucharist Ukrainian Catholic Church with burial at the Zipchen Family Cemetery in Hafford at a date when travel and other COVID19 restrictions are lifted.
Eternal rest grant unto Anna, O Lord
and may the souls of the faithfully
departed Rest in Peace. Amen
May God welcome Anna into His loving arms
May she soar with the angels
May her memory be eternal
Vichnaya Pamyat!
As published in the Winnipeg Free Press on May 09, 2020
Condolences & Memories
(13 entries)
Please accept our condolences in this difficult time. Loss of a Mother is a significant loss. Sympathies to the entire family. - Posted by: Hubert Dsouza (Parishioner of OLPH) on: May 17, 2020

We feel so very privileged to have known Anna. A very special woman of so many talents, humility & kindness. We will always hold dear in our hearts, wonderful memories of times spent with her on our past visits to Donna & Eric in Toronto, especially for Lara, who shared a birthday with Anna ( 50 years apart ) who was able to spend special time with her last year when she visited Donna and Eric. Rest in peace, Dear Anna, you will be sadly missed but always remembered. We send our deepest condolences to all the Family. Wal, Helen & Lara - Posted by: Wal, Helen & Lara Dean (Old friends) on: May 16, 2020

Will miss you Auntie Ann! You were always so warm-hearted towards me as a child, I have fond memories of visiting you at home and the bunny rabbit we got through your friend. I will always remember your prayerful life and presence. I'm so glad I could see you one more time at my mother's funeral in September. Praying for your blessed repose, Vichnaya Pam'yat. Fr. Greg Zubacz and family - Posted by: Fr. Greg Zubacz (Friend) on: May 14, 2020

My sincere condolences to the family of the passing of your beautiful Mother. She was a devout woman who lived her faith to the fullest and an example to all. God grant her eternal rest. Vichnaya Pamyat - Posted by: Pauline Wowchuk (Parishioner & friend from St Michael's Parish) on: May 13, 2020

Our condolences go out to Anna's entire family. Our Prayers are with all of you in this time of sorrow. - Posted by: Frank & Bernadette Ferguson (Marianna's brother-in-law and sister-in-law ) on: May 12, 2020

Granny you will surely be missed, particularly your smile, laughter, red lipstick, red eyeglass and your hairband because you always wanted to look beautiful. Thank you for the opportunity to come to know you and your family. You are the kind of person worthy of emulation. You inspire us with your life full of love, humility and kindness that shines above all. You live a life that is so beautiful and delightful. You will be in a better place right now and your legacy will always remain. May your family be blessed with peace and comfort at this tinesg. We do testify of the Redeemer's profound words "I am the resurrection and the life, He that believeth in me, though he were dead, yet shall he live." My family loves you. God be with you till we meet again. - Posted by: Madeleine Fernandez (friend) on: May 11, 2020

Dear Anna, you were a blessing to know and a gift for many who never had one...I will always remember the person you were...As I reflect on the passing years, I came across many memories that warmed my heart because you were a part of them, and as well, you were a part of me...Indeed, I was always touched by your love and care, your kindness, your guidance and most of all, your unwavering devotion to Our Heavenly Father, His Son Jesus Christ, and the Immaculate Mother Mary...You taught me as one of your own children, that we each had our own cross to bear in life and a purpose for being here...You shared with me many of life's greatest lessons through your own experiences, your words of wisdom, and even your most intimate thoughts...You showed me how prayer was important food for the soul...I saw how you exemplified your passion to live a true Christian life and how your profession of faith influenced those whose lives you touched...You never judged nor criticized, even the ones who challenged you...You invoked in all you knew a great capacity to love, and for that, they gladly loved you back...In times of tragedy, I saw your faith and trust prevail in that Our Good Lord has taken on your burdens, and set you free...I saw your personal pain as only a mother would know, but how composed you were to manage and overcome it...You imposed and instilled a sense of spiritual growth in each of your children that they could draw from in their own time of need...You bestowed a strength in their character and personalities, but you became the "compassionate advisor" through them...Like my mother, you modeled a life of love, hope, faith and virtue...How you were there for everyone you knew, and that you treated each of them so specially...Always true and authentic to self, your everlasting faith and trust in God's Master Plan was your mission to accomplish here on earth and undoubtedly, mission was accomplished!...All these different experiences made you the very special and unique person who deserves to live an eternal life...I rejoice in my heart in knowing that you are now at peace in the Arms of Our Blessed Father in His Holy Kingdom...I love you, Mrs Babey, as I love my own mother very much, and I will never forget you as long as I live...My thoughts and prayers are with you as you complete your journey into eternal rest...Indeed, God will have mercy on your soul! VICHNAYA PAMYAT! REST IN PEACE! Love Always, Monique xoxox - Posted by: Monique Ayotte (Lifelong Friend, Neighbor) on: May 10, 2020

Bob, Steph, Lisa, Paula and families. So sorry to hear of Loss of your Mother, mother in law, and Grandma/Great Grandma. I Think of all of you so often, keep your memories close. Take care. Susan (Schweedic) - Posted by: Susan Kaatz (Family friend of Bob, Steph, Lisa and Paula. ) on: May 09, 2020

It saddens my heart to learn from my sister, Jean, of your mom's passing. My sincere condolences to the family on the loss of such a wonderful person. She held a very special place in my heart as she was my godmother. Our parents were very close friends and all attended St. Michael's parish in Transcona. She was very kind hearted and always thought of others. On her trip to the Holy Land, she returned with a wooden beaded rosary for me made from an Olive tree. To this day it hangs on a mirror in my bedroom. She will never be forgotten...Vichnaya Pamyat / Memory Eternal - Posted by: Deborah Evans (Kosheluk) (My godmother) on: May 09, 2020

My prayers and condolences to the family. I have fond memories of your Mom, family and our neighborhood. She was a wonderful lady! I remember her having a special relationship with my younger brother Mark. - Posted by: Beverley Laurila (Neighbours on Ravelston ) on: May 09, 2020

Jim and I offer our heartfelt condolences to the entire Babey family on the loss of your treasured mother. She was a true matriarch in every sense of the word and extended her love far beyond her immediate family. Growing up, I had the good fortune to spend much time with Joanne and in the Babey household. I remember the taste of Anna's amazing air buns and her babka and also that we took the (very slow) Sunday afternoon bus all the way to King's movie theatre in St. James to see the Ten Commandments. She made so many remarkable trips all over the world. So many fond memories of Anna... Wishing you all peace as you journey together during this difficult time. - Posted by: Donna Goodridge (Friend) on: May 09, 2020

I have fond memories of Mrs Babey - I lived across the street from her on Ravelston. When I was around five years old she asked me if I would like to hang some laundry on her clothes line. I was thrilled to be asked and I think she was also giving my mother a break as I was standing on a chair unpegging her sheets and letting them fall to the ground. I remember Bob, Donna, Paulette and Jeff in particular. - Posted by: Margaret Uhrich, Ottawa ON (neighbour on Ravelston) on: May 09, 2020

It was in & around the spring of 1974 when I met my best friend Marianne. We were neighbours on Victoria Ave. in Transcona. I was having troubles at home & Annie welcomed me with open arms & made me feel safe. Anytime I needed an escape, the Babey family was there for me. I adored them all, they showed me what a true loving family looks like. It gave me Hope & they saved me. I remember cuddling up to Annie & she would read to us from the Bible. She put Jesus in my Heart & gave me strength to cope with my sorrows. Hence her name became "my Spiritual Mom". Years go by, life gets busy, but still managed to keep in touch with my bestie even though we lived so far apart. We visited Anne when she lived on Grant Ave. in Wpg. I was truly honoured to be a part of her 90th birthday celebration! It was wonderful to reconnect with all the family & loved ones. My daughter moved to Toronto last year, So Marianne & I planned a trip there last July & wouldn't you know it, Annie lived just down the street from my Jasmine! God made it easier for us to visit everyday. I also had the pleasure of spending a night at Donna & Eric's home. Thank you for taking such great loving care of Mama Annie! It was a Glorious experience & a true Blessing. What an extraordinary Lady! I will Cherish the memories forever & Anne is a Great ambassador to God🙏 Te Ne Sei Andata Ma Non Dimenticata Dai Tuoi Cari ( You have Gone but never forgotten for those you hold dear) My real mom passed away 8 years ago on the same day as Annie May 4th. - Posted by: Enza Mazzei (Spiritual daughter) on: May 09, 2020
Email Alerts
Sign up for free email alerts of new obituaries for specific people, towns & more.
❮ Go Back to Listings