Search:

Winnipeg Free Press Passages
All Titles
Notices are posted by 10 am Monday through Saturday
❮ Go Back to Listings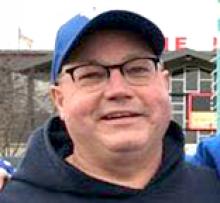 JOSEPH MATTHEW DEJONG (JOE, JOEY)
Born: Jul 21, 1965
Date of Passing: May 08, 2020
Send Flowers to the Family
Offer Condolences or Memory
JOSEPH MATTHEW DEJONG
July 21, 1965 - May 8, 2020

It is with our deepest sadness that we announce the sudden passing of our beloved Joseph Matthew DeJong on May 8, 2020, at St. Boniface Hospital.
There are no words to describe the sorrow that is felt amongst his family and friends, both here and across the world. Knowing the type of person that Joey was, he wouldn't want the focus to be on his death but rather on his life and all of the joy and laughter it was filled with. There was not a single person who met Joey that he couldn't make laugh or touch with his child-like personality and outlook on life. He often stated that although he didn't always feel it physically, he felt that he was still only 25 in his mind. Forever a kid at heart and full of passion, Joey was always happiest and most excited when he was doing something that he cared about. Whether it was watching planes, looking at or tinkering with cars, visiting the cottage at Malachi Lake, eating ice cream, cheering for the Winnipeg Blue Bombers, listening to music, playing guitar, cooking and cleaning, or being surrounded by those whom he loved, he was always smiling the biggest, laughing the most often, or screaming the loudest. He never did anything only part way and that was especially true when it came to loving those around him. Joe had a special way of showing that affection - in that it was expressed both verbally and nonverbally because one could feel they were in the presence of a soul that cared so deeply and in a unique way from most. If there was one thing that Joe would want for all of us, as he goes on his way, is to keep hold of all of those special things that he made sure every single person felt. Keep his laugh in your ears, his smile in your mind, and his love in your heart.
If it is so desired, donations in Joe's honour can be given to the Bruce Oake Recovery Centre or Sara Riel. Although Joey did not have any direct connections to these organizations, they are both focused on helping those with mental health challenges and addictions.
Also, due to the unprecedented times that we are living in, there will be a service in Joey's honour at a later time and when it is safe for friends and family to all gather and celebrate his life.
Arrangements entrusted to
Interlake Cremation and Memorial Services


As published in Winnipeg Free Press on May 16, 2020
Condolences & Memories
(19 entries)
Hello Joseph, my old friend I've come to talk to you again It's been a year, since you've been gone You flood my memories often Miss you, love you always ! I'll see you on the Dark Side of the Moon - Posted by: Glen (BFF ) on: May 21, 2021

I just heard the terrible news from another mutual friend. Oh Joey. The world has lost some sparkle. You had an infectious smile, a great wit and boundless energy. I was sorry that we lost touch when I moved away from The ' Peg. For whatever reason, you had been in my thoughts this past week, and when I finally heard about what happened, my heart sank. Although I never got to know your parents and never met your wife and son, I can't imagine what they're going through. It's a sad sad day. - Posted by: Jill Buffie (Friend) on: Dec 21, 2020

Joey is one of my favourite souls and my life is forever blessed to have met him in the the 80's. Through the years, he brightened my day when I would run into him. He would speak of his kids with love through these later years. He was the best. - Posted by: Di Heywood (Fan) on: Jul 03, 2020

When I first started working at Nelson McIntyre Collegiate in 1989, Joey was quick to become my friend. We shared many laughs and moments over the years. After I moved over to Nordale school, Joey followed me there. When my step-daughter drowned, Joey was by my side all the time… Bringing me comfort and reminding me to smile and laugh. We drifted apart as the years went on, but this past year he showed up on my doorstep and we spent a good amount of time reconnecting. We would constantly message each other songs and bands that we loved. For Joey was my original inspiration for discovering and loving eclectic music. That alone changed my life. But the life changing influences that Joey brought to me didn't end there. There were so many. I am so sad that my very good friend is gone. I wish I had more time with him. Cheers Joey. Thank you for being a major part of my life. PAH. - Posted by: David Blair (SCHNELL!) on: May 21, 2020

Oh Joey I can't belive you are gone. I am going to miss you at stores and working with you. You had an awesome laugh and a great sense of humor. He had the greatest love for his family especially his children. I will miss the conversations we had about your younger days when you were singing and bar hopping. I will miss your company. Rest in peace and just know you are forever missed. Goodbye Joe - Posted by: Whitney Carvalho (co worker) on: May 21, 2020

Oh Joey I can't belive you are gone. I am going to miss you at stores and working with you. You had an awesome laugh and a great sense of humor. He had the greatest love for his family especially his children. I will miss the conversations we had about your younger days when you were singing and bar hopping. I will miss your company. Rest in peace and just know you are forever missed. Goodbye Joe - Posted by: Whitney Carvalho (co worker) on: May 21, 2020

I worked with Joey at the Y many years ago. He was an awesome guy, always smiling and willing to help. He was an excellent swim teacher and lifeguard. We connected many times later as I retired and would swim at Bonivital pool. My deepest condolences to all family and friends. May good memories give you strength at this time. - Posted by: Shirley Murray (coworker many years ago. ) on: May 20, 2020

Joey helped out many members of our family. He was kind and friendly. Joey will be sadly missed, but his positive influence on our lives will carry on. Lots of love to his family. - Posted by: Geoff Nuytten (Friend) on: May 18, 2020

For the past few years Joey and Eric have been coming over to jam rock n roll at my place. I have some video footage of it. One that was posted to Facebook years ago and one not posted. He was so energetic and played guitar or bass with passion. He was the heart of the (band) although we didn't record a CD together it would have been great fun. His passing affects us all. We had a lot in common. I am proud to be his friend and will never forget the great times we had. - Posted by: Paul C Miller (Friend) on: May 17, 2020

We were heartbroken with the news of Joey's passing. Although we met Joe only a handful of times, he was such a loveable and cheerful guy. May he rest in peace. Our very sincere condolences to Dayle and Marion and Brent. Love from D and J and family - Posted by: Douwe and Jessie Bosma (Nephew) on: May 17, 2020

I worked with Joey at Bonivital Pool for years. He was always smiling, always had a joke for everything and he was such a relaxed but funny guy! My biggest memory of Joey is him and his Bombers...he was so into sports. He was a great teacher and I enjoyed working with him. He was compassionate to animals and always kind at heart. He loved his family very much. Joey, May you Rest In Peace! ❤️ - Posted by: Lynne Desautels (Co-worker) on: May 17, 2020

I've known Joey all my life, we grew up across the street, worked at the Y together and then at pools. Joey was the always the same; happy, smiling, funny, loving and laughing. He was a genuinely kind soul. If only he knew how special he was. I hope that you finally found peace my friend, you will be missed. - Posted by: Tannis Wilson (Friend) on: May 16, 2020

Joey and I worked together @E.K. pool for a few years...he was my direct supervisor and took his role seriously? and with respect for the staff....that being said...we were often on deck together hammering out tunes, he playing air guitar and many many side splitting laughs that left us both unable to breathe. We often were lamenting on the crowds with our strange way of being. JOEYYYY..i am so sad. I hope you have found peace. 💜 - Posted by: Rayna (Former coworkers) on: May 16, 2020

Joey and I met years ago in a workplace with fun and troubles we shared both Joey talked of his children often back then and Hayden was brand new and Joey couldn't be happier to have both his kids Our workplace struggled a lot in those years and we lost some close colleagues but we stuck together our lil Watt Street family Please be safe Joey and continue to laugh with our colleagues gone before My deepest sympathy to all Joey's family and his many many friends and especially his lil Watt Street family! Safe travels friend till we meet again - Posted by: Sharon (Coworker and friend) on: May 16, 2020

My heart is broken and I will miss my friend Joey. I first met Joey 18 years ago, as he was my now husbands friend but Joey & I clicked right away. I don't think in my life I will meet another person as loving, warm hearted, generous, funny and kind as Joe was. He has taught me a lot about the person I want to be just by being himself. I will be sharing a beer with you when your Blue Bombers are playing again and everyday will be missing you. To family and friends, I send my heartfelt sympathies. - Posted by: Jackie Towle (Friend) on: May 16, 2020

Sending love to Joe and his family. It had been several years since I'd seen him, but I had a short visit with Joe & Hayden at the recent Grey Cup in Calgary. Grateful for that happy memory. He was quick to laugh and was full of music. He had a generous spirit and a loving heart. - Posted by: Robyne Wilock (Friend) on: May 16, 2020

My deepest and heartfelt condolences to Joey's family. I worked with Joe for a few years and we became good friends. I'll always remember the fun we had while driving together and all the laughs. He often talked about his kids and was so proud of them. He will be missed and remembered and there will always be an empty seat at bbq's for him. - Posted by: Greg Zembik (Friend ) on: May 16, 2020

We were so sad to hear of Joey's passing. I worked with Joey back when he was actually 25 years old. With a larger group of co-workers, we socialized often and Joey was like a younger brother within the group. Always wanting to share a laugh, tell a story, and make you smile. It is sad that someone who always seemed to be brimming with life is no longer with us. Sympathies and condolences to Joey's close friends and family. - Posted by: Hope and Jim Beatty (Former Co-worker) on: May 16, 2020

I'll see you on the dark side of the moon, my friend - Posted by: Glen (Best Friends Forever ) on: May 16, 2020
Email Alerts
Sign up for free email alerts of new obituaries for specific people, towns & more.
❮ Go Back to Listings