❮ Go Back to Listings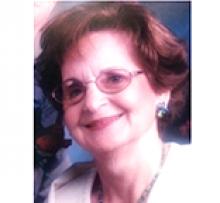 DENISE THERESE CONNELLY (née SABOURIN)
Date of Passing: May 10, 2020
Offer Condolences or Memory
DENISE THERESE CONNELLY
(née SABOURIN)
1930 - 2020

Décédée le dimanche 10 mai à Ottawa, à l'âge de 90 ans. Epouse de feu Robert (Bob) Connelly.
Elle laisse dans le deuil ses enfants Dennis (Michelle Freynet), Lynne, Michèle, Kathleen, Raymond (Nicole Patry) et Daniel; ses petits-enfants Sophie (Antoine) et Patrick (Anne-Marie); Jorge fils (Kristelle), Roberto Miguel et Daniel Alejandro, ainsi que leur père Jorge; Katrine (Vincent), Mina (Julien) et Roxanne (Josh); et Diana et Camille (Dave); ses neuf arrière-petits-enfants; son frère André (Rolande) et ses belles soeurs Sabourin, Aline et Denise; ses 15 belles-soeurs et beaux-frères de la famille Connelly; de nombreux neveux et nièces; et son grand réseau d'amis au Canada et ailleurs. Elle a été prédécédée par ses parents Ildège Sabourin et Exilda Beaudette, son jumeau bien-aimé Denis, ainsi que ses dix autres frères et soeurs, 17 belles-soeurs et beaux-frères, et ses beaux-parents Patrick Connelly et Aurise Perrault.
Denise était originaire de Saint-Jean-Baptiste au Manitoba. Son amour pour les enfants ainsi que ses talents en enseignement l'ont conduite vers le village de Saint-Laurent (Manitoba) où elle devint institutrice à l'école primaire. C'est là où elle a rencontré son beau grand Bob avec qui elle s'est mariée en 1953.
Denise, qui était la bonté même, n'hésitait jamais à démontrer toute l'affection qu'elle avait pour les gens, et était immensément aimée en retour. Débordante de vie, elle était une femme forte malgré sa petite stature. Elle était à la fois douce et sensible, tout en étant très résiliente. Elle avait toujours le temps de dispenser sans réserve attentions, patience et amour à chacun de ses six enfants. Elégante et gracieuse, Denise était également dotée d'un grand sens d'humour. Bob affirmait que Denise était le coeur et l'âme de notre famille, possédant de grandes qualités faisant d'elle une épouse exemplaire, une maman exceptionnelle et une amie loyale.
Denise a vécu ses dernières années enveloppée de la tendresse de sa famille, qui tient a remercier les médecins, le personnel infirmier et les préposés du centre Alta Vista Manor à Ottawa et, plus récemment de la Résidence Elisabeth Bruyère, aussi à Ottawa.
La famille immédiate se rencontrera virtuellement dans l'intimité pour célébrer la vie de Denise. Pour celles et ceux qui le désirent, un don peut être fait à la mémoire de Denise à la Société Alzheimer du Canada ou à la Fondation Bruyère à Ottawa.
Cet avis de décès est également publié dans l'hebdomadaire La Liberté du 21 mai 2020.
DENISE THERESE CONNELLY
(née SABOURIN)

Denise passed away Sunday, May 10, 2020, in Ottawa, at the age of 90.
Beloved wife of the late Robert (Bob) Connelly, she leaves behind her children, Dennis (Michelle Freynet), Lynne, Michèle, Kathleen, Raymond (Nicole Patry) and Daniel; her grandchildren, Sophie (Antoine) and Patrick (Anne-Marie); Jorge (Kristelle), Roberto Miguel and Daniel Alejandro, as well as their father Jorge; Katrine (Vincent), Mina (Julien) and Roxanne (Josh); and Diana and Camille (Dave); her nine great-grandchildren; her brother André (Rolande) and Sabourin sisters-in-law, Aline and Denise; her 15 sisters-in-law and brothers-in-law of the Connelly family; many nephews and nieces; and her large network of friends in Canada and elsewhere. She was predeceased by her husband Bob, parents Ildège Sabourin and Exilda Beaudette, her beloved twin Denis, as well as her 10 other brothers and sisters, 17 sisters-in-law and brothers-in-law, and her parents-in-law, Patrick Connelly and Aurise Perrault.
Denise was born and raised in St. Jean-Baptiste, Manitoba. Her love of children along with her talent in education led her to the village of St. Laurent, Manitoba, where she became a primary school teacher. This is where she met the love of her life, her handsome Bob, whom she married in 1953.
Denise was the embodiment of kindness as she never hesitated to show affection to everyone she knew and for that, she was deeply loved in return. Larger than life in her petite frame, Denise was strong, resilient, yet sensitive. She always found time to show generosity and was blessed with plenty of patience and boundless love for her six children. Elegant and graceful, Denise also displayed great wit and humour that made her even more adorable. Her dear Bob often said that Denise was the heart and soul of our family, and that her many wonderful qualities made her an exemplary spouse, an exceptional mother and a loyal friend.
Denise spent her final years supported by the love of her family, who would like to thank all doctors, nursing staff and health care workers at the Alta Vista Manor, and more recently at the Elisabeth Bruyère Residence in Ottawa, for their gentle care.
The immediate family will soon hold a private virtual gathering to celebrate Denise.
Memorial contributions may be made to the Canadian Alzheimer Society or to the Elisabeth Bruyère Foundation in Ottawa.
The French obituary has also appeared in the La Liberté newspaper, Thursday, May 21, 2020.
As published in the Winnipeg Free Press on May 23, 2020
Condolences & Memories
(6 entries)
A Michèle,ses trois fils, ses frères et soeurs : J'aimerais offrir toutes mes condoléances pour le décès de votre mère et grand-mère que j'ai eu la chance de connaître; elle était si gentille et chaleureuse envers moi. Je partage votre peine dans cette épreuve si douloureuse ,en espérant que le temps appaise votre perte. Sincèrement, Dominique. - Posted by: Dominique Alie (Long time friend of Michèle Connelly .) on: May 25, 2020

Michelle querida y niños!! Reciban nuestro más sentido pésame por tan irreparable pérdida! Los abrazamos con muchísimo cariño en estos momentos tan difíciles por los q están pasando Oraciones para ella al cielo y para Uds nuestras bendiciones Que descanse en paz tan bellísima persona Agustin de Ovando, Pily y nuestra familia - Posted by: Pilar Moreno (A very close friend of Michelle Conelly and her children ) on: May 25, 2020

I'm so sorry to hear of Auntie Denise's passing. It's been a long time since I've seen her but I will always remember her beautiful smile and how she was always so happy and kind. She was a beautiful person inside and out. My condolences to all the family. My thoughts and prayers are with you. - Posted by: Shelley Besko (niece) on: May 24, 2020

I first knew Bob and Denise when they were first married and lived in Sandy Bay many long years ago now. They were a wonderful and loving couple plus fun to have around. Always had a special spot In My heart for them. In fact Bob sang at my wedding in 1958. My sincere condolences to all the family. I will have a special prayer for her. May she rejoice in her new heavenly home. - Posted by: Lorielle Roy Downey (Friend) on: May 23, 2020

I have a lot of fond memories of Mme Connelly. I used to go their house after school to visit with Lynne and Mme Connelly always had a bag full of stories from her youth to share with us. I'm happy to know that she lived such a long life. My condolences to the family. - Posted by: Jacqueline (Boucher) Shannon (Friend of the family) on: May 23, 2020

Ma Tante Denise was always so kind and loving. I wish I could've seen her more often. My deepest condolences to the whole family for the loss of this incredible woman. ❤❤❤ - Posted by: Jacqueline Bird (Niece ) on: May 23, 2020
Email Alerts
Sign up for free email alerts of new obituaries for specific people, towns & more.
❮ Go Back to Listings