Search:

Winnipeg Free Press Passages
All Titles
Notices are posted by 10 am Monday through Saturday

❮ Go Back to Listings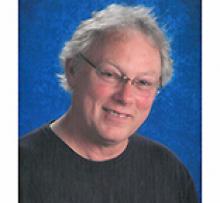 GEORGE AITKENS
Date of Passing: Jun 13, 2020
Send Flowers to the Family
Offer Condolences or Memory
GEORGE AITKENS

George Aitkens passed away on June 13, 2020, at the age of 72.
He is survived by Dave Brickwood, his spouse of 40 years, his sister Jan in the Philippines, his niece Mary in Toronto, his nephew Rob in Winnipeg, and many close long-time friends, including all of the Waifs in various cities in Canada.
George was a dedicated English teacher at Kelvin High, retiring in 2015 after 25 years. He taught the International Baccalaureate (IB) program as well as regular English. He also presented training courses to IB teachers in the United States and Canada.
George loved to teach and loved his students. He enjoyed watching them grow, develop and become influential citizens all over North America. It was not unusual to run into former students all over Canada.
In addition to teaching, George lead student canoe trips, and created "Shakespeare in the Snow" where his students would not only have to put on a Shakespeare play but would have to manage a winter tug of war. He would do anything to help his students succeed. Students were expected to wear the academic robe when doing their presentations and heaven forbid if he found you with White Out. It would end up on Bruce the Moose's antlers.
He loved to travel and visited most of Canada, some of the United States and much of Europe with his partner. Picking up little treasures on the trips and bringing them home to a now overfull house and cottage at Red Rock Lake.
George also loved to do projects, electrical, furniture refinishing and building. He loved his cottage and the property is decorated with his projects, both inside and out. He spent many happy summers and winters at the lake with his spouse, his friends and always a series of dogs, currently Rufus and Molly, two Airedale terriers.
He was a presence wherever he went, at school, in the Wolseley neighbourhood, at the lake and around the dining room table at his formal dinner parties. He will be missed by everyone. Wolseley and Red Rock will never be the same.
Due to the Covid pandemic restrictions, sadly the funeral service will be by invitation only.
In memory of George, we ask that people contribute to the Nora Taylor Scholarship Fund with the Winnipeg Foundation on line at https://www.mycharitytools.com/gift/wpgfdn/donate?fund=1173 The fund provides scholarships to Kelvin Students every year.
We love you George and
we miss you so much.

THOMSON FUNERAL HOME
(204) 783-7211
Condolences may be sent to
www.thomsonfuneralchapel.com


As published in Winnipeg Free Press on Jun 20, 2020
Condolences & Memories
(35 entries)
"May the wind under your wings bear you where the sun sails and the moon walks." Even among eagles, Mr. Aitkens would know the correct reply. - Posted by: Jon (Former student) on: Jan 26, 2023

Mr. Aitkens inspired me to continue my undergraduate and graduate studies at The University of British Columbia after my time at Kelvin High School. At the end of the acknowledgments section of my master's thesis is a section dedicated to George. Finally, thank you to my Grade 12 English teacher, George Aitkens, for forcing us to write a 100-paged personal essay. At 17, I saw this assignment as completely impossible. He taught us that no project is too big if you slowly chip away at it over time. When I handed my 100-paged personal essay in, I told him very clearly that I would never write 100 pages again. He laughed, and said, "you might, you never know." You were right, Mr. Aitkens. 144 pages later, my master's thesis is done. Thank you for your teachings, Mr. Aitkens. - Posted by: Harriet Moore (Former Student) on: Oct 25, 2022

Mr. Aitkens is one of the reasons I became a teacher. The passion he shared for his subject was contagious. He made talking, thinking, and writing about English exciting. Not only that, but he restored my confidence in my own academic ability as a writer, which had been shaken by a difficult Grade 11 year. He made us write essays all the time, often until our wrists were sore, and this practice prepared me to achieve success in university. Mr. Aitkens made an enormously positive difference in my education, and really, in the trajectory of my life, and for that I am very, very grateful. - Posted by: Alden Jerrett-Enns (Former Student) on: Jan 04, 2021

Love to link him to further family in Aikens' Revolution Project. Add him to FindAGrave even.. Found his obituary in my searching this morning. Sorry to hear we've lost another one... RIP - Posted by: Aurorae Donna Little UE (Aikens'Revolution descendant) on: Aug 15, 2020

Neighbour George lived in the apartment next to mine on Kennedy Street. We became good friends but lost touch over the years unfortunately. In the night I could hear him typing away as he worked on his Masters' Thesis on Chaucer. I have some nice photos and negatives of him from that time as I was a young photographer in those days. I would be happy to give them to his husband should he want them. Please contact me - Posted by: Nicole Coulson (Guyot) (neighbour and friend from 1973-1974) on: Jul 26, 2020

"Let whoever can win glory before death. When a warrior is gone, that will be his best and only bulwark." - Beowulf. (Sorry it's not in the original old English Mr Aitkens) - Posted by: Kim Downie (Student) on: Jul 25, 2020

I am very sad to learn of Mr. Aitkens passing. He was absolutely the best teacher I ever had. I have thought of Mr. Aitkens often since I was a student at Kelvin 25 years ago. Very inspirational, and I will always carry fond memories of Shakespeare in the Snow. - Posted by: Jay Bland (Student) on: Jul 25, 2020

Noooo. I thought today, hey I'll look up my old friend George and see what he's up to. Devastating news. Let me collect my thoughts. George was my mentor, friend, inspiration. I was his unwitting student teacher, and what a profound reward that turned out to be! George was not for the faint of heart. He set me up so many times for pratfall, but I somehow rose, and realized I was in the presence of someone great. "And Miss C is an expert in Dionysian cults, she will explain" or "Let Ms Cullen expound on her cat Geoffroy (apologies to Mr Moore)... on and on! All later revisited with a wild gust of laughter. His quick mind leapt wildly from enthusiasm to the next, and what a worthwhile ride it was to keep up. I learned some fundamental essentials from George: King Lear deserves to be staged during a Winnipeg winter with the wind sweeping across a frozen lake... that a teacher can be a passionate nut.... that Gin belongs with pink Grapefruit sparkling Soda... that IB is a phenomenal program, that a beautiful garden and home can be the bedrock of identity... that caring for an aging parent is valuable and searingly tough... that whiteout is Evil. Dave, I am so sorry for your loss, the city's loss, and mine. I have so many brilliant memories. George, You will always be remembered thundering away at the piano and singing this: "Bring me my Bow of burning gold: Bring me my Arrows of desire: Bring me my Spear: O clouds unfold: Bring me my Chariot of fire!" - Posted by: Heather Cullen (Mentee) on: Jul 04, 2020

I will always remember you as a teacher who was passionate about literature and teaching. I saw a teacher committed to supporting all of his students to appreciate and love literature and recognize how it connects to real life. "One looks back with appreciation to the brilliant teachers, but with gratitude to those who touched our human feelings" - Carl Jung. I am honoured and humbled to have taught along side such a wonderful teacher - Janus Bazan, colleague at Kelvin High School. - Posted by: Janus Bazan (Colleague) on: Jul 01, 2020

Thank you for the inspiration. - Posted by: Joshua Hampton (Student) on: Jun 26, 2020

Mr. Aitkens was, without doubt, the best teacher I ever had the honour of learning from. He was kind, funny, thoughtful and nurtured every single one of us to love and appreciate all the intricacies of the texts he taught. I still think "this elephant" when writing notes or emails and often think of him chuckling saying, "good one" after a joke or comment. I remember one day I was walking past his room during lunch hour, and he called me in and began reading an essay he was marking out loud to me. I eventually realized the essay was mine. After a few lines he stopped, looked up completely deadpan and said, "bit heavy on the thesaurus, don't you think? Should we make it a 4 just to mess with them?" I remember nervously laughing and him just breaking into a huge grin. A truly wonderful man. He will be greatly missed by his students across the world. - Posted by: Stephanie Ansari (Former Student ) on: Jun 25, 2020

A monumental figure. A wondrous teacher who awakened deep, lifelong intellectual enthusiasms in so many lives. For those of us who had the great happiness of studying under both Aitkens and Moody --- wow, were we ever lucky. When I think of high school I mainly remember being constantly policed, but Aitkens was an irreverent and hilarious authority who not only encouraged but absolutely *insisted* upon independent thinking and going deep with all of our freakish creative inspirations. The best kind of rebel, one the great puckish wits and also a genuinely nurturing soul, he will be very fondly and eternally remembered. My deepest condolences to Dave. - Posted by: Matthew Rankin (Student) on: Jun 25, 2020

Ah, George, you will be missed. You were a great person to work with, sometimes a pain in the butt, but a fantastic and passionate teacher who combined academic excellence with an ability to motivate students to learn. I was hoping one day to share a glass of wine with you and talk about the "good old days" at Kelvin but that time has passed. I sit here with a tear in my eye and a sadness that we have lost a truly unique individual. My condolences go out to Dave. - Posted by: Paul Normandeau (Colleague) on: Jun 24, 2020

Mr. Aitkens had a profound influence on my life and career. He taught with passion, joy, and acerbic wit; he held his students to the highest standards yet encouraged us to be creative and unorthodox. I was a new student at Kelvin in grade eleven, and knew nothing and nobody. One morning in the first week of school we were all seated at our desks; the bell had rung and Mr. Aitkens was nowhere to be seen. Suddenly he came running in, cackling over a freshly confiscated book of Coles Notes; he was closely followed by a large student, probably a Clippers linebacker, who picked him up in a bear hug, shook him till he dropped it, reclaimed his property, and left the room. Mr. Aitkens, still grinning, settled in immediately to make us memorize Caedmon's Hymn in the original Old English. A beautiful man. - Posted by: Tom Keenan (Student) on: Jun 24, 2020

Dave, I'm so sorry to read that George has passed away. The tributes from his students say a lot about the wonderful teacher he was. I hope the memories of your life together will provide some comfort to you at this very sad time. - Posted by: Marcia Ewatski (Acquaintance) on: Jun 24, 2020

I was really shocked to hear about the news of the passing of Mr. Aitkens. A close friend of mine had informed me about this a few days ago, but I wanted to take some time to really think back at what kind of positive influence he really was to not only me, but to everyone around him. I laugh as I can still hear his voice years later as he yelled at me for eating all of the available mashed potatoes on day 2 of Shakespeare in the Snow and think back to the days where my classmates and I were writing daily 1000 word essays on the many complex levels of symbolism of the many poems and books of IB English. Mr. Aitkens really was the embodiment of a perfect teacher. He was relentless in his quest to teach us the many meanings behind these words of literature, but it was done in such a humorous and efficient manner that none of us really felt overwhelmed. Thank you Mr. Aitkens for all that you've done. - Posted by: Dennis Choi (Former Student) on: Jun 24, 2020

Ah. I am so sorry to hear this. I was so lucky to have Mr Aitkens in his first year at Kelvin IB. I walked in and right away knew something exciting was happening with him at the front of the class. He asked us "who here likes Walt Whitman?" I earnestly raised my hand hoping for a pat on the head- he said "who are you? Whitman was a hack!" His standards were unrelenting and I spent the whole semester trying to meet them. God he was funny too. On the canoe trip, we were the only ones who smoked so I rolled Drum tobacco while he paddled. "Always bring Drum in the bush, Holly!" My love to his family and his husband. I am sure you had a lifetime of his quips. What a teacher. What a man. - Posted by: Holly Moore (Student) on: Jun 24, 2020

Mr Aitkens was undoubtedly my all-time favourite teacher. His enthusiasm and love of literature was contagious. 25 years later I can still quote Shakespeare, TS Eliot, Donne... Mr Aitkens ignited my passion for learning, greatly influenced the course of my education, and sparked a reverence for the English language that has been key in shaping my personality and career. His passing is a true loss to the world; my life is richer because of the impression that he made. I wonder if he knew the tremendous impact he had on my life (and so many others). I was so lucky. - Posted by: Amanda Greisman (Student ) on: Jun 23, 2020

I met George so long ago that the exact date has become fuzzy, like the moose slippers he wore during his leisure hours. Suffice to say, the meeting was in the Book Store at the U of M where George was holding forth on Shakespeare to an admiring group of young women who adored his humour, erudition, and golden locks. When my wife, who was one of the group of worshipers, introduced me to George, I was tempted to pierce his polished armour with a nasty verbal barb. However, I abstained when I realised that he was likely a master of repartee who would shred me with a volley of slings and arrows, which he did after we became good friends. I will miss you, and your insults, greatly, my friend. - Posted by: David Square (friend) on: Jun 23, 2020

I was shocked and saddened to hear the news about the passing of Mr. Aitkens. I was a student of his during my graduating year at Kelvin High School. Several years later, after I received my Bachelor of Education, he called me asking to sub for him, but I had already accepted a term position. His passion for teaching was clearly apparent, and I have many fond memories of being in his classroom. I chuckle when I recall the humourous stories about the evils of liquid White Out as well as the task of memorizing and performing the Priam and Pyrrhus speech from Hamlet. Most importantly, he was one of the reasons I wanted to study literature in university and become an English teacher. Yes, he emphasized the necessity of writing and speaking coherently and convincingly, but his love of literature was infectious. He struck the perfect balance of encouraging students to be entertained by literature and challenging students to dissect the many complex layers and symbolism of a text. May his legacy live on. My heart goes out to his family and friends. - Posted by: Natalie Fitkowsky (Former Student) on: Jun 23, 2020

I always enjoyed talking to George whenever he came into the showroom at BA Robinson. He was a very fine and interesting man. David, I am so sorry for your loss. Iris K. Daniels - Posted by: Iris Daniels (Acquaintance ) on: Jun 23, 2020

There is no question in my mind that Mr. Aitkens was the best teacher I've ever had. I worked harder in his class than I did for the next 10 years of university - I think this was because he acknowledged the potential he saw in me, spoke to me as an equal (between the friendly jabs) and made me want to not let him down. Like many students, I still remember the majority of the Pyrrhus soliloquy - memorized not because it holds any particular use in life, but because Mr. Aitkens made it meaningful and high-stakes. Likewise, I reread Name of the Rose last Summer and remembered many details of its religious symbolism. It's funny how some students were intimidated by him, when in retrospect he was so clearly passionate about his work - organizing many trips, marching around the room yelling and gesticulating, giving every student an identity, etc. I hope that the modern teaching landscape still allows for the wonderful methods like those of Mr. Aitkens. - Posted by: Alex Edye-Mazowita (Former Student) on: Jun 22, 2020

I'll never forget the teacher that completely changed the way I understood storytelling. He was like the Don Rickles of English literature. He could cut you down with a word, using his signature army-general bark to somehow simultaneously tease and encourage you to fully commit when reciting the infamous Priam vs Pyrrhus speech. Or if you thought Mel Gibson's Hamlet was better than Kenneth Branagh's. You couldn't have an ego in his class. You were there to learn. Who you were in the hallways did not matter to him. In his class, you were a student who deserved to learn just as much as the person sitting next to you. Above all else, what I remember the most is waking up on certain school days and thinking "Yes. I get to go to English today." What a difference maker. I'm so lucky to have crossed paths with George Aitkens. Rest In Peace. - Posted by: Ben Wilson (Student ) on: Jun 22, 2020

George's passing leaves a hole in many of our lives. In my family experience he was a teacher that inspired my sons at Kelvin, a friend along with his wonderful partner for me at the lake, a valued colleague of a life long friend of mine and an inspiration of how love in a relationship transcends all boundaries. It was a joy to have him in or lives! He will be missed.... Vern - Posted by: Vern Taylor (Friend) on: Jun 21, 2020

Oh Dave, we are so sorry to hear the news of George's passing. I have many fond memories of hours spent with George in the St. John's College cafeteria during our time in the Faculty of Education. Thinking of him brings a smile to my heart. We stayed connected through IB and Tirawa as the years passed. Please accept our condolences. Wish we could share this sad time with you. Tom & Rhonda - Posted by: Rhonda Beebe and Tom Wood (Friend) on: Jun 21, 2020

George has been my beloved friend for close to fifty years. We met while studying English together at the University of Manitoba in the early 1970s, becoming even closer friends in the eighties and remaining fast friends through to the end. I will forever cherish his raucous laughter, his kind spirit, his warmth, his brilliant mind and wit, his unstinting curiosity and love of life, his love for and delight in his dogs, and all the wonderful times we shared in lively conversation and in uncontrollable laughter. I will treasure the memories of our camping trips and cross-country skiing weekends, times shared at our home and at his and Dave's and at their cottage at Red Rock, the movies we watched together, the books we discussed, and being together through so many life experiences—both happy and sad—and being always comforted by his friendship in difficult times. George was loved by everyone with whom he came into contact; the light he brought into so many lives endures, and his huge presence persists, dispelling any feeling of absence. No one was more fundamentally intact, so essentially happy and content, and no one made me laugh harder. Right through the last week of his life, he remained positive and hopeful (he said to me that despite his many "afflictions" he still experienced moments of "pure joy every day"); his daily emails, as we bantered back and forth about his scooter (which he planned to race down my forest trails), were filled with his distinctive humour. He loved and was loved well by Dave, and by all who were so privileged to call him friend. He left us peacefully and as himself, and for this I am grateful. I grieve his loss as much for David and Bryn, who were loved by and who loved him dearly, as for myself. We will all miss him desperately but will carry on, knowing he is forever with us in our hearts. We will keep him close always through memory and devotion. Rest in peace, my dear friend. - Posted by: Penny Jones Square (friend) on: Jun 21, 2020

George was a beloved member of our seniors' aquacize class at Sherbrook Pool. His good nature and lively sense of humour were much appreciated by all. We will miss him very much! - Posted by: Louise Lamb (We were members of the same aqua-cize class at Sherbrook Pool for several years ) on: Jun 21, 2020

I was very much saddened to hear of Mr. Aitkens' passing. I've thought of him many, many time over the past 25 years since graduating from Kelvin. He was certainly one of my favourite and most influential of teachers. He, along with Mr. Moody, fostered an appreciation for Shakespeare that I never would have imagined prior to high school. I always felt that he had the respect of his students by the way he treated us — firmly, but with very good humour. He made learning fun. ......and I've never used White Out since. - Posted by: Graeme MacDonald (Student) on: Jun 20, 2020

Mr. Aitkens was one of my favourite teachers of all time. He had an incredible ability to hold you mercilessly accountable while being hilarious and utterly loveable. I absolutely adored him, as did everyone. Mr. Aitkens, you had a huge impact on so many of us. Thank you ❤️ - Posted by: Heather Paterson (Student) on: Jun 20, 2020

I have many fond memories of Mr. Aitkens. Shakespeare in the Snow and the IB canoe trip were highlights of my high school experience. I remember his ability to foster individual growth while teaching the collective. A specific example of this that I recall is Mr. Aitkens challenging me to assume the role of Alan Strang for the class reading of Equus, which instilled with me with confidence and pride. His high standards for essay writing helped me greatly when I entered university. My condolences to his spouse and family. - Posted by: Ian Scott (Student ) on: Jun 20, 2020

Mr. Aikens was THE reason I chose to study literature. I remember experiencing his depth of knowledge for the first time when I was in his 9th grade English class and we studied Romeo and Juliet. I was in awe. He knew SO MUCH. So much about the work itself, about the imagery and symbolism, the history, everything. I remember thinking, I WANT THAT. I was so inspired. And, in all my years of Academia, I have never opened a Coles Notes. Thank you for starting me on my life's course Mr. Aitkens. I wouldn't be who I am without you. - Posted by: Tanya Loeppky (Student) on: Jun 20, 2020

I never had Mr Aitkens as a teacher. I met him on a canoe trip in grade 10. It was one of my best high school memories. I later subbed for him at Kelvin High School and he was always such a nice, kind, and considerate man. I was shocked when I heard this. My condolences to his family and friends. He was an amazing man. - Posted by: Shaun (Student/colleague) on: Jun 20, 2020

I'm so sorry to hear this news. He was an incredible teacher and person. I had the honour of having him as my English teacher and he took myself and a group out on a canoe trip. I always enjoyed his class and his stories. He had wonderful stories. I remember I had a post canoe trip party at my house and invited the teachers. I can vividly remember looking over at him and he had a huge smile on his face and looked like he was having the best time. He was one of my favourites. My deepest condolences to his partner Dave, his family and friends. May his memory be a blessing to all who knew him. - Posted by: Rishona Hyman (Student ) on: Jun 20, 2020

George is and will always be the most influential teacher and one of the more influential people in my life. He will be missed by us all, and will live on in the countless students that he influenced over the years. I know that Coles Notes are being confiscated and taped to the walls in a better place as I write this. You're missed, George. - Posted by: Brennan McIntyre (Former Student) on: Jun 20, 2020

Mr. Aitkens was one of my all-time favourite teachers. He instilled in me a love of Shakespeare that continues to this day. Twenty-seven years later, I still remember the role I played in our King Lear read-aloud (pre-Shakespeare in the snow - instead he gave up a personal evening to bring us in to read it through) - the Duke of Cornwall. I attribute my love of English (I am now an English teacher too) to him. I laughed out loud at the reference to white out in his obituary. I lost many a bottle due to him! My condolences to his family. He was a great man and educator. - Posted by: Katherine Abra (Former Student) on: Jun 20, 2020
Email Alerts
Sign up for free email alerts of new obituaries for specific people, towns & more.

Thomson Funeral Home
669 Broadway Ave. (Map)
Ph: 2047837211 | Visit Website
❮ Go Back to Listings