Search:

Winnipeg Free Press Passages
All Titles
Notices are posted by 10 am Monday through Saturday
❮ Go Back to Listings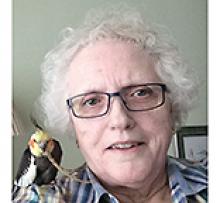 ROBERTA YORK
Date of Passing: Jul 07, 2020
Send Flowers to the Family
Offer Condolences or Memory
ROBERTA YORK

On Tuesday, July 7, 2020, with her beloved cousin Barb holding her hand, Roberta York passed peacefully in her sleep at the age of 71.
All who knew Roberta, remember her a loving and generous person, always giving of herself to those in need.
Roberta was born in Winnipeg in November of 1948 to Jack and Magdalena York, their only child. She grew up on Smithfield Avenue in West Kildonan attending Victory Elementary School, Edmund Partridge Junior High, and West Kildonan Collegiate. Roberta loved to learn and continued her education attaining an honours degree, Bachelor of Home Economics, in 1970, a Masters of Science Degree (M.Sc.) in foods and nutrition in 1972 and a Doctor of Philosophy (Ph.D.) in textiles in 2005.
In 1973, Roberta joined the Canada Department of Fisheries and Oceans, later the Canadian Food Inspection Agency, working as a Quality Control Chemist and then as a Sensory Evaluation Specialist, becoming an internationally known expert in this field. Even though working full time, Roberta's love of weaving led her to part time lecturing on textile design at the University of Manitoba.
Throughout her life Roberta devoted herself to her many passions, family and friends, her pet birds, Jenny, Munchkin and Tristan, weaving and quilting groups, and her faith through the Broadway-First Baptist Church. Whether for family or friends, Roberta never missed someone's birthday and loved putting on wonderful dinners every chance she could, none of which were ever low calorie. And, to each of the children she was always "Aunty Roberta".
Roberta's faith in God was strong and she became a pillar of her church serving in several positions, notably as deacon, member of the finance committee and church treasurer.
In the last few years Roberta's health began to decline, but her generosity and devotion to all never changed. Although the last three weeks of her life were spent in the Victoria Hospital, with Covid-19 preventing visitors, Roberta found peace through the amazing number of family and friends who reached out to her offering their love, some from as far back as kindergarten.
The family wishes to thank the staff of the Victoria Hospital for their compassion and tireless efforts comforting Roberta.
Cremation has taken place. A celebration of Roberta's life is planned for late fall, Covid-19 allowing, at the home of her cousin Barbara Richardson.
In lieu of flowers, a donation can be made to a charity of one's choice.
Arrangements entrusted with:
Rock Fontaine Funeral Director
Honour - Respect - Dignity
(204) 223-2576 or toll free 1 (866) 499-2601
As published in Winnipeg Free Press on Jul 11, 2020
Condolences & Memories
(14 entries)
Roberta was a kind woman with whom I could just relax, be myself and chat freely about many topics. She was knowledgeable and wise. I miss her. Take care, Roberta. Lots of love, Kim - Posted by: Kimberley Fleming (Friend) on: Dec 22, 2020

Roberta was long time enthusiastic volunteer with Artbeat Studio helping to establish a weaving studio at Studio Central, teaching the craft to any artists who were interested and delving in to side projects that would come our way like helping creating a community quilt which was gifted to mental health Champion Clara Hughes. Roberta's great sense of humour and generous spirit is dearly missed. - Posted by: Lucille Bart (Friend from Artbeat Studio) on: Dec 01, 2020

I first met Roberta through our affiliation with the University of Manitoba department of Foods and Nutrition (where I completed a Master's study of low erucic acid rapeseed oil in 1976 which led to the licensing of Canola). We overlapped again during my Ottawa years, where I worked at the National Fisheries Food Centre and she was my Manitoba regional counterpart.Throughout this professional association she was a warm and encouraging and supportive mentor. It was only when I moved back to Manitoba that I discovered we also shared a passion for weaving. Although I never had the joy of taking lessons from her, I often stopped to admire the projects her students were working on at 444 Kennedy where I attended the 55-plus lunch program. Roberta is the perfect example of a life well-lived. - Posted by: Trish Masniuk (shared her passion for foods and nutrition and for weaving.) on: Aug 10, 2020

It is indeed a sad day to learn about the passing of Roberta York in the Winnipeg Free Press on July 11th. I wish to share my sincere condolences with members of her family and friends. Roberta was an interdisciplinary doctoral student whom I advised at the University of Manitoba between 1998 and 2005. Her doctoral thesis was of unique interest because she blended her background and training in food science with her love for and first-hand practical experience in weaving and creative textile design. In fact, she was a pioneer, being the first person to measure the olfactory properties of fabrics using electronic nose equipment! Yes, she used fabrics to pick up odors in the environment and carry them back to the lab to be analyzed for type and intensity!! Interesting stuff that was not well understood then and is equally not well understood even today!! She will long be celebrated for her innovative approach to a productive and creative career. I recall that one of her most challenging assignments was while working for the Canadian Food Inspection Agency, when she was asked to testify at a hearing in Europe whether or not Canadian scallops were the same as French Coquilles St. Jacques. The French were claiming that they were different and should be imported under a different tax code!! Roberta relied on a taste panel she ran which demonstrated that the two tasted exactly the same, and therefore should be imported under the same tax code!! As well as being an inquisitive researcher, Roberta York was a gentle, caring, fun-loving, hospitable, committed, tenacious and conscientious person. Her fascination for many different hobbies, activities and commitments at home, at work and at her church inspired others to join her and share her joy of living with a family of feathered friends. Her laughter and generosity will be sadly missed!! - Posted by: Martin W. King (Professor / colleague) on: Jul 27, 2020

When we lived in Winnipeg (1980's), we had many fun and memorable times with Roberta. She had a great sense of humour and was very kind and generous. She taught me how to cross stitch. I have a fun memory about ordering tuna in a restaurant with Roberta at a time when she was investigating the level of mercury in tuna....the tuna was not eaten! As our son, who was 10 when we left Winnipeg, said, 'You don't forget Roberta'! Our condolences to Barb and family. - Posted by: Elizabeth and Fred Demaray (Friend ) on: Jul 25, 2020

When we lived in Winnipeg (1980's), we had many fun and memorable times with Roberta. She had a great sense of humour and was very kind and generous. She taught me how to cross stitch. I have a fun memory about ordering tuna in a restaurant with Roberta at a time when she was investigating the level of mercury in tuna....the tuna was not eaten! As our son, who was 10 when we left Winnipeg, said, 'You don't forget Roberta'! Our condolences to Barb and family. - Posted by: Elizabeth and Fred Demaray (Friend ) on: Jul 25, 2020

Roberta was always a loyal supporter of the Manitoba Craft Council... one of those stalwart members who would regularly attend events of all kinds - even the dreaded AGM! She was kind, generous, and always passionate in her encouragement of everything craft and textiles related. Talking to her at openings or lectures was always a lovely experience. She will certainly be missed in Winnipeg's craft community. - Posted by: Tammy (friend) on: Jul 16, 2020

Roberta was a wonderful, strong, talented and caring woman. A teacher to her core. She will be dearly missed and will live in my memory forever. My thoughts sympathies are with her family. With all of my love, Renata Bursten - Posted by: Renata Bursten (Student) on: Jul 15, 2020

Deepest condolences to those who loved Roberta. Her infectious smile, her grace and ability to make you feel her love for people and for textiles, will be missed by all who knew her. I missed seeing you at Artbeat Studios and for that I will always be sorry. You are with Jesus! May He comfort those you have left behind. Judy Manness - Posted by: Judy Manness (Human Ecology Colleague. Old friend.) on: Jul 15, 2020

I first met Roberta in the halls of Human Ecology at the University of Manitoba. I was fortunate enough to run into her again about a year and a half ago at which point in time she began introducing me to weaving. She shared many stories, and we talked at length about textiles, church, birds and of course weaving. There was much laughter. During our last conversation, we talked quilting and what we as women with cloth could do to help others in these days of Covid. It is with a heavy heart I learn of her passing. She was forthright and full of grace. She will be missed. To the family, I am sorry for your loss. - Posted by: Helen (Mentored) on: Jul 13, 2020

I met Roberta perhaps 4 years or so ago at Studio Central, where she taught me and others weaving in their weaving studio. Roberta actually set up the weaving studio there, 11 years or so ago, with donations of floor looms, weaving yarns, a whole library of weaving books, and other equipment. For many years, she volunteered there twice a week. When her illness weakened her, she cut back to volunteering once a week. She was thoroughly dedicated to her role as our weaving mentor, and for transmitting in us a passion for weaving and the fibre arts. She told us her goal was to make us independent weavers. Besides her role as a weaving mentor, she put in a lot of time securing donations and adding it to the studio and organizing the studio, all on a volunteer basis and expecting nothing in return. This role of weaving mentor was a mission for Roberta that she was thoroughly dedicated to. She was incredibly generous with her time and amazing wealth of knowledge of weaving. Roberta was a formidable, stoic and persevering woman; she was a great role model who did not suffer fools gladly. Anything and everything she pursued in her life, whether it was her volunteer roles, weaving and the textile arts, and her professional career, she was full devoted and dedicated and completely committed to. She did not hand out praise unless something was truly worthy of it. So those times she praised some aspects of my weaving, I was flying high! My condolences to her family. - Posted by: Sandy Rubinfeld (weaving student) on: Jul 13, 2020

So sorry to hear of Roberta's passing. We enjoyed her company at many social occasions and she was always a joy to be with. - Posted by: Glen and Carol Hopky (friends) on: Jul 12, 2020

My sincere sympathy to Roberta's cousin Barb, family and many friends. While Roberta was in the hospital this past April, she called to offer condolences on the passing of my mother. Roberta was up beat and positive, downplaying her own situation. I will always remember that conversation with positive, warm feelings. She had a good sense of humour, was thoughtful, kind and gave of her talents. May she rest peacefully. - Posted by: Ann Pound-Holl (Friend from Broadway-First Baptist Church) on: Jul 12, 2020

I grew up on Smithfield Ave, next door to the York's. They were wonderful neighbors and Roberta was a special friend and regular playmate. Just two years older, she was entrusted with walking my sister and I to the playground nearby. Young Roberta showed the same resoluteness and tenacity that characterized her adult life. I was amazed that she learned the words from the Bonanza theme song and claimed to remember them all her life. Her attention and generosity were meaningful to me so often in my life, and I will remember her fondly. - Posted by: Phyllis Green (Friend) on: Jul 11, 2020
Email Alerts
Sign up for free email alerts of new obituaries for specific people, towns & more.
❮ Go Back to Listings