Search:

Winnipeg Free Press Passages
All Titles
Notices are posted by 10 am Monday through Saturday
❮ Go Back to Listings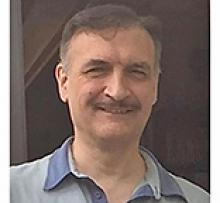 VICTOR CSORDAS
Born: Dec 05, 1960
Date of Passing: Sep 15, 2020
Send Flowers to the Family
Offer Condolences or Memory
VICTOR CSORDAS

With great sadness we share the sudden passing of Victor Laszlo Csordas on September 15, 2020.
Victor was born on December 5, 1960, in Fort William. He is survived by his parents, Laszlo and Jolan, sister Ava (Darcy), and brother Evan.
Victor was a talented writer, artist, composer and pianist. He had a passion for movies and coin collecting, and had an encyclopedic knowledge of both. He was proud of his Hungarian heritage and loved recreating the dishes he learned to make from his grandmother, mother and aunts. He was a loving son, brother and uncle to his family, and we will remember him for his kind and generous spirit.
In the interest of public health and welfare, no service will be held.
Family invite friends to share memories and sign the online book of condolences at ejcoutu.ca
As published in Winnipeg Free Press on Sep 19, 2020
Condolences & Memories
(19 entries)
Dear Joli and Laci, Ava and Eva, We wish to express our sincere sympathy for the loss of your beloved son and brother. We remember him well from Regina, and once in Lethbridge at a Hungarian Dance Fedtival. May he Rest In Peace. God bless you all. With fond memories, Baba and Lóránd. - Posted by: Lorand and Adrienne Szojka (Friend) on: Oct 26, 2020

Drága Joli és Laci! Szomorúan vettük tudomásúl Viktor fiátók halálát. Fogadjátok őszinte részvétünket. Kedves fiúnak ismertük. Isten adjon neki örök nyugodalmat és nektek is megnyugvást Isten szeretetében. Baba és Lóránd - Posted by: Adrienne and Loránd Szojka (Friend) on: Oct 26, 2020

Rest in peace old friend. My condolences to family and friends. - Posted by: Agi Libor (Borbely) (Friend) on: Oct 19, 2020

My sincerest condolences to Victor's family. I met Victor through the Hungarian community in the early 1980's, and must have got to talking about my desire to switch from playing the accordion to playing the piano. He offered to teach me, and there is a possibility I may have been his first student! Since I could play the keyboard with my right hand, it was getting my left hand coordinated with the keys that was the tricky part. Victor was such a fun and engaging teacher, I would sometimes get heck for laughing too much during lessons, but we were still very much taking things seriously. He would be so eager to engage a student, if you liked a certain radio song, he would spend time listening to it and write up the music for it. I wonder how many times he had to listen to Mötley Crüe's "Looks That Kill" to write that music?! Poor guy! Anything to encourage a student to be excited to play piano. I was amazed he did that. Within a couple years, he had me playing Für Elise, The Entertainer and my favourite, the Hungarian Rhapsody. This guy was top notch. I am honoured to be counted amongst his students. He was also an avid and engaging writer. He would often give me a copy of a new chapter of a story he called Cloud 10. I often wished he had finished it sooner and published it. It was an engaging story. I also enjoyed his Purple Pumpernickel adventures and still have those copies. I will always be forever grateful that he introduced me to Monty Python. He played me the Holy Grail and the first time I saw Patsy clip clop to King Arthur, not on horseback, but by clacking two coconuts together, I never laughed so hard. It was so ridiculous, I just loved it. We had a matching sense of silly humour. For all that, thank you Victor. You better be playing on a Steinway up there! Big hugs, Linda - Posted by: Linda Kavitch (Friend/student) on: Oct 07, 2020

Our sincere condolences to Victor's family. My husband Tibor and I got to know Victor through our Hungarian church over 40 years ago. We were in the Hungarian plays together and for a while he even danced in the dance group too. He always had a great sense of humor and could make us laugh at the craziest things. I loved listening to him play and even sang along to some of the Hungarian tunes. He was a gentle soul who was always willing to lend a helping hand when needed. Rest in peace Victor. xoxo Rose & Tibor Boda - Posted by: Rose Olah-Boda (Friend) on: Oct 04, 2020

Our family was deeply saddened to hear that Victor passed away. He taught our boys piano for four years and was an exceptionally talented teacher. We are all so grateful that we had an opportunity to get to know him over the years and for the beautiful music he brought into our home every week. The boys learned so much from him and that knowledge will always be a part of them. He lives on in the music of his many talented students. Our sincere condolences to his family, friends and students. - Posted by: The Sontag Family (Former students) on: Sep 27, 2020

Victor taught our son for many years. Honestly we didn't know what happened until I found the article. We are a bit shocked. We loved him a lot. He will be greatly missed. - Posted by: Maya Shapiro (Student's mother) on: Sep 25, 2020

Victor and I have been friends for 41 years. My deepest and sincerest condolences to his family. I'll miss our dinner and coffee get togethers where we would laugh and talk about our favourite television shows. He especially loved the "oldies" like Get Smart (would you believe and sorry about that chief)the Beverly Hillbillies and Columbo (oh, just one more thing). Catching a movie and then discussing it after was always an interesting experience as he would analyze the movie in a far deeper way than I could. There was plenty of show and tell with his coin collection, which was one of several passions Vic had. Eating was another and I am still amazed how he managed to devour as much as he could.! His two greatest passions however were his students and his writing. Of late we would go for coffee and he'd read the latest chapter that he was working on. Vagabond Jack will stay in my head for quite awhile. I know that he would be very pleased at the kind thoughts from his students past and present and the positive impact he's had on their music and life. He took his teaching seriously and was always looking at improving the experience for his students. Once Vic from finally got a hang of the internet thing, we'd chat via email or text quite frequently. We last chatted on the Sunday before his passing, so his loss was shocking and deeply felt. Through the years we'd been through the normal ups and downs in life and I hope that he will Rest In Peace. I miss my friend Victor from the day I found out of his passing and he will be in my memory and will not Be forgotten. Rest easy my friend. Rest easy. - Posted by: Peter Magyar (Friend ) on: Sep 25, 2020

Victor taught all 3 of our children piano for many years. Jordan, our oldest son, for the longest period of time. Jordan now is a professional musician. Victor was very kind and generous with his time. Jordan played piano at a gathering when he was quite young. It was a group of people Victor knew and he put on a short dance display with a friend for us so we could see how good a dancer he was. We all had a lovely time. We also met him as a family a few times for dinner at the Royal Fork which was a favourite of his back then. Our dog, Teddy, loved Victor too. He was always so happy to see Victor when he arrived and sat on his lap for most of the kids lessons. Several other neighbours, relatives and friends of the family had their children take lessons with Victor. He was a fine man. We all mourn his loss. We all have grown as people from having known Victor. The whole Jackiew Family, Marge, Wayne, Jordan, Arleigh and Jeremy - Posted by: The Jackiew Family (former students ) on: Sep 24, 2020

We are so sad as family to hear about Victor. He was loved by our 3 kids as he worked with them. They loved the coins he would bring by. Again so sad! - Posted by: Michael Shaw (Friend) on: Sep 21, 2020

Victor taught me and my siblings piano for years. We are all saddened to hear of his passing. He was so talented and a great teacher. He was very supportive and always encouraging you to do your absolute best. We wanted to give our condolences to his family. So sorry for your loss. - Posted by: Nicole A (Former piano student ) on: Sep 21, 2020

Our family was saddened to learn of Victor's passing. He was a fixture in our house for many years, as he taught our 3 daughters. We are so thankful for his commitment to music and his students. May his memory be a blessing to his family, friends and all those who were fortunate to know him. - Posted by: Myron Schultz (Father of former students of Victor's) on: Sep 21, 2020

I am very saddened to hear of Victor's passing. He was a dedicated teacher and a valued colleague. My sincerest condolences. - Posted by: Erica Schultz (Colleague) on: Sep 20, 2020

Victor taught our daughter piano for six years, arriving at our home no matter the weather. He said by going to his pupils' homes that their hands were warm for winter lessons. Victor's influence on our daughter was very positive; she gained confidence, discipline, and the satisfaction of winning competitions on occasion. Rest in peace Victor. - Posted by: Diane & Bill Loxton (Parents of a former student) on: Sep 20, 2020

Victor's passing hit me really hard. Ever since I met him when I was 7 years old, he was always an inspiration to me to do my best, and to push myself to be better. He was always encouraging, patient, and kind to me, and for that, I am incredibly thankful. I'm very happy that I have been able to spend 9 amazing years with him, and wish that it could have been more. I will forever remember him as the amazing person he was, and hope that one day I can live up to what he saw and knew I could become. He was more than just a teacher to me, he was a good friend, and someone who I looked up to. Victor is the reason I fell in love with music, and for that I wish that I could repay him. He was the best teacher I have ever had, and will ever have, and wish I could tell him that face to face. I will forever remember him, and I am proud to have been his student. - Posted by: Benjamin Rossen (Student) on: Sep 19, 2020

Draga Jolikam es k. Laci, Szivelyes szimpatiamat fogadjatok szomoru szivvel. Eppen tegnap emlegettem zongora tanarom volt Victor, megmarad sok szep emlekrolla. Isten adjon erot nektek kibirni ezt a fajdalmat. Nyugodjon Bekebe Victor csoda muveszt. - Posted by: Audrey Aranka Egey-Samu (Victor's parents were wonderfull friends and Victor even tutored me piano lessons, shocking news to) on: Sep 19, 2020

I am so sorry to hear of Victor's passing. He was an amazing teacher and friend to me. I will treasure the memories I have with him. Victor was knowledgable, intelligent, and humorous. I am deeply saddened to hear of his passing. - Posted by: Whitney Zyluk (Student ) on: Sep 19, 2020

Vector (as he was called by my children Asha and Riya ) was just a wondeful teacher of piano and really of many other things. (coins, history, theatre, travel, food, film, tv, comedy, politics, the list really is endless of our ten years together.) Our family was right when he came in every Saturday morning to teach the girls. To the family of Victor we are sorry for your loss. But the loss is extremely felt by the Donnelly family. He made music fun for our girls . They did really well with Victor with their music journey. They did not want to disappoint" Vector" and practised for him The enjoyed the comedy duets at their recitals. We all loved him. We miss him Today. (as it is Saturday ) I was a helper for him. Just a dad helper but from my seat, I saw his kindness and effort he put into teaching by girls for every single Saturday and every year (and showing his coins with explanations ! ) Vector gave us joy with music. We will always be grateful. We miss him Brian Donnelly - Posted by: Brian Donnelly (Father of two students, Customer , Friend ) on: Sep 19, 2020

Les and Joan and Family: We are deeply sorry to hear of the passing of your son Victor. We are thinking of you and praying for you at this difficult times in your lives.. Chris and Colleen - Posted by: Chris and Colleen Souce (Friends and coworker of Les) on: Sep 19, 2020
Email Alerts
Sign up for free email alerts of new obituaries for specific people, towns & more.
❮ Go Back to Listings