Search:

Winnipeg Free Press Passages
All Titles
Notices are posted by 10 am Monday through Saturday
❮ Go Back to Listings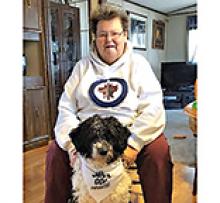 GRACE LILLIAN MCDONALD
Born: Nov 13, 1945
Date of Passing: Oct 31, 2020
Send Flowers to the Family
Offer Condolences or Memory
GRACE LILLIAN MCDONALD
November 13, 1945 - October 31, 2020

It is with great sadness that the family of Grace Lillian McDonald announced her sudden and unexpected passing on Saturday, October 31, 2020, at the age of 74 years.
Grace leaves behind to mourn, her foster sister Debbie Red Sky, her beloved service dog Hey Jude, many nieces and nephews, great-niece and great-nephews, godson, in-laws, and many friends near and far.
Grace has been reunited with her parents, Norman and Lillian McDonald; her sister Sharon Knox, her brother Anthony McDonald, niece Corryn McDonald, foster sister Sandra and the love of her life her late husband and business partner Wayne Bellingham.
Grace had a wonderful smile, with a great laugh. A big heart and an ear for listening. She was an inspiration to many in the dog community, a great leader, teacher, and friend.
You are so deeply loved and will be
missed more than you will ever know.
Safe travels Auntie Grace, all our love
from your family and friends.
Until we meet again.


Cremation has taken place. A celebration of her life will be held at a later date.
LIFE WELL LIVED

A life well lived is a precious gift,
Of hope and strength and grace,
From someone who has made our world
A brighter, better place.
It's filled with moments, sweet and sad
With smiles and sometimes tears,
With friendships formed and good
times shared,
And laughter through the years.
A life well lived is a legacy,
Of joy and pride and pleasure,
A living, lasting memory
Our grateful heart's will treasure.
ETERNAL GRACE FUNERALS
204-505-4559
As published in Winnipeg Free Press on Nov 17, 2020
Condolences & Memories
(21 entries)
I just heard today that Grace earned her wings. She sure was a beautiful lady that never gave up on ANYTHING, she helped me train my dog Bales and what a difference her training made with our Bales. I cannot say enough great things about this lady except she sure did make a difference in this thing we called life today! Bales failed her graduation of training but Grace also said she had never met a more stubborn dog. I remember we gave her a command and Bales just sat there and looked at us to say huh? yea ok...and Grace says OOOOOOOOOO this is not good! And all the talking Bales did , Grace told me she was swearing at me!!!! Grace was a straight shooter and said what was on her mind (I love those people!) and I loved her inside and out. You are missed by many and many that only knew you for a short while like myself and Bales. Fly high Grace and spread those wings. Also please watch over all of those who love you! Saddened your gone but no more pain, and your back with your love! - Posted by: alli northmore (freind (trained me and my dog to live together!!!)) on: Nov 05, 2021

I just went to look up Grace and was saddened to hear of her passing. I purchased a yellow labrador puppy from her in March of 2006 and that beautiful, amazing dog is still with us. Sunny has been the best dog I have ever owned and we have been blessed to have her for 15 and a half years. I know Sunny's time with us is short and I wanted to get Grace's advice on purchasing another healthy labrador after Sunny leaves us. Grace knew dogs and Grace knew Labs. Rest in peace Grace. When you see Sunny in heaven take care of her until I get there. - Posted by: Deb Pretula (Client) on: Jun 16, 2021

I'm saddened by the news that Grace has passed. She was an amazing trainer to my very first dog. Because of Grace's expertise, knowledge and caring attitude my Maggie was an amazing well trained dog. I googled Grace's name to inquire if she was still training dogs because I will be getting a new furry family member soon and Grace was that good!! I am very happy that I saved all the training sheets she gave to the clients. My condolences to her close friends and family - Posted by: Lisa Ryckman (Client) on: May 19, 2021

Grace, you were the Best trainer, you left too soon. Only regret, we have Lost, all your training material. Anyone has a copy, would be well appreciated if we could get a copy. 2049818771. God bless. - Posted by: Wesley Fulchrr (Client) on: Apr 24, 2021

Grace trained all 3 of our dogs in the last 20 plus years and we are very grateful to have worked with her. Because of her wisdom and knowledge we have been blessed with 3 great dogs and truly enjoyed our time with Grace. - Posted by: Jari Stromberg (client) on: Jan 28, 2021

It is with great sadness and a sense of loss that I have only now discovered that both gentle Wayne and gregarious Grace have passed. Of course, I was looking for their expert guidance as we were switching from German Shephards to Standard poodles and I had such hopes that they would be there to walk us through the puppy and young dog stages. We will try our best to train as we were so expertly trained to do. The legacy will live on. My deep condolences to their family and friends. Kim Moran - Posted by: Kim Moran (Client and chiropractor) on: Jan 25, 2021

Grace trained two of my dogs, and because of her guidance, both dogs became my best friends and trusted companions. I could talk with Grace all day long. My understanding of dogs expanded every time I had the opportunity to learn from her. She understood dogs so well, and she was such an amazing teacher. You will be missed Grace! - Posted by: Joe Ethier (Friend) on: Dec 29, 2020

Grace you left us way too soon. There were all these conversations I was looking forward to having with you. As my big sister's high school friend, Grace was a constant in my family's life for decades. In the dog shows, the hunt tests, the obedience trials she was always there. As Lab owner/ breeder she understood the nature of Labradors so extremely well. When we had Bull dog issues she understood all the nuances. We really enjoyed our last visits with Grace, Wayne and Hey Jude reminiscing about old times and learning new dog stuff. She was always a good friend, generous, ready to answer questions and offer help. A whole library of dog knowledge is now gone. We miss you so much. And we join in sympathy with your family and friends for their loss. Sharon Keyworth and George Harrison - Posted by: Sharon Keyworth (Friend) on: Dec 04, 2020

You touched a lot of people (and dogs) your legacy will live on with everyone you were in contact with. You will be dearly missed by all. - Posted by: Gordon Dunn (Friend and instructor) on: Nov 30, 2020

I had the pleasure of meeting Grace when her and Wayne would journey out to BC in the summer mo's. My husband Frank's friendship with them spanned 40 yrs, after of course, Frank consulting Wayne about training his lab cross Boots. We always looked forward to our time and great conversations with them. Grace was a practical ,matter of fact, no nonsense kinda gal, kind, compassionate and thoughtful and thought provoking with an interest in everything. We are so sad and will miss her in our lives but we will have great memories to draw on. Grace will always be in our hearts, as Wayne is, and we can smile and gain some solace in knowing they are again together and reunited along with the many dogs they loved and cared for over the years. Our condolences to Grace's family, We join Grace's family and friends in grieving their loss. Frank and Tracy Dawson - Posted by: Tracy Frank Dawson (Friend) on: Nov 22, 2020

I met Grace in 1973 when she trained for MCA. I had an Irish Setter that she helped me obtain an OTCH on. She kept me interested in obedience through many different breeds. Irish Setters, Border Collies, and then on to Rottweilers. She helped me through a major family issue in 1984 when I had a premature son, that I have never forgotten her kindness and when I had a litter of Rottweiler pups, I gave her and Wayne one they called Sir. Many years have gone by since we saw each other but I am thankful that we had a visit just recently She is now with Wayne and all their dogs and will be happy. - Posted by: Amy, Glen, and Kurtis Brown (Friend) on: Nov 19, 2020

Hearing of Grace's passing hit me hard. She was someone in my life that, I guess I thought, would just always be there. Over the 31 years that she was in my life, she helped me countless times. Mostly with dogs but also with personal growth of my own. I looked up to her. She was my super hero. I don't know if she really knew, what a huge inspiration she was to me. (Although told her often and bragged about her all the time!) I wouldn't be fully who I am today, if not for meeting Grace McDonald. We started out as Teacher and student. Her strong personality left a huge impression,, I was in awe the first time I met her... even though she scared me a little bit!! Lol I never could have known back then, just how deep a mark she would leave on my life would be, or that our relationship would span three decades! She helped me develop a lot of confidence both personally and professionally. Somewhere along the way, after many years of her sharing her patience and wisdom, I gained her respect as someone that also works successfully, training, grooming and looking after dogs and sharing Grace's wisdom with their people. I will miss her deeply. My heart felt sympathy to her family and the many people whos lives she touched in a loving way. The dog world will never be the same for any of us without "our dog whisperer" Donna Golin - Posted by: Donna (friend, client, protégé) on: Nov 19, 2020

I'm so sorry to learn of the passing of Grace. I met her in 1997 and got my first lab, Marley from her. With training of not only me, but of course Marley too, Grace and Wayne became so much apart of our lives. They gave my family and I the greatest dog ever in Marley. Honesty our next 2 are always compared to the great amazing Marley!! We then connected again for our "change" to Portuguese Water Dogs and how we love them just as much as our beloved labs. So many lives, human and furry, have been touched by Grace and Wayne. May they be forever happy together - likely surrounded by so many amazing dogs. To who ever has Grace's dog, Hey Jude, enjoy and snuggle that sweet PWD, as I'm sure they're missing her more than any of us. Tracy, Richard, Rachael, Serena & Adam - Posted by: Tracy Leipsic (Friend ) on: Nov 18, 2020

We had the extreme honour to have met both Grace and Wayne. We were near the end of our rope with our young rescue boxer when someone suggested Grace. Grace was able to do what no others had come close to. She gave us a dog that we could walk and follow our commands. We are so thankful to Grace and will be forever in her debt. She was a dog whisperer but in a very commanding (loving) voice. The dog world has lost a beautiful advocate and we will truly miss her. Thank you Grace and Wayne for making many dog's lives full of love and happiness. - Posted by: Patrick & Barbara Bend & Kelsey (boxer) (Friends and clients) on: Nov 18, 2020

We had the great fortune of having 3 different labs from Grace over the last 30 years. Grace was always our go to person with any dog questions. She was an amazing person and could train any dog . It was amazing to witness what she was able to accomplish with her service dog Hey Jude, She will be missed by all but know that Wayne and all of her labs are waiting for her with opens arms and wagging tails. RIP Grace - Posted by: Marie and Allan Gledhill (Friends) on: Nov 17, 2020

Grace was a volunteer Board Member for ACL-BB for several years. She came to us when her sister moved to Beausejour. Grace was so committed to her sister her husband Wayne who passed away and her animals. Grace had wisdom and compassion that she was always willing to share. I will miss her presence very much and hope Grace and Wayne are dancing in the sky. - Posted by: Linda Gmiterek (Friend) on: Nov 17, 2020

Our heart felt sympathy to friends and family on Grace's passing. We were devestated when we heard the news. RIP Grace... Honey and Donny will be excited to see you again! - Posted by: Bernice and Brian Lucas (Close friends) on: Nov 17, 2020

When you thought of dog training and Understanding the canine psyche, Graces name was always the first mentioned. Her talents at bringing out the best in our canines, and ability to teach service dogs was extraordinary. Our condolences to the family. - Posted by: H Rodger (Friends ) on: Nov 17, 2020

My condolences to her family and loved ones. I met Grace when I and my parents were members of the GDDC of Manitoba. She was a true mentor and a lovely person. RIP Grace - Posted by: Sian Wilson-Russell (Friend) on: Nov 17, 2020

Grace had a huge heart and a curious mind and a love of animals that cannot be matched. Ever so helpful to all who needed a hand and sometimes a shoulder to cry on. Grace My Friend, My Mentor, My Inspiration. - Posted by: Margaret Ekosky (Friend) on: Nov 17, 2020

Grace and Wayne were close friends who are missed very much. Our thoughts are with you, Kim and Deb, at this sad time. - Posted by: Annice and Mike Baraschuk (Friends) on: Nov 17, 2020
Email Alerts
Sign up for free email alerts of new obituaries for specific people, towns & more.
❮ Go Back to Listings