Search:

Winnipeg Free Press Passages
All Titles
Notices are posted by 10 am Monday through Saturday
❮ Go Back to Listings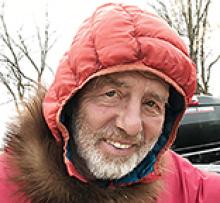 RODERICK RALPH RIEWE (RICK)
Born: Jun 08, 1942
Date of Passing: Nov 25, 2020
Send Flowers to the Family
Offer Condolences or Memory
RODERICK RALPH RIEWE

Dr. Roderick "Rick" Riewe, 78, died on November 25, 2020, at his home in Winnipeg, Manitoba.
Dr. Riewe (BSc Wayne State, MSc and PhD UofMB) was born June 8, 1942 in Detroit MI to Laura and Ferdinand Riewe. He studied mice in Newfoundland, Inuit wildlife management in the Canadian High Arctic, and then throughout the circumpolar regions with his soul mate and research partner, Jill Oakes.
Rick taught Biology, University of Manitoba, published over 100 books including Nunavut Atlas, fished commercially, and loved teaching igloo construction, which is where he met his wife. Rick was a gifted story teller and loved adventure. To minimize his Parkinson's symptoms Rick cycle toured about 15,000 miles per year, exploring backcountry USA, Canada and Cuba. This year, thanks to Hercules-style 24/7 support from Colin Gisiger and Steven Walker, Rick canoed the Bloodvein and Manigotagan Rivers, and cycled throughout Manitoba, North West Ontario and British Columbia.
November 10, Rick entered Palliative Care, unable to walk, stand, talk, and swallow, yet he continued to get up "at the crack of dawn" cycling his custom built bicycle to track deer. Thank you to caregiver aids John Wider, Nancy Allen and Kira Eidse; and palliative doctors and nurses; they had never seen anyone in such good condition with such aggressively advanced Parkinson's symptoms. Rick's message to others "Just do it".
Rick is survived by Jill Oakes (wife); Gordon Riewe (brother); Linda Hatcher (sister); Nick Riewe (son); Jennifer Oakes, Judi Oakes, Linda Brooks (sister in laws) and nieces; nephews; grandson; grandnieces; grandnephews; and one great-grandson.
In lieu of flowers, donations to Manitoba Wildlife Society, Winnipeg Trails, Trans Canada Trail, Springfield Flying Club or Manitoba 99s Women Pilots Organization are welcome. A private service will be held via Zoom, December 2 at 7 pm. To register with Zoom, please contact rickscelebrationoflife2020@gmail.com.
Friends and relatives are encouraged to share in a photo-tribute, stories, and condolences for the family by visiting Rick's memorial page at IntegrityFuneralPlanning.com
INTEGRITY
Cremation & Funeral Planning
204-295-5408 IntegrityFuneralPlanning.com
As published in Winnipeg Free Press on Nov 28, 2020
Condolences & Memories
(27 entries)
Earlier today my daughter, Kim, was asking about family and I told her about my cousins Gordon, Ricky and Linda all of whom I haven't seen in years. She obviously went on line and found this sad notice. I am so proud to say we were related. What an amazing life he lived. My deepest sympathies to his wife and family. - Posted by: Judy Darin (Watkins) (cousin) on: Jan 16, 2021

Dearest Jill. Was so saddened to hear of Rick's illness and passing. You both changed the course of my life when we met on Baffin Island in the 1990s and before I knew it, I had changed my school plans to just be in your wonderful collective energy ... moved to Winnipeg, moved in with you as a student boarder, learned the joys of eating roadkill, playing instruments, and having many laughs and adventures. You both transformed the way I studied, thought about research and lived! It was a very rich chapter of my life, and no doubt has influenced my life choices. I moved to the Mackenzie Delta after the NRI, ditched the boyfriend (married one that you liked!), and have not looked back. I last saw Rick on Salt Spring for a couple of days in 2006! In typical Rick style, he took Jeroen, baby Rudi and I on a killer long hike, all along saying, "I have no idea where Jill is, but glad you are here as it's my 65th birthday today!" We celebrated that night over a lovely dinner and Rick spinning his tales, telling jokes and exchanging northern stories. So grateful for that last visit with him. To see images during his celebration of life of his final years of cycling, paddling and enjoying every last bit of the outdoors that he could ...no doubt a product of your unwavering support & ingenuity...was no surprise to me. We should all take a page from your and Rick's book. What a beautiful soul this world has lost. Jill, our deepest condolences. Much love from Shannon, Jeroen, Rudi and Nina, Yellowknife, NWT. - Posted by: Shannon Ward (former student and roommate!) on: Dec 10, 2020

I did not know Mr. Rick but for the past few months I have been working with Dr. Oakes and she is a great professor and I would like to offer my condolences to his family and loved ones. I might not have much to say but I will leave with these three scriptures from the Christian Bible. Psalm 34:18- The LORD is near to those who have a broken heart, And saves such as have a contrite spirit. Isaiah 54:5- For your Maker is your husband, The Lord of hosts is His name; And your Redeemer is the Holy One of Israel; He is called the God of the whole earth. Psalm 147:3- He heals the brokenhearted And binds up their wounds. May the Lord richly bless you all and comfort you indeed in Jesus' name, Amen! - Posted by: Chukwuemeka J.E. (Student of Dr. Jill Oakes) on: Dec 09, 2020

I don't know that I've ever seen a more inspirational story of life, love and cycling. Thank you, Rick and Jill, for the gift. - Posted by: Catherine Mitchell (Acquaintance ) on: Dec 05, 2020

Jill and family, my sincere condolences. I have many fond memories of you and Rick….at your cabin with some kind of road kill on the wood burning stove…… deer hunting and you using the tallow to make cookies. Meeting wonderful people through you both like Dick and Leonard and the Cotters. Igloo building at Delta (wine on the side). You both have had a positive influence on me, planting the seed for taking me (even further) north. Rest in Peace Rick. Jill, you have so many absolutely awesome memories to cherish of you and your sole mate. - Posted by: Valerie Kosmenko (Friend) on: Dec 03, 2020

My sincere condolences to Jill and Rick's family. I met Rick and Jill through my friend, the late Leonard Sawatsky, U of M geography professor. Len had great respect for Rick's intellect and we marveled at his vast knowledge. His down to earth approach to life was unique. Len Joined Rick and Jill on many a deer hunting adventure. The venison feasts that followed were one of a kind. So sorry for your loss Jill. - Posted by: Nettie Peters (Friend of Rick and Jill) on: Dec 02, 2020

It does not surprise me to read that Rick's message to others was "just do it" as that is exactly what I remember about him! When I met him and Jill in 1995, I soon realized that he could do anything he put his mind to! His enthusiasm and zest for life was contagious and inspiring! Before I knew it, I was kayaking for days around the Gulf Islands, cooking gourmet meals over a campfire and sleeping under the stars with him and his equally amazing wife, Jill. Those are some of my best memories and I am grateful to my forever friend, Jennifer Oakes for inviting me and introducing me to her family. Rick's essence lives on in all of us who knew him. - Posted by: Kim Bull (Friend) on: Dec 02, 2020

Dear Jill, I was shocked and very saddened to read that Rick has passed away. I have long thought of him as a modern counterpart of the great biologists of past eras, who always looked at the whole organism in its ecological context. While he and I did not have many chances to interact, I appreciated what I saw and read of his work. I am sorry that he is no longer with us, doing what he did best. My God rest his soul, and the love of your family and friends bring you solace and comfort. Emoke - Posted by: Emoke Szathmary (colleague) on: Dec 01, 2020

Rick donated his extensive rich collection of research records to the University of Manitoba Archives, for which we were very grateful. He came in often to add useful details to his slides and we so appreciated his efforts! It was always a happy experience to see and talk to him and to listen to his stories. My sincere condolences to Jill and Rick's family. - Posted by: Shelley Sweeney (Friend and colleague) on: Dec 01, 2020

As a former NRI student I recall Rick's passion for teaching, especially so when instructing students to build a deluxe igloo on Lake Winnipeg as part of a winter survival course. Rick was a very kind and gentle person, and will be much missed by all whose lives he touched. - Posted by: John Marczyk (Former Student) on: Dec 01, 2020

I am so sorry to hear of the passing of Rick who was a huge influence on my life as a student, a nature lover and now as an educator. I was an assistant in Rick's classes and would often assist with igloo building workshops. My appreciation for winter and Inuit TEK is because of them. I used to live near Rick and Jill as a student and was woken up very early one morning by a phone call saying "Ginger! Get up! We are picking you up to go get a Siberian tiger!" As crazy as that sounds we drove to cut up parts from a large tiger that had been a part of a game farm. You can all imagine what happened after that. Cat stew for the whole class and many gatherings after that. That still remains one of my favorite memories along with all the amazing story telling and pure enthusiasm and love of life. Rest in peace dear Rick - You will always be remembered by so many of us students. I'm so sorry for your loss Jill - Ginger - Posted by: Ginger Arnold (Student) on: Dec 01, 2020

I had the wonderful experience of learning from Rick and Jill through a weekend course where we were taught winter skills revolving around igloo building on Lake Manitoba in January. I returned to the course twice, and was invited as an extra volunteer to assist students a third time. What struck me about Rick was his willingness to include and integrate - bringing people together from a wide variety of backgrounds to share their experiences with one another, and pushing our boundaries in the cold conditions that are so important to appreciate and adapt to. My condolences to Jill and all who have posted here. - Posted by: Katrina F. (Student) on: Nov 30, 2020

Dear Jill- I was just thinking about you and Rick last night, before reading this news today. I am heartbroken for your loss, but so honored to be among those fortunate enough to have been taught by Rick. Rick was one of my favorite teachers when I was a student at the NRI. I will always remember the nurturing space that you created for students from all backgrounds to come together to learn and be inspired. Together you helped shape my understanding of loving partnerships as much as the wildlife and natural resources I was studying. Please accept my condolences. - Posted by: Heather (Bond) Braun (Former student ) on: Nov 30, 2020

I am so saddened by the news of Rick's passing, and wish to offer my condolences to Jill and other family members. He was truly a unique personality on the biological scene in Manitoba and the Canadian Arctic, always ready with a big smile and perceptive comment. Some fond memories of Rick include his enthusiastic agreement to write an article on Inuit hunting techniques for Manitoba Nature Magazine, and cross-country skiing together; I was really challenged to keep up with his stamina and powerful strides, all the while we were discussing Nature observations in the snow. Shortly after my wife passed away, Rick kindly invited me and my two young sons to spend time with him at his cabin in the Carberry Sandhills, where he demonstrated his ability to attract deer by striking a pair of antlers together. His stew pot for the evening dinner featured a floating and grotesque-looking carcass of a gray squirrel, much to the shock of the boys! Knowing Rick, I expected the unusual. Rick was a remarkably captivating teacher, which no doubt had a profound effect on his numerous students. His love of, and appreciation for, Nature were so apparent each time he spoke in the lecture room or during field trips. His zest for life was contagious. I will never be able to pass by a quinzhee or igloo without remembering my friend. - Posted by: Robert Wrigley (Friend) on: Nov 29, 2020

Met them at many flyins in Manitoba and wanted to leave my condolences for the family. My thoughts are with you. - Posted by: Raymond Trachsel (Friend of Jill) on: Nov 29, 2020

Rick was one of my favorite profs during my undergrad at U of M (Zoology). I took his Principles of Wildlife Management Course back in 1990. I have many fond memories of that course and the associated field trips. One of my best memories is going out to his cabin with a bunch of other students in the winter and sleeping in an igloo. Good times! My condolences to Rick's family. - Posted by: Mike Williams (Former student) on: Nov 29, 2020

Got to know Rick on Devon Island while we were all working with the Arctic Institute of North America. I enjoyed his wit and humour, his knowledge and perseverance. Condolences to the family and Best wishes. Mike, Vancouver, BC - Posted by: Mike HOYER (colleague in the '70's) on: Nov 29, 2020

Our sincere condolences. Rick was such a force in this world. His approach to dealing with Parkinson's was inspiring. The neighbourhood has never been the same without you 2. Your house is still referred to as "Rick & Jill's". Take care Jill. - Posted by: Jim Gregorchuk & Anne Thorkelsson (former neighbor ) on: Nov 29, 2020

RIP, old buddy. You were one of the best and will never be forgotten. - Posted by: Chuck Amsden (Former colleague at U of M and fiend for 50 years ) on: Nov 28, 2020

We met Rick and Jill about 4 years ago when the love of dance brought a group of us together. Rick's face would light up as he and Jill made their way around the dance floor and he was especially thrilled to join in on the mixer dances where he had the opportunity to spin the lady off to her next partner. On occasion, he'd enthrall us with stories of the adventures he and Jill had experienced in various places around the world, bringing to life the photos in one of the many books they'd published. Never a complaint in spite of his illness....only a smile and a joke for those lucky enough to share in a few short years of his life. We'll miss you Rick.....you're dancing with the angels now. - Posted by: Heddy & Robert Paquet (Friend) on: Nov 28, 2020

My condolences to Jill and family on the passing of Rick. I interviewed him a number of times over the years (and Jill too) about his research and the books that he and Jill wrote together. Rick was always gracious with his time and in sharing his knowledge. His message to others, "Just do it", is exactly the way to approach life. Martin - Posted by: Martin Zeilig (friend) on: Nov 28, 2020

Rick was an important source of inspiration and encouragement during our careers as wildlife biologists. So it was without hesitation that we answered Rick's occasional call to assist him as a guest lecturer with his wildlife biology classes he taught at the University of Manitoba. His legacy of published works and outdoor adventures and his "Just do it" mantra will continue to influence us and countless others that are following his never-ending wake. Thanks Rick, and thanks to all who helped him carry on in his latter years. James and Patricia Duncan Balmoral, Manitoba - Posted by: James and Patricia Duncan (Colleagues inspired by this force of nature ... ) on: Nov 28, 2020

My condolences. Sad to lose a good friend. Rick was always energetic and enthusiastic to get the most out of life. I remember many fierce squash matches with him and the bravado talk before and after!! May he rest in peace. My thoughts are with you Jill. Erwin - Posted by: Erwin Huebner (Friend and Colleague) on: Nov 28, 2020

Hi Jill, my memories of Rick, from a visit on Saltspring Island with Doreen. We cycled together and the two of you shared many memories of your travels in the Arctic. What a story teller! I have never laughed so hard! I Have followed Rick on Facebook and enjoyed every minute with the two of you and your travels! Just do it! Linda - Posted by: Linda McNab (Friend of Doreen) on: Nov 28, 2020

Dr. Riewe was one of my best professors at U of M. What a storyteller! His course was one of only a few that would fulfill the Science requirement for Elementary Education students. He engaged us on our very first class by jumping on his desk and howling. I never knew there so many words for snow. His love of nature, biology and in particular the Arctic was inspiring. He helped form the teacher I am today. Much respect to him and his family. - Posted by: Heather Korlak (Former student) on: Nov 28, 2020

Rick made me feel at home in the department when I arrived over 20 years ago. He added a dimension to ecology that we will all miss. I especially enjoyed his sharing stories from his Halibut fishing days. I was grateful when he came to my very mathematical fisheries class to provide a fisherman's perspective for my students. I have missed him these past years and will continue to do so. My sincere sympathy to Jill and all of his family. Darren - Posted by: Darren Gillis (Colleague) on: Nov 28, 2020

We did not know him by name, but we saw a few times on the Transcona trail with a few other people, riding his amazing bicycle. Sorry to hear of his passing. May he rest in peace. - Posted by: Richard & Ghislaine L. (Shared the Transcona Trail) on: Nov 28, 2020
Email Alerts
Sign up for free email alerts of new obituaries for specific people, towns & more.
❮ Go Back to Listings