Search:

Winnipeg Free Press Passages
All Titles
Notices are posted by 10 am Monday through Saturday
❮ Go Back to Listings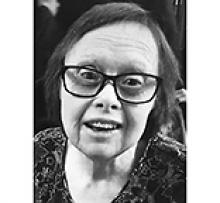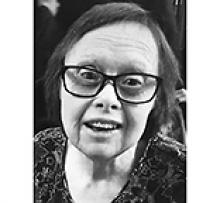 JUSTINE ESTELLE STEINKOPF
Born: Aug 31, 1950
Date of Passing: Dec 02, 2020
Send Flowers to the Family
Offer Condolences or Memory
JUSTINE ESTELLE STEINKOPF
August 31, 1950 - December 2, 2020

Justine Estelle Steinkopf, daughter of the late Maitland B. Steinkopf Q.C. and the late Helen K. Steinkopf, died from Covid-19 early Wednesday, December 2, 2020. Justine lived a life that defied expectations for someone born with Down Syndrome in 1950. Her parents decided not to institutionalize her and to give her as normal a life as possible.
She lived in the family home for the first 23 years of her life. Justine learned to read and write at the Kinsman school when schooling opportunities were limited for persons with Down Syndrome.
There were swimming lessons, piano lessons, ballet lessons, horseback riding with the family and more. She loved all her activities especially her Saturday bowling league. She earned more than 30 bowling trophies. She also participated in the Special Olympics in golf and rhythmic dance, returning home with many medals.
Justine is best remembered by her infectious smile and the joy she brought into a room; always willing to give everyone who knew her name a welcoming embrace.
Although Justine was sweet and gentle, she was strong willed, determined and strong minded. You could only smile in her presence. It was part of her charm.
Justine always had a busy social agenda. She loved music. Elvis in particular. She loved to dance and for many years she attended social events with her peers. She out danced anyone on the dance floor. She was quite a sight to watch.
The highlight of her social calendar was always her birthday. If you happened to meet her anytime from the middle of June, you would quickly be aware that her birthday was coming up at the end of August.
She enjoyed the theatre and never missed a show during the Rainbow Stage Season.
Throughout her life Justine had many opportunities to travel with family. The most memorable trips were those taken at her suggestion. These included Graceland, Dollywood and Branson Missouri. It was a lot of fun to travel with her.
When she was 23 she moved into a home with three of her friends and a caregiver. This worked for a short time but eventually Justine had her own place. Caregivers visited when she wasn't at her workshops or other programs. She loved working out with her trainer.
Justine was often seen around Winnipeg taking the bus to work, to her trainer, to bowling, to buy a CD or to one of her many programs. Whenever out with her, someone would always come up to say hello. They would know her from somewhere in town. Maybe you knew her?
Justine seemed to have pet names for everyone. She had a fabulous sense of humour. She really knew how to put a smile on everyone's face.
One of Justine's favourite outings was the Baby Boomer Cafes conducted by Sib to Sib, which is run through Continuity Care. At Sib to Sib programs, the intellectually handicapped and their siblings celebrate holiday and picnic events together. She loved the annual Bird's Hill picnic every summer. She often brought her "no good brother", as she called him, to the picnic. At the same time, he was also her "favourite brother" and her "tall brother".
Justine loved her Winnipeg Blue Bombers so much that her nails were always painted blue and gold. She had season tickets and went to games regularly.
Through the years Justine had many outstanding caregivers, counsellors, teachers, organizations, and volunteers that helped her live the best life possible. The family expresses its appreciation to all who enhanced her wellbeing during her lifetime. Particularly in her last days the team from Maitland B Steinkopf Residence went above and beyond the call of duty to comfort her.
Justine is survived by her five siblings, Marilyn Steinkopf (Rick Jones), Aliza Karp (Israel Karp), Max Steinkopf, Jocie Bussin (David Bussin) Winifred Hall (Lindsay Hall) and many nieces, nephews, grandnieces and grandnephews.
A celebration of her life will be held in the future.
She will be missed by many. She enriched the lives of all who knew her.
Donations can be made to Continuity Care Inc. for the Sib to Sib program, www.continuitycare.ca, 2-120 Maryland St., Winnipeg, MB, Canada, R3G 1L1.
Publish Date: Dec 5, 2020
JUSTINE ESTELLE STEINKOPF
August 31, 1950 - December 2, 2020

Justine Estelle Steinkopf daughter of the late Honourable Maitland B. Steinkopf, Q.C. and the late Helen Katz Steinkopf passed away early Wednesday from COVID.
Her funeral will be livestreamed Thursday, December 3, 2020 at 2:30 p.m. Winnipeg time at www.szwinnipeg.ca.
A longer obituary will be published Saturday.
Publish Date: Dec 3, 2020
As published in Winnipeg Free Press on Dec 03, 2020, Dec 05, 2020
Condolences & Memories
(22 entries)
Sadden to come upon Justine's notice of passing. I remember her so fondly. She always greeted me with a smile and a big hug when I went over with the twins after school. The nickname she gave me was Lion or sometimes she called me Halley Mills. I would see her on the Academy Bus sometime and she would run up the aisle calling LionLion we would sit and cuddle till her stop came up sometimes I would get off the bus with her and walk her home. She was so genuine and so very special. My heart felt Condolences. - Posted by: Carolyn (Veitch) Perreault (Family Friend ) on: Feb 20, 2022

I knew Justine as a child…we called her Beanie. She was the sweetest little girl and her mother and father made certain that she was included in any activity. I remember attending her Bits-mitzvah and how exceptionally well she did. She had a great deal to learn for the ceremony but she managed it and did well. The Steinkopf family was a special family to our family…the Harold Smith family in Winnipeg. Yearly outings with our families were a tradition and when I attended St. Mary's Academy I went to the Steinkopf's for lunch every Monday. Justine was a delight to interact with at those lunch dates. Helen Steinkopf and my mother were good friends and quite often had lunch together. After my mother and father and Maitland Steinkopf passed on, Helen always called us when she came out to the west coast. We would go to lunch or to dinner and she would tell us about the children…Justine was particularly enthralled with a small plane trip they had taken where she sat right beside the pilot with the big headset on her ears. Helen said that she looked "so cute". I am so sorry to learn of her passing. I send my condolences to Marilyn, Max David, and Allison and the twins. Sincerely, Jacquie Slocombe. Qualicum Beach, BC. Vancouver Island. - Posted by: Jacqueline Slocombe (Friend) on: Feb 04, 2022

As a little girl, in the early 60's, in Winnipeg, I would visit my grandmother who worked behind the bakery counter at Picardy's at the corner of Portage and Donald. I remember seeing Justine and her mother there many times, purchasing sweets or at the restaurant at the back of the store. Reading her memorial tribute specifically brought the memory of her there, either waiting to go to or having just been to, the new Elvis movie that was playing at the theatre down the street (either Met or Capital). She was very excited. She and her mother were always so impeccably dressed. I was 5 years younger than Justine but I knew, even then, that she was a special person. The life she lived proved that to have been so true. Thanks for the memories, Justine. - Posted by: Andrea Oswald (Person who remembers) on: May 16, 2021

I am saddened by the passing of Justin and at a loss for words. I did always missed your hugs when we parted. Rest in peace dear Justine 💔🙏 😢 ❤ - Posted by: Mary MacLaurin (Caregiver ) on: Dec 14, 2020

My condolences to the family. Justine was a friend to my late Aunt Judy and I have fond memories of visiting with them at their home on Sherburn when I was little. - Posted by: Joan Sinclair (friend) on: Dec 07, 2020

I was saddened to hear of the passing of Justine who was a big part of my life from 1973 until even after I went into the newspaper business in 1981. I worked on recreation programs for the developmentally challenged during my university and post-university years, and she was among the most memorable. I'm not totally surprised that Covid-19 took her life because hugging those she cared and loved was in her DNA. It must have hurt her to her core to be continuously told not to hug. We introverts must take care of our extrovert friends now! In the summer that Winnipeg hosted Special Olympics an exchange trip was organized for about ten athletes to visit their newfound friends in Vancouver later in the summer. I escorted that group - including Justine - to Vancouver and that is where I got to know my future wife. I moved to Vancouver that year, Louise and I married the following Spring, and then we moved to Winnipeg to finish my degree with a promise to move back to BC later (kept that promise in '94 when we moved to Salmon Arm!) We shared our first job in Winnipeg as houseparents for four wonderful adults- Justine, Judy, Ian and Bev. Thank you Justine for teaching the love of life, and compassion for all. - Posted by: Lorne Reimer (counsellor) on: Dec 07, 2020

I am very sorry to hear of Justine's passing. She was so lively and fun and always a main focus for her mother, Helen. Justine was very enthusiastic and I remember her telling me about her many interests, especially Kenny Rogers! I offer my sincere condolences to Justine's family. Anna Stokke - Posted by: Anna Stokke (Friend) on: Dec 06, 2020

Justine was our special friend on Oxford Street. She loved everyone and we loved her! I'm so happy she lead such a magnificent life. Her accomplishments were remarkable. My sincere condolences to The Steinkopf Family - Posted by: Suzanne McMurray (Friend) on: Dec 06, 2020

Sending love and hugs to the family - what a lovely soul, may she rest is peace. - Posted by: Elspeth MacEwan (Friend ) on: Dec 05, 2020

To all the family, especially Jocie, you were such a good sister and friend to Justine. The respect and kindness you showed were constant and you always included Justine in families simchas and other events. - Posted by: Nettie Cronish (friend of family) on: Dec 05, 2020

I happened upon Justin's obituary today and it immediately brought back many fond memories. I too grew up on Oxford Street just across from the Steinkopf family home. In the 60's it was common for all the kids on the block to be sent outside to play together until dinner time. We entertained ourselves with kick the can, hide and seek or some new made up game. Justine was always right in the mix, always positive and undaunted by any challenge. Cherished and loved by her wonderful family I was so pleased to read about her happy life filled with many, many accomplishments! Hers was a life well lived! I am sorry for your loss. With love, Shanly McMurray Donahue - Posted by: Shanly McMurray Donahue (a neighbour from the 60's) on: Dec 05, 2020

I remember Justine from many, many years ago when I was a counselor for a summer camp she attended. Every morning when the van picked me up, Justine was waving and was first to greet me. I will never forget our trip to the Oasis. Justine said she would race me to the dock in the middle of the man-made-lake. I wasn't sure of her swimming ability then but needless to say we both made it but she won the race. - Posted by: Barbara Parsons (summer camp counselor) on: Dec 05, 2020

My admiration for the late Maitland and Helen Steinkopf knows no limits. They were the best possible parents, and I was in awe of how instrumental they were in assuring that their Justine would have a fruitful and interesting life. I have vivid memories of accompanying Justine - and her entire class - along with big sister Marilyn to fun events like the Shrine Circus. Justine....and many others...benefitted from both the generosity and intelligence of the Steinkopf family. Although I lost touch with the Steinkopf family, from time to time I would hear how well Justine was doing. I am told that Justine matured from a nice child to a lovely woman. My deepest sympathy to Justine's family. Ms Frankie Glickman Victoria B.C. - Posted by: Ms Frankie Glickman (School friend of Marilyn) on: Dec 05, 2020

Dear Steinkopf Family - I was so saddened to hear about Justine's passing. She was one of the sweetest people that I have ever known. So enthusiastic, determined, kind & caring. As children, we were very fortunate to grow up together with such great families on our Oxford Street block. Out of all the kids in our neighborhood, Justine was the "favorite" by a country mile. RIP sweet girl - Posted by: Tim Dennehy (Family Friend) on: Dec 05, 2020

She brought such joy and fun to each of your lives. Who would have thought that you would go to Nashville or to Dollywood? I will always remember being in awe, watching her doing the hula hoop at Isaac's Bar Mitzvah, she was amazing. May your memories give you comfort at this time and in the future. - Posted by: Carol Holtzer (Friend of Jocie Bussin) on: Dec 05, 2020

Justine was a little firecracker, that's for sure! She and my sister Allison Paul were friends for many, many years beginning with the Kinsman School days.... Her nick name for Allison was 'Pussycat'. When Justine would come over to our home on Jessie Avenue - she'd always want to give (and get) hugs. She'd grin at me and say, "You're my favourite". Two minutes later, she'd spot my sister, Vivian; run up to hug her, and say, "YOU'RE my favourite". Thinking about Justine just now makes me smile... I have some very fond memories. - Posted by: Arlene Elendiuk (friend) on: Dec 05, 2020

Sad to hear Justine is gone, but happy to know she had a long, productive life. Maitland went against the grain, buying a home in the waspish area of River Heights, because he wanted to fully integrate into the community. They were a great, generous family and it was a treat and an honour to have them as neighbours, including their precious Justine. - Posted by: Kerry Dennehy (Neighbour) on: Dec 05, 2020

I first met Justine when her Mother Helen hired me as the first house parent at 578 Sherburn St. That was in 1972 or 3. My son Sean was a busy toddler who simply adored Justine. She would take Sean downstairs early Saturday morning and make breakfast which was a bowl of dry Cheerios in front of the TV. Since Sherburn was really the first community residence in the province Helen arranged for frequent tours of the home. I recall Premier Ed and Mrs Schreyer's visit like it was yesterday. Justine, Ian, Judy and Beverly escorted the Schreyers to every room in the house, the backyard, the garage, the whole place. That summer there was a very special western-themed river boat cruise dinner and dance. I made long frilly dresses for the ladies and a matching bandana for Ian. Justine was sweet in pink gingham. Years later I had returned to my nursing profession and became a board member of Winnserv Inc, serving as president for a number of years. I always enjoyed meeting Justine at various events. She was an incredibly accomplished person who never backed down from a challenge. - Posted by: Shiela Rabe (Palmer) (Caregiver) on: Dec 05, 2020

My first job after graduating University in 1976 was to work at the home on Honeyman Avenue where Justine lived. I'll always remember my "interview", where I was invited to meet Justine's mother Helen and the residents of the home, including Justine. It was her birthday, and I had the opportunity to interact with Justine and the other folks while I also chatted with Helen as she was making a batch of hot chocolate. During the next 3 years I had the good fortune of getting to know Justine quite well as she developed her skills and abiities. She was a sweet lady that enjoyed life and the company of family and friends. Rest in peace. - Posted by: Richard Coutts (Former care giver) on: Dec 04, 2020

To all the family especially Allison and Marilyn, May her memory be a blessing. - Posted by: Minda Ginsberg (nee Stillwater) (Friend and fellow member of Temple Emanu-el Toronto) on: Dec 04, 2020

I will miss Justine very much she was a great friend and person. To see her on many events and outings and watching football Justine favorite team Blue Bombers. All my best to her family and staff at MB's - Posted by: Carrie Goodman (Very close friend from mbs) on: Dec 03, 2020

My late aunt, Nellie Hogg, spent many hours with Justine. I had the pleasure of meeting her at a family wedding. My sincere condolence. Roy Hogg, Toronto - Posted by: Roy Hogg (none) on: Dec 03, 2020
Email Alerts
Sign up for free email alerts of new obituaries for specific people, towns & more.
❮ Go Back to Listings