Search:

Winnipeg Free Press Passages
All Titles
Notices are posted by 10 am Monday through Saturday
❮ Go Back to Listings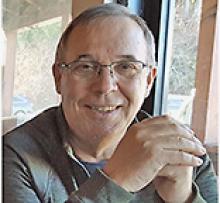 ROBERT J. SULLIVAN (BOB)
Date of Passing: Dec 10, 2020
Send Flowers to the Family
Offer Condolences or Memory
ROBERT J. SULLIVAN
1954 - 2020

We are devastated to say goodbye to son, husband, father, big brother, uncle, and friend on December 10, 2020, after an unexpected complication from surgery. Bob was 66 years old.
Especially mourning his loss are wife of 44 years, Margaret; daughter, Leah, and son-in-law, Geoff Roth, with daughter, Lillian; son, Rob, and daughter-in-law, Amber, with children Jazmyne, Hayden, and Jordyn; mother, Erna; siblings, Carol Fehr (Wayne), Tom Sullivan (Pamela), Maureen Sutherland (Grant); Barbara Backland (Leon), Colleen Snyder (Tom) and Joan Halayko (Paul); brother- and sister-in-law Jim and Anne Trick; close cousins, Pam (Ross) Eagleton and Randy (Catherine) Bruce; numerous nieces, nephews and their children; and close friends who were like his family. He was recently predeceased by his father, Robert Sr.
Bob had a great childhood and loved being part of a large family. Perhaps it was here that his love of storytelling began, as he had many tales of running wild with the neighbourhood kids on Barton Avenue, the amount of tomato soup that he and his six siblings could consume at lunchtime, and the trials and tribulations of his teenaged sisters. Two other loves began here, too: the love of lake time and the love of work. Family time at Camp Morton, then at Dorothy Lake and Lake of the Woods spawned a lot more stories, and in his adult life, the years spent at Falcon Lake with Margaret and the kids on his Edson boat were some of his happiest. In the last two years, he and Margaret purchased a trailer at White Spruce on the Lake, just down from Leah, Geoff and Lily, and were delighted to get back to lake life.
His love of working started young with a job delivering prescriptions for Glow's Pharmacy on his bike. Paper routes led to working with his dad at the family business, a Texaco Station at Donald and Ellice. He was an air cadet with 170 Squadron, and then a reservist with 402 Air Reserve Squadron, where he met Margaret. After high school he applied to be a cadet with the Winnipeg Police Department. He was hired on December 17, 1973 and said many times that he had won the lottery that day. He loved being a cop and worked in many divisions, including general patrol in every district, plain clothes, internal, and was the Sergeant of the Airport unit from 2001 to 2006, where he was introduced to another lifelong passion, golf. After 35 years with WPS, he was hired by CATSA in 2008, and worked as one of managers of screening operations for nearly ten years, and is remembered for forming the Breakfast Club with co-workers on weekend mornings. All through his working life, he most enjoyed cultivating friendships. Camaraderie came naturally to Bob, and his work life provided enormous grist for his storytelling mill.
His love of family was his best love, and he and Margaret married in 1976. They were delighted to welcome Leah and then Rob, and in the midst of shift work, home renovations, and school board meetings, always treasured their time at Falcon Lake. In 1991 the family moved to Stonewall, where they lived for nearly 20 years. Bob immediately connected with the community, and joined the Knights of Columbus, where he was introduced to curling, both activities remaining important to him all his life. Bob was involved in Rob's Scouting and Air Cadet activities on the parents' councils, and spent numerous hours driving both he and Leah to their activities, and encouraging them to discover their passions. He was so proud of the people they had become, and loved their partners and their children.
Bob loved to drive, and the family took many road trips in Canada and the States. He had a built-in GPS and could pretty well always explain the best route to get somewhere, including knowing the cross-streets. For places where he hadn't been before on trips, he relied on navigator Margaret, who sometimes fell asleep during critical times. According to Bob, she and the kids all missed some "great countryside" and sometimes "even wildlife" because of napping - perhaps more storytelling? He always said that he couldn't imagine not being able to drive.
Bob enjoyed travelling even if he wasn't driving, and many trips and cruises were taken with Margaret, the kids, mother-in-law Helen, and Jim and Anne. The "amoeba's" adventures became part of his repertoire. He and Margaret were fortunate enough to see some great places, and he thoroughly enjoyed all of those experiences. Of the many places he had been, Bob kept a special part of his heart for Vancouver Island. He loved being there, and retirement allowed him to spend a couple of months there each winter. He looked forward to hosting friends and family, hiking with Jim, exploring, and playing winter golf. He said he loved how the Island smelled.
Retirement also allowed Bob time to join curling and golf leagues, continue with the Knights and condo board activities, and begin volunteering at the WPS Museum, where he and other cops could swap stories. He enjoyed touring the public through all the displays once he got over the fact that most of the museum pieces he had actually used in his career.
Bob was the kind of man who enjoyed whatever and whoever he turned his mind to, and made lifelong friends while doing so. He will be missed in many circles besides his family.
The family is grateful for the care provided by Drs. Kazina, Gillman and Siddiqui, and the wonderful ICU nurses Bob was blessed in having. Thank you to all who have shared memories and your own stories of Bob.
A Celebration of Life will take place when we can once again gather and celebrate a man who wouldn't have changed his life at all, except to have a bit more time.
In lieu of flowers, please consider a donation to the Winnipeg Police Museum and Historical Society, or to a charity of your choice.
MacKenzie Funeral Home
Stonewall
204 467 2525
mackenziefh.com
As published in Winnipeg Free Press on Dec 19, 2020
Condolences & Memories
(17 entries)
Dear Margaret and family. I am so sorry for your loss I sit here today in complete and utter shock after learning of Bob's passing. I first met Bob in Grade 5 at Our Lady of Victory School in Fort Rouge and we quickly became good friends and alter boys at the Church. We stayed good Friends right through junior high and high school in Fort Rouge. A group of us including Gilbert Brasseur,and Denis Smith regularly hung around with each other, usually at Denis's house on Rosalyn Rd. Both Gilbert and I also worked at Glows Pharmacy with Bob and the three of us joined 170 Air Cadet Squadron together. I remember. many Thursday nights spent together polishing our boots to a glass shine in preparation for our weekly Friday night Air Cadet Parade. As long as I remember Bob always talked about wanting to be a Police Officer like his father who he said was a constable with the Railway Police for a period of time. Our group. of guys would go to the Sullivan service station on Saturday nights to wait around for Bob to finish work and then we would head out to enjoy the rest of the evening often ending up at Denis 's house where we may have a drink, listen to music and play some cards. I remember Bob showing up one evening after work when we normally got together. Bob had a black eye. When we questioned him about that, he said that he along with his father had to tow an illegally parked vehicle when the owner and some friends showed up and objected to the car being towed. Bob said an altercation took place, but Bob and his father prevailed together side by side and towed the vehicle. I remember Bob being very enthusiastic about trap and skeet shooting and he showed us the reloading equipment he had in the basement of his parents house. I was so happy for Bob when he realized his dream of becoming a Police Officer. After Bob met you Margaret, he couldn't stop talking about you. He was so in love with you. I remember all of us hanging out together at the apartment on Ellice. We lost touch some time after that over the years and only occasionally Bob and I ran into each other at Police meetings or conventions, as I too later became a Police Officer and retired after 28 years of Service. Bob was so proud of his chosen profession and a true gentleman. Bobs example was a big part of me becoming a Police Office. There are many more adventures that we had together as kids that I wish I could share but right now I am having a difficult time with this. As we grow older our paths go off in different directions and in times like this I regret losing touch with friends that was a big part of my youth. Margaret please know that I am truly sorry for you and your family's loss. Bob, Rest In Peace my friend. I miss you and will never forget you. Your Friend Norm Carter. - Posted by: Norman Carter (Childhood friend) on: Feb 18, 2021

I remember meeting Bob in Ottawa on my first trip to CATSA HQ, Bob was kind enough to take this wide eyed youngster under his wing. He made me feel part of the CATSA team instantly, we spent the afternoon at a pub he recommended and he told me stories of his past while we enjoyed an early dinner and drinks. Bob was the nicest down to earth guy I've met in very long time. I truly was saddened hearing about his passing. I can only hope that I can really experience and enjoy life as much as Bob did with the time he had here. I wont ever forget you Bob, take care and rest easy my friend. My deepest condolences to his family. -Josh - Posted by: Josh Budinski (Co-worker) on: Dec 24, 2020

Margaret , so saddened to hear of Bob's passing. Although our lives have moved on from the squadron days, we remember the fun times in the 70's, with you and Bob and our other friends from 402. You and your family are in our thoughts and prayers during this difficult time. Take care and God Bless. - Posted by: Debbie (Nesbitt ) and Dave Houston (former 402 Squadron members ) on: Dec 22, 2020

We first met Bob (& Margaret) when our son, Geoff Roth, fell in love with their beautiful daughter Leah. We very quickly realized what a special family we had become part of. We shared many great times together and made some wonderful memories along the way. Bob was such a gentle soul and always had a kind word to say. He will be greatly missed. We send our heartfelt prayers to all the family. We hope you know that you are not alone. You are surrounded by so many who will be there to support you. Our love to all. God Bless. - Posted by: Rae and Milt Jones (family) on: Dec 21, 2020

Margaret, Leah, and Rob: We are so sorry to hear of Bob's passing. Words seem so meaningless at a time of such a loss so please know that we are thinking of you and sending healing prayers and comforting hugs. The Precourts - Posted by: Guy & Catherine Precourt (friends) on: Dec 21, 2020

Dear Margaret: I can share your family's grief and abject loss. Bob was too young to leave this world. It maybe some comfort to know that your wound will eventually become a scar: then you will look back with joy and pleasure, remembering all the great times you and family had together. All members of my family empathize with you& your. When my Dorothy passed some years ago, I received a lovely note from a dear friend which I've never forgotten: "They lived and laughed, and loved and left; And the world will never be the same" My deepest sympathy, Margaret Bill Mellof - Posted by: bill mellof (family friend) on: Dec 21, 2020

Bob bob bob, what an honorable man, great human being and such a great Sargent. I apologize now for the stress Ken Land and I gave you in District #3. I never met a more compassionate and caring person. The things we saw together and memories we shared! Shift parties in the bush! You introduced me to the love of the outdoors and your passion for story telling. I can hardly wait to see you again my friend. My condolences to your family whom I cannot express enough that it was my honor to have known you. RIP and see you soon, saludos amigo. I toast you from here in Mexico. - Posted by: Fred Peters (Work associate ) on: Dec 20, 2020

I was shocked and saddened to hear of Bob's sudden passing. I began with the WPS only 3 years after Bob joined. Our paths did not cross in a serious way until the 1990's, when I went to work for Bob in the North End. Bob was my immediate supervisor and I was instantly aware that Bob was a leader. He calm demeanour in the face of crisis, his depth of knowledge, his empathy and his ready sense of humour exemplified the very ideal of what would expect from a person in Bob's role. Bob was also very generous and supportive of all of the people he contacted. On a personal level, I found Bob to be not only a solid role model, but a wonderful mentor. I know that Bob helped me to develop the management style that I still use today. I will be forever grateful for his contribution to me and my personal growth. I offer my sincere condolences and prayers to Bob's family. I know that Bob touched many lives and that we are better for having had him touch our lives. - Posted by: Dan Bergen (Colleague WPS) on: Dec 20, 2020

I was shocked to hear of Bob's sudden passing. The world became a little sadder place because of it. My career with the WPS started three years after Bob began, but our paths didn't really cross until the 1990's when I began working for him in the north end. I immediately recognized Bob as a great leader, as well as a great manager. His quiet confidence, his calm approach to resolving a crisis and his infectious humour made Bob stand out. He exemplified every positive attribute a police leader should have, both in word and deed. Bob was also generous in his support of those who worked for him. He mentored and coached me through several aspects of my Police career, for which I will be forever grateful. Bob was a role model for a management style that I employ daily, even now. My wish to extend my sincere condolences to Bob's family for this tragic loss. I know that Bob has left a positive impact on me, personally and on the world in general. I am certainly a better person for having known Bob Sullivan. God bless you. - Posted by: Dan Bergen (Colleague ) on: Dec 20, 2020

We wish you healing and peace. Gone from sight, but never from our hearts. Wishing you strength and comfort through this difficult time. Bob was a wonderful man and will be missed dearly. - Posted by: Sheena & Bill Graham (Friends) on: Dec 20, 2020

My thoughts and prayers go out to Bob's family. My first introduction to Bob was when he first got hired by Catsa. He was in the hall chatting with a fellow cop friend that I happened to know my whole life. Had a many laughs over the years at the airport. Rest in Paradise Bob. 🙏🏻💖 - Posted by: Connie Instance (Airport (friend)) on: Dec 20, 2020

I'm deeply saddened by Bob's passing. Bob and I met at the airport. I greatly enjoyed our conversations through the years. I can also say our paths crossed from time to time also at the Rock in Stonewall. My deepest condolences to the family. - Posted by: Wayne watson (Friend) on: Dec 19, 2020

DEAR MARGARET, LEAH AND ROBBIE Our hearts dropped this morning when we heard about Bob's passing. He left far too early and with so much more living to do. We smiled and laughed when we recalled the countless steaks and bottles of rye that we consumed during our many weekends at Falcon Lake. We always admired how Bob was able to maintain his very good disposition with family and friends considering the demands of his profession. We know that he was very proud of Leah [bun] and Robbie and we are sure that Lily and Robbie's children gave him a huge amount of pride and pleasure. Margaret, we are so sorry that we can't be with you at this time to share your grief, and to give you a great big hug and shed a tear or two. When all of this pandemic business is over, we will get together to mourn Bob's passing and to celebrate his life. We will raise a glass of rye and ginger this afternoon to honor Bob. Our deepest sympathy Liz & John Ford - Posted by: Liz & John Ford (Family friend) on: Dec 19, 2020

My deepest condolences to all family. Rest in peace. Will be missed dearly. - Posted by: Kaan Berk (Friend) on: Dec 19, 2020

So sad to hear of Bob's passing. My introduction to Bob was in 1976, where as a rookie in District 6, I was assigned walking the beat. Bob and I were on the same shift and I recall on more than one occasion, while trudging away, in the early hours of the morning, in -30 below weather, Bob pulling up in a warm cruiser car, instructing me to get inside to warm up. The odd time, as I partnered up with him, I vividly remember thinking that this was the type of officer I wanted to replicate, given his even keeled and calm demeanour in various predicaments.. truly a fine partner. My utmost of condolences to the entire family! - Posted by: Joe Bussoli (Friend) on: Dec 19, 2020

I was shocked to read Bob's obit. He was younger than I and we had known each other on Barton avenue, and kept in touch even after the family moved to Baltimore road. My deepest condolences to the family. - Posted by: Steve Best (Friend) on: Dec 19, 2020

I was very saddened to hear of Bob's passing. I got to know Bob as a policeman in District 3. I started as a cadet 3-years after he did and met him first when I came out of recruit class in 1978. He was an excellent role model. Hard working and dedicated but always with a grin and friendly demeanour. He was an excellent role model. Our paths crossed often over the next decades but I never again had the pleasure of working in the same unit as Bob. He was well-liked and respected in his personal and professional lives as much as he was loved in his family life. My heartfelt and sincere condolences to the family at this vary sad time. Bob Sullivan was a good man and the world needs more like him. - Posted by: Bob Russell (Colleague from WPS) on: Dec 19, 2020
Email Alerts
Sign up for free email alerts of new obituaries for specific people, towns & more.
❮ Go Back to Listings