Search:

Winnipeg Free Press Passages
All Titles
Notices are posted by 10 am Monday through Saturday
❮ Go Back to Listings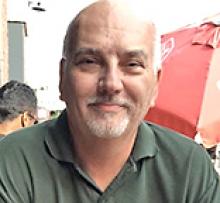 LEVERET OWEN BOUTANG (LEV)
Born: Jul 11, 1954
Date of Passing: Jan 07, 2021
Send Flowers to the Family
Offer Condolences or Memory
LEVERET OWEN BOUTANG
July 11, 1954 – January 7, 2021

Forever remembered with love.


Lev was the first child born to Terry and Norman Boutang of Vassar, MB. Channing, Careen and Dudley completed their family. After they moved to Winnipeg, Lev attended Lord Selkirk, Andrew Mynarski and Sisler schools. He graduated from Glenlawn Collegiate (he always joked that he chose the "four year plan"). He was proud to be the Manager of the basketball team, where his main job was keeping statistics. That may have been the start of his attention to details that was sometimes beneficial and sometimes a bit annoying. Lev had lots of friends in school. He worked part time at Saratoga Bowling Lanes and Dakota Lanes with lifelong friend Rusty Miller. Bowling became one of Lev's favourite things to do. He also talked about summer holidays with his Aunt Alice and cousins at Ear Falls, and part time work on the railroad. After graduation Lev travelled to Europe with a couple of friends. Being the fussy eater he was, he survived on french fries and beer for most of those two months.
After a short time at university, Lev started working at Autopac, where he made two more lifelong friends, Gerry Dubuc and Mike Hees. Concerts with Mike and golfing with Gerry were two of his favourite things to do.
Lev met Donna in 1975. He was quick to make friends with Donna's best friend and husband, Debbie and Ron McArthur. Lots of good times and great memories were made over the years. Donna and Lev married May 28, 1977. Josh was born in 1981 and Kailey in 1984. The kids made Lev's world complete. He was so proud of them. He managed many of the sports teams they were on (always on top of those "stats") and made many more friends with parents of other kids on the Glenlee teams.
Lev worked at Arnold Bros. Transport for over 25 years. His holidays were often spent visiting Donna's parents in Strathclair, MB. Lev spoke of how much he enjoyed the many drives they took with Maurice and Winnie. They never really knew where they'd end up. Lev gradually embraced the country lifestyle and loved the extended Strathclair family he became a part of. The fair with its parade and pancake breakfast and times spent in Carson's shed were special.
Christmas and other holidays in the city were spent with the Boutang side of the family. The after dinner card games were competitive but always ended with lots of laughs. Having so many cousins made extended family time fun too.
In recent years Lev was unable get out very often. He appreciated when Chan came to hang out on his days off. Lev remained close with his mom. He cherished the phone calls they shared when he called her every evening. Last words were always I love you.
Lev loved reading, music, the Jets and Bombers, Coronation Street and bingo. He loved keeping detailed lists, take out food and sweets. His dedication to and love for Josh was obvious. After Josh was hurt, Lev would go to "hang out" with him almost every day after work. Sports and Coronation Street were watched and discussed in great detail. Lev was devastated when Josh died. Kailey and Lev had a special relationship. Especially in more recent years, Kailey would take her dad to his many appointments and think of things they could do together (like going to Goldeyes and Jets games and golfing - Lev driving the cart and Kail playing the course). He always kept her laughing with his groan-worthy dad jokes.
Lev had diabetes. He dealt with his ongoing medical issues, which greatly affected his daily life, without complaint. Through it all he had a positive attitude and a good sense of humour. He appreciated everyone's help and loved being included.
Lev had a big heart - but in the end, it was his heart that failed him. Donations to Diabetes Canada or the Heart and Stroke Foundation would be appreciated.
Lev continues to be loved by his wife Donna, daughter Kailey, mother Terry, sister Careen (Jack), brothers, Channing (Colleen) and Dudley and families, as well as brother-in-law Gerry. Leaving this earth before him were his son Josh, his dad Norman, and in-laws, Maurice and Winnie and Yvonne.
Thank you to the many medical people who have helped Lev over the past few years, and to the family and friends who are helping us through this difficult time.
A celebration of Lev's life will be held at a later date. When allowed, his ashes will be buried in Strathclair alongside his son, Josh.
If you have read Lev's story to the end, he would be pleased. He read every word of every obituary, every day in the newspaper. He said "People have interesting life stories." We hope you have found his interesting too.
As published in Winnipeg Free Press on Jan 16, 2021
Condolences & Memories
(26 entries)
Very sorry to hear of Lev's passing ! We certainly had a few laughs during our time in high school. Yes, he was quite the stats guy ! Hey Hank ! You had too many turnovers last game ! Yes Lev. I know ! But, I handle the ball more than anyone else does ! Oh yeah ! Okay, that makes sense ! Then he would wink at me as if to say: You heard it from me first, just wait till coach Bulloch let's you know ! Gary and Lev were two great managers, and kept us all on our toes. Stats don't lie ! Although we grew apart after school. When you hear of one of our guys leaving us. It's hurts ! This one hurts a lot regardless of the time ! Rest well Lion ! Till we meet again on that perfect floor with no turnovers ! Hank Lemoine #: 10. - Posted by: Hank Lemoine (Glenlawn Collegiate Basketball Team Member.) on: Jan 30, 2021

Lev What a wonderful man What a wonderful human being Life threw you a lot of challenges and you never ever complained Your Family and friends are going to miss You You were one of a kind Now reunited with Josh Love you Lev Till later - Donna Boutang cousin ( favourite cousin lol) - Posted by: Donna Boutang (Family) on: Jan 21, 2021

Although I sat next to Lev at work, I knew little about his private life. We were always too busy. I did know that he was a gentle man always smiling and pleasant with the public. I recall Donna coming to pick him up after work with their Dalmation which would not let me anywhere near the car while protecting his family! I haven't been in touch with Lev for the 25 years he was at Arnold Bros., but have never forgotten him. The obituary shone a bright light into his private life, and I'm not surprised he was so loved and will be missed by so many. My heartfelt condolences to Donna and his family & friends. - Posted by: Heidy Gerling (Ex co-worker at Autopac) on: Jan 18, 2021

With Sincere Sympathy at this most difficult time Terry. I remember how proud you were and how much love you showed when you talked about your children. May the beautiful memories of Leveret help comfort you through this sad journey. - Posted by: Shirley Tabinski (Co-worker with Terry at GWL years ago) on: Jan 17, 2021

I briefly met Lev only through Dudley. What a truly lovely obituary! It gave me a sense of who Lev is without knowing him. What an interesting man. If only we could all have someone to know us so well as to paint such a wonderful picture. And yes I read the obituary to the end! I loved all of the stories about him. My condolences go out to Donna, Kailey, Terry, Dudley my friend and all of the Boutang family. It is so hard to lose someone so young. My thoughts are with you. Lorena McManus - Posted by: Lorena McManus (Friend of Dudley's) on: Jan 17, 2021

So sorry to hear of Lev's passing. I was on the trip to Europe with Dan Bulloch and Lev. So many fond memories of that trip - and of the many hours we spent together during our high school years. Lev was a gentle soul who had kind words for everyone. He will be greatly missed by his family and many friends. - Posted by: Peter Burch (Close friend from high school ) on: Jan 17, 2021

Dear Aunty Terry & family, I wish to express my deepest condolences on Leveret's passing. May the memories you've shared over the years remain forever in your hearts, & help ease your sorrow. - Posted by: Bridget Chartier (Cousin) on: Jan 16, 2021

I read the tribute to Lev right to the end. His being such a family man and the devotion and joy that he obviously got from his children and both the Glenn and Boutang families says alot about him. My condolences to you and Kailey, Donna. Take good care of each other. - Posted by: Gail Coates (Friend ) on: Jan 16, 2021

Donna and family, I am so heartbroken to hear of Lev's passing. Although we have grown apart I will always cherish all the wonderful memories spent with Lev, you, and our special group of friends. We had such a great time growing up (although it took longer than normal for our group), spending so much time at Falcon, Grand, and Bird lakes, and when not there in the city hanging at whoever's parents house that were away for the weekend. Lev was such a kind hearted, generous, fun loving guy always happy to lend a hand. I have so many fond memories and am very honoured to have been a friend of Levs. This world has lost a very special person❤️. - Posted by: Gerry pion (Friend) on: Jan 16, 2021

My condolences to Lev's family on the loss of your loving husband, father, son, uncle. I'm thinking of you all and hold you in my thoughts and prayers. May the fond memories you share make you laugh and cry and hold Lev forever in your hearts. - Posted by: Rose Langner (Worked with Leveret's mom ( Great West Life)) on: Jan 16, 2021

There are not many people who I've known for 40 years. I'm joining you, Donna + Kailey, in missing Lev. I'll be thinking of him at the next concert (whenever that'll be), in particular at one of his favourites, for who I have tickets already (George Thorogood) - Posted by: Michael Hees (friend) on: Jan 16, 2021

Donna and Kailey, So sorry to hear of Lev's passing Enjoyed so much our visits in Strathclair Coop and Harvey enjoyed his time working with Lev at Arnold Bros. Our thoughts are with you at this time. Sincerely Verna and Harvey Brown - Posted by: Verna and Harvey Brown (friends) on: Jan 16, 2021

Donna,I'm so sorry to read of your husband's passing. I have such happy memories of you and of my time with Josh, and send you my deepest sympathies today. - Posted by: Pat Harman (Long ago colleague, and Josh's teacher) on: Jan 16, 2021

Our sincerest condolences to Lev's family. Lev was a very fine man who always appreciated others, always had a smile on his face and was a friend to many. - Posted by: Ross Arnold and Family (Friend) on: Jan 16, 2021

Donna, I am so sorry to hear about your husband. Our sympathy and thoughts are with you and Kailey. - Posted by: Mary Wersch (co worker with Donna) on: Jan 16, 2021

So sorry to hear of Leverets passing. My condolences to your entire family. You have already gone through so much in your lives, with what happened with Josh. I want you to know that I read the obituary right to the end and agree with Lev. Yes his life storey was very interesting to me as I really didn't know him that well. He was one of my husbands many cousins that I only saw from time to time at large Boutang family gatherings, such as reunions, weddings, socials,etc. Back in the days when we were allowed to do that sort of thing. Thinking of you all with deepest sympathy during this very sad time. - Posted by: Wanda Boutang (Cousin-in-law) on: Jan 16, 2021

I also lived close to the Boutangs on Magnus Avenue. I recall many days playing on the front street. My condolences to his family and friends. - Posted by: Brent Corrigan (Friend, colleague) on: Jan 16, 2021

Our Hearts & Deepest Sympathy go out to you and Kailey! We remember all the Great times and Laughs, we had at our get togethers in your beautiful back yard. Mark remembers one particular evening, Lev and he were trying to get rid of a wasp nest in your garbage shed! Lev came dressed for the occasion! Surprisingly no one was stung!! Rest In Peace Lev.... - Posted by: Janel & Mark Seier (Old Next Door Neighbours ) on: Jan 16, 2021

Our Hearts & Deepest Sympathy go out to you and Kailey! We remember all the Great times and Laughs, we had at our get togethers in your beautiful back yard. Mark remembers one particular evening, Lev and he were trying to get rid of a wasp nest in your garbage shed! Lev came dressed for the occasion! Surprisingly no one was stung!! Rest In Peace Lev.... - Posted by: Janel & Mark Seier (Old Next Door Neighbours ) on: Jan 16, 2021

Most sincere and deepest sympathy Donna and family. Thankful to have spent a wee bit of time together, at the cousin's get-together, at cuz Donna's driveway hang. God bless your cherished memories that will comfort you in the days ahead. Hugs and love - Posted by: Lana (and Glen) Buchanan (Cousin) on: Jan 16, 2021

What a nice tribute to Lev, I read it to the end, he would be very pleased. Although I didn't know Lev well, I do know Donna well and as so very sorry for your loss. I hope and pray all your precious memories bring you comfort and lots of smiles as you heal and remember him. - Posted by: Gail (Friend) on: Jan 16, 2021

Our condolences. So sad to hear of Lev's passing. Lev was the kindest person I know, always a friendly smile. Oh so young. Josh and Lev will be talking of the Jets this year as they haven't lost a game yet. Lev will be missed take good care Boutangs. - Posted by: The Bassham's (Old neighbours in St. vital) on: Jan 16, 2021

We would like to offer our condolences to Donna, Kailey and family. We were so saddened to hear of his sudden passing. We know he will be deeply missed by many people. - Posted by: Nancy and Dean Abrassart (Friend) on: Jan 16, 2021

Sorry to hear of Leveret's passing. Though I haven't seen him in decades I was one of the two who went to Europe with him. The reference to trip in his obituary brought back a flood of memories. There was one critical detail about our trip that was missing. Hamburgers were a very rare commodity in France and Spain during that time. While Peter Birch and I were trying out the various local cuisine Leveret would go searching for the ever elusive hamburger. I always marvelled at Leveret's ability to find them. Whether big city or small village if there was a hamburger to be had, he found it. My condolences to his family. - Posted by: Dan Bulloch (High school friend and fellow traveller) on: Jan 16, 2021

Chan and family. My sincere condolences on your loss. Ron Campbell - Posted by: Ron Campbell (Family Friend) on: Jan 16, 2021

I lived next door to the Boutangs on Manitoba Avenue. My family played with Leverit's family in the 1960's. My family is the Haligowski family. My sincerest condolences - Posted by: Teresa Pilbeam (Old Neighbour) on: Jan 16, 2021
Email Alerts
Sign up for free email alerts of new obituaries for specific people, towns & more.
❮ Go Back to Listings