Search:

Winnipeg Free Press Passages
All Titles
Notices are posted by 10 am Monday through Saturday
❮ Go Back to Listings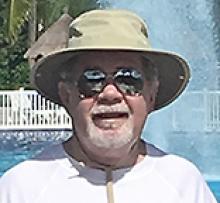 ALAN PETER SAYDAK
Born: Nov 03, 1948
Date of Passing: Jan 19, 2021
Send Flowers to the Family
Offer Condolences or Memory
ALAN PETER SAYDAK
November 3, 1948 - January 19, 2021

It is with profound sadness that we announce the sudden passing of our beloved father and Gigi, Al Saydak.
He is lovingly remembered by his daughter Megan (Christian), and his son Patrick (Colleen), and four grandchildren, Elliott, Emily, Everett, and Wyatt.
He is predeceased by the love of his life, his wife and best friend, Marion Irene Saydak, who left far too young 21 years ago, but are now happily reunited.
Alan was born on November 3, 1948, in Winnipeg, Manitoba, and was the eldest son of Peter and Dorothy Saydak. He grew up in St. Vital, making many lifelong friendships along the way. Along this journey, he met Marion, fell in love, and got married on July 14, 1973. They then settled in Southdale where they raised their family.
Al's career path included a brief stint with the Province of Manitoba conducting geological surveys. He then embarked on a career that spanned over 30 years in Radiology, forming a multitude of strong friendships that extended past retirement. While working at the Health Sciences Centre, Al became heavily involved in his local Union CUPE 1550, culminating in a successful term as President. Brother Al tirelessly represented the membership with dedication and professionalism.
Al, like Marion, enjoyed many social gatherings. Prior to Marion's passing, they would host numerous parties at their home, often lasting well into the morning hours. They quickly gained the reputation of having an overabundance of good food and drink. Even in retirement, Al kept himself busy with many different crowds including coffee club, the retiree lunches, and high school gang breakfasts.
In his spare time, Al kept busy curling at the St. Vital Curling Club as well as attending both Winnipeg Jets and Blue Bomber games. One of his favourite pastimes was spending time at the family cottage having bonfires, fishing, and drinking wine with his brother Rick. Al would be often found walking the beach dragging home an assortment of driftwood, interesting looking rocks and sea glass.
Al's hobbies included collecting sports cards, stamps, and coins. He also made homemade wine, beer, and spirits. The family bar was always stocked with a wide selection of beverages that would cover a variety of different tastes.
Al's true passion and reason for living was his four grandkids. He showered them with endless love and attention. He was at his happiest when sitting by the family pool watching the grandkids swim, waiting for the moment to fill them up with sugary treats. He never missed a kid's concert, sporting event, or family gathering.
Whether one knew him as the Professor, Teddy Bear, Brother Al, Dad, or Gigi, he provided wisdom, guidance, kindness and acceptance to all.
While he will be greatly missed, he will always be remembered. The next time you find yourself at a social gathering with your favourite beverage in hand, take a moment and raise a glass to remember Al.
Cremation has taken place and a private family service will be held at the Parish of St. Bernadette, followed by an interment at St. Vital Cemetery.
E.J. Coutu & Co. Funeral Directors
204-253-5086
ejcoutu.ca
As published in Winnipeg Free Press on Jan 30, 2021
Condolences & Memories
(22 entries)
Al and I were the two "government students" who trained at the Health Sciences Centre in Winnipeg. We hadn't seen each other since graduation (1976). We found each other on Facebook. We met at Tim Horton's just prior to Covid-19; trying to catch up on 40+ years. We promised to meet again (before another 40 years). Today, his birthday, I was shocked and deeply saddened to learn of his death. Please accept my sincere condolences. He and Marion were both wonderful people; together an amazing couple. - Posted by: Loretta Oliver (Classmate X-Ray training) on: Nov 03, 2021

To Megan, Patrick and your families, Your dad and I were great pals when we both attended Hastings Junior High and Dakota, but we lost touch as people do. A few years ago we managed to link up again on Facebook and since then, he often commented on my posts as I did his. I live in Victoria, but it was always my hope to be able to meet up with your dad when I next got a chance to visit Winnipeg. I learned only today that your dad passed away in January and upon reading the obituary and notes of condolence, a flood of memories came back and I felt profound sadness. No time is a good time, but it was far too soon for your dad. Words from others will not erase the pain, but they will soften it. Your sense of loss will endure, you will always miss him terribly, but there will come a time when warm and loving memories will wash away your grief. Please know that all who knew your dad, no matter when in his life, share your grief and your loss. - Posted by: Dunc Malcolm (Childhood Friend) on: Mar 14, 2021

Patrick, Colleen and families, I am so sorry to hear of your dad's passing. I got to meet Al through MAHCP and his involvement with the union and bargaining. He was a sincere and kind person who loved his kids and grandkids very much. My dad started doing Al's income taxes in those days and continued to do so, thus I got to continue to see him every year at tax time, even after he retired. He was always a pleasure to get to visit with and catch up on life, when he would usually talk about his grandkids and how precious they were to him. He would often show up with treats for my own kids too! He was just that thoughtful. I will miss him greatly, and I pray your grief will be lessened by knowing he is now with your mom in heaven. - Posted by: Joelle Fillion Kopp (Friend) on: Feb 10, 2021

Dear Patrick and Megan, I am so very sorry to learn of your Dad's sudden death. Al and Marion were the ultimate in great neighbours. Your folks were always so welcoming! I remember so many wonderful fun-filled memories! I also remember how very kind that your Mom and Dad were when Bill died! Marion baking up pies that were so divine, and your Dad saying, 'Oh try this wine,it's got a nice bouquet with quite a kick!' The New Year's dinners and parties! I could go on with so many thoughts! God has called him home. I truly believe that Al and Marion are once again together. Rest eternal grant to him, O Lord, and let light perpetual shine upon him. Thanks be to God. The Reverend Jane Morton - Posted by: Jane Best-Morton (Old neighbour) on: Feb 04, 2021

So sorry for your loss. Thinking of you and your family Megan. - Posted by: Josi Johns (co-worker of daughter) on: Feb 04, 2021

I began working with AL many years ago on weekends. I was partime. He was a good co worker and also a friend. He moved on to CT but continued to keep in touch. We shared fun times at retirement parties, lunches.Please accept my sincere sympathy. Linda - Posted by: Linda Campbell (Co worker) on: Feb 01, 2021

Al had just graduated when I started my training at HSC .He was my training tech for my first shift of nights . He taught me so much .Don't panic just carry on steadily forward . He was a great tech and kind person . Last time a saw Al we compared notes on the joys of being Grandparents . He will be missed and remembered often. - Posted by: Susan Thomson (Co worker , long ago ) on: Feb 01, 2021

Very saddened to hear of Al's passing. Heartfelt condolences to all of his family, friends and co-workers! - Posted by: Jamie Johnston (Friend) on: Feb 01, 2021

Al and I shared the same birthday. I will always remember him putting a little brown bag in front of me and wishing me a wonderful day. Inside this little brown bag was an "Imperial Cookie" from Guildy's. He was a very kind person. Rest In Peace my friend - Posted by: Val (Former coworker) on: Feb 01, 2021

Al and I were best friends growing up on Millfield Drive. We played ball hockey under the street lights, baseball all the way until we aged out of Little League, football in the side yard and then out on Peters' Field. Later we took up golf together, pulling our golf carts behind our bikes on the way to the Canoe Club or Windsor Golf Course. I could not have grown up with a better friend than Al Saydak. I am still stunned that he is gone. Later in life we re-connected, and Al was the same caring, fun person I knew as a child, but this time his energies were devoted to his grandchildren of whom he was so proud. I live in New Hampshire now, and Covid prevents me from crossing the border back to Manitoba, but when I am able to return I would like to visit the cemetery where Al will be buried. I would appreciate it if you could tell me where that will be. Good luck to your family Al, and may they grow with all the wisdom and good example that you shared so freely. Goodbye my friend, rest in peace. Joe Scott - Posted by: Joe Scott (childhood friend) on: Jan 31, 2021

I would like to extend my sincere condolences. I Trained with Al at HSC and got to know him and Marion during that time. I have very fond memories of them both. Al was a great guy. - Posted by: Ed Hordienko (Medical Radiological Technologist) on: Jan 31, 2021

Susan and I were shocked and saddened to read of Al's passing. I worked at CUPE and serviced Local 1550 for many years, including during the time Al was President of the Local. We became quite close over the years. We also know Marion, as we often got together at Union social events. Our thoughts and prayers are with the family at this difficult time. - Posted by: Susan and Bob Malazdrewich (Friends) on: Jan 31, 2021

To Patrick, Meagan and families. My heart goes out to you for your loss. I worked with Al for many years and he was such a pleasure to work with. He always spoke so highly of his family. He will be so missed. My thoughts are with you. Sherrell McColm - Posted by: Sherrell McColm (Co worker) on: Jan 30, 2021

Dear Patrick & Megan and the Saydak -Fels Clan, We are heartbroken about Al's passing. His good nature, generosity & friendship will be missed. We are comforted in knowing that he has joined his soulmate, Marion. With love, Pat & Peri - Posted by: Peri Venkatesh & Patrice Yamada (Friends) on: Jan 30, 2021

I was on the executive of CUPE Local 1550 with Al for a number of years. Al was a quiet, gentle man and I learned a great deal from him. We had many wonderful conversations over the years. I was happy for him when he retired, and I am thrilled he was able to do exactly what he planned and filled his life with his family and grandchildren. Rest in peace Party Pal Al - Posted by: Judi McFarland (Friend) on: Jan 30, 2021

We are so sorry for the sudden passing of your Dad, Deepest condolences from our entire family. He had a long lasting effect on everyone who had the pleasure of meeting him. From our family to yours, we love you guys. - Posted by: Ryan and Rosa McCrady (Family friends) on: Jan 30, 2021

Alan's passing comes as a real shock to us as it is "too close to home". We offer our sincere condolences to his family. I recall spending many a good time with Alan at his St. Vital family home in my childhood years. - Posted by: Dennis & Judy Saydak (Cousin) on: Jan 30, 2021

Al was such a nice guy, he was always there to help out and give advice. Of course we will all remember him "working to rule" and should have followed suit much much sooner. His kindness and gentle demeanor was always a blessing for his many patients over the years. He was such a great role model. I know that I am a better technologist for having known him! RIP with your sweetheart Al. Hugs to the family.... - Posted by: Pat Titarniuk (Co-worker at HSC CT) on: Jan 30, 2021

Condolence to Allan Saydak family members on his passing. Got to know Al and our group Of friends during my first two years in Winnipeg when I attended Dakota. Our friendship got re-ignited over the last number of years and have been out together with Al and the boys a number of times for some cold ones. As soon as the boys could gather we will have one for you. Great to know you Al. You will be missed. Our thoughts and prayers. - Posted by: Moti & Germaine (Ftiends) on: Jan 30, 2021

Our deepest condolences on the sudden passing of Al. Al was a great guy and friend to our Family. Some of my fondest memories are having the pleasure to curl with Al and my father in the men's and seniors leagues at the St. Vital Curling Club. With the recent passing of both of them, I now understand how truly blessed I am to have that memory with me for the rest of my life. Eddie was one of the most competitive and feistiest guys you could ever meet and Al's kind, understanding, and easy going personality made him one of the few people Eddie truly enjoyed playing with. Al passed way too soon. Our thoughts and prayers are are with you family in these difficult time. - Posted by: Jim Prat family (Friend & Curling Buddy ) on: Jan 30, 2021

I had the great privilege of working with Al through his activism with CUPE Local 1550, including his time as President of the Local. He was a true trade unionist, always putting the interests of the members front and center. He was a true gentleman and friend to many. My sincere condolences to the entire family. Paul Moist Past National President - CUPE - Posted by: Paul Moist (Friend) on: Jan 30, 2021

Very sorry Rick to learn of the passing of your brother. Al was a super nice guy. Condolences to his entire family. Rest in peace Al. - Posted by: Bradley Pisiak (acquaintance) on: Jan 30, 2021
Email Alerts
Sign up for free email alerts of new obituaries for specific people, towns & more.
❮ Go Back to Listings