Search:

Winnipeg Free Press Passages
All Titles
Notices are posted by 10 am Monday through Saturday
❮ Go Back to Listings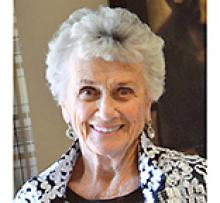 ELSIE (BAIRD) HUGHES
Born: Jun 17, 1926
Date of Passing: Jan 17, 2021
Send Flowers to the Family
Offer Condolences or Memory
ELSIE (BAIRD) HUGHES
June 17, 1926 - January 17, 2021

Exactly five months shy of her 95th birthday, with her famous sparkle faded and flickering, the fabled and fabulous Elsie asked her maker to let her go, and he complied.
Born in Winnipeg to a cigar-smoking, white-hatted cowboy (Samuel Garnet Baird) and a church-going white-gloved lady who loved her linens (Elsie Katherine Lawson), our mom combined her namesake's class with her father's extraversion and taste for adventure. She was spoiled by her much older siblings, Sam, Barb and Jim, teased mercilessly by her younger brother, Vaughan, and forever marked by her brother Jack, all of whom predeceased her.
A petite, freckled beauty with unstudied poise and natural grace, Elsie burned with abounding energy, curiosity, and zest for life. Her favourite saying was "What you are is God's gift to you. What you become is your gift to God." Despite growing up during the depression and war years, Elsie had the good fortune to belong to a loving and supportive family whose examples of generosity in the midst of hardship served her for a lifetime. One such example came from Jack, who, when her bike was stolen, borrowed money to buy her a new one, working off the loan by selling eggs. Sweet, kind Jack, only a year older than Elsie, was killed in the war at age 21, in the first great tragedy of of her life. Other examples came from her mother, who opened the doors of their home to orphans and displaced airmen at Christmas, and her father, whose pockets always held candy for his children, even if he'd had to borrow the nickel it took to purchase them. The house on Ruby Street was a neighbourhood gathering place, the scene of dance parties that the younger siblings, including Elsie, would surreptitiously watch from the staircase until they were old enough to throw their own. What Elsie was was blessed, both by nature and nurture. What she became, in no small part due to her upbringing, was a dedicated volunteer, a consummate hostess, and a spreader of invigorating, restorative fairy dust.
Unlike the man she would eventually marry, Elsie was not one to dawdle her way to school; instead she would wait for the first Laura Secord bell to ring before scooting across the street and sliding behind her desk just in time for the last. Unlike at least one of her children, she did not spend time with her head in the clouds, but rather used the mile-long trek to Gordon Bell High School made four times daily to bond with a coterie of cherished comrades. Elsie's lifelong attachment to the United Church started with weekly service and Sunday school at Westminster, and membership in the Young People's Union and CGIT. A high school cheerleader whose team won the provincial championship two years in a row, she studied tap and toe dance and, during the war, performed solo and duet routines for soldiers through the YMCA. (Years later, she was to similarly entertain the patrons of an Austrian beer hall, to the mixed pride and embarrassment of her husband.) Disciplined and hardworking, Elsie impressed at her first summer job, becoming the top-ranking egg cracker at Canada Packers within a week. Dissuaded from pursuing a career in Social Work by reason of her too-great depth of feeling, she studied Home Economics instead. While at the University of Manitoba, she served as President of the Women's Association, where she was, appropriately, in charge of all co-ed activities. After earning her B.Sc., she went on to get a teaching diploma, and taught Home Ec. in Selkirk, where she launched the town's first adult education program, and then in Winnipeg, at Aberdeen, Earl Grey, and alongside many of her former teachers at Gordon Bell. While Elsie was a middling cook, she was an excellent seamstress, and a popular teacher.
As might be expected, the mesmerizing pixie with the winsome smile and ready laugh had many suitors. Unfortunately, in the second great tragedy of her life, the first man she agreed to marry died of polio shortly before their wedding. Although Elsie later acknowledged that she had not known him well enough to grieve him deeply, Blue Bomber quarterback Harry Johnston was an only child and his parents attenuated their loss by adopting Elsie as a daughter-in-law. She reciprocated their affection, shared her children with them, and cared for them for the rest of their lives. In due course, Elsie started dating again, but ultimately, the only man who aroused her interest was the one who appeared to be utterly indifferent to her, and who expected her to carry her own skis. Dodds (Harold Victor) was the yin to her yang, a perfect fit, and their solid, steadfast partnership endured and matured through children, job changes, real estate purchases, and mid-life crises, until he, too, was taken too young. Again, the suitors started lining up, but having known and loved Dodds was enough to carry Elsie through her ensuing 30-odd years of widowhood.
Bounced from her teaching job at the first sign of pregnancy, and less than fully satisfied with the company of children, Elsie filled the void with volunteer work. Over the years, in addition to gigs as a Sunday school teacher, and a CGIT and Girl Guide leader, she drove the families of inmates to Stony Mountain Penitentiary; worked with children with disabilities at Polson School; sorted books for the Children's Hospital Book Mart; canvassed for donations to, and served on the Cabinet of, the United Way; made crafts for the St. Agnes Guild; headed the swimming, tennis and beach clean-up programs for the Victoria Beach Club; and staffed the St. Agnes Guild and Winnipeg Art Gallery gift shops. Most recently, Elsie worked as a kitchen helper and greeter at the Oak Table, a job she loved and for which she earned the organization's Volunteer of the Year award in 2017.
Among other things, her spare time was spent reading, doing the daily crossword and cryptogram, teaching patience and grammar to the grandkids, and trying to up her bridge game. She played tennis well into her 80s and was an avid courtside and living room spectator. Out of aquafit classes at the Wellness Institute was born a whole new set of friends to invite to lunch, and people went out of their way to attend her well researched and expertly delivered presentations to her study group at the Winnipeg Art Gallery. Home away from home was the cottage at Victoria Beach and a rented condo in Palm Springs, and her travels around the world, with family, friends and tour groups, were legendary.
After her marriage, Elsie continued to attend church, first at John Black and then at Immanuel, where she actively participated in discussion group, nourished relationships, especially with newcomers, and contributed to many a fowl dinner. Her stated reason for going to church was to be reminded of what her job was in the world. Whatever she thought her job was, to those of us looking in, what she did, the thing at which she excelled, and that earned her the admiration of her family and the devotion of dozens upon dozens of friends, was to make people feel good. An irrepressible optimist who looked forward, not back, Elsie quickly shed the burdens that weighed other people down and appeared to float on air. Her lightness of being and sunny, warmth-radiating nature drew people to her, and once in her circle, they would feel their toes lifting off the ground, too. This she accomplished by listening to them, drawing them out, and making them feel seen. This she accomplished by sharing with them tears, inevitably followed by full-throated laughter and joy. Even the most hardened cynics could not help but fall under her spell, making her an extremely popular guest and hostess. Remember what we said about her being a middling cook? Believe us, people did not flock to her house for the food.
There is so much more that could be told, about Elsie's wardrobe (colourful and sequined), her penchants (jokes and storytelling), and her hobbies (not cooking), but we will leave it to others to fill in the many gaps on her memory wall at www.seasonsfunerals.com/obituary-listing (photos also welcome). We have tried here to capture her essence, the thing that is most appreciated by her children, Jan, Shawn (Bruno), Jeff (Margaret) and Susan (Paul); her grandchildren, Haley and Bryn, Sasha, Riley and Piper, and Mitchell, Blaise and Noah; her nieces and nephews; and the countless fans who went before her and whom she leaves behind. Rest in peace, Saint Elsie. Yours was a life well lived and work well done.
The family would like to thank the staff of River Ridge II, and Xercen and Lorretta for opening their hearts to Elsie in the last few months and doing their best to maintain her glow.
A Celebration of Life will be held when conditions allow. Meanwhile, if readers so desire, we know she would appreciate donations in her honour to the charity of their choice.
As published in Winnipeg Free Press on Jan 30, 2021
Condolences & Memories
(12 entries)
Sue, Keeping you and your family in my warmest thoughts and caring prayers. - Posted by: Sandy TBay (Friend) on: Feb 09, 2021

I did not know Elsie well but she was a very good friend to my friend Lorna who would have been devastated if she had not passed before. Elsie was kind enough to welcome me into her home with Lorna.on a couple of occasions. A very gracious hostess..and a truly kind and generous lady My condolences to her family. - Posted by: Pauline Fia (Friend of a friend) on: Feb 03, 2021

What an amazing tribute to an equally amazing woman. We were very sorry to hear about Elsie and want to offer our thoughts and prayers to all of the family. Dodds was my boss and was like a 2nd dad to me. I have countless memories of both him and Elsie and all the gatherings and dinners at their home. I laughed when I read the comments about Elsie's cooking as I still have a recipe of hers for beef bourginon! We will always remember her easy manner, her love of visiting and connecting with people, her delight in hosting friends and business associates at home, her selfless giving of herself and her time and her love of her family. May you carry all those wonderful memories with you as you begin each day. - Posted by: Lorraine, Steve and Alex Idt (Friends) on: Feb 03, 2021

Wanted to express our deepest sympathies to you all on the passing of your mom, mother in law, and Nana, We have fond memories of celebration dinners, where we all were happy to converse with Elsie. It was always nice getting her view on something or hearing a story from her younger days. Hope all the wonderful memories will bring you comfort. - Posted by: Vern, Candy, Lindsay, Leigha, and Sidney, (Friends, Family, old neighbors) on: Feb 01, 2021

If I had not had the great good luck of knowing this darling woman I would have regretted it after reading her wonderful obit. She was unique and to me"one of a kind". I absolutely loved the story told by her family. (Obit) - Posted by: Lorene Chambers (Friend) on: Feb 01, 2021

We enjoyed Elsie's company on WAG group trips in Europe. We loved her zest for life and the fun she brought to everything we did. I am only sorry we never managed to meet up with her on our trips to Winnipeg, but continue to have fond memories of time spent together. I am sure she will be missed by so many and we send our sympathy to her family and friends. Carolyn and Peter Spittle (Solihull, England) - Posted by: Carolyn Spittle (Friend) on: Feb 01, 2021

To the Hughes Family, This is such a beautiful tribute to your mom and my dear friend. The Quinton family have been lifetime friends in Winnipeg and Victoria Beach. My mom Hazel and Elsie were besties. Your mom was such a bright light in my life and would be one of my first visits on my bike at Victoria Beach. She was always so interested in everyone's lives and such a good listener. She made you feel like the most important person in the world and so special always. She was my best customer, as a child entrepreneur and later in life my church going buddy, at St Micheals at VB. I would love when mom and Elsie would have their veranda visits and they were equally so grateful, for this special lifetime friendship. So much love they shared. Our loss of Elsie here on earth is Heaven's gain. May your many fond memories bring you peace and joy, during this difficult time, as that is what I believe God and your Mom would want for us all. I am certain the Bema seat has a busy line behind your Mom, as she receives her many, well deserved crowns of Glory. Rest In Peace dear Elsie. With love and blessings, In Him, Joey Quinton - Posted by: Joey Quinton (Family Friend ) on: Feb 01, 2021

Our condolences to the whole family circle. I used to call her MOM and I'm gonna miss her . She is our mentor and inspiration me and my sister Chie. She is so beautiful inside and out . So much good memories bring to our life . Thank you Mom for those wonderful days and memories you bring to our life . Me and my sister will treasured and keep all those memories. Rest In Peace Mom . 🙏 - Posted by: Dory Valera (Friend ) on: Jan 31, 2021

Elsie was spectacular and what a wonderful tribute to her, so much I did not know. A special lady who raised a special family. Take care. - Posted by: Fred Abbott (Family friend) on: Jan 31, 2021

Elsie was a wonderful woman always with a smile on her face and totally engaged with everyone she was with! She had a warm and generous spirit! She will be missed. - Posted by: Bill and Sherry Glanville (Friends through the Associates of WAG. Travel Tours) on: Jan 31, 2021

To all the Hughes Family: Please accept my and my family's deepest condolences on the loss of your mother. You do not know me but I knew of your mum. Specifically, my father (Ken Macaw) dated Elsie during his university years and my parents would see Elsie periodically out and about in Winnipeg, playing golfing at Pine Ridge or with the McFarlanes (Joyce and John). My father always had interesting stories about his university days, including dating Elsie. I did get the impression from his university stories that she was a wonderful little force of energy and he always enjoyed seeing her again and catching up. My mother, Donna, knew Elsie through various events in Winnipeg, and through their mutual acquaintance Joyce McFarlane (nee King). Donna always enjoyed seeing your mum and speaks very fondly of her. Again, our deepest condolences, your mum will be missed. - Posted by: Sidney Macaw (parents were friends of Elsie's) on: Jan 30, 2021

The Hughes family were family friends. I have some wonderful memories of ski trips to Jasper and Montana....such adventures!! Over the past few summers while visiting others at Victoria Beach I had stopped in to see Elsie...the visit was great...but short as Elsie needed to dash off on her scooter to play bridge...YOU GO GIRL!!! Thank you for the cherished memories!!! Thoughts prayers and sympathy...hugs Dawn McClure - Posted by: dawn mcclure (family friend) on: Jan 30, 2021
Email Alerts
Sign up for free email alerts of new obituaries for specific people, towns & more.
❮ Go Back to Listings