Search:

Winnipeg Free Press Passages
All Titles
Notices are posted by 10 am Monday through Saturday

❮ Go Back to Listings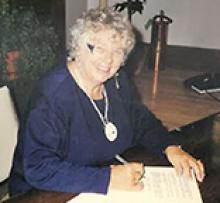 NORMA OLIVE DROSDOWECH
Born: May 19, 1935
Send Flowers to the Family
Offer Condolences or Memory
NORMA OLIVE DROSDOWECH

Norma Olive Drosdowech was born on May 19, 1935. She lived in a tiny house on Minto Street with her parents, George and Olive Johnson, and her older brother Bob. They moved to Claremont Avenue when she was six. Memories of growing up in Norwood and CGIT were dear. She excelled at school, especially in English, but also got in trouble for flirting with the boys. She became a lovely piano player. Her mother's fine sewing skills allowed Norma to look fashionable on a modest family income. A lifelong swimmer, many happy times were spent at the family cabin at Red Rock.
Norma was a caregiver and great support to her own mother and aunts. Her father passed away only two weeks before Laura was born. Although heartbreaking to Norma, she became the leader of her family. She maintained meaningful connections with Bob's family and his wife Sunny on the west coast.
On scholarship, Norma completed her Bachelor of Arts, Paedogogy and Education degrees. She was Lady Stick at the Faculty of Education and was the outstanding graduate of her sorority. Lifelong friendships with her ADPi sisters were treasured. Her parents were proud of her academic achievements as their own schooling was cut short due to hardships.
Norma began teaching at Glenlawn Collegiate in 1957 where she met her husband Peter. Romance was encouraged between staff making it easier to court a colleague back then! They wed on July 29, 1961 and honeymooned in Europe for six weeks. Norma and Peter were partners in marriage, parenting, teaching, business and travel. Their lives were intertwined, yet they gave each other room to grow. She missed Peter tremendously.
Norma gave birth to four daughters in six years: Laura, Linda, Sandra (Jason) and Carol (John). She was a fun and loving mother. She sewed our clothes (matching), ran a nursery school, was a Brownie leader, read and sang to us, helped with essays and life. She had a relaxed approach to housekeeping and created a cozy home to grow up in. She was present for long talks and lots of laughs. Mom said she loved it all - the early years, the teen years and seeing her daughters become women.
A homemaker for 12 years, Mom stayed interested in feminism, politics and education. She went back to teaching in 1975 as a kindergarten teacher before becoming a Family Life Educator. An advocate in the 1980s for "sex ed", Norma insisted, in the face of great controversy, children have a right to learn about their sexuality. She earned her Master of Education degree in 1989 and became a school counsellor impacting the lives of children and staff. The friendships she made in the St. Vital School Division, especially with the gang, ran deep. She retired in 1995 and began teaching at the University of Manitoba.
Norma relished playing host with Peter! Everyone liked to hang out at 4 River Lane: get-togethers at the house, kids in the yard, teenagers in the basement, grandchildren in the pool, and Sunday dinners with the good china. Her house was the party venue for decades. Norma enjoyed sitting in her verandah with a cup of coffee looking out over River Lane and her family of neighbours.
Norma loved going to church! It was an important part of her entire life. She joined the Unitarian Church later in life and embraced a spiritual community that was openly diverse. In her role as Chaplain, she gave sermons, performed marriages and funerals, and guided pastoral care. Her oratorical skills were first noted at church when she was young. Being an exceptional speaker was something she prized all her life.
Mom was a rare individual who liked going to meetings and belonging to committees! She had strong convictions, a tireless work ethic and believed in serving her community. The weight of her words was always a force for good. She resembled the Queen so when she aired her opinion it could be quite regal! She served on countless groups, her last being with the Manitoba Council on Aging.
Peter's family was important to Norma. She was close with his parents, sisters, Ellen, Phyllis and Leona, their husbands and children; especially Phillip and Mark. The many trips to Dauphin made it feel like her own hometown. Good times were had running Clear Lake Lodge with Peter, Phyllis and Jake. She thrived as an Innkeeper and adored spending time with guests. Trips to Clear Lake with family were the best of days.
In 2001 Norma celebrated the arrival of her first grandchild with six more to follow. She was an adoring and accepting grandmother with curly silver hair and a warm smile. She was present in their lives and expressed gratitude her grandchildren were in Winnipeg. Emily, Sage, Andrew, Zoe, Lucy, Jackson, Gloria, as well as her step-grandchildren, Danny and Ethan, enjoyed running amuck at Grandma and Papa's.
Norma enjoyed concerts and events at Rainbow Stage, the WSO, and MTC. She played the piano with glee at home, church, school and the Lodge. Reading and writing were also hobbies. She read Little Women and Anne of Green Gables every year. She liked writing memoirs, speeches and Christmas letters. She once penned a letter of complaint in prose (a sonnet!) to the Minister of Education.
Mom lived her last years at home with Sandra and Jason's family. Mom spoke often of loving the house, the cats, and the view of the river and memories of Peter. Mom liked to talk and enjoyed the company of her home care companions, especially Maricel. It was an honour for Sandra to care for our mother at home. Sandra hoped she would live to 100, just like Aunt Pat, but that was not to be. Mom died peacefully at home with family all around. We will miss her and love her for all our days to come.
People were drawn to Norma's light, compassion and wisdom. She was a trail-blazer and a kind soul. Her wish for the world was for people to open their hearts to embrace the delightful diversity of humanity and to care for each other.
Donations in her honour can be made to Rossbrook House, an inner-city youth centre, founded by her sorority sister, Sister Gerry MacNamera.
A zoom service will be held Friday, May 7 at 7:00 p.m. A link to the service will be available through the Unitarian Church or Thomson "In the Park" Funeral Home. Light a candle and enjoy a beverage of your choice to help us celebrate Norma's life.
THOMSON "IN THE PARK"
204-925-1120
Condolences may be sent to
www.thomsoninthepark.com


As published in Winnipeg Free Press on Apr 24, 2021
Condolences & Memories
(10 entries)
Norma was an inspiration! - Posted by: Jean A Paterson (Acquaintance) on: Apr 30, 2021

Sandra & Jason and all your family, OUR DEEPEST SYMPATHY to all your family. We pray to our loving God that he grants your Mom eternal life in peace and love, and of course to be with your Dad and all her family. What a blessing that is! She is at peace and may all your memories of your Mom stay in your hearts forever. Keep your Mom's traditions alive in every celebration. Gods hug to you all. Love from all our family Ben & Marlene - Posted by: Ben & Marlene Borys (Friend) on: Apr 29, 2021

Dear Sandra – sending deep and heartfelt sympathy to you and your entire family. What a beautiful tribute to your mother – she accomplished and gave so much! Those we hold closest to our hearts never truly leave us. They live on in the kindness they have shared and the love they brought into our lives. Norma's life is a blueprint of kindness and love. You are in our thoughts and prayers. Tania Sydorska & family - Posted by: Tania Sydorska (friend ) on: Apr 28, 2021

Norma Johnson was my home room teacher at Glenlawn Collegiate in 1957. It was her first year teaching, I think, and I and some of my nerdy friends loved her. She was fairly strict, but fun, and a great English teacher. Her husband Peter was my history teacher. We knew back then that those two were destined to be a pair. They sat together on the bus trip to Portage la Prairie, on the way to our basketball game, and only occasionally shushed us. She helped to make high school a good experience. Our paths crossed many years later, when I met Laura, and discovered who her mom and dad were. I enjoyed our meetings at my office, and reminiscing about our younger days. Laura and all your sisters, I am so sorry for your loss, your mom was a really special lady! She and you also touched my life, and I will miss her. - Posted by: Barbara den Boer (Former student, nurse and friend to Laura) on: Apr 26, 2021

Norma and I were colleagues that worked together to implement the Family Life Education Program in the St Vital School Division many years ago. It was a controversial assignment, with a conservative school board, and a community group that felt we were "Tools of Satan". To them, "Family Life" was code for "Sex Ed" and they fought it vigorously. If you knew Norma you would understand that this type of challenge brought a smile to her face and a sparkle to her eyes. We made countless presentations to parent associations and school boards across the Province. The St Vital Board decided that they would let the parents of St Vital decide, and the parents would cast ballots. I will never forget the look on Norma's face when we heard that the parents of St Vital had voted 94% in favor of the Program. She was such a pleasure to work with. She was smart, fun loving, always optimistic and not afraid to roll up her sleeves and take on the establishment. I want to pass on my respect and admiration for Norma to the family. I know there will soon be many joyful memories to help through days ahead. Dennis - Posted by: Dennis Nord (Colleague) on: Apr 26, 2021

Condolences to all of Norma's family for your great loss. I knew Norma many years ago when we both served on the board of what was then known as Planned Parenthood. My admiration and love for Norma was and remains tremendous. She was a pleasure to know and to work with. She was passionate, purposeful, compassionate, and joyful. She held herself and others to account, but always in the most supportive way. To this day I still often think of her, and ask myself 'what would Norma do in this situation?'. I am grateful to have known her and learned from her; it is a blessing to have had her in my life. Hers was a generous spirit; an expansive and loving heart. She made a difference in the world. I will remember her always, with great affection. With deepest sympathy, Jane Dick - Posted by: Jane Dick (Friend) on: Apr 26, 2021

Dear Laura and your family So sorry for your loss. What a wonderful woman your mother IS, I say is because she will live on in all of her children and their children. Take care and or prays are with you during this difficult time . Ed and Gloria Cooper - Posted by: Gloria Cooper (Friend ) on: Apr 25, 2021

Norma married us in 2011 in our home on Cloutier Drive. My very best friend Heather Horton was a close friend and neighbor of Norma and they came over and we had a lovely time. They are now both now gone. Bless these two wonderful women. Barbara Lloyd Schmidt - Posted by: Barbara Lloyd Schmidt (friend) on: Apr 24, 2021

Dear Extended Family, I was one of Norma Johnson's Glenlawn students in 1959-1960. That year I was in a Grade 11 class which happened to be an all-girls class. Our gym teacher suggested to avoid crowding during classes that we change into gym clothes by using both the girls and boys changing rooms. It happened that I was in the boys changing room's bathroom, when I tried to open the door, it would not open. The news went out throughout the school and bless her her heart, Miss Johnson played the piano on the stage so I could hear her soothing playing. In the meantime, it was the principal's letter opener passed under the door that I managed to lift the bolts of the door jamb and finally escaped my captivity. I remember my first duty was to thank her for her most welcome playing! It happened that I too, was a pianist, and in fact won the Beryl Ferguson Memorial Trophy for advanced instrumentalists in the March 1960 Winnipeg Music Festival. Romance abounded in Glenlawn as six teachers later married one another! The next time I saw Norma was at a Glenwood 75th reunion and she read to me a letter written by Miss Ayre as Norma kept her relationship with former teachers as an important part of her life. In fact, Miss Ayre was my Grade One teacher in 1949, and she lived to be 107! My thoughts and prayers are with each of you as you cherish the many memories of past happier times with this remarkable lady. As retired music supervisor/educator, I recognize the tremendous contributions Norma made to the field of education. With deepest sympathy, Morna-June Morrow - Posted by: Morna-June (M-J) Morrow (Former Glenlawn student) on: Apr 24, 2021

I will miss the warmth and sparkle of your mother's countenance. Her generosity of spirit was a model of human kindness. You have written a beautiful tribute to your mother. I'm sure she would be proud of you all. - Posted by: Marlene Schellenberg (UU friend) on: Apr 24, 2021
Email Alerts
Sign up for free email alerts of new obituaries for specific people, towns & more.

Thomson In the Park Funeral Home and Cemetery
1291 McGillivary Blvd. (Map)
Ph: 2049251120 | Visit Website
❮ Go Back to Listings